Hello there! We at DroiX hope you're staying safe and warm in this chilly holiday season. Today, we're excited to bring you a blog post about Mini PC's! In the past few months we've launched three new models, all of which we believe to be great offerings in their own right! We've decided to put four of our strongest models head-to-head in a simple benchmarking test to hopefully grant you an idea of what you're getting into when you're looking for a new model.
What is a Mini PC?
A mini-PC is, as the name describes, a PC that is small in size. In exchange for some qualities of a typical home desktop, such as power, expandability, or heat efficiency, you'll have a PC that can perform most, if not all tasks your home desktop could while taking up a fraction of the space, and probably consuming a fraction of the power too!
Why would I need a Mini PC?
A Mini PC is a good idea for a variety of reasons, such as:
If you need a simple , no-frills, easy-to-set-up PC for:

A home office (video calls, spreadsheet work, web development, etc.)
A multi-purpose media centre (Kodi, EmulationStation, Netflix, etc.)
A general-purpose home PC (Youtube, reading emails, online shopping, etc.)

If you're looking for an enterprise PC solution- Mini PC's are a great uniform choice for any kind of mass-deployment IT solution at a school, college, university or office, due to their small size and ease of setting up (allowing for rapid deployment/replacement as necessary).
The Lineup
The four PC's we'll be benchmarking today are all running the same storage and RAM configurations – a 512GB M.2 NVMe SSD, and one stick of 16GB DDR4 SO-DIMM RAM.
Read on for the results of the Beelink GT-R benchmark, NVISEN Y-MU01 CK1 Benchmark, MINISFORUM DMAF5 benchmark, and MINISFORUM H31 benchmark.
The Test
The Benchmark we'll be running these four devices on is Passmark Software's Passmark PerformanceTest 10.0, a multi-purpose benchmarking program that tests different aspects of the system.
The CPU – The overall performance of the processor.
2D Graphics – The system's ability to process 2D graphics, including photographs, vectors, user interfaces, and more.
3D Graphics – This tests the system's ability to process 3D graphics
Memory – The performance of the RAM inside the unit.
Disk – The performance of the main storage device in the unit.
CPU Benchmark
We'll start with the CPU benchmark, whose results are as such: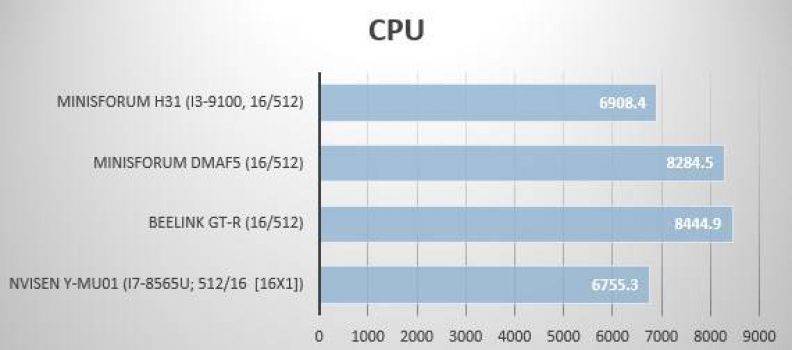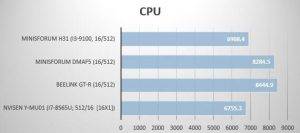 From here we can see that the Beelink GT-R and the DMAF5 – both running the same AMD Ryzen 5 processor, clearly outperform their Intel-powered counterparts.
Many view the Ryzen series as a "return-to-form" for AMD, and these results would certainly support that. If you're looking for raw processing power in your mini PC, we'd wholeheartedly suggest one of the two.
You may also notice that the CK1 is beaten by the H31, despite the H31 only running an i3 processor. This is because the CK1 is powered by an i7 processor intended for low-power consumption/laptop usage, compared to the H31's full desktop processor.
2D Graphics Benchmark
This benchmark was composed of a variety of tests, including vector image rendering, and UI strain (rapid magnification changes, UI scaling, etc.). The results are like so.
Once more, we're able to see that the AMD-powered devices far outstrip their Intel counterparts. Although all four will provide a comfortable enough experience for contemporary usage (the differences will only really become noticeable during things with intense 2D animation, such as games, or apps with heavily animated user interfaces).
3D Graphics Benchmark
This benchmark was composed of general 3D rendering tests, including performance in various DirectX versions. The results are as such: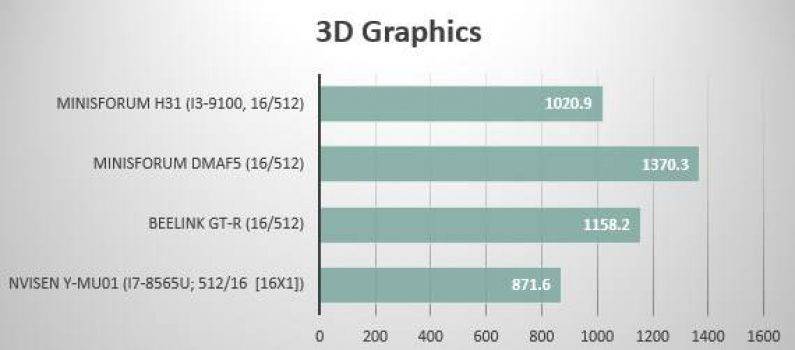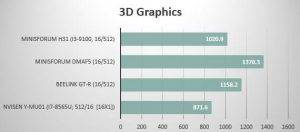 For a third time in a row, the AMD-powered devices pull ahead in performance! While none of these devices are particularly well-suited for gaming, they can easily handle less-graphically-intensive games and some 3D modelling, making them very flexible. The RX Vega 8 is a real heavyweight as far as integrated GPU's go.
Curiously, the DMAF5 pulls ahead  of the GT-R despite both having the same processor. Whether this is due to driver updates (we launched the DMAF5 many months after the GT-R), or other reasons, we cannot say for certain.
Disk Benchmark
The disk benchmarks were predominantly a variety of read/write tests. A high mark here indicates faster performance in general during use (apps and resources will load much faster). The results are like so: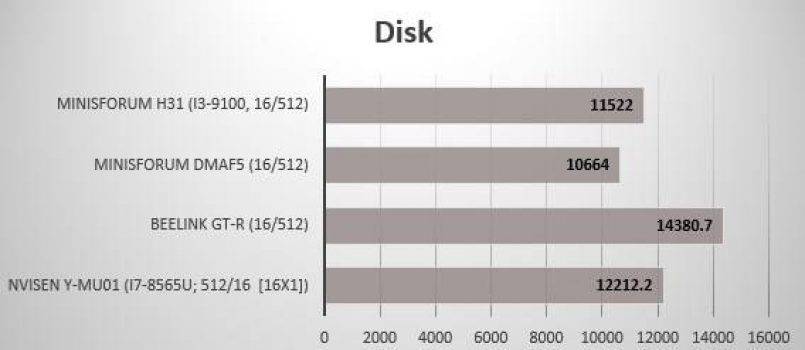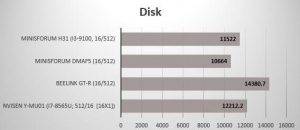 For the first time, we have a clear-cut winner here. The GT-R pulls ahead of the competition. We'd guestimate that due to the emphasis on storage in the GT-R (having space for an M.2 NVME, M.2 SATA, and 2.5-inch HDD/SSD simultaneously), more time was spent designing this part of the device.
Memory Benchmark
The memory tests were mostly concerned with measuring the speed and stability of the RAM. All devices used the same 16GB model of RAM that we use in the majority of our devices. The results are like so: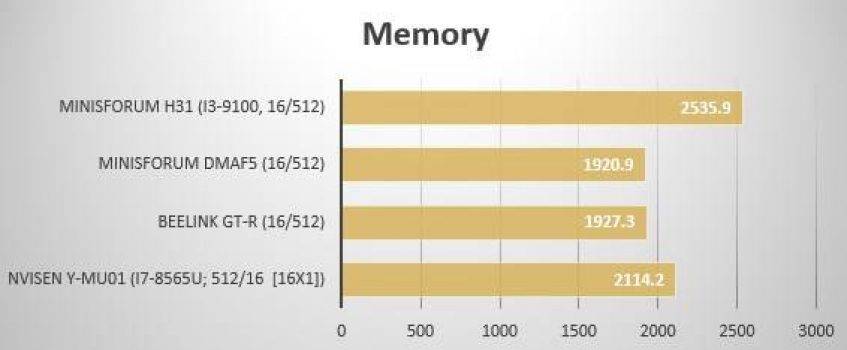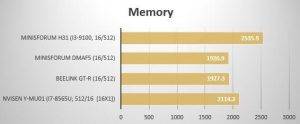 Amazingly, the H31 absolutely crushes every other device in this regard. The performance seen here is similar to what one would experience in a CK1 running dual-channel memory, which leaves us wondering how well it would do if it was not a single-channel RAM build!
The CK1 also slots comfortably (just barely) into second place. While both AMD systems perform extremely similarly (within a margin of less than 0.1%).
Overall/Conclusion
Combining the scores together gives us an overall score – the result are as such:
Surprisingly, the DMAF5 slightly pulls ahead of the GT-R. This is predominantly due to the difference in 3D Graphics performance however.
From these results, we can conclude different things about each of the units:
The CK1 – while getting on in years – is still an extremely solid pick. With its strengths lying in its memory and disk speeds, you'll enjoy speedy loading of all your applications, allowing you to get up-and-running quickly
The H31 has by far-and-away the best performing memory and is unique in that it is running a full desktop processor. It's perfect for things like working at larger resolutions in image editors, or working with large databases/spreadsheets.
The Beelink GT-R is a powerhouse mini-PC which is perfect for when you want to spare no expense in ensuring you're getting the best performance in the smallest possible package.
The DMAF5 is a surprisingly strong performer, only let down by its unusually poor disk performance. In pure processing power, it's a heavyweight contender for sure, rivalling the GT-R – but when it comes to quickly loading apps, it may fall behind the others slightly. In any case, it's a great alternative to the CK1.
Until next time!