Welcome! We at DroiX are a specialist supplier of all manner of gaming handhelds. From android gaming handhelds to retro gaming handhelds, we're here to bring to you the best gaming handheld consoles that we've been able to get our hands on.
Best Metal Handheld Gaming Console: ANBERNIC RG351M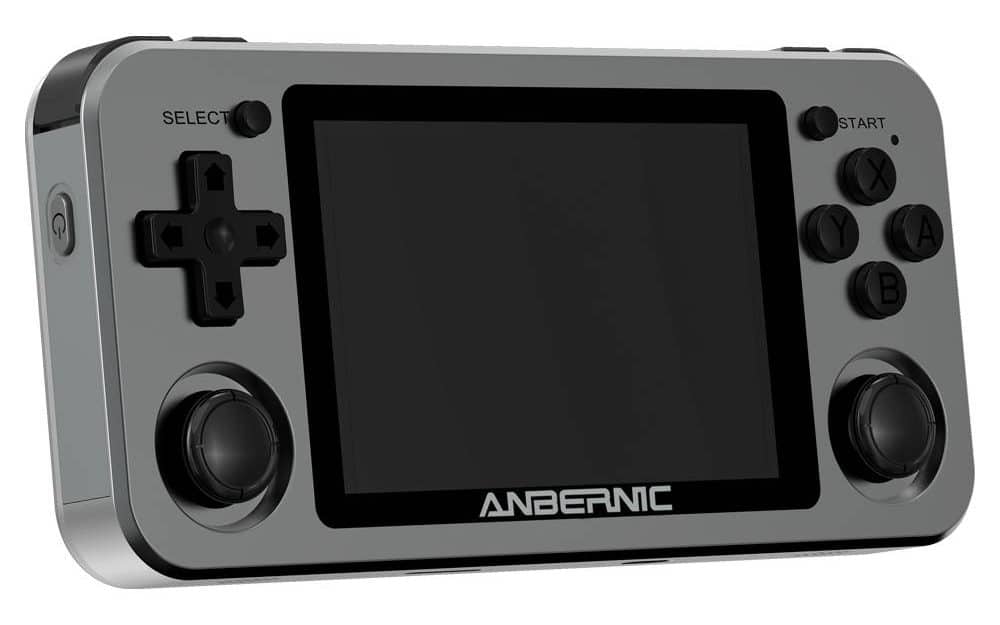 One of the best retro gaming handheld consoles currently is ANBERNIC's pride and joy, the RG351M.
This bar-shaped retro gaming handheld features a Rockchip RK3266 CPU. Combined with 1GB of RAM, it is capable of emulating many different retro gaming platforms, including Dreamcast and Nintendo 64. It is even capable of playing Playstation Portable games!
This is all wrapped up in a premium feeling metal shell, and unlike it's predecessor, the RG351M features built-in Wi-Fi allowing for additional features such as netplay and metadata scraping!
You can buy an RG351M in the UK here (we also ship worldwide!), you can also check out our RG351M review if you'd like to know more about this amazing little device.
Positive
Premium Metal Shell
Built-in Wi-Fi
Extremely stable performance in almost all consoles up to PS1.
Custom firmware greatly improves overall experience.
Negatives
Single SD-card design.
D-Pad can be a bit stiff at first. Needs to be worn in.
3:2 aspect ratio is not ideal for non-GBA titles.
Best Retro Handheld Gaming Console: ANBERNIC RG351V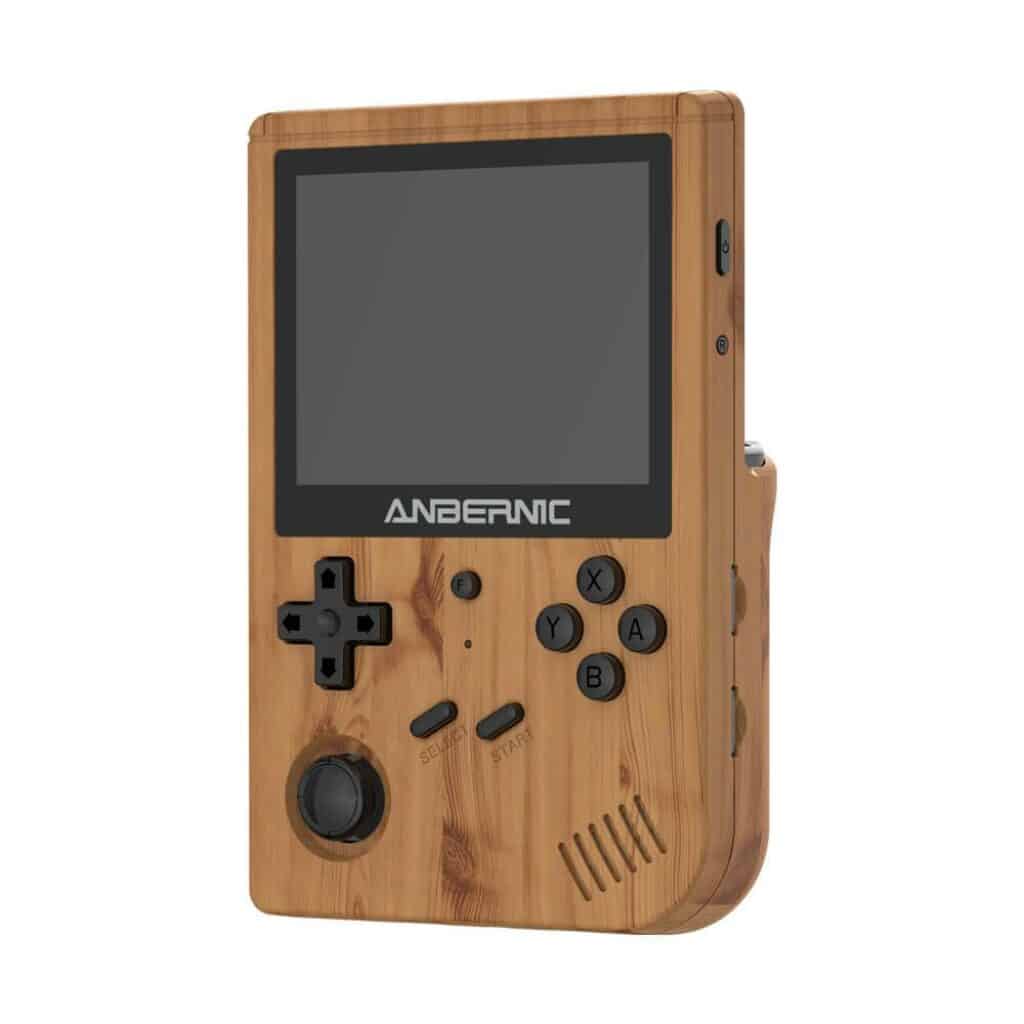 The RG351V is – at the time of writing – the newest retro gaming handheld to come from ANBERNIC available on the market.
While still the same as the RG351M in terms of internals, the RG351V is set apart by it's unique shape. Featuring a vertical design more reminiscent of the game boy, and a 4:3 screen instead of the usual 3:2. This 4:3 display means it is capable of handling different retro platforms with less overhead, allowing for slightly better performance.
The RG351V also features a dual-SD-card design not seen since the RG350 family of devices, allowing you to keep your operating system and games on separate cards.
The lack of stick may seem to be a bummer, but when you consider how few consoles (that the device can emulate) mandate the use of a second stick, it becomes a negligible loss.
Overall however, the RG351V is a true competitor to the title of "best handheld gaming console" thanks to the number of things the design got right.
You can buy an RG351V in the UK here. Additionally, please feel free to check out our RG351V review for more information.
Positive
Dual-SD-card design.
Vibrant 4:3 display
Built-in Wi-Fi
Custom firmware greatly improves overall experience.
Extremely stable performance in almost all consoles up to PS1.
Negatives
No second analogue stick
Mono speaker
Brighter display can affect battery life somewhat.
Best Android Handheld Gaming Console: RETROID Pocket 2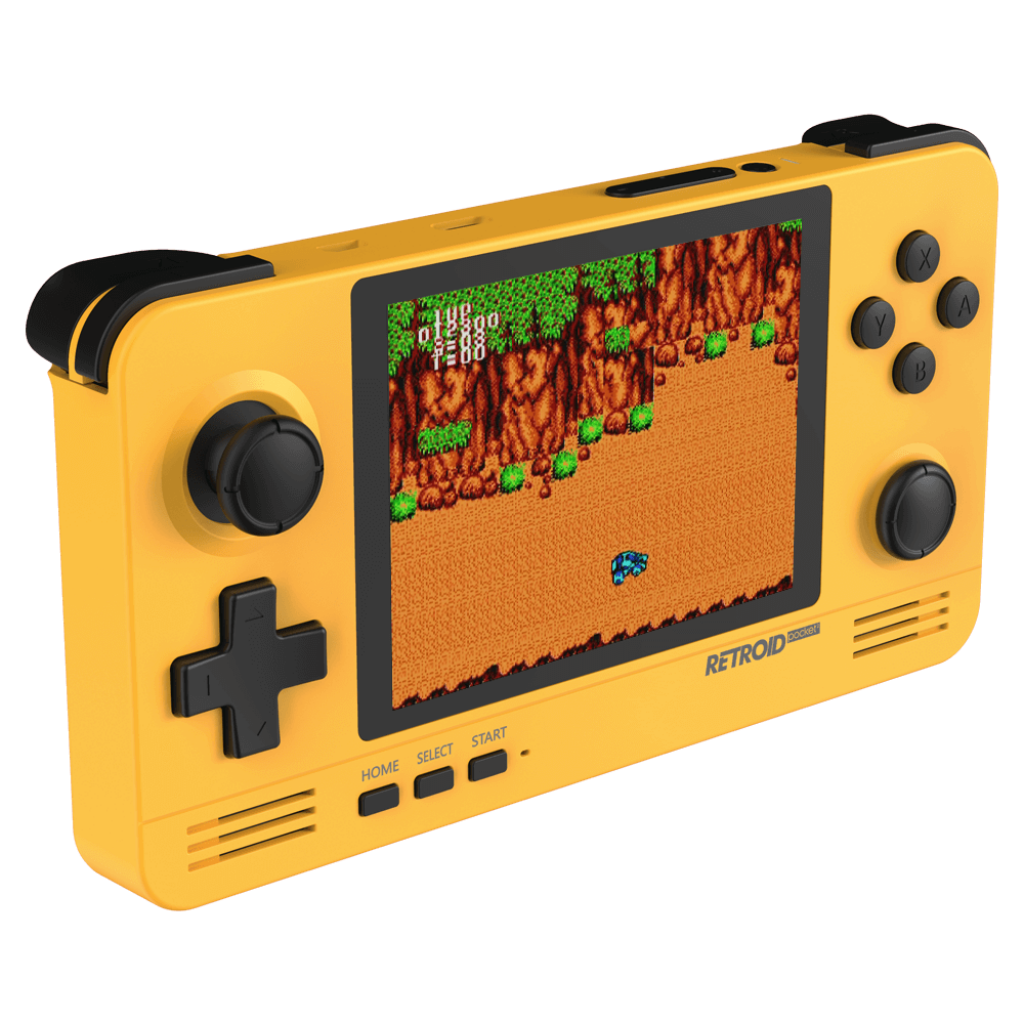 The Retroid Pocket 2 is the successor to the lukewarmly received Retroid Pocket. Unlike other retro gaming handhelds, the Retroid Pocket 2 is unique in that it runs Android 6.1 (and can be upgraded to android 8.1).
Powered by a Cortex-A7 CPU, the performance of the Retroid Pocket is similar to its contemporaries (i..e, the RG351V). What sets the Retroid Pocket 2 apart is the flexibility that running Android offers. On top of an existing bevvy of apps and emulators, the Retroid Pocket 2 can even be used to stream games through Valve's Steam Link software.
The Retroid Pocket 2 is also one of the few "current-generation" retro handhelds to feature a HDMI-out port. Granted, this is a mini-HDMI port, but it's better than nothing.
As far as android handhelds go, we'd consider the Retroid Pocket 2 to be one of the best handheld gaming consoles out there currently.
If this offering interests you, you can buy a Retroid Pocket 2 in the UK here. Also make sure to check out our Retroid Pocket 2 review if you'd like a closer look!
Positive
Huge library of existing Android apps and emulators
Can run Retroid OS – a useful retro gaming front-end.
HDMI-out to connect to TVs/monitors
Can be upgraded to Android 8.1
Negatives
Default OS is a bit slow.
Right analogue stick is a sliding pad, not a full stick.
Face buttons are all very "clicky".
A High-End Powerhouse: GPD WIN 3 Handheld Gaming PC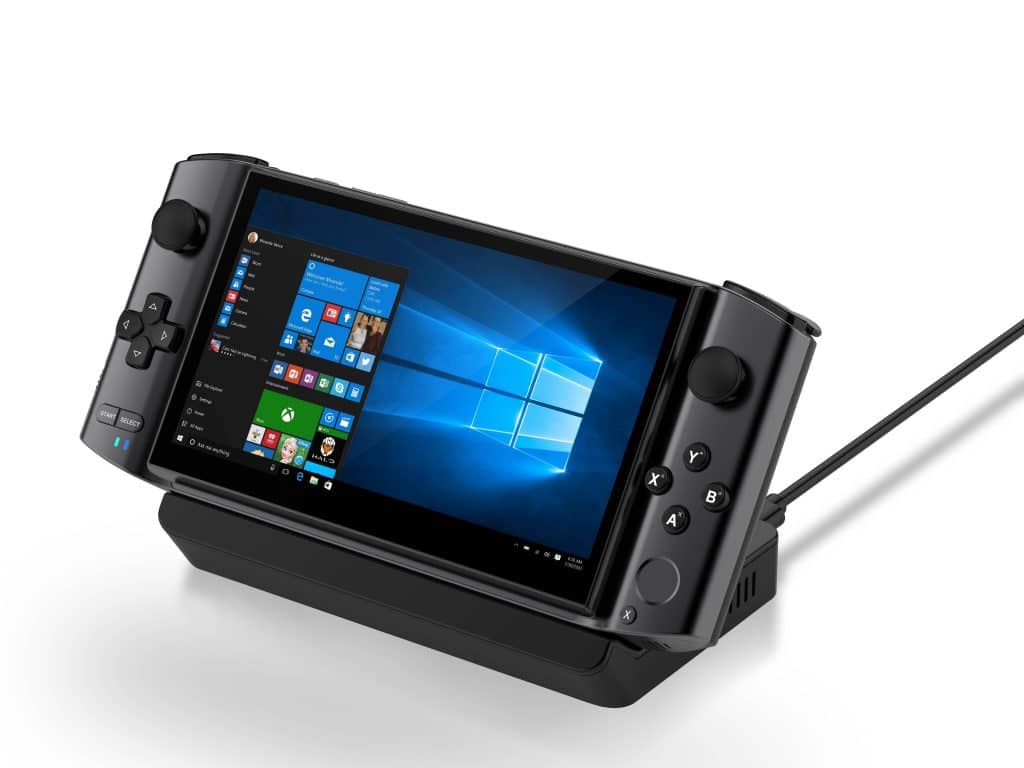 For a truly premoption, one might consider a Windows gaming handheld. At this point in time, there's none other than the GPD Win 3 that fill out the high-end spectrum of best gaming handheld consoles.
The GPD comes in two configurations. One with an 11th generation Intel i7 processor and one with an 11th generation Intel i5 processor. At the time of writing, these are cutting edge CPUs, and along with the built-in NVMe SSD and 16GB of LPDDR4X RAM, mean the GPD Win 3 is a handheld that is capable of playing AAA PC games.
In terms of features, the GPD Win 3 also comes loaded. With a fingerprint sensor, configurable rear buttons, and a touch keyboard (which the screen slides up with a satisfying "click" to reveal), there is a lot on offer here.
There are also a few peripherals present for the RG351P. Namely the official GPD Win 3 dock, which adds a few extra ports to the system and allows it to connect to an external monitor via HDMI.
Want a truly premium gaming handheld, perhaps similar to the recently announced Steam Deck? You can buy a GPD Win 3 in the UK here (we also ship worldwide!), and don't forget to check out our GPD Win 3 review if you're undecided!
Positive
High-end performance
Responsive touchscreen
Can be docked for boost in versatility
Runs most emulators as well as they can run currently.
Feature-rich design
Negatives
Expensive
Touch keyboard is not satisfying to press
Screen could be larger