Exciting news in the field of Android handhelds! GPD, popular manufacturer of a variety of mini laptops and gaming handhelds, have announced their newest device, known as the GPD XP! Everything we know so far, and more as it is revealed, will be compiled below.
06/09/2021 Update: GPD have now officially unveiled the crowdfunding page for the GPD XP. We'll be updating this blogpost with the newest information available, and will continue to update it as more information comes to light.
19/10/2021 Update: A whole bunch of news is now available on the GPD XP! We have the GPD XP's launch price, we have the (rough) release date. We even have a sample unit, which we've prepared an awesome unboxing video for! Take a look at the end of this article for the amended info. Pre-order the GPD XP from DroiX today!
A Brand New Gaming Phone?
The GPD XP is an Android gaming handheld similar in concept to the now-discontinued MOQI i7 and MOQI i7S.
The XP features a central screen flanked upon either side by hardware controls. Like the MOQI family, it is designed to merge the worlds of mobile gaming and hardcore gaming into a singular hybrid device that can "do it all".
It has been a long while since GPD have developed an Android gaming handheld, with their last attempt being the GPD XD Plus, around 3 years ago. Suffice to say, we are excited to see how this will perform in the wild.
GPD XP Specifications
Below are the full list of specifications as reported by GPD.
We've done some interpretation however, as some phrases did not translate very well!
GPD XP Screen Specifications
Type
OGS capacitive touch screen (Supports up to 10 points of touch)
Gorilla Glass 5
TFT LCD
Size
6.81 Inches
Resolution
1080x2400p
Pixel Density
388ppi
Refresh Rate
60Hz
Display Brightness
500nits
Contrast Ratio
1500:1
GPD XP Screen Specifications
GPD XP Hardware Specifications
CPU
MediaTek Helio G95, 8 cores.
(2×ARM Cortex-A76 @2050MHz + 6×ARM Cortex-A55 @2000MHz)
GPU
ARM Mali-G76 MP4 @900MHz
RAM
6GB LPDDR4x
Storage
128GB UFS2.1
SD Card
Yes (microSD, microSDHC, microSDXC)
Storage Expansion
Up to 2TB (microSDXC)
Cooling
Active cooling; single-fan
Speaker
AAC Stereo dual speaker
Camera
Single lens
Front-facing
5.0 megapixels
Interfaces
1x USB-C
1x 3.5mm microphone/headphone jack
GPD XP Hardware Specifications
GPD XP Network Specifications
SIM Support
Yes (Nano-SIM)
4G
Data-only
TD-LTE (CMCC), FDD-LTE (China Unicom, China Telecom)
3G/2G
Data-only
China Unicom 3G (WCDMA), China Unicom 2G/CMCC 2G (GSM)
Frequencies
2G: GSM B3/8
3G: WCDMA B1
4G: TDD-LTE B34/38/39/40/41
4G: FDD-LTE B1/2/3/5/7/8/12/17/20/26/28
Dual SIM
Yes (2x Nano-SIM OR 1x Nano-SIM + 1x microSD)
Wi-Fi
2.4/5Ghz Dual-Band
IEEE 802.11 a/b/g/n/ac (Wi-Fi 5)
Bluetooth
Yes (5.0)
GPS
Yes
(GPS, A-GPS technology, GLONASS, Beidou Navigation, Galileo)
Hotspot
Yes
GPD XP Network Specifications
Processor
The XP features a Mediatek Helio G95 CPU. The G95 is an octa-core processor that is most commonly found in mid-range Android smartphones, including Xiaomi's Redmi Note 10S, and more obscure Chinese smartphones like the Infinix Note 10 Pro.
The max frequency of this processor is 2.05GHz. GPD may also perform some additional under-the-hood tweaks, although this is unconfirmed as of now.
GPU
06/09/2021 Update: Bundled with the MediaTek processor is a 900MHz GPU, the ARM Mali-G76 MP4. This should be powerful enough to handle most mobile games available currently.
RAM
While the device is reported to support 6GB of RAM, it is unknown what type of RAM it is. Given the processor, one can expect the XP to support LPDDR4x RAM, which will allow for quick speeds in games.
06/09/2021 Update: The GPD XP is confirmed to feature 6GB of LPDDR4x RAM, which will provide fast loading speeds in a variety of games and emulators.
Storage
The XP features 128GB of eMMC storage, which is a respectable amount.
It is currently unknown if the GPD XP will support microSD card storage.
06/09/2021 Update: The GPD XP is confirmed to feature 128GB of UFS2.1 storage. This is noticeably faster than eMMC storage, which should translate to a smoother user experience all around.
It is also possible to expand the storage further using a microSD card. Users can opt to use a microSDHC or microSDXC (which we highly reccomend) for increased speeds.
GPD claim a maximum size of 2TB, but seeing as how 2TB microSD cards do not even exist (on the consumer market) at the time of writing, the validity of the claim is anyone's guess.
Operating System/Firmware
The XP is reported to run Android 11. While it's unknown what specific launcher GPD will use, from leaked screenshots it appears to be similar to the GPD XD Plus's design.
Personally we're not a fan of this, but if the system is as open to modification as you would expect an Android handheld to be, you should be able to install an alternative launcher.
06/09/2021 Update: GPD have confirmed that the launcher is the "GPD Metro UI" launcher. Likely to be extremely similar if not identical to the launcher seen in the XD Plus/
The GPD XD Plus is also confirmed to run Android 11.
SIM Support?
Surprisingly, the GPD XP is reported to be compatible with 4G SIM cards. Calling and SMS features are apparently disabled, meaning that the SIM card is used for data alone.
With a data SIM card inserted, the GPD XP will be able to access online features without needing to connect to a Wi-Fi hotspot beforehand, drastically increasing the device's portability
06/09/2021: The GPD XP is confirmed to support 4G SIM cards in a data-only mode. It is possible to run a dual SIM configuration to maximize coverage, or run one SIM card + a microSD card.
Most TD-LTE and FDD-LTE networks are reported to be compatible with the system. Additionally, 3G and 2G networks are available in China (WCDMA and GSM respectively).
Performance & Benchmarks
Because the device has not been recently announced, no benchmarks have been provided for the GPD XP.
Because we know the processor in the unit however, we can extrapolate it's performance based on the metrics from other similar devices, such as Xiaomi's offerings.
In other words, while this device might not handle the very cutting edge of mobile gaming (such as Genshin Impact) with flawless framerates, it is perfectly capable of comfortably playing a wide range of games such as Call of Duty, PUBG, and more.
It will likely also be very capable at emulation as well.
Design – Is this the GPD XD 2?
The GPD XP's design is very similar to the "GPD XD 2" leaks that were circulating on the web in Summer 2020 – approximately 10 months ago.
GPD are once again tapping into the design mantra of the [Switch] and are now including "detachable controls".
The right-hand side of the GPD XP features a swappable control element that can feature a variety of buttons, ranging from a traditional analogue-stick and A/B/X/Y layout, to a more unorthodox vertical 1/2/3/4 layout.
The 1/2/3/4 layout, as well as the other buttons on the device, can be used with specialized "key mapping software". This is identical to the software seen in the MOQI family of devices, and allows you to map button inputs to specific locations on the screen.
You can also forego the right-side controls entirely to reduce the profile of the unit, and rely on the touch screen for inputs.
This style of control is something seen in a handful of mobile phone gaming controllers, such as the iPEGA 9120. It's ultimately a matter of preference which you prefer (personally we'll stick to the hardware controls for emulation!)
Curiously as seen in the photographs, the GPD XP also features a camera in the bottom left screen of the unit. Whether or not this will make it into the final product remains to be seen however.
06/09/2021 Update: GPD have revealed further details about the design of the RG351P, including how the controls work, and the specifics of the camera.
GPD XP Controller System
The modular system featured in the GPD XP makes use of a magnetic connection in order to secure the controllers.
There are three separate modules available for the GPD XP. Each of which offer varying levels of practical touch screen usage with your right hand.
The first module is the "Xbox Controller Module". This attachment features a full set of face buttons, shoulder buttons, and a second analogue stick. This is the bulkiest of the three modules.
The second module is the "MOBA Controller Module". It is a minimalist attachment that essentially just serves as a cap to protect the slot, granting unfettered access to the touch screen.
The third and final module is the "FPS controller module". This acts as a midpoint between the two prior modules, providing four buttons that can be mapped to button presses at different locations on the screen.
The analogue sticks are also confirmed to be the same ALPS "3D" joysticks as seen in the WIN 3, but with a flatter head that should provide better grip. These sticks are also clickable, allowing access to L3 and R3 buttons respectively.
Is there really a camera?
Interestingly, the GPD XP features a camera present in the lower-left corner of it's screen. This is intended for us with various video apps such as WhatsApp, Skype, TikTok and more.
This camera takes photos at 5 megapixels, which is enough for casual usage and selfie taking. Photography enthusiasts may be left with something to desire though.
GPD XP Blueprints
Below you can see the blueprints for the GPD XP, and the modular controller attachments.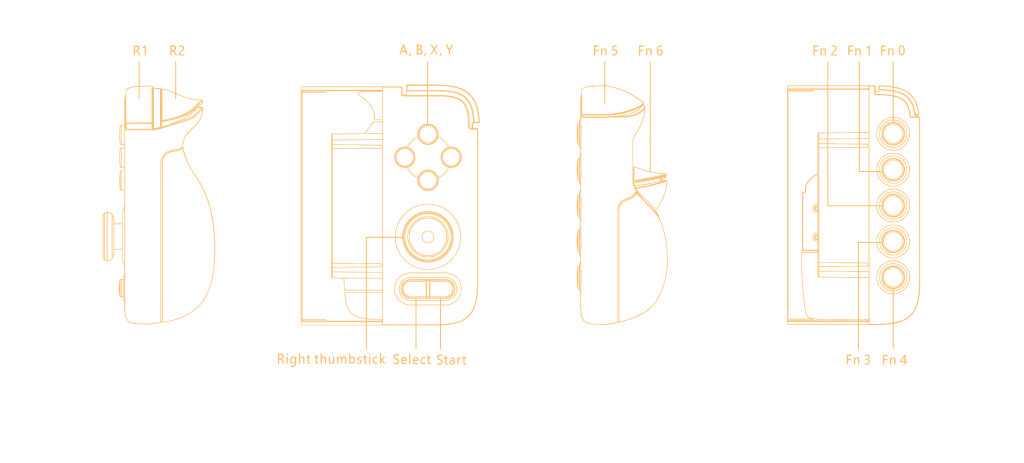 GPD XP Price
No price has been announced as of yet. However, it is rumoured that the XP will cost anywhere between £200 to £400.
Regardless, it will almost certainly be cheaper than GPD's recent offerings (such as the GPD WIN 3).
[19/10/2021 Update] We can now confirm you can buy the the XP from DroiX for £329.95 as of today.
GPD XP Release Date
The GPD XP does not have a release date at the time of writing (10/08/2021). However, if we use the average time GPD provide between announcement and release, we can expect the GPD XP to be released in late Q4 2021 at the very earliest.
Realistically though, we wouldn't expect to see the GPD XP until Q1 2022. Sample units are being sent out to select individuals as of now, but it is unknown when and if GPD will launch a kickstarter for the device (as they did with other handhelds, such as the GPD XD Plus, and the GPD WIN 3).
06/09/2021 Update: The GPD XP is expected to be released in Janurary 2022, according to the GPD XP IndieGoGo page.
[19/10/2021 Update] DroiX are now expecting the first batch of GPD XP units to become available at some point around the 5th of November, 2021. Give or take a few weeks, given the poor state of the global supply chain as of now.
[09/09/2021 Update]: GPD XP Gameplay Footage
Check out this footage of the device in action below.
As expected, the GPD XP can handle a variety of Android games comfortably. It is also very competent at emulation, being capable of handling GameCube, PSP games, and even the odd Wii and PS2 game here and there.
[19/10/2021 Update]: GPD XP Release Date, GPD XP Unboxing, and more…
It's been a month since we last checked in on this status of this Android gaming handheld, and we have a bunch of information to share!
First of all, the price! You will be able to purchase the GPD XP for a total of £329.95 at launch
Second, the release date! Right now, DroiX expects to receive the first batch of GPD XP's on approximately the 5th of November 2021. But given the condition of the global supply chain currently (with shortages and delays affecting pretty much every industry), we would allow a grace period of a few weeks from that date.
You can pre order a GPD XP from DroiX right now (we ship from the UK to local and international destinations), if you're interested.
Thirdly. Are you interested in taking an in-depth look at the XP? DroiX has received a prototype sample from GPD themselves. So while this is not entirely reflective of what the final product will be like, we believe it will be a good overall indicator as to what you can expect from this Android gaming handheld.
Check out our GPD XP unboxing and gameplay testing videos below: