ANBERNIC RG503 Handheld-Spielkonsole
RK3366 Quad-Core 64-Bit Cortex A55 CPU @ 1.8GHz
1GB LPDDR4 RAM & 16GB OS mit 64GB Speicherkarte
4,95″ OLED-Bildschirm mit einer Auflösung von 960×544
Unterstützt 20 Retro-Spielekonsolen
HDMI-Ausgang zur Anzeige auf einem großen Fernseher oder Monitor
Anmerkung:
Dieser Artikel ist auf Vorbestellung und das Erscheinungsdatum ist der 1. Juni 2022 (im Voraus berechnet)
Starting at €169,05 Incl. VATStarting at €140,88 Excl. VAT
Description
Die Retro-Gaming-Konsole RG503 eignet sich hervorragend für Retro-Gaming unterwegs und für die Fortsetzung des Spielspaßes zu Hause auf dem großen Bildschirm. Der in den drei Farben Blau, Bronzegrau und Schwarz erhältliche Handheld misst 19 x 8,4 x 2,1 cm und wiegt 235 Gramm. Es ist sehr tragbar und leicht zu transportieren, wenn man unterwegs ist. Es verfügt über ein 4,95-Zoll-OLED von Samsung mit einer Auflösung von 960 x 644 Pix eln. Es ist das gleiche Display, das auch auf der Sony Vita verwendet wird, und es sieht großartig aus!
Der RG503 verfügt über einen leistungsstarken RK3566 Quad-Core 64-Bit Cortex A55 Prozessor, der mit einer Frequenz von bis zu 1,8 GHz arbeitet. Er kann Ihre bevorzugten 8- und 16-Bit-Retro-Spielekonsolen sowie einige 32-Bit-Konsolen abspielen. Der 1 GB große LPDDR4-RAM reicht aus, um das Betriebssystem und die Spiele auszuführen. Es wird mit einer 16 GB Micro SD-Karte für das Betriebssystem geliefert, das auf Emulation Station und RetroArch basiert. Außerdem ist eine 64-GB-Karte für die Speicherung des Spiels enthalten.
Wenn es um die Steuerung geht, haben Sie beim RG503 die Qual der Wahl . Es gibt ein D-Pad im klassischen Stil und zwei anklickbare Analogsticks. Es gibt vier Spieltasten, SELECT und START sowie linke und rechte Schulter- und Auslösetasten. Es wird von einem 3500-mAh-Li-Polymer-Akku betrieben, der je nach Nutzung bis zu 6 Stunden hält. Es kann über das mitgelieferte USB-Typ-C-Kabel aufgeladen werden. Es gibt auch Wi-Fi-Unterstützung für das Spielen kompatibler Spiele online mit Freunden sowie einen HDMI-Ausgang für den Anschluss an Ihren Fernseher oder Monitor für einige große Bildschirm-Action.
Enthaltene Unterstützung für Retro-Spielkonsolen und -systeme sind CPS-I, CPS-II, CPS-III, Final Burn Alpha, MAME, WonderSwan, MSX, PC Engine, Neo Geo, Master System, Mega Drive/Genesis, Game Gear, Dreamcast, PlayStation & PlayStation Portable. Bei vielen Emulatoren, die RetroArch-Kerne verwenden, können Sie die Speicherstände verwenden, um zu einem späteren Zeitpunkt genau dort fortzufahren, wo Sie aufgehört haben.
Die RG503 Retro-Spielkonsole ist ideal für alle, die unterwegs gerne spielen. Zu Hause schließen Sie einfach das HDMI-Kabel an und schon können Sie auf dem großen Bildschirm spielen. Der leistungsstarke Prozessor kann alle großartigen 8- und 16-Bit-Retro-Konsolen ausführen und sie sehen auf dem hochauflösenden Display fantastisch aus!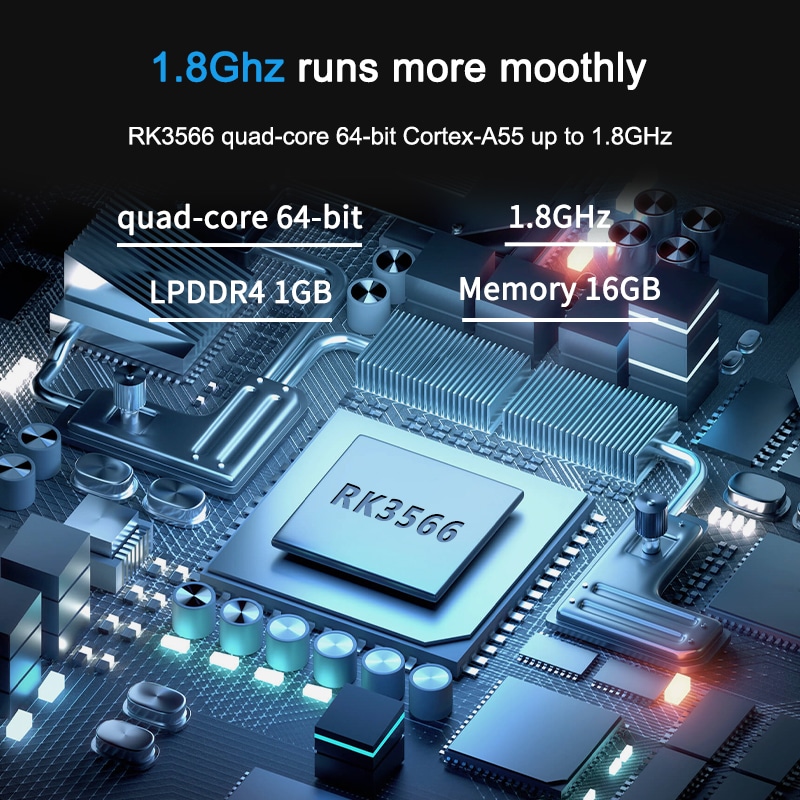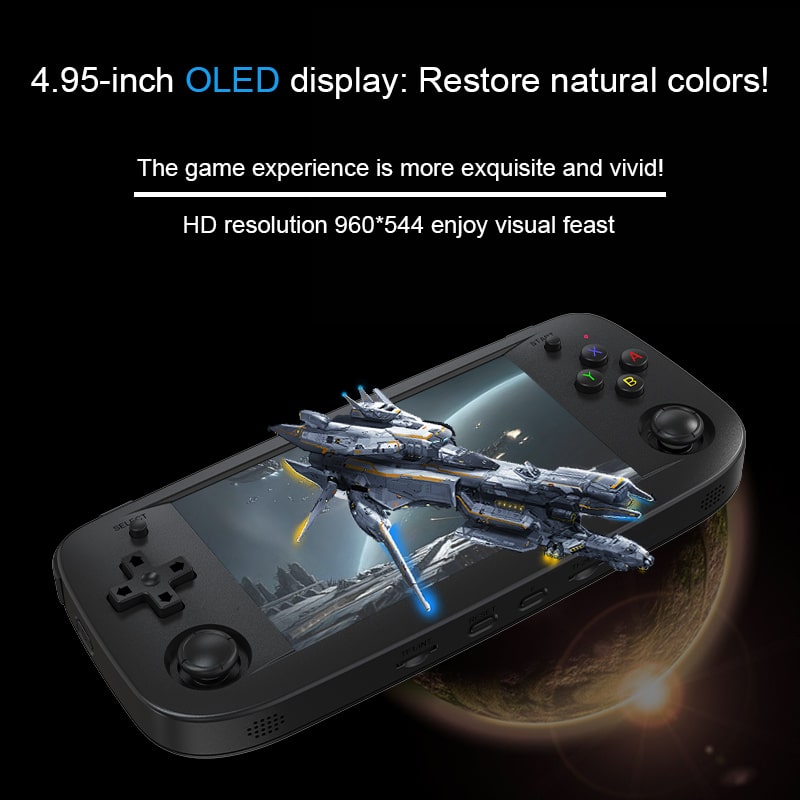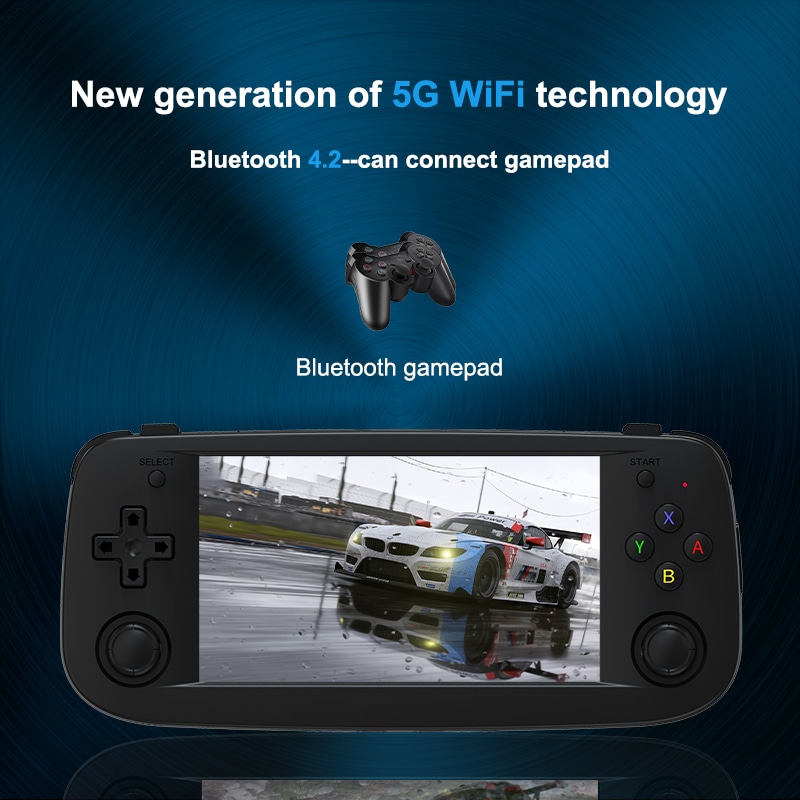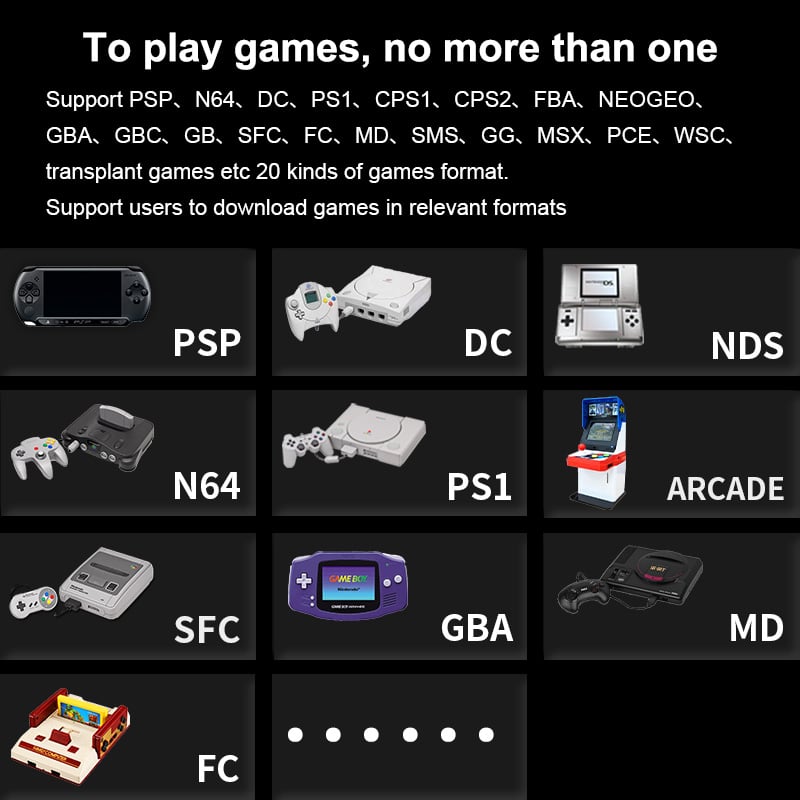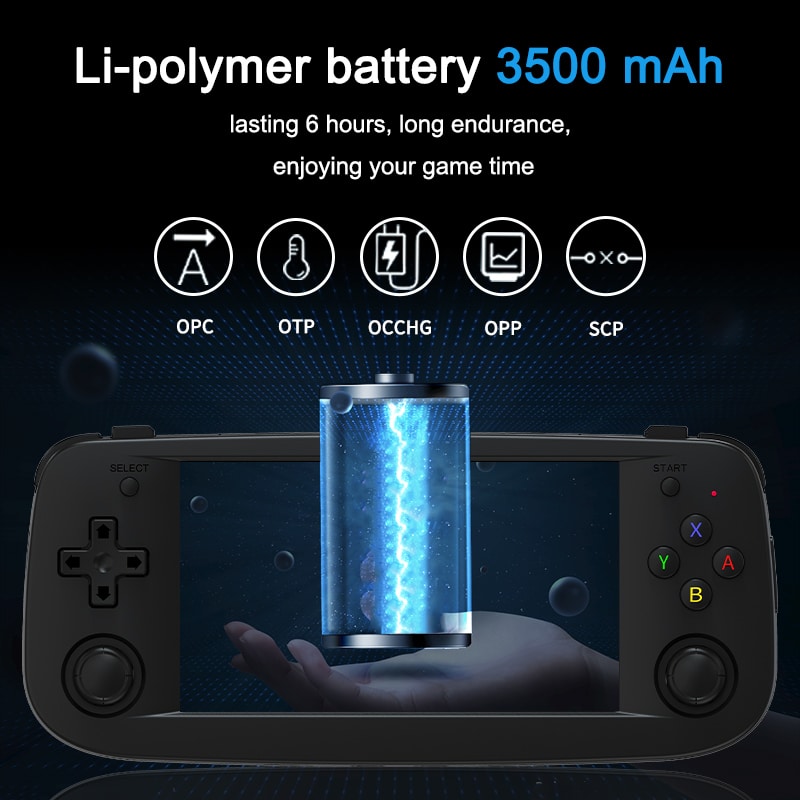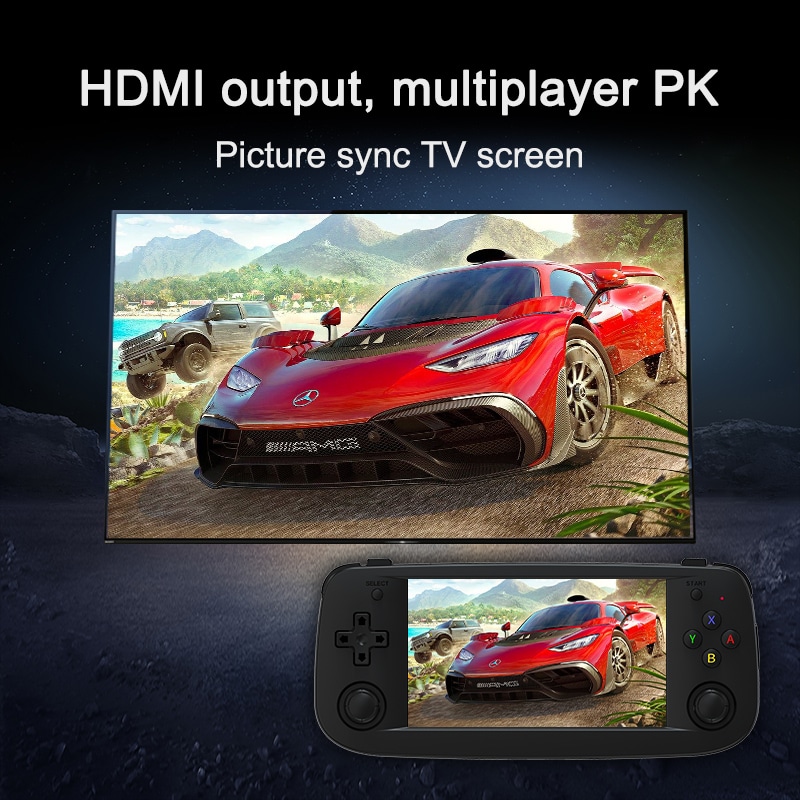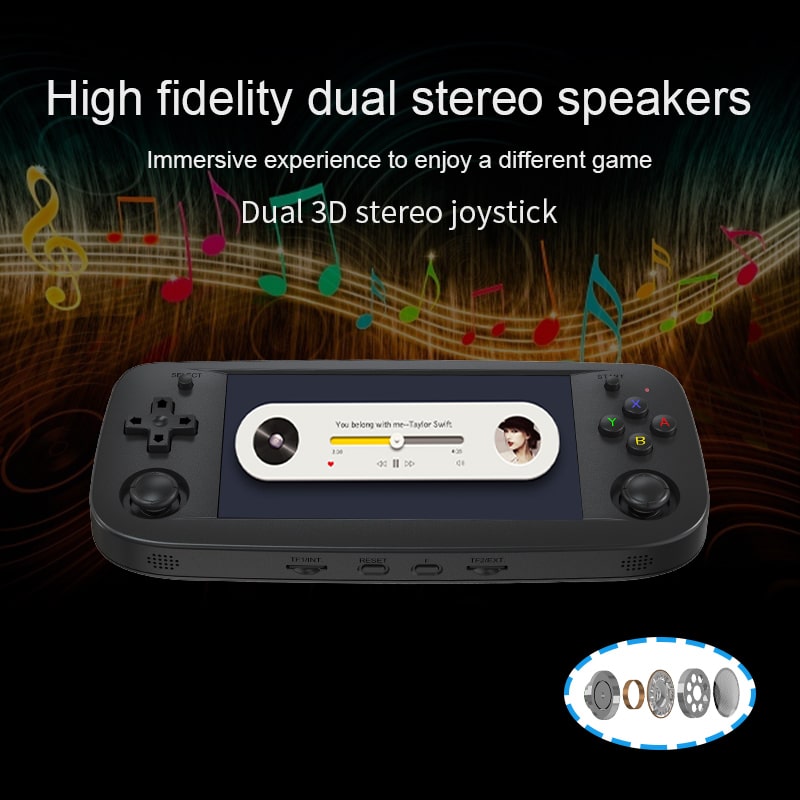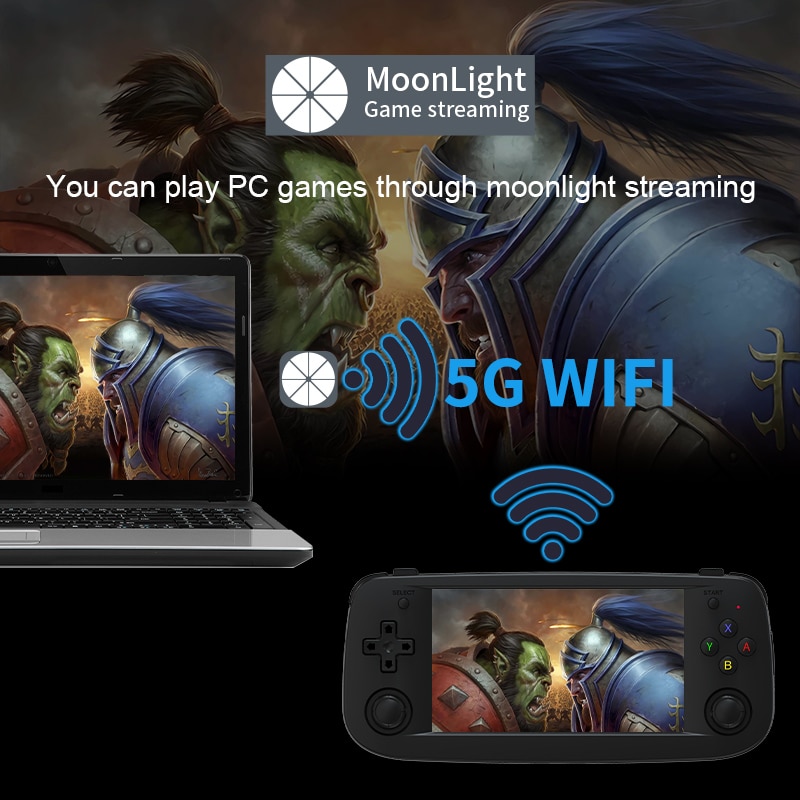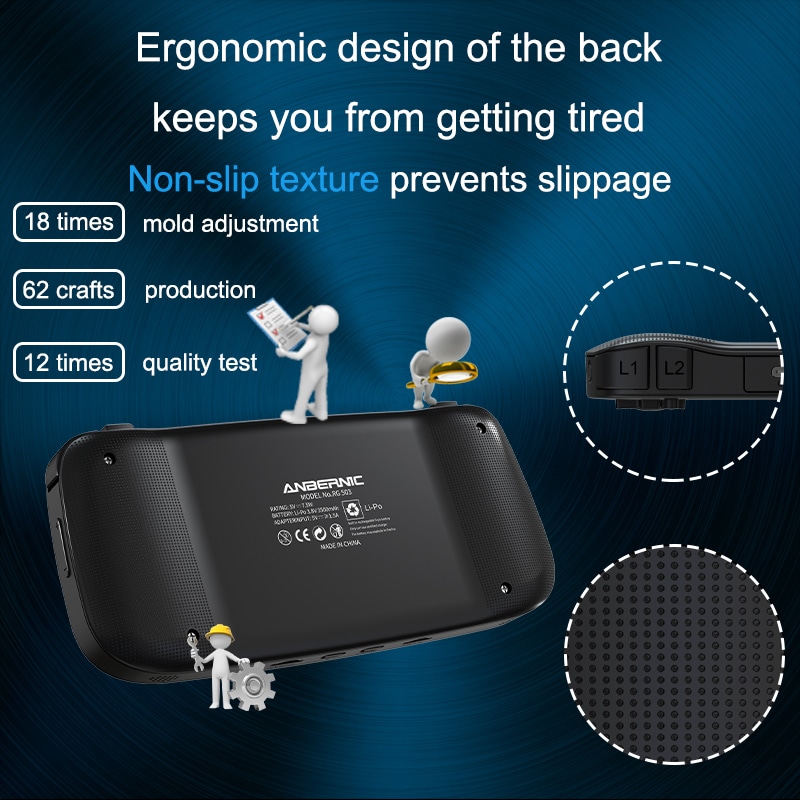 Technical Specifications
Softwares
Primary (eMMC)
Linux
Processor
Brand
RockChip
Model
RK3566
# Cores
6
Frequency
1.80 Ghz
Cache
1 MB unified L2 Cache (Big) ; 512 KB unified L2 Cache (Little)
Cooling
Active
Graphics Processor
Interface
Integrated
Brand
Mali
Model
G52
Video Decoding
Panel Technology
OLED Display
Touch-Screen
✓
Size
4.95"
Screen Resolution
960x544
Memory/Storage
Capacity
1GB
Technology
LPDDR4
Network
Capacity
16GB (eMMC)
I/O Interface
USB
Charging
Video
HDMI
Audio
3.5mm Headphone
Dimension/Weight
Capacity
3500mAh
Longevity
6 Hours (Depending on usage)
Package Includes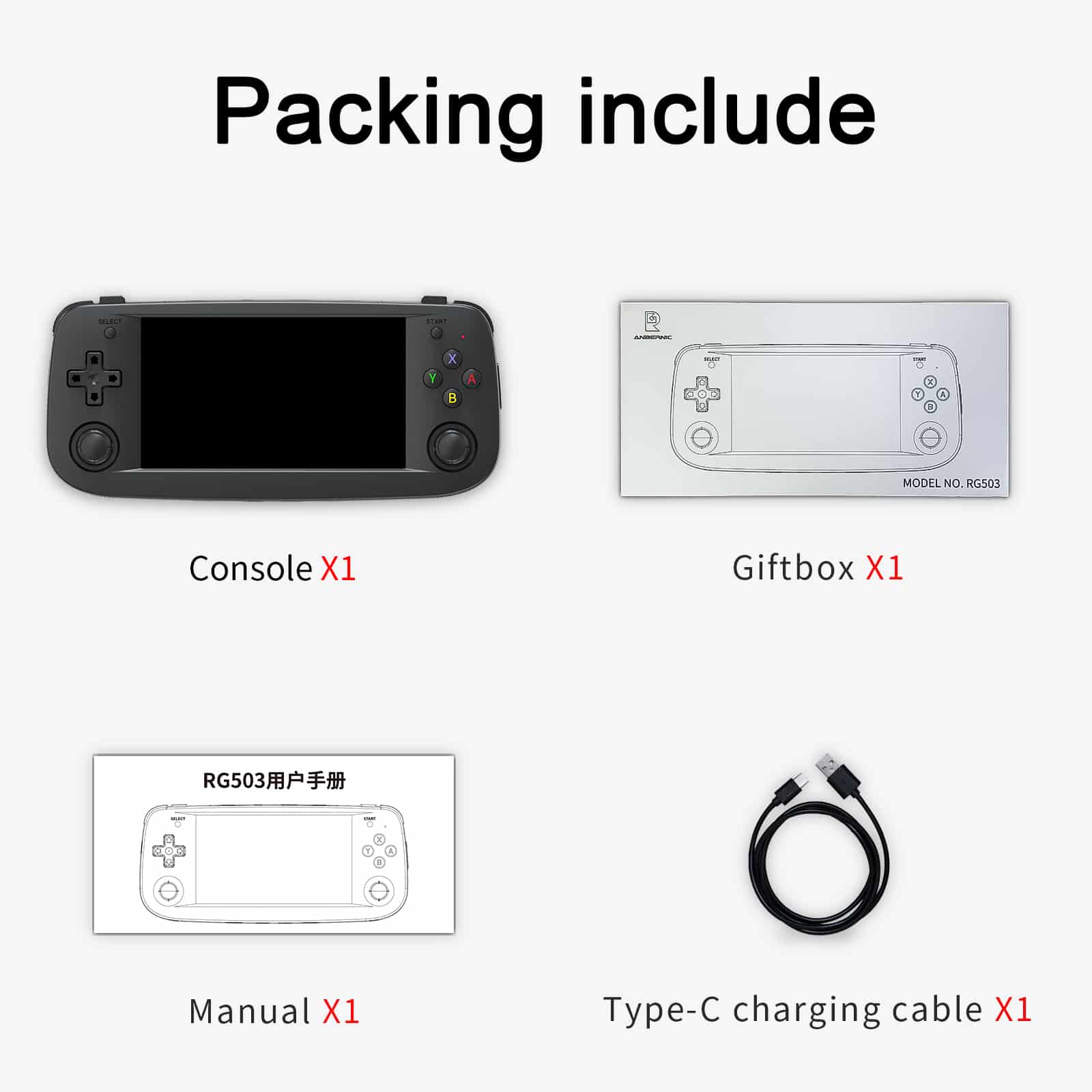 1 * RG503 Console
1 * User Manual
1 * Type-C Charging Cable
Please Note
In line with the policy of continued development, the manufacturer reserves the right to amend the specifications without prior notification. The illustrations in the user manual are for reference only.
ANBERNIC RG503 Handheld-Spielkonsole
Starting at €169,05 Incl. VATStarting at €140,88 Excl. VAT