Mini PC Windows Beelink T34-M
Intel® Celeron® N3450 2.20GHz, TPD : 6W
6GB DDR3, jusqu'à 256GB M.2 SATA
Intel HD Graphics
Supportdouble écran
WiFI 5 & Bluetooth 4.1; USB 3.0
Starting at £ 199.95 Incl. VATStarting at £ 166.63 Excl. VAT
Description
Le Beelink T34-M est un mini PC très léger, à profil bas et économe en énergie, alimenté par Intel, qui constitue un excellent complément économique pour le bureau à domicile, une solution d'entreprise ou une opération de signalisation numérique.
Propulsé par le Celeron N3450 d'Intel Apollo Lake, profitez de vitesses allant jusqu'à 2,2 GHz en charge, le système étant dynamiquement sous-cadencé à 1,1 GHz en veille pour une durée de vie et une efficacité énergétique accrues.
Avec une capacité de 128 ou 256 Go de M.2 intégrée. Avec une capacité de stockage SATAIII et 6 Go de RAM DDR3, vous serez en mesure d'utiliser confortablement une variété d'applications avec un minimum de problèmes. Le stockage peut également être étendu par un emplacement pour carte SD afin d'augmenter la capacité de stockage de toutes vos vidéos et documents.
Avec un poids d'environ 270 g et une hauteur de seulement 17,9 mm, le T34-M est idéal pour les utilisateurs soucieux de l'espace disponible et s'intègre facilement dans n'importe quelle configuration. Comme ordinateur de bureau, comme centre multimédia, comme PC d'impression, et plus encore !
Le T34-M dispose également d'une sortie double écran via les ports HDMI 1.4 (4k) et VGA (2k) pour une productivité accrue.
En ce qui concerne les options de connectivité, le T34-M est équipé en standard d'un port Ethernet gigabit RJ45, de quatre ports USB 3.0, ainsi que d'une prise audio 3,5 mm. Associé à la connectivité Wi Fi double bande et Bluetooth 4.0, le T34-M est un appareil flexible qui peut fonctionner dans de nombreux environnements.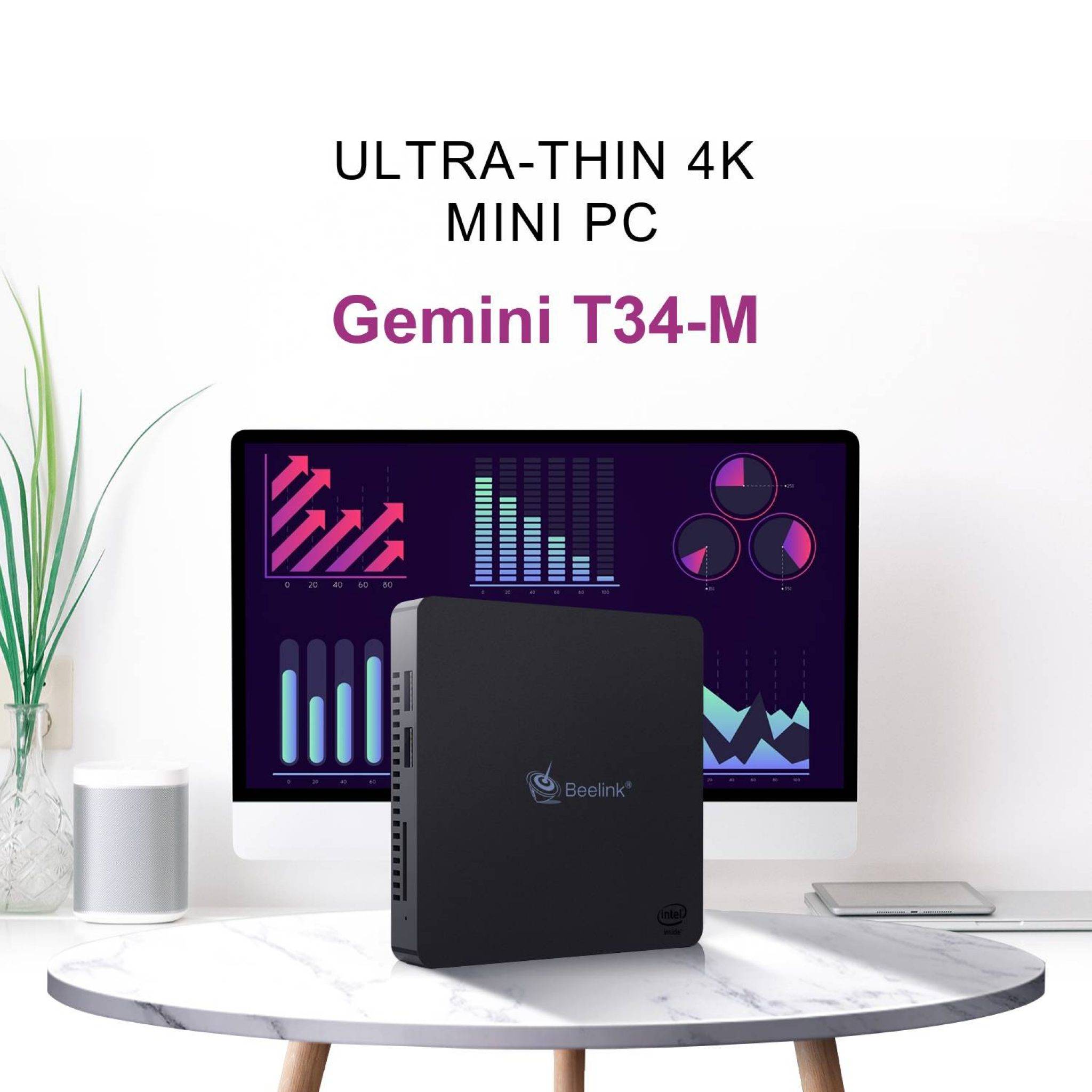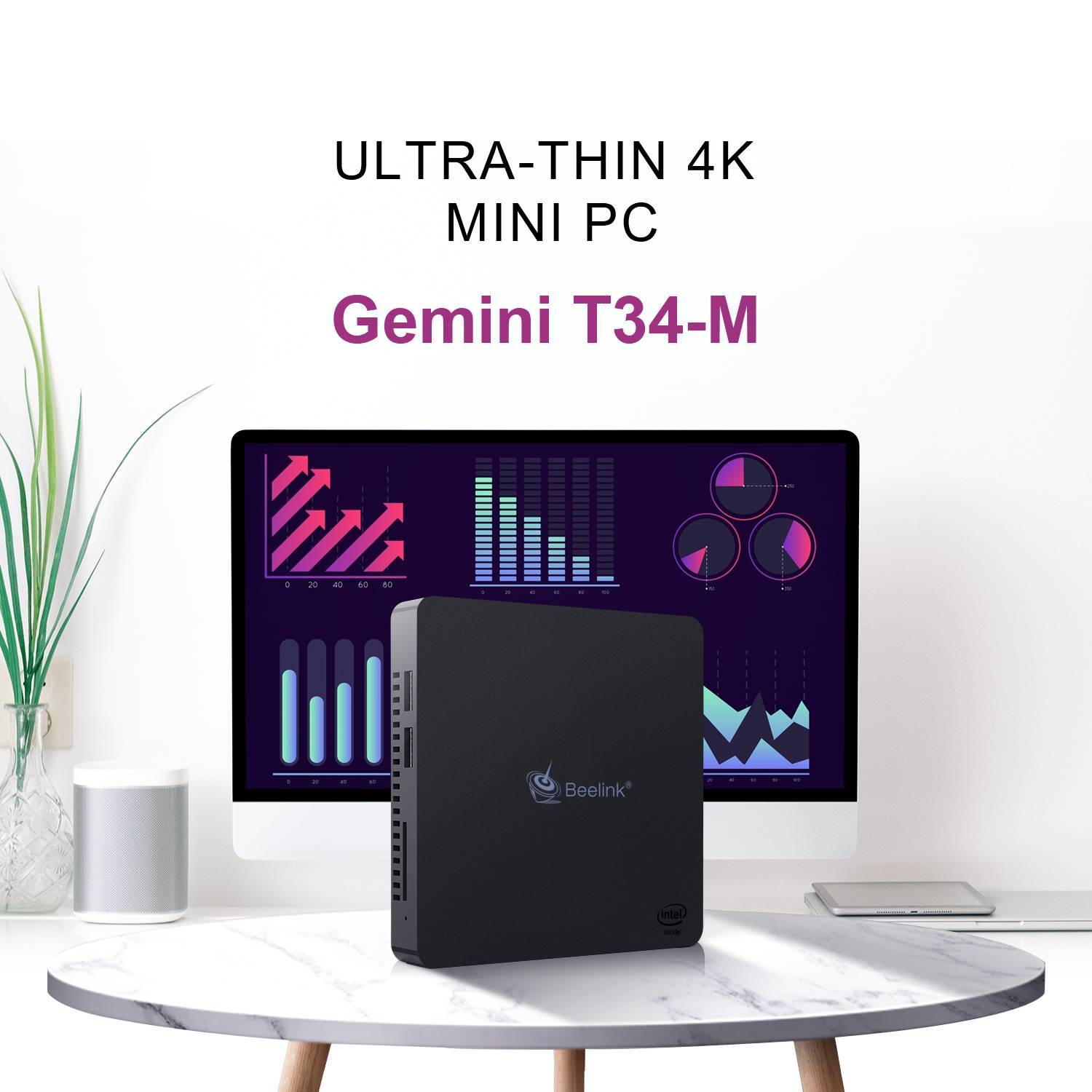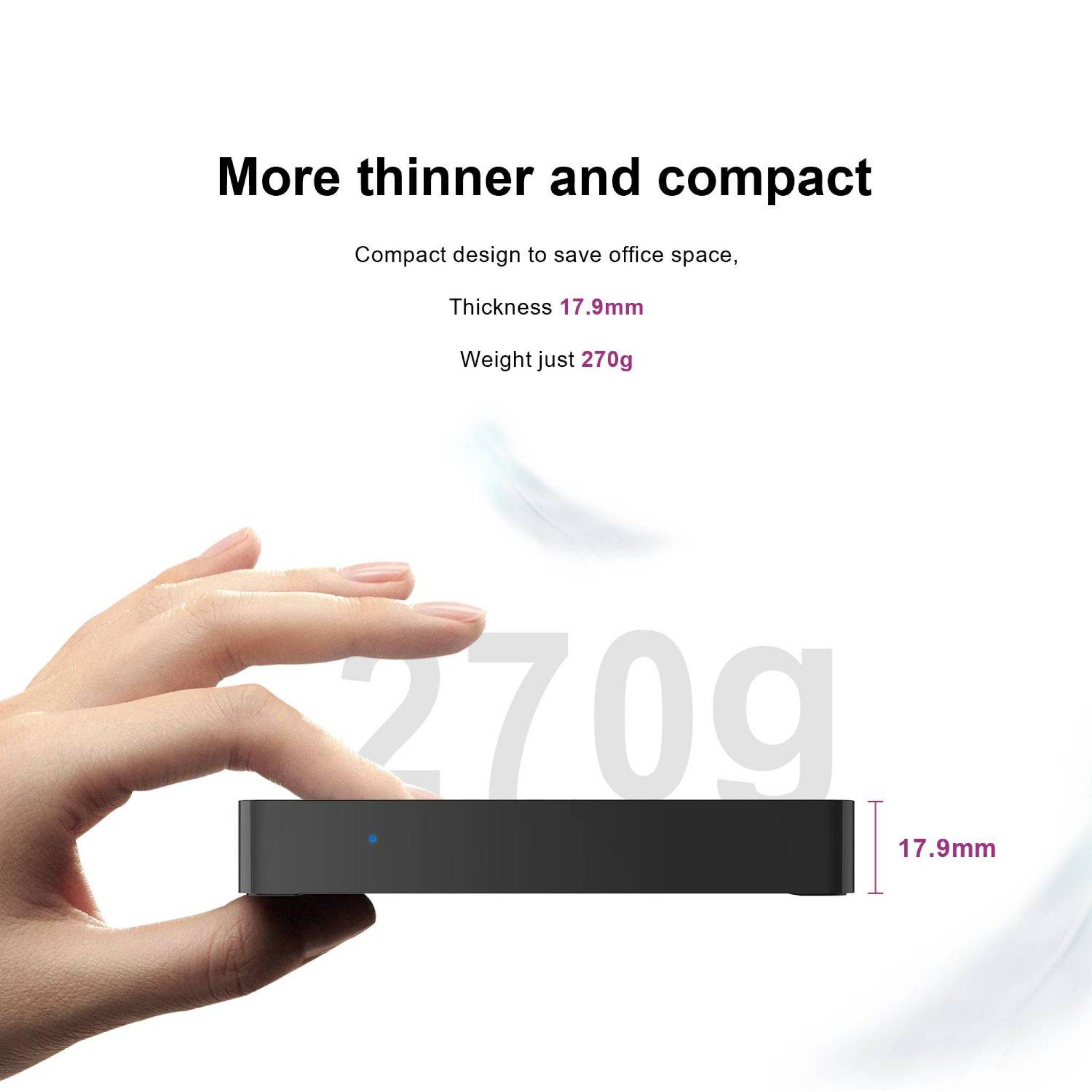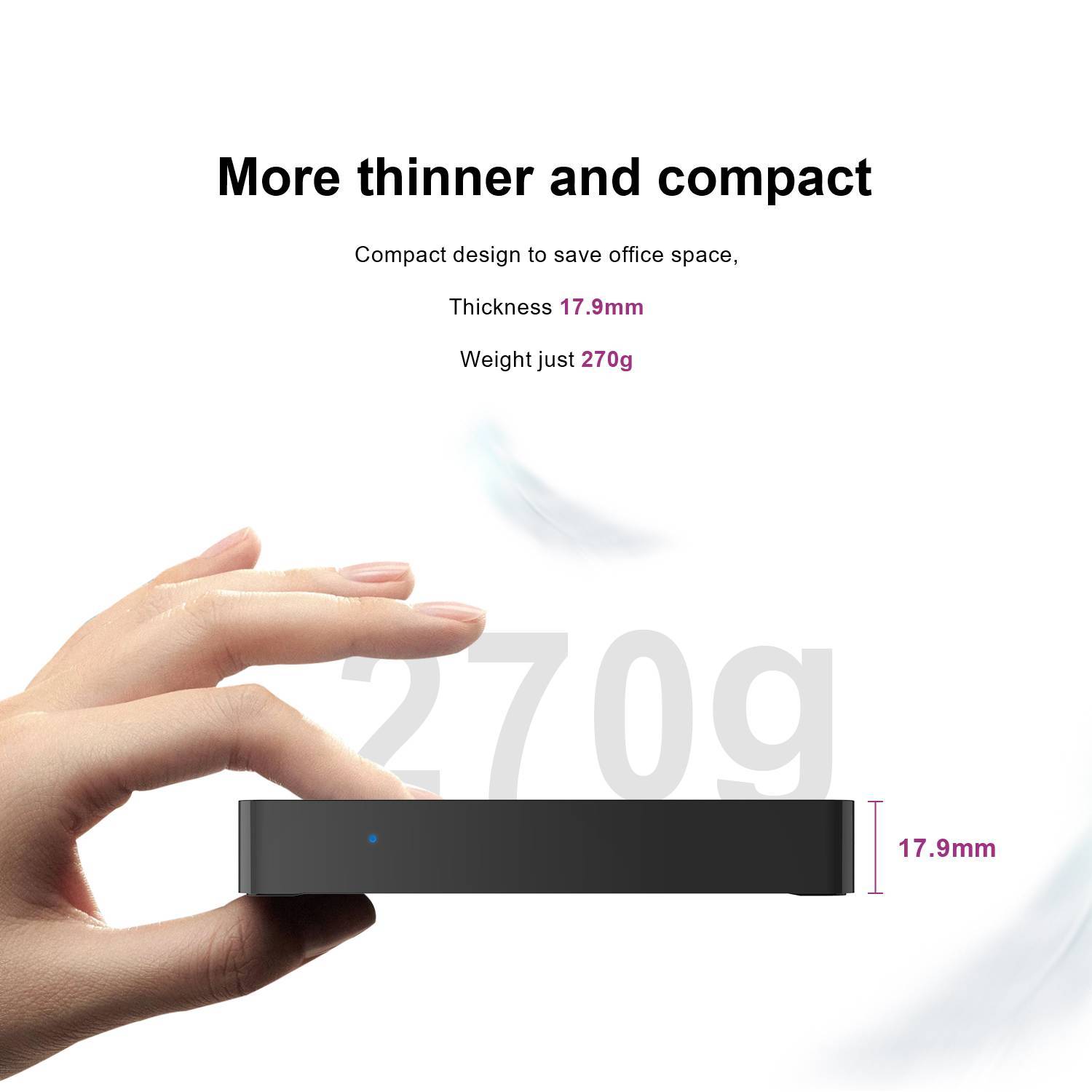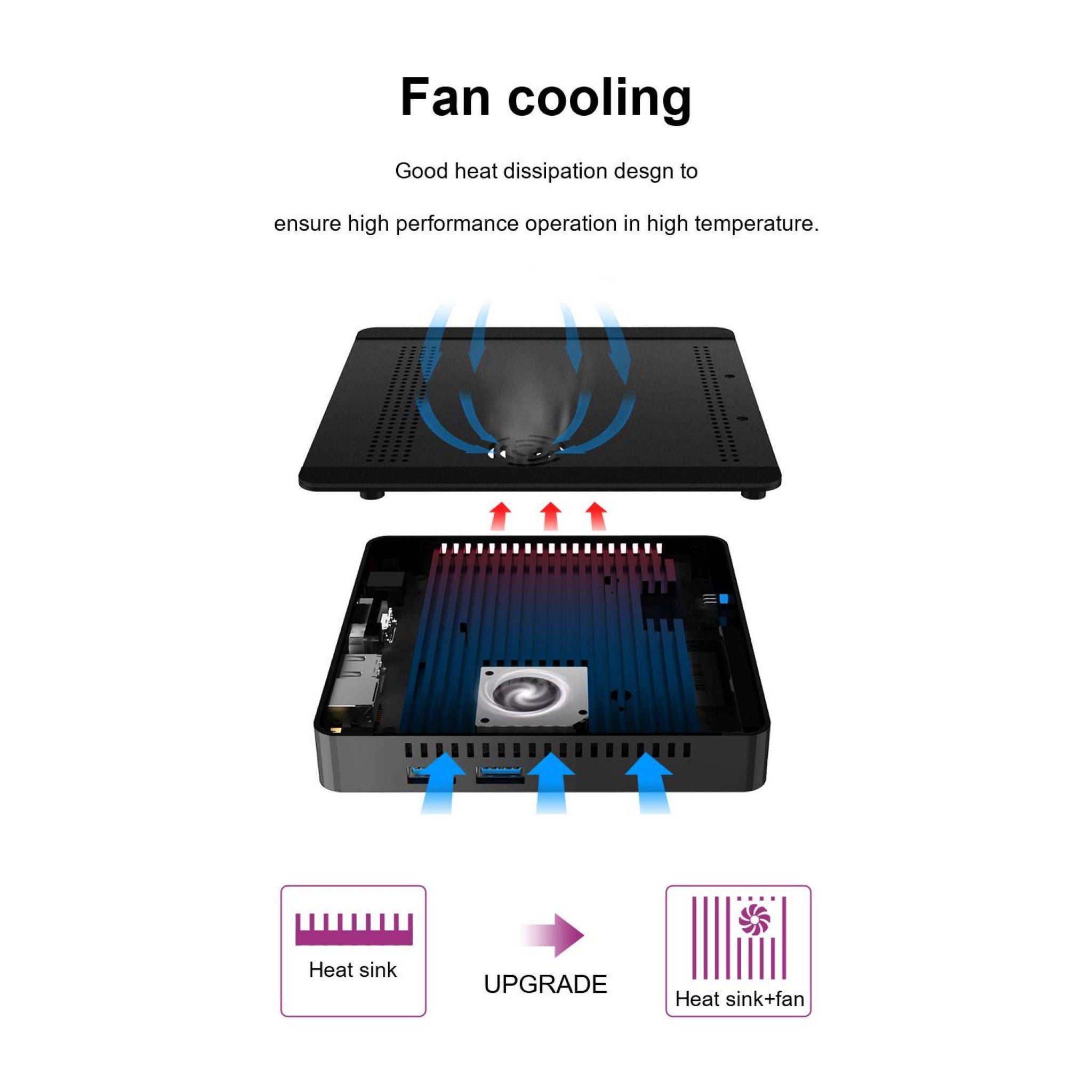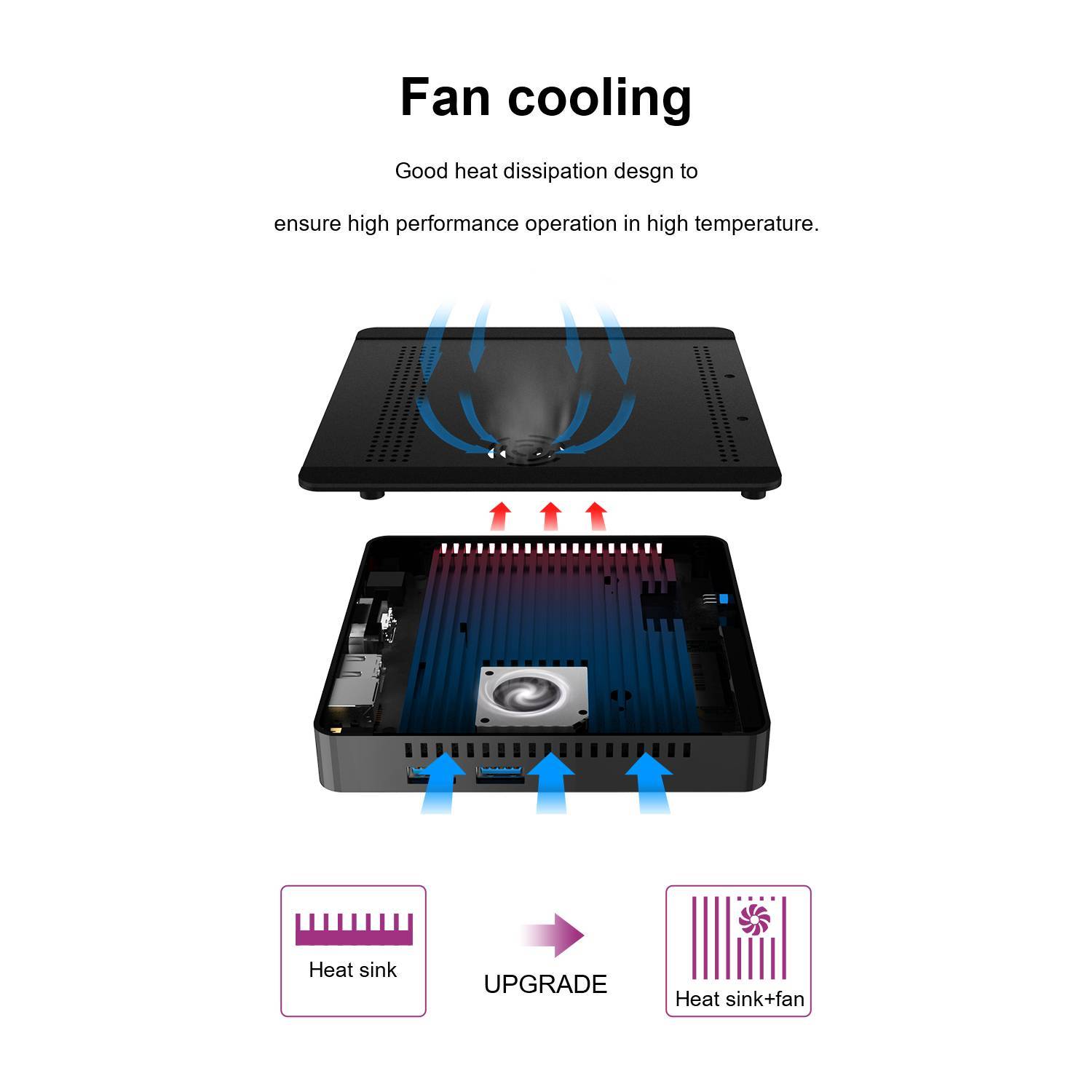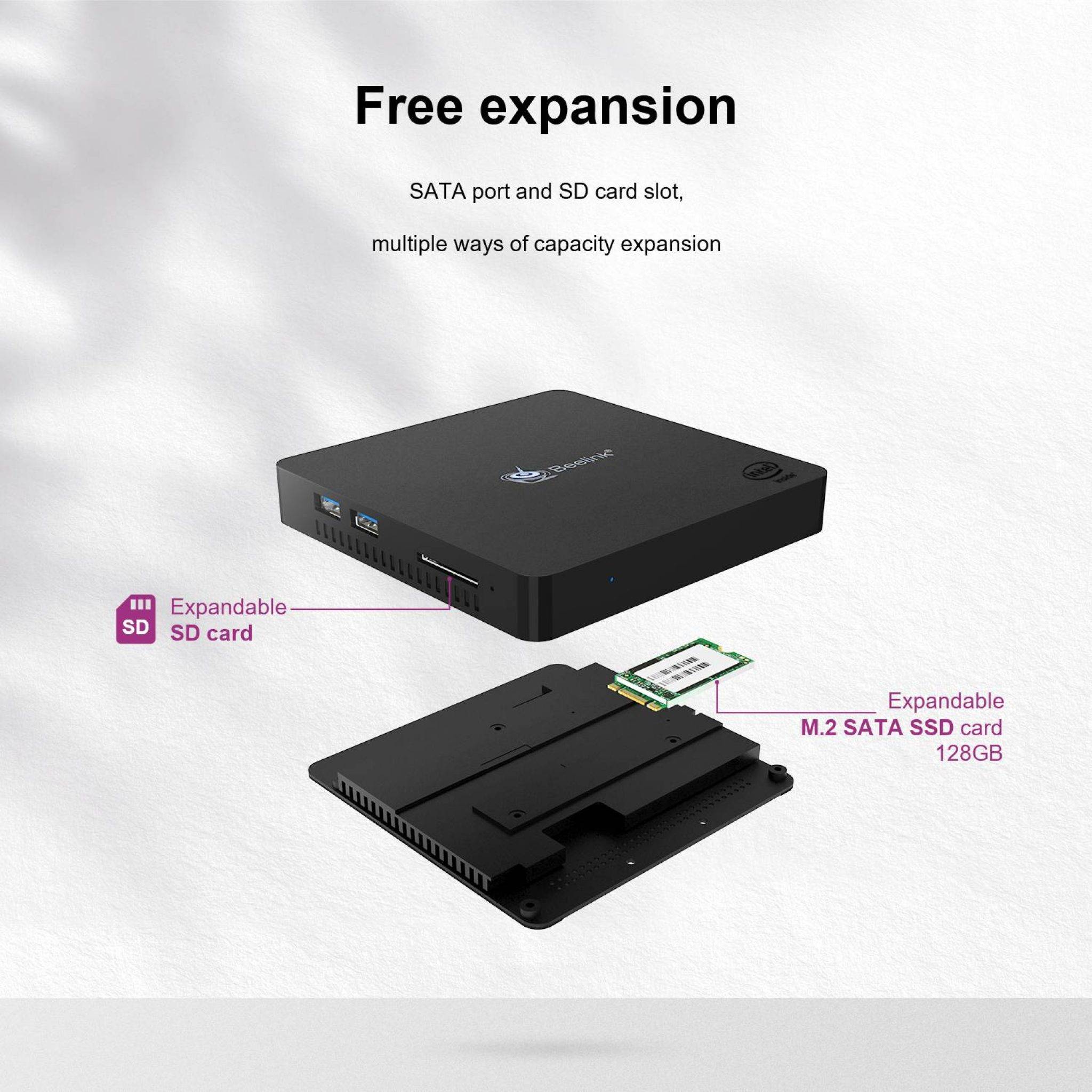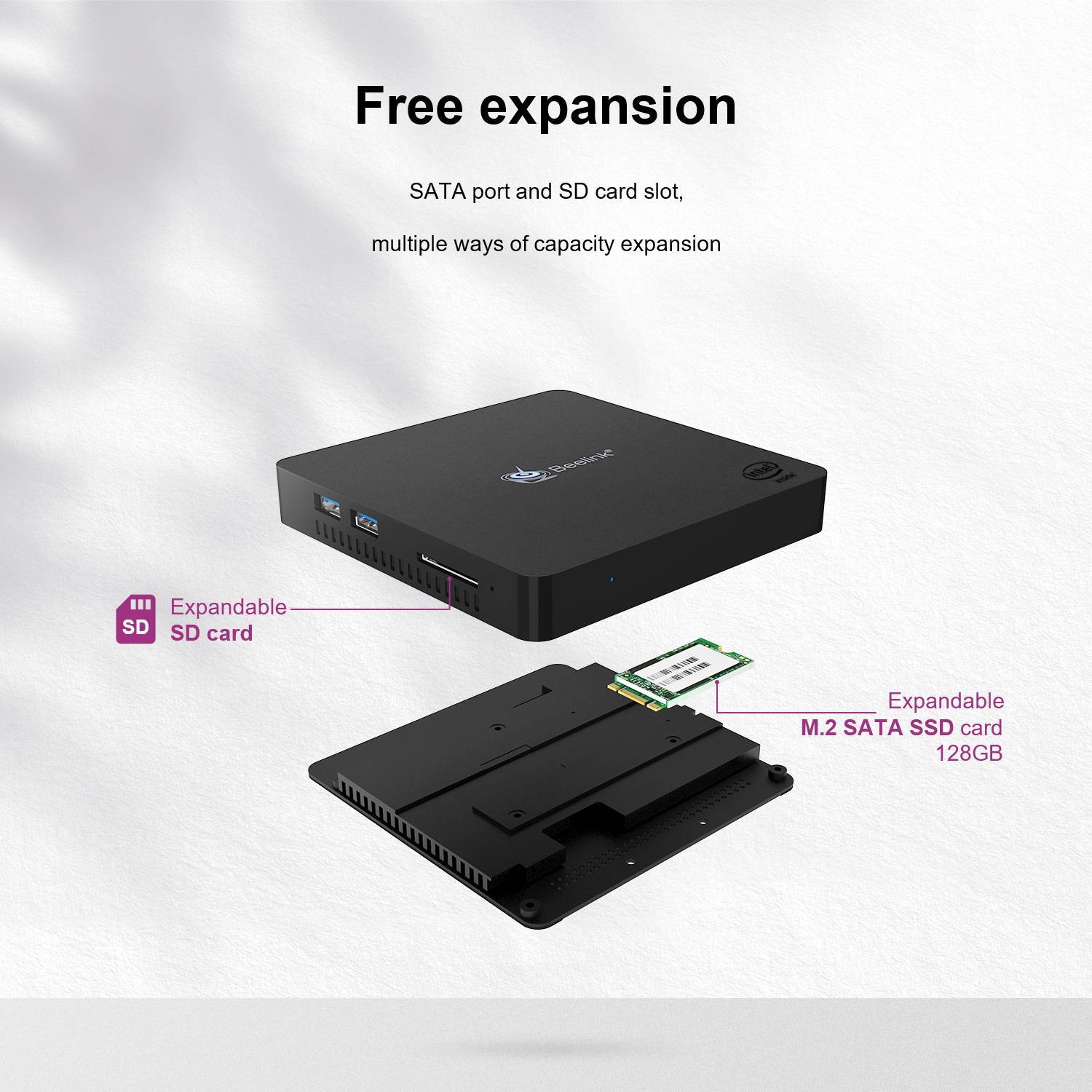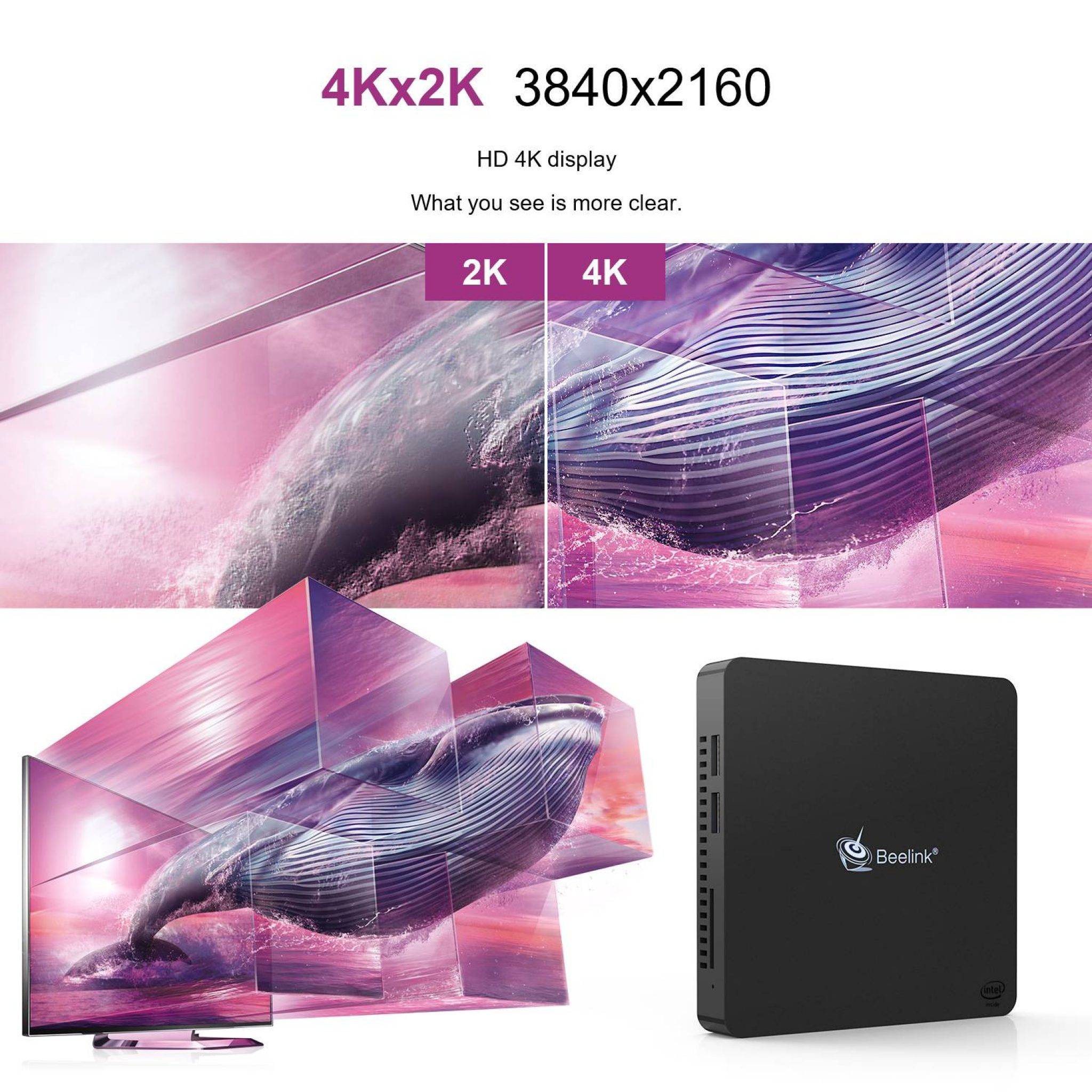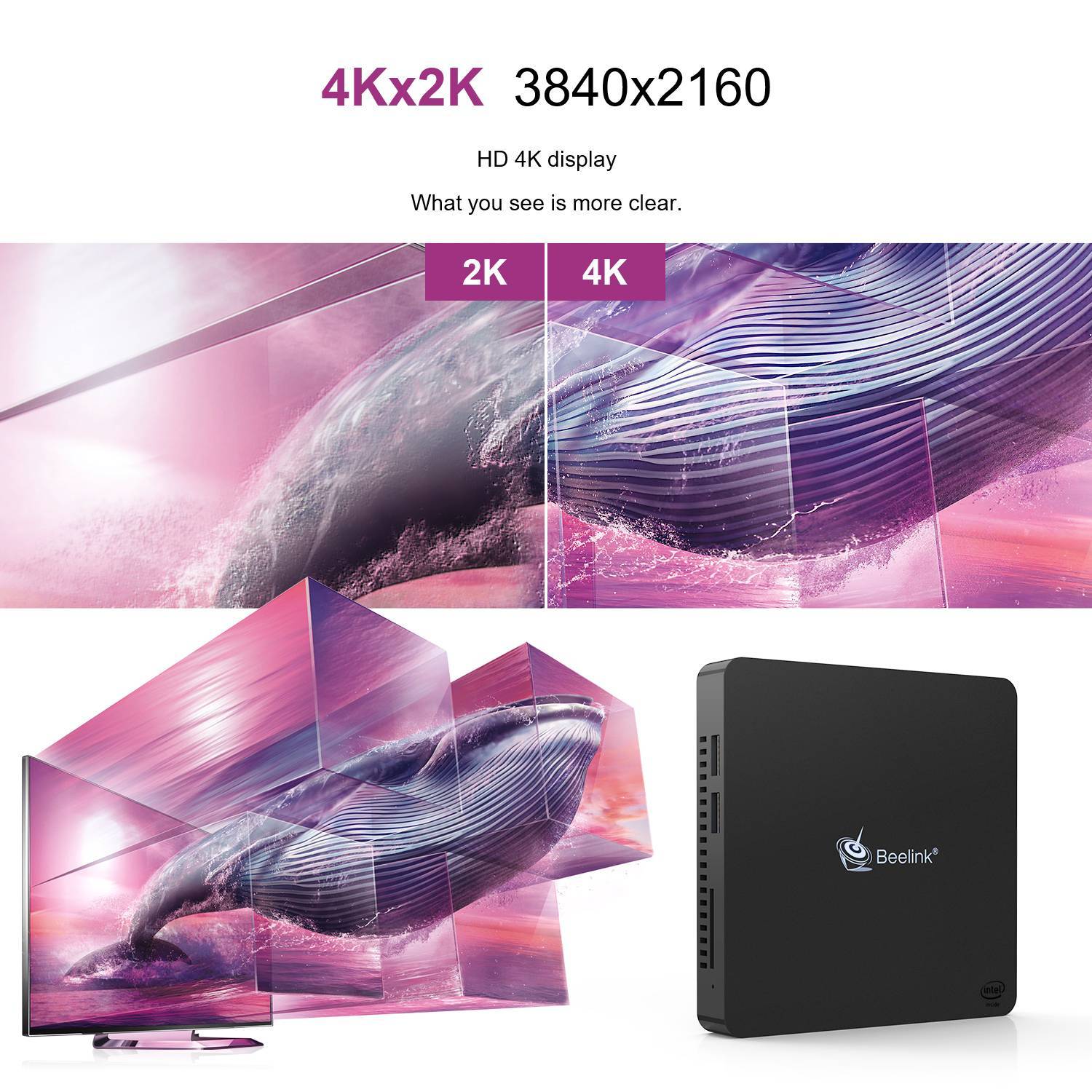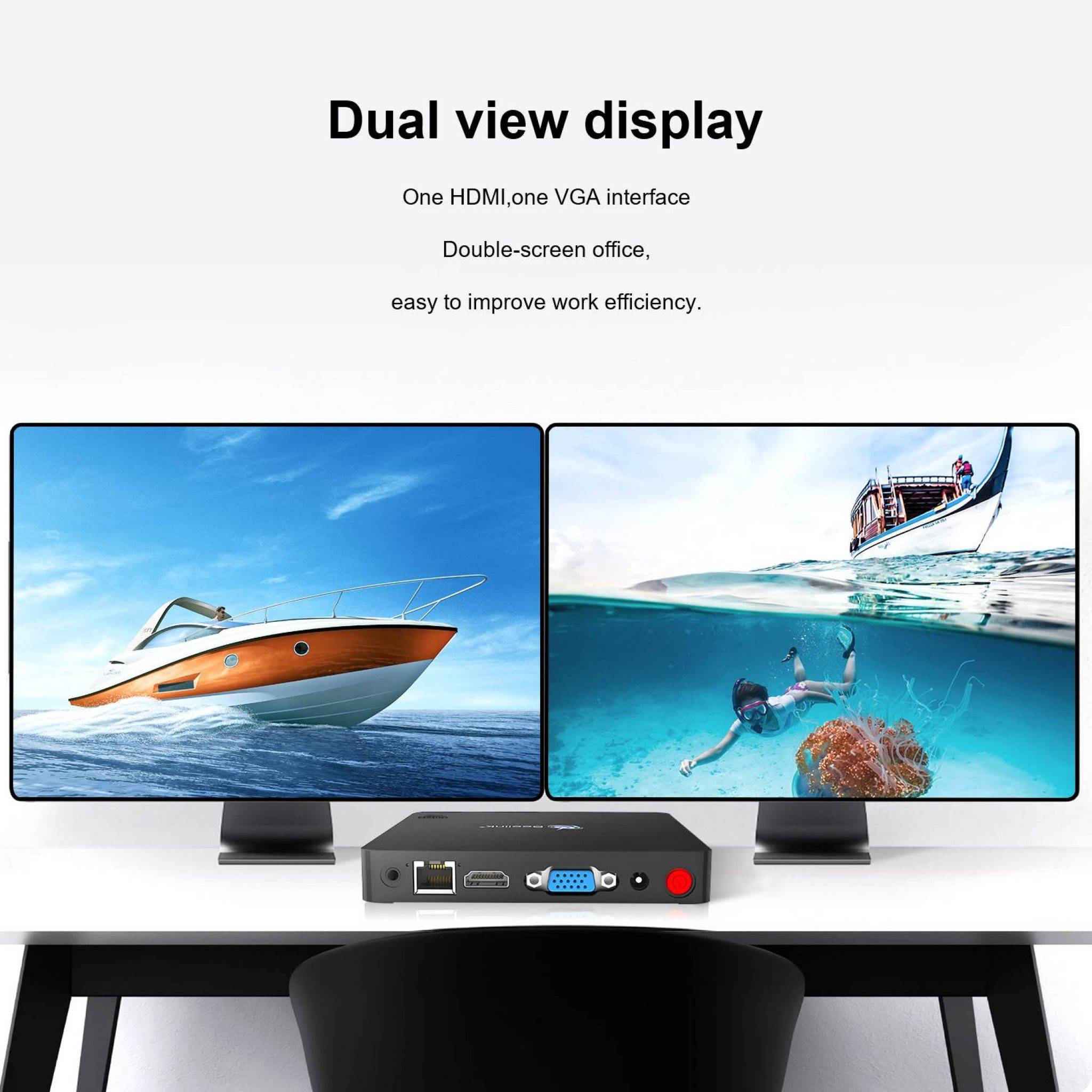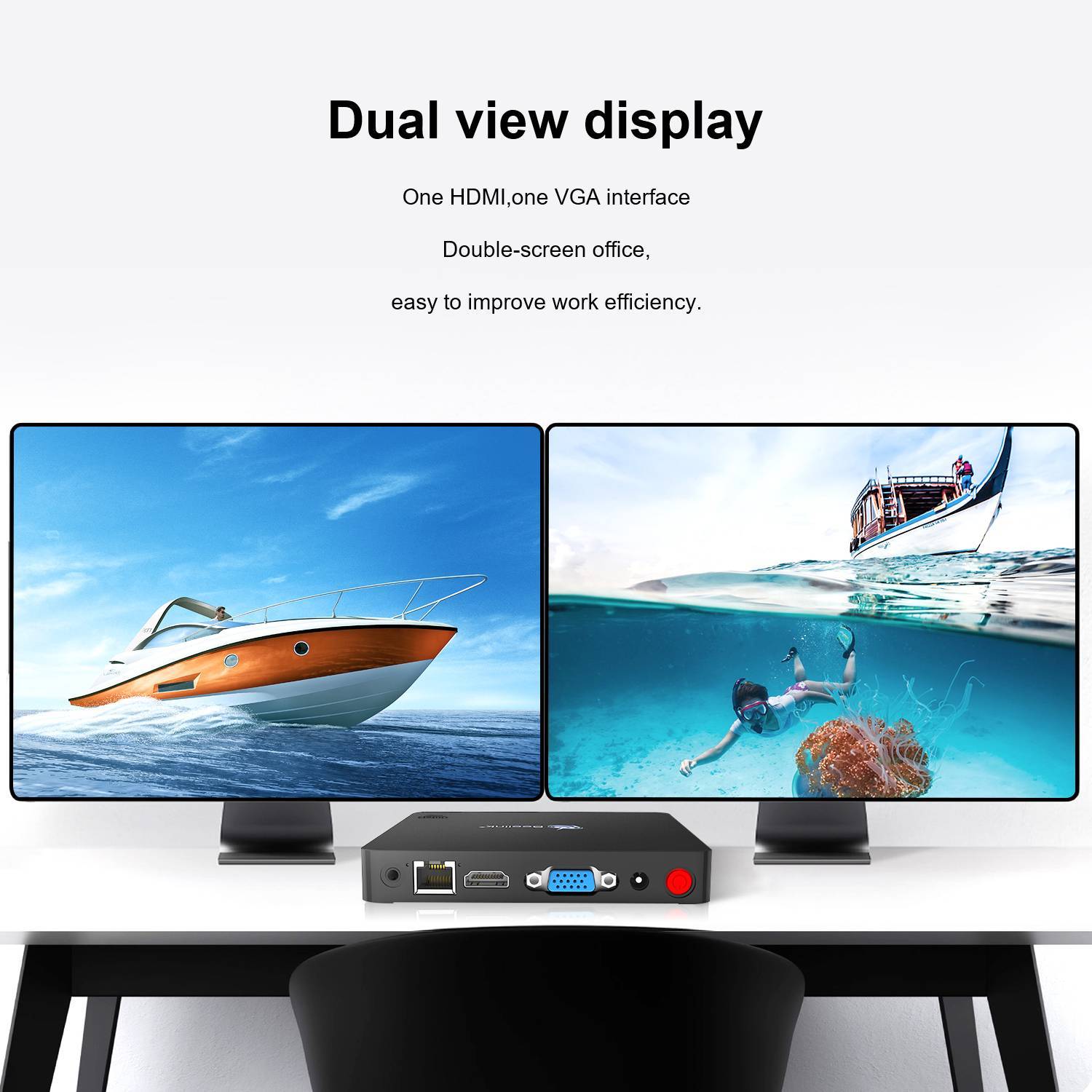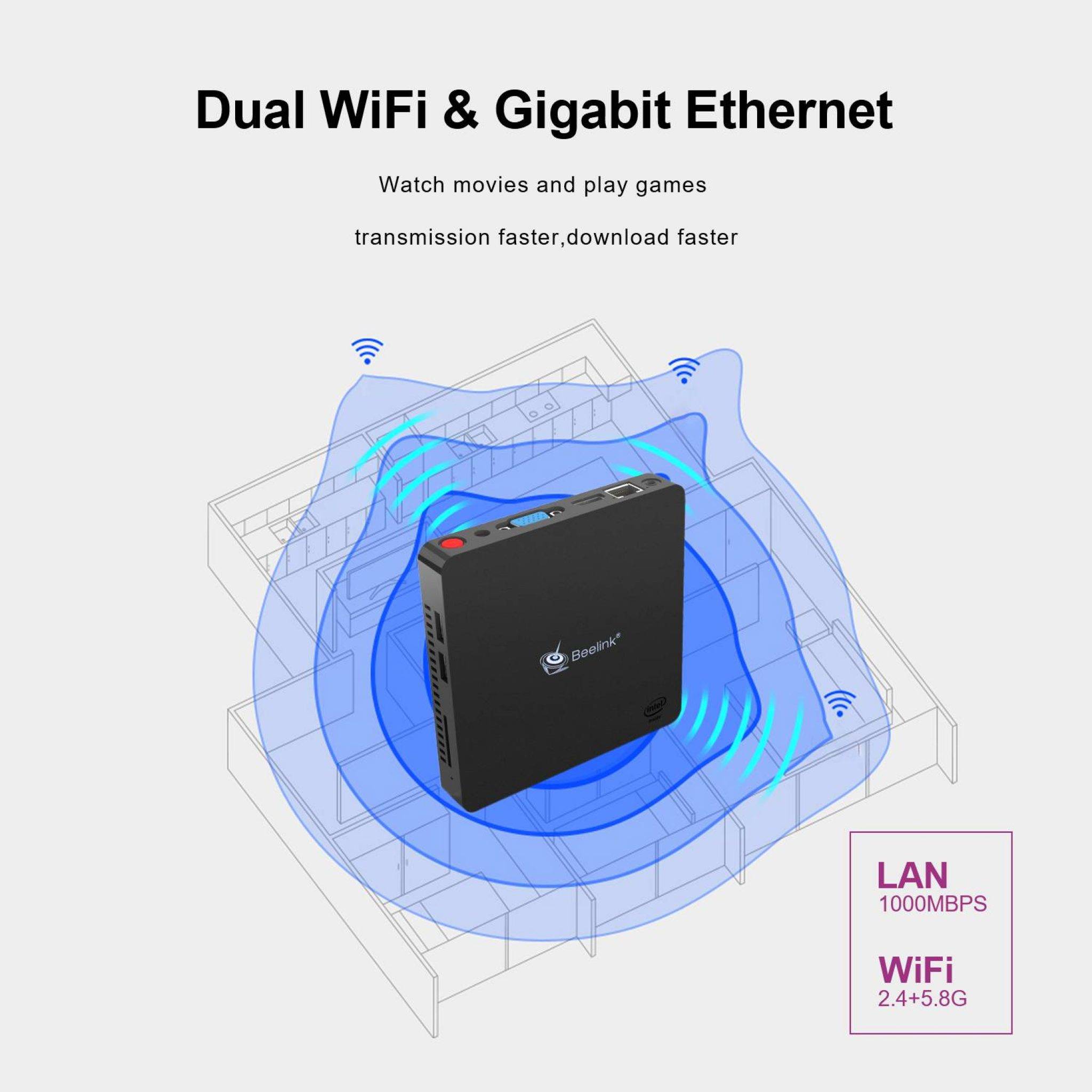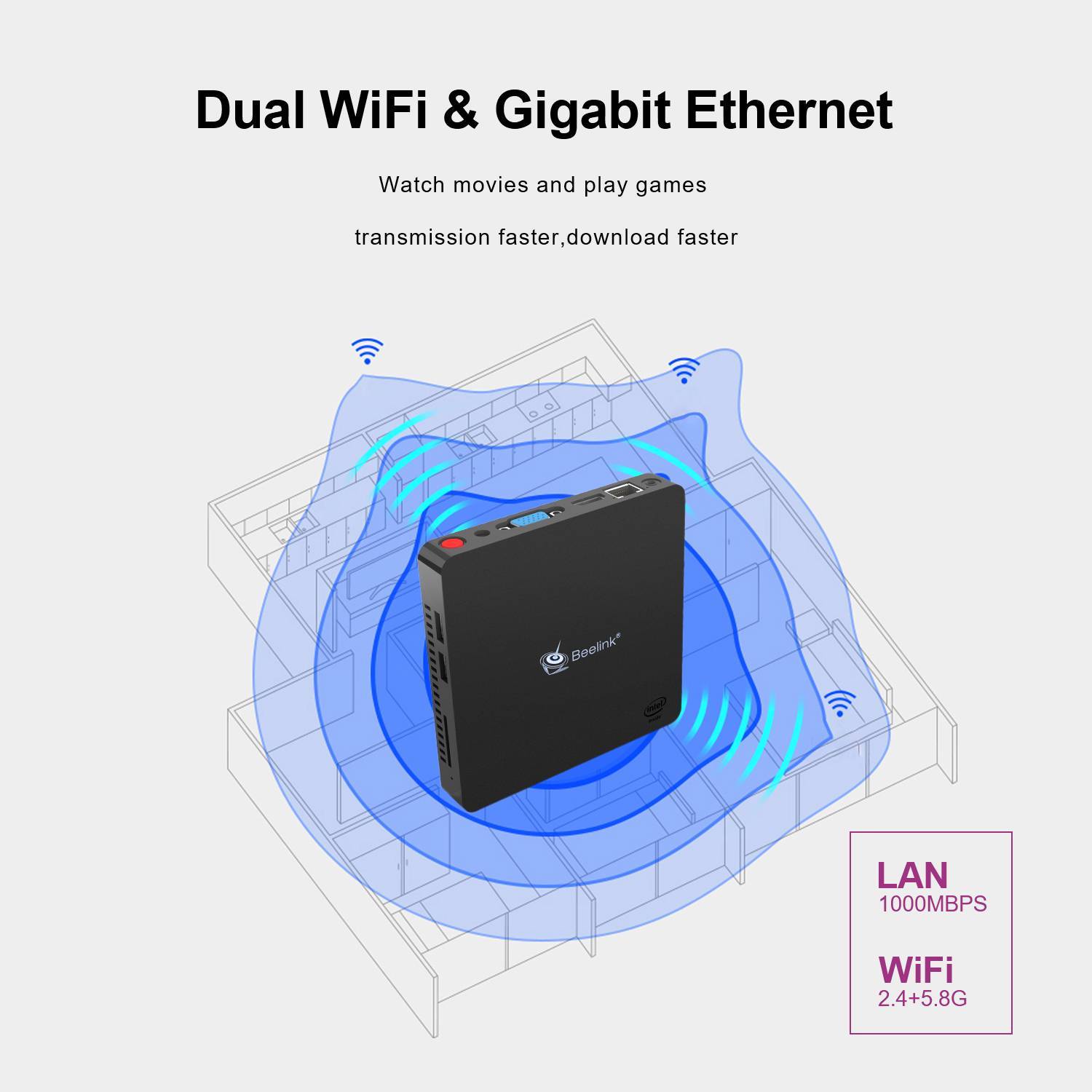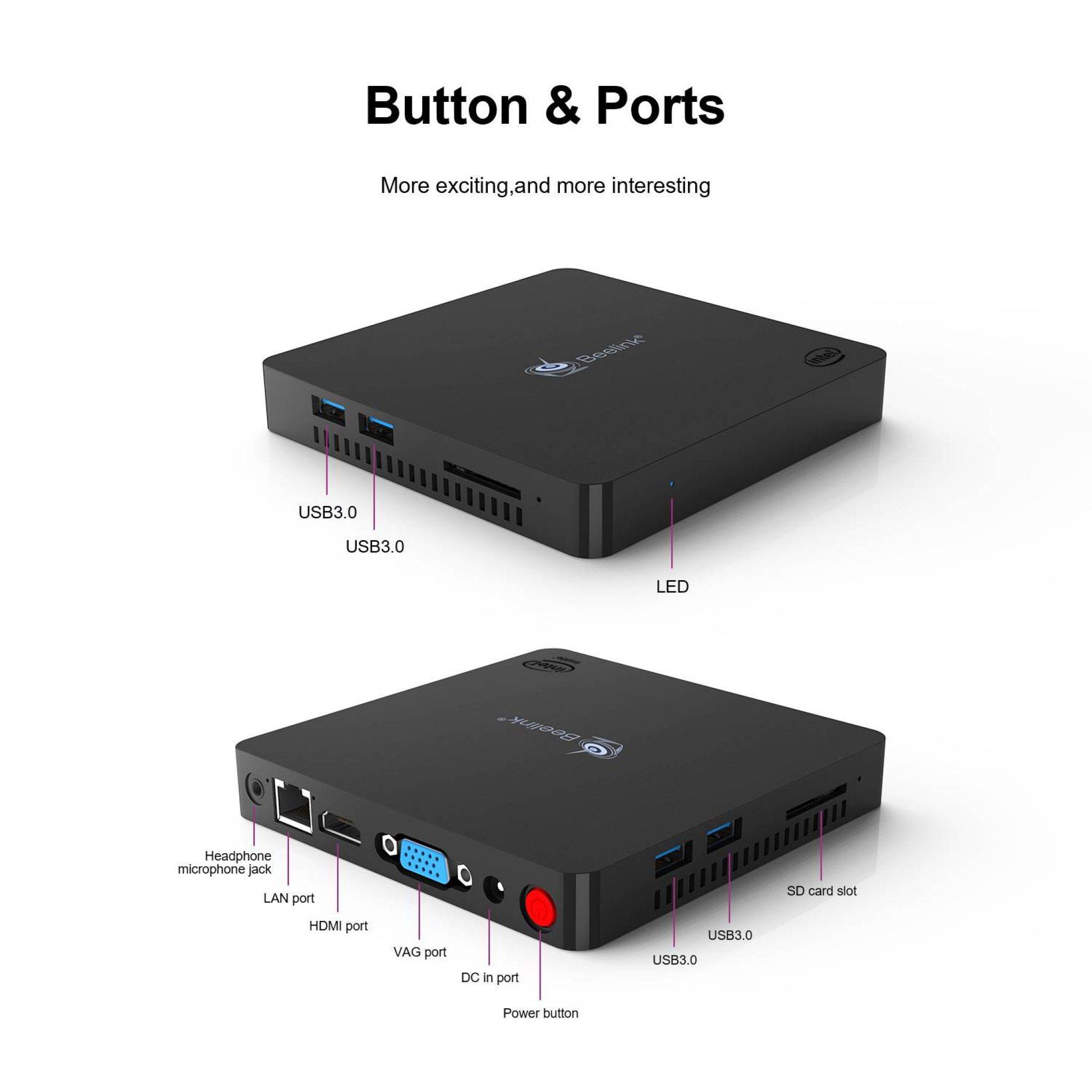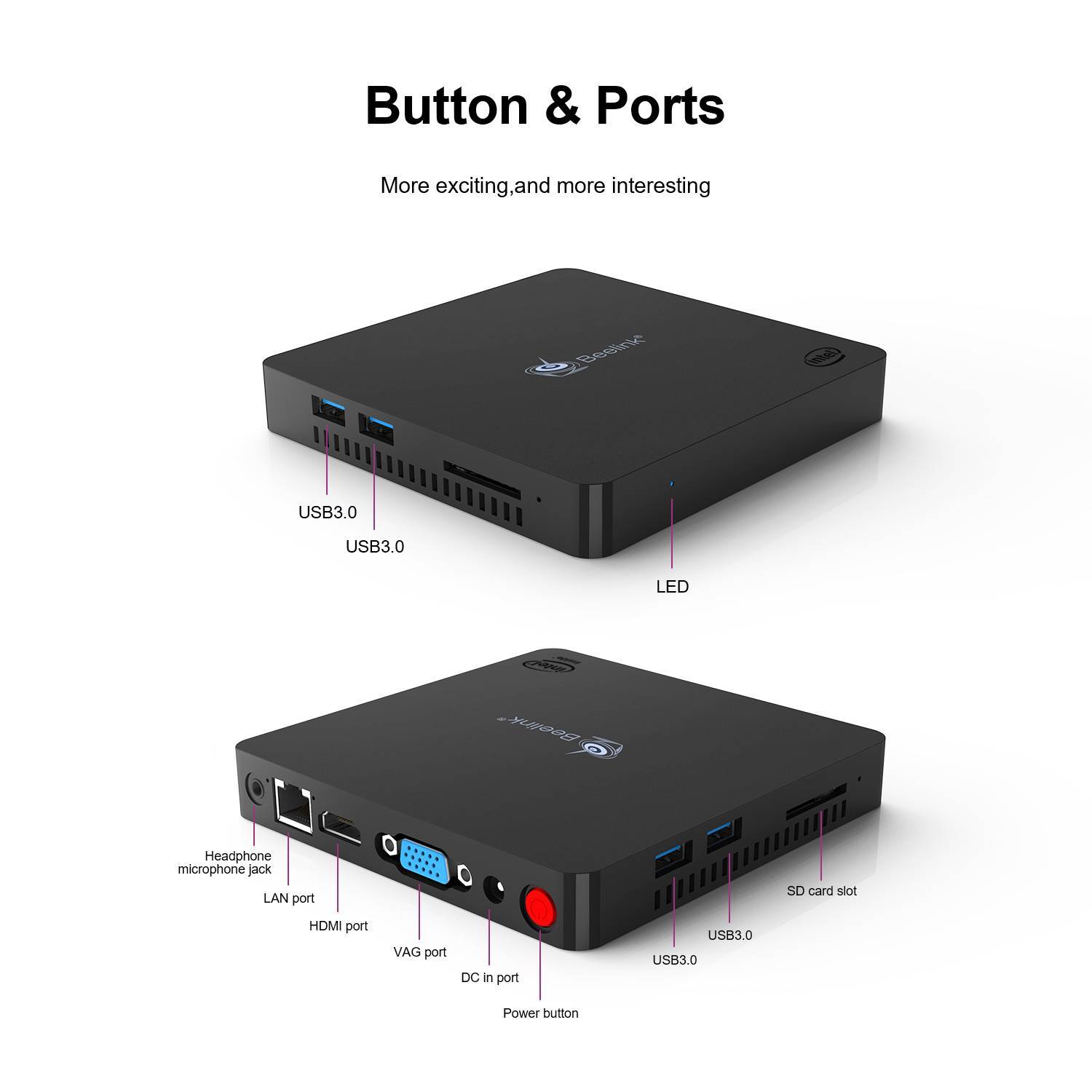 Technical Specifications
Softwares
OS
Windows 11
Security
PIN/Password
Processor
Brand
Intel
Model
Intel® Celeron® N5095
Litography
10nm
# Cores
4
# Threads
4
Base Frequency
2.0 Ghz
Turbo Frequency
2.9 Ghz
Cache
3 MB L3 Cache
TDP
15W
Graphics Processor
Interface
Integrated
Brand
Intel
Model
Intel® UHD Graphics
Base Frequency
450 Mhz
Turbo Frequency
750 Ghz
DirectX Support
✓
OpenGL Support
✓
Intel® Quick Sync Video
✓
Intel® Clear Video HD Technology
✓
Intel® Clear Video Technology
✓
Video Decoding
Capacity
8GB
Technology
DDR4
Memory/Storage
Capacity
128GB/256GB (Depending on the model purchased)
Technology
M.2 SATA SSD
Network
Ethernet
10/100/1000M Ethernet Adapter (RJ45)
Wi-Fi
802.11a/ac/b/g/n Module – Dual-Band
Bluetooth
✓
I/O Interface
USB
4x USB 3.0
Video
2x HDMI Port
Audio
1x HDMI Port
Power
DC power port
Package Includes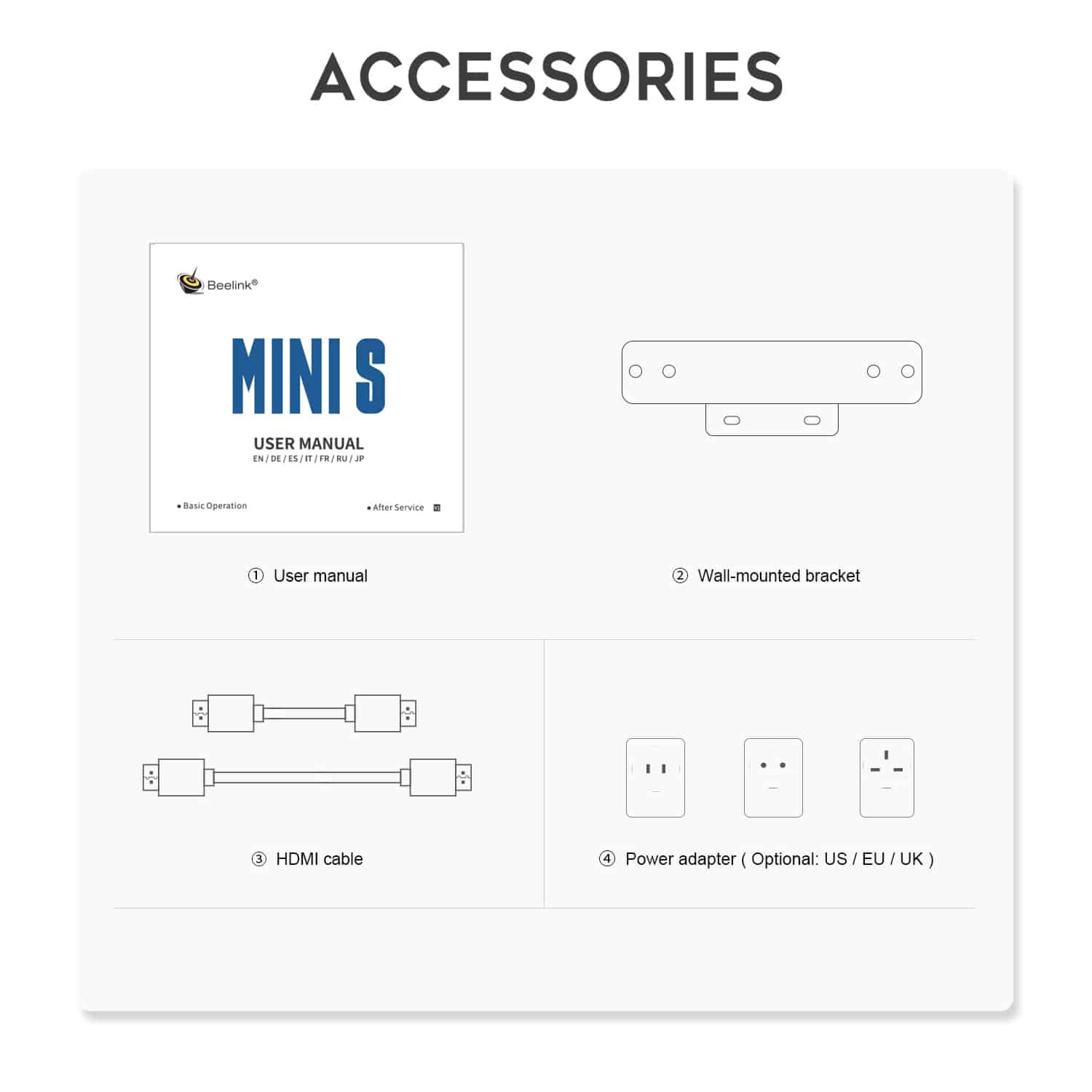 1* User Manual
1* Wall-mounted bracket
2* HDMI Cable
1* Power Adapter
Please Note
In line with the policy of continued development, the manufacturer reserves the right to amend the specifications without prior notification. The illustrations in the user manual are for reference only.
Reviews
I got this mini...
I got this mini PC as upgrade to my old one which had basic specs and really needed upgrade after I had faced some performance issues post installation of heady graphics designing applications. While I was searching for a upgradable mini PC, found this and impressed with its specs - decided to give it a go. It arrived in a nicely packaged box and out of the box - to my surprise, this is way too compact than I thought which was great to see.
Its so small that it can be easily mounted on the wall behind Any smart TV.
Well, I use it now as plug and play PC for portable monitor as well as sometimes connect it to 77 inch smart TV at home when I want to use the bigger screen at comfort of sofa in the living room.
Talking about the spec 6GB RAM/128GB is a great combo - which is more than enough for my requirements now. I mostly connect it via Wifi and so far not faced any issues as such. Overall noice level is also definitely lower than my old mini PC. I have tried playing some 4K movies on prime and they do work smoothly and looks great as well.
In short - this mini PC exceeded my expectations. I don't have any complaints to share at the moment. Will probably update the feedback based on experience 6 months down the line.
So far based on my experience - highly recommended !!
I purchased the...
I purchased the Beelink Gemini T34 Mini PC to make a complete workstation out of the large-screen monitor, keyboard etc. installed so my wife could work from home in comfort and safety. Space being a major consideration, I opted for the smallest solution on offer.
I didn't expect much of it. The idea was that it would be a 'spare' computer. I was amazed when I first used it. So much in such a small package! It is a proper computer. And a decent machine. As good as any computer I have had. Fast, Responsive. Adequate for almost all purposes in terms of specification. A real treat to use.
Downsides? Graphic support is not the greatest, I can live with that given the way the machine is being used. Onboard storage is tight. But that's easily solved with an external drive. You certainly won't have any problem connecting it. The Beelink Gemini T34 Mini PC fairly bristles with options.
Amazing!
We hooked this ...
We hooked this up to our LG OLED 65" screen and a HD webcam for zoom meetings. Works like a champ.
I bought this f...
I bought this for our kid to attend the online classes and it's been almost 3-4 weeks since we started using it. We use it by connecting it to TV via HDMI Port and never faced any issues. This mini computer comes with PreInstalled windows 10 OS. When it came I was really surprised by it's size. Honestly before started exploring at these products I was never aware that computers started coming this small. Also the computer is very easy setup and it's as simple as just Plugging into HDMI Port , press start button and let the windows OS boot. First time when I was doing setup of this, I did not connect to WiFi network as mentioned in the Product Description and was able to setup and use with any issues. I never seen the computer getting heated up even after several hours of continuous use. I am not sure if the Performance is going to remain the same as I start installing more softwares onto this mini computer but for now I am happy with performance of this mini computer.
Mini PC Windows Beelink T34-M
Starting at £ 199.95 Incl. VATStarting at £ 166.63 Excl. VAT