We recently launched the DroiX® iMXQpro, a device created for those people who find budget trumps desire. Already we've had customers asking about it, comparing to the glut of Generic MXQ devices on the market right now.
This post aims to lay out the differences you'll find, and problems you may encounter with the generic MXQ devices.
Obviously we as DroiX® would prefer you to buy our hardware, it is the reason the company exists after all – getting affordable, high-quality technology to everyone! That said, if someone wants to buy a device from elsewhere, we still hope they will take a minute to read through this guide, to ensure that wherever they order from, the device is worth the money being spent.
In the past unscrupulous dealers have sold inferior hardware, but claimed it to be a DroiX® device. If you are in Britain and did not order from DroiX (direct sales from https://droix.co.uk/) or our eBay and Amazon stores, then you definitely do not have a new DroiX® device. It is possible you've been sold DroiX® hardware that is second hand (our warranties for new devices tend to last 12 months from purchase, so be sure to have access to the original order (from us) information if you might require support in the future).
How to tell if you have a genuine DroiX® device?
Check the specification of your device, in general you'll find a genuine iMXQpro device from us betters the MXQ devices from less reputable sellers.
A DroiX® iMXQpro has a S905 2.0GHz CPU (the main brain). Many MXQ boxes come with the S805 1.5GHz CPU, so many operations take longer to complete.
Our iMXQpro comes with Android 5.1.1 (Lollipop), whereas the older MXQ boxes still often come with 4.4.2 (KitKat).
When it comes to Ultra High Definition videos (4K), the iMXQpro is ready with HDMI2.0 and HDCP2.2 compatibility. The MXQ boxes often stop at HDMI1.4, meaning your UltraHD TV is often not being used to its full benefit.
The software included
If you don't have DroiX® Share, DroiX® Control Centre and DroiX® Market on your recently purchased device, please send your order information to [email protected] to check if a) The device definitely came from us and b) If there is an update available for your device, including new DroiX® applications. Please note DroiX® Share is only available for DroiX® iMXQpro, T8-S, T8-S Plus, Q8-S and T8 Mini devices. The other applications are compatible with all our models.
Audio sockets, device's circuit board quality, better quality components used in the iMXQpro, no name (generic) and reused chips!
In the image below, you can see a typical MXQ device's motherboard on the left, and the DroiX® iMXQpro on the right.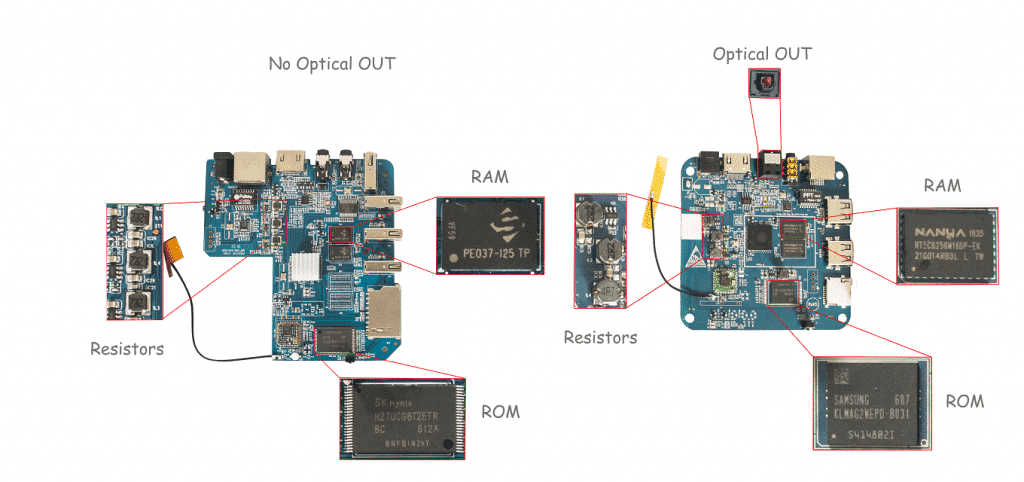 The generic MXQ devices out there tend not to have a TOSLINK (optical audio) socket. If you only have HDMI and maybe some phono (RCA) analogue sockets, it isn't a real DroiX® iMXQpro.
Please see https://droix.co.uk/wordpress/when-good-enough-isnt/ for a proper explanation but, in short, cheaper devices are often made with recycled components from devices that have been returned as faulty. Whilst Dr Frankenstein isn't a well known retailer of entertainment devices, you'd be forgiven for assuming his handiwork was involved with some of the issues caused by reclaimed silicon components. Even when the chips are new, if they come from a factory with a poor record in quality assurance you can find corrupted data leads to crashing. If the chips (RAM and ROM) used to store data aren't made to a high degree of reliability, don't be surprised if the whole device operates unreliably!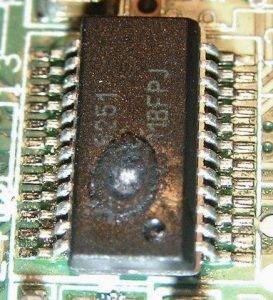 Even when new chips are used, you'll often find they have been produced by companies with a poor reputation (in terms of quality of construction) compared to the well known companies' work as found in DroiX® devices.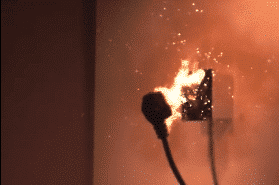 The Case
Have a look at the case on your device, does it look like the one in the picture below?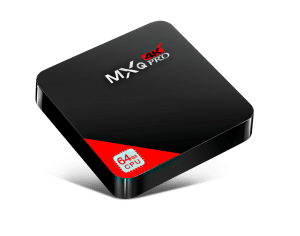 If the case design and height looks closer to this second device pictured below, it is not an iMXQpro.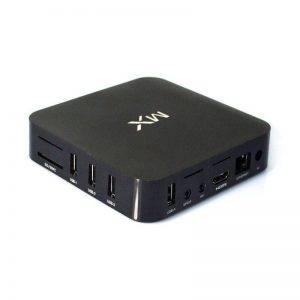 Your invoice!
If your invoice has an order number on it, but you're not sure if you actually received your device from us, send us a message to [email protected] with all the relevant information from your invoice and we'll check for you. Please include any order ID/numbers on the invoice, the full name and address that the device was sent to, and the date of the purchase.
Why care?
Beyond the https://droix.co.uk/wordpress/when-good-enough-isnt/ link referred to above, it is also worth having a quick read of https://droix.co.uk/wordpress/good-enough-mccoy-or-con/ when you have a moment, and definitely BEFORE ordering any cheaply made generic devices.
If you don't have the time right now, we don't want your money to be at risk of being wasted, so a brief summation would be:
Buy a generic device and you'll likely not be getting a high quality device
Support (if any) offered by these retailers is minimal.
Get your device from a reputable company in the UK. DroidBOX® would be our first recommendation (!), but please, don't throw your money away!