The latest gadget from the masters of handhelds GPD has been announced. They have taken the best from their highly successful Win 2 gaming handheld and Micro PC devices, and combined them into the GPD Win MAX gaming Mini Laptop. Let's take a look at some of the details.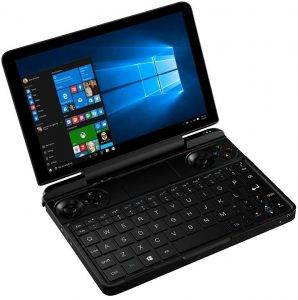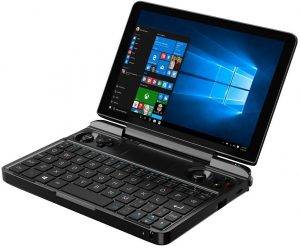 The GPD Win MAX features an Intel 10th Gen Core ™ i5-1035G7 CPU and an 11th Gen Intel Iris Plus Graphics 940. You can find a massive 16GB LPDDR4X RAM running at 3733MHz and M.2 PCIe / SATA 512GB SSD with best in class read and write speeds. These specs alone are comparable to many full size gaming laptops but fit in a clam shell case measuring just 207×145×26mm and weighing 790g.
Like the GPD Win 2, the GPD Win MAX targets gamers and for this gaming laptop it runs amazingly well. Here are some benchmarks of some popular games such a Fortnite, FIFA 20 and Red Dead Redemption 2 at default settings. Further improvements can be made from tweaking settings.
With support for eGFX via the Thunderbolt 3 interface this will allow you to connect an external graphics card solution to improve the graphics quality and speed. More details will be provided on this in the future.
The 8 inch H-IPS display includes 10-point touch support. The brightness is 500 nits and also features DC dimming without flickering which provides smooth transitions. The Win MAX is not just for gaming and it excels at a range of software.with its high quality display and high resolution.
The user input mixes laptop and gaming controls. The Win MAX has a standard QWERTY chiclet-style full keyboard layout with backlight. It has a built-in touchpad, which supports gestures with up to three-fingers and push-down operations.
The high quality dual analogue sticks are still provided by Japan Alps and are clickable for L3/R3 buttons. The ABXY gaming buttons are made with double layer silk-printing for a comfortable feel. The L1/L2R1/R2 buttons have highly-reliable Panasonic micro switches. The GPD Win 2 controls were great and we expect them to be at least the same standard on the Win MAX.
Connectivity is blazing fast with support for the new WiFi 6 802.11ax standard supporting up to 300MB/sec transfer speeds. Bluetooth 5 is also included which supports up to seven bluetooth connections.
Wired connectivity is also well supported with HDMI 2.0b for output to a TV or monitor. A RJ45 ethernet port is also included for high speed data transfer. There are two USB Type-A, One USB 3.1 and a USB Type-C 3.1 Gen 2 ports for connecting high speed USB devices. You can also find one MicroSDXC slot for high speed card access.
The USB Type-C port also serves as the charging port. Included with the Win MAX is a 65W Super Mini GaN Charger measuring just 36x75mm, the world's smallest 65W power adapter! There are three 5000mAh 57Wh rechargeable batteries inside to provide a long lasting battery life on one charge.
Running all this high spec hardware means there will be some heat. The GPD Win MAX keeps everything cool with Dual Fans and Cooling Pipes in a High Displacement Side-blow design. There are 9 ventilation holes for fast heat dissipation
The GPD Win MAX is shaping up to be an amazing portable device not only for gaming but also some serious work. We will have more information on it in the coming months closer to its launch later this year.
Here is a summary of all the specs:
Type
Detail
Screen:
8 inches,10 Points-touching
CPU:
Intel Core™ i5-1035G7
GPU:
lntel® Iris® Plus Graphics 940
DDR:
16GB LPDDR4X 3733
Storage:
512GB M.2 SSD
Thermal Design:
Active Cooling Method, Dual Fan, Dual Heat Pipe
TDP:
15 W, 20W, 25W, Adjust in BIOS
Wireless Network:
Wi-Fi 6
Bluetooth:
5.0
Ports
1×Thunderbolt 3
1×USB Type-C 3.1 Gen2
2×USB Type-A 3.1 Gen1
1×microSDXC (A2)Slot
1×HDMI 2.0b
1×RJ45
Battery:
57Wh, 11.4V==5000mAh×3 Series Connection
Size:
207×145×26mm
Net weight:
790g
 
 
 
 
Learn more about and buy the GPD P2 MAX. Find our full range of Mini Laptops here.
GPD P2 Max Pocket Windows 10 Mini Laptop
Colour: Silver
£

514.95 Incl. VAT
£

429.13 Excl. VAT