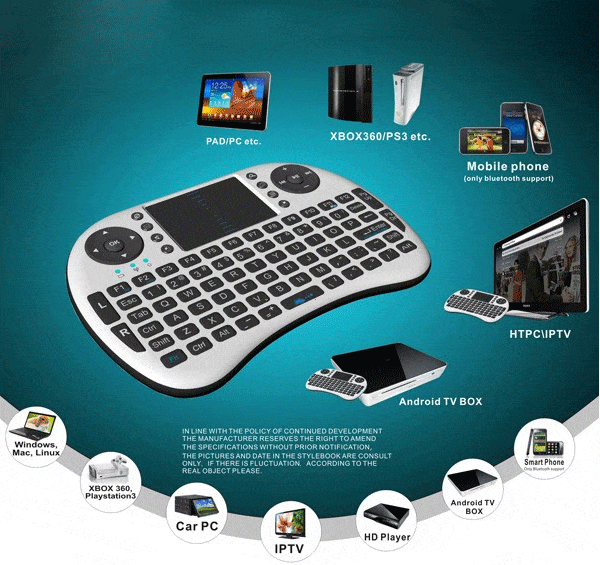 2. 2.4GHz Wireless Mouse and Keyboard
Plug in the USB dongle (receiver) to your DroiX® device and it is ready to use (check if your mouse/keyboard requires pairing first).
Pros: No worry about the wires. Control without any wires, depending upon the range of the dongle. See also 1.'s Pros
Cons: Not as convenient to control, whilst sitting on your sofa.
3. 3-in-1 Air Mouse and Keyboard
A 3-in-1 air mouse like the DroidBOX® VIP Remote or multi-controller DroiX® i8 combine the function of mouse and keyboard. It's convenient to type and scroll up or down.
Pros: Media shortcut buttons are often available. No wires.
Cons: It can be a little uncomfortable to type large amounts of text.
4. Control via phone app
Several of our models allow an Android smartphone or tablet to control them, including all the functions of mouse and keyboard.  It enables you to change interfaces with ease. Check out the video below to know how to control your DroiX® with an simple Android phone app known as Smart iRemote app.