We have a brand new DroiX Stheno F5 review for you to check out!
The DroiX Stheno F5 Gaming Mini PC is to put quite simply, an impressive and high performing gaming setup. With an Intel i5-9300H Quad Core processor and Nvidia GeForce GTX 1650 dedicated graphics card, you can enjoy the best AAA games with amazing visual settings!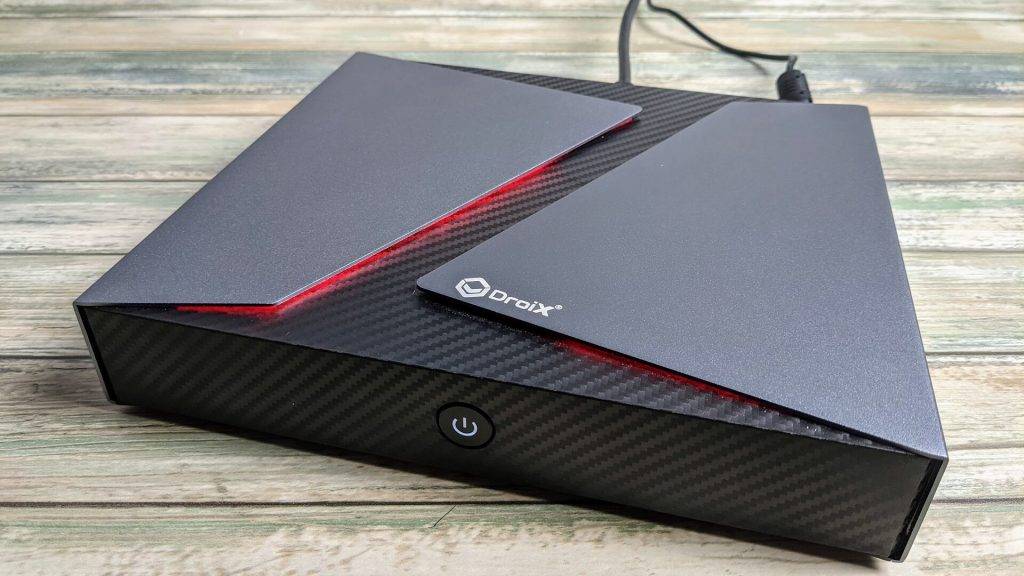 The Mini PC with Windows is available in three DDR4 RAM & M.2 PCI-e NVMe SSD Storage configurations; 16GB/256GB, 16GB/512GB and a massive 32GB/1TB. There's space inside to add an internal 2.5" HDD/SSD to increase the storage capacity.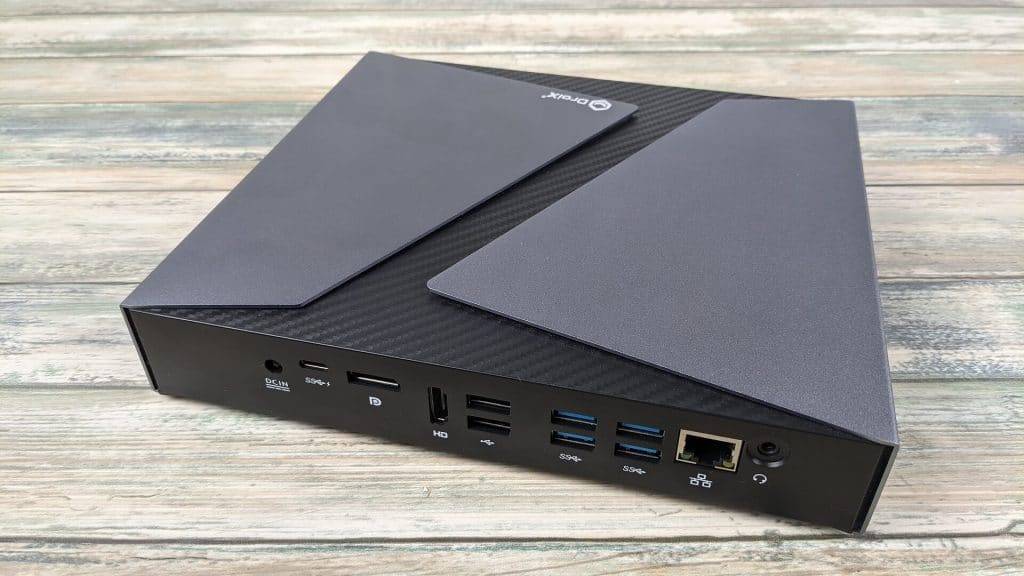 Don't take our word for it, watch our DroiX Stheno F5 review video below.
The video starts with unboxing the product, to see what is inside.
We then ran some PC system benchmarks to test the overall performance on Windows day to day tasks.
Moving onto games, Forza Horizon 4, Grand Theft Auto V. and A Total War Saga: TROY are then tested for their graphics quality versus performance.
We then finish the tests with a look at some higher-end emulators including Xbox 360 and PlayStation 3 for example.
In our summary of the range of Mini PCs for gaming, is this a stand out device?
0:30 Unboxing
 Let's get started with unboxing the Mini PC
 First, we have a user guide, which is in full English and will get you up and running in no time at all.
 There is the Stheno F5 Mini Computer which we will show in more detail shortly.
 There is also a power brick and cable. We will include the correct adaptor for your country.
 And last but not least is a HDMI cable to connect to your TV or monitor.

1:03 Stheno F5 Overview
 The F5 keeps a sleek clean look with just a power button on the front.
 It measures 8.6 x 7.6 x 1.5 inches (22 x 19.5 x 4 cm)
 On the back is where you can find all the ports.
 There is the Power Supply port 
 A USB Type-C port is next, and is ideal for connecting high speed peripherals to
 There are both DisplayPort 1.4 and HDMI 2.0, for connecting to your TV or monitor.
 Beside those are two USB 2 ports and four USB 3 ports
 There is a high speed Gigabit ethernet for fast and reliable data transfer.
 And finally there is a 3.5 mm headphone port
 Wireless connectivity is handheld with 802.11 WiFi and Bluetooth.

Stheno F5 Internals
 Taking a look inside you can see the two fans and exhaust to keep the internals cool and performing at high load.
 There is space inside to install your own 2.5" hard drive or SSD, as we have already done, for additional storage.
 Underneath you can also upgrade the RAM and SSD if required.

2:22 Stheno F5 Technical Specs
 The Stheno F5 features an Intel Core™ i5-9300H processor with 4 cores and 8 threads running up to 4.10Ghz. The graphics are powered with an integrated Intel UHD Graphics 630 and a dedicated Nvidia GeForce GTX 1650. Windows will switch between the two as and when required, for example the GeForce 1650 is used for gaming. This helps conserve power and saves on electricity bills.

 There is a choice of three RAM and Storage options:
 16GB and 256GB
 16GB and 512GB
 And finally a massive 32GB DDR4, Dual-Channel, 2,666Mhz RAM, and 1TB of M.2 PCI-e NVMe SSD

3:24 Windows Overview
 The F5 comes with a fully licensed version of Windows 10 Professional which gives you access to all the latest updates and full access to the Windows Store for downloading any software and updates.
 
With Nvidia GeForce you have the full option as you would on a full size desktop with access to GeForce Experience. This will automatically optimise your games settings for the specification of this Mini PC. You can also take screenshots, record videos, stream and much more.

3:57  Benchmarks
 We will start with some benchmarks to see the performance of this Mini computer. First we will take a look at PassMark which gives an overall indication of performance, testing the processor, 2D and 3D graphics, ram and disk speed.

 The score of 3,437 is very good. Across the tests we can see great speeds for 3D graphics, memory and disk speed which is perfect as a Mini PC for Gaming

 Next we run PCMark which tests the performance of day to day tasks ranging from web browsing, media playing, photo editing, graphics rendering and much more. 

 As a note, due to the way PCMark runs with two graphics cards some of the tests were not able to be run and this results in a lower score than usual.

 Despite some tests not running, the F5 still scores a very good 5,043. Comparing this to the GPD Win 3 which has an i7 processor, the scores are nearly identical so you can get a good idea of the great performance of the F5.

 Taking a closer look at the performance for gaming, we ran 3DMark which tests the processor and graphics.
 TimeSpy scores a very impressive 3,491. In comparison, the GPD Win 3 scored just 1,791, so there is quite a gap in performance for gaming here, with the F5 being far higher.

 We will finish off the system benchmarks with DiskMark which tests the performance. We are testing the included M.2 PCI-e NVMe SSD here and not the 2.5 HDD.

 The scores of around 1400 MB a second are very good. This helps a great deal with everything from faster Windows booting, to game loading times.
 
6:24 Gaming Overview
 Now onto the good stuff, gaming!

 We will start off with Street Fighter 5 which has a built in benchmark and some awesome fight sequences. We are running at 1080p with everything on Max. As you can see, the frame rate stays at pretty much a constant 60 frames per second, with almost non-noticeable dips to 59.9 now and again.

 For Forza Horizon 4 we are first using the GeForce recommended graphics settings at 1080p.This is a mix of medium, high and ultra settings to get a good balance of performance and visuals.

 The benchmark scores a very impressive average 78 frames per second. With a low of 68 and a high of 93. So well within the parameters of a minimum of 60 FPS.

 We changed the graphics settings to Forza's default Ultra settings and ran the same benchmark as before. This changes a few of the settings such as Medium to High and High to Ultra.  The benchmark scores a still very impressive average of 76 frames per second, with a low of 64 and high of 93. But do remember this is a set benchmark so actual gaming performance may be a little lower.

 While not a fully accurate benchmark as the scenes can vary a little every time it is run, we can see a good overview of the performance. We are running a mixture of mostly Very High and a couple of High and Ultra settings at 1080p. The frames per second is locked in at around 60 and remains so for the majority of time. There are minor dips now and again during very busy scenes but nothing that would spoil you playing.

 And we finish the games with Total War Saga TROY, after this we have some emulators running so keep watching! Total War is running on the games default Ultra settings at 1080p which have very high system requirements. We get a score of an average 33 frames per second which is very good considering the requirements. Comparing it to the i7 GPD Win 3 which scored just 19, you can see a noticeable gap in performance.

9:10 Emulators Overview
 Now onto some retro gaming with the F5. As this mini PC is high spec, you can enjoy everything from 8 to 32 bit systems with no issues at all. So we won't spend too long on those and instead test some higher end consoles.

 Starting with the PlayStation Portable and God of War. I increased the graphics settings to improve the quality on a monitor. As you can see, the frame rate is pretty much locked in at 60FPS. We have seen this game struggle on other retro devices due to the lack of power, but on the F5 it's no problem.

 PlayStation 2 emulation is also very good, running with a few improvements to the graphics to look nicer on a monitor. The games run at full speed with no issues and as such you can probably spend a little time tweaking the settings for even higher quality visuals.

 In vain efforts to learn how to play skateboarding games I am testing Skate 3 again :) The F5 handles PlayStation 3 better than I expected with barely noticeable shader cache generation compared to the Win 3 which had noticeable lag when generating shader caches. This won't be the same for every game, especially in this stage of the emulator's development. But you can get a great idea of the performance.

 We finish off the emulators with a look at Xbox 360 emulation. The emulator is in development and as such not all games will run, but there are some that are very playable such as Trials HD.  As you can see, the performance is very good considering the emulator is in an early stage. I can't wait to see how the emulator performs in the future as it should run great on the F5.

11:14 Summary
 The Stheno F5 is to put it quite simply, one of the best Gaming Mini PC's at the moment. As you have seen from the various benchmarks and gameplay footage, it can handle recent AAA games with no issues. And it can also play them at a respectable 1080P with great quality graphics settings. You could go for 4K gaming, but you would need to lower the settings, personally I would stick to 1080P.

 This mini PC is great as a standalone gaming system and perfect if you want a second PC for gaming in the living room. With its small form factor it can remain out of sight behind your TV or take up very little desk space for example.
We hope that you have found this Stheno F5 review useful. You can learn more and buy the Stheno F5 here or click on the Shop Now link below.
DroiX Stheno F5 Gaming Mini PC with GTX1650
Intel® Core™ i5-9300F 4.40GHz, TDP: 65W
Up to 32GB Dual Channel DDR4; 1TB NVMe
NVIDA GTX1650 4GB GPU
Dual Monitor Support, [email protected]
Dual-Band WiFI & Bluetooth ; USB 3.0
Starting at

£

749.95 Incl. VAT
Starting at

£

624.96 Excl. VAT