DroiX®'s VIP Plus remote control is a controller designed to make your life easier. Featuring the traditional buttons found on simpler remote controls, it also has a QWERTY keyboard on the back, and air mouse functionality.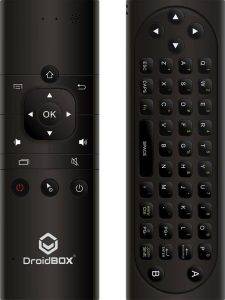 If you haven't caught it yet, you can see our original unboxing video over at Youtube – https://www.youtube.com/watch?v=HvgPEYjDALU

So, whether your technology time is spent on consuming media, catching up with news from around the world or typing out e-mails, the DroiX® VIP Plus has you covered with the right buttons and layout. Spend your time having fun, not swearing at silicon!
To learn more and pop one in your shopping basket, head over to https://droidbox.co.uk/droidbox-tm-vipremote-35.html
Contributors Reviews
You can see XC Tech's review of the VIP Plus here (as part of the T8-S Plus Gaming Bundle) – https://youtu.be/CovTVz-5-EE?t=10m40s

Gadget Explained VIP Plus Review – http://www.gadgetexplained.com/2016/04/full-qwerty-keyboard-and-google-android.html