Beelink SER4 AMD Ryzen 7 Mini PC
AMD Ryzen 7 4800U @ Up to 4.2GHz cTDP: 10-25W
Up to 64GB Dual-Channel DDR4 & Up to 2TB NVMe
AMD Radeon™  Graphics – 8 cores @1750 MHz
Triple Monitor, 4K@60Hz
WiFi 6E & Bluetooth 5.0, USB 3.0, Type-C
Starting at € 706.20 Incl. VATStarting at € 588.50 Excl. VAT
Great Accessories
AMD Ryzen 7 4800U @ Up to 4.2GHz cTDP: 10-25W
Up to 64GB Dual-Channel DDR4 & Up to 2TB NVMe
AMD Radeon™  Graphics – 8 cores @1750 MHz
Triple Monitor, 4K@60Hz
WiFi 6E & Bluetooth 5.0, USB 3.0, Type-C

AMD Ryzen 7 4800U @ Up to 4.2GHz cTDP: 10-25W
Up to 64GB Dual-Channel DDR4 & Up to 2TB NVMe
AMD Radeon™  Graphics – 8 cores @1750 MHz
Triple Monitor, 4K@60Hz
WiFi 6E & Bluetooth 5.0, USB 3.0, Type-C
Frequently Bought Together
Description
The Beelink SER4 is a great solution for those that desire a PC that has high performance, while remaining in a small form factor for use in the home or office workplace.
The SER4 features the AMD Ryzen 7 4800U processor which has 8 cores & 16 threads with a max frequency of @4.2GHz. With Ryzen processors you can expect excellent performance in your day-to-day tasks from web browsing to media consumption. For the work environment, this Ryzen mini PC can handle more demanding workloads, ranging from video conferencing to working with large office documents. It is also capable of image and video editing.
Up to 64GB of DDR4 RAM is supported which ensures that this mini pc with Windows 11 does not underperform when dealing with multiple applications running or failing to load large office documents. The up to 2TB of fast m.2 2280 NVMe SSD storage ensures that not only is your data safely stored but also can be rapidly accessed which is essential for working with or transferring large files. There is also space internally for a 2.5" HDD or SSD for data storage.
The Beelink SER4 measures just 4.9 x 4.4 x 1.6 inches (12.6 x 11.3 x 4.2 cm) and weighs around 455g. It is compact and takes up minimum desk space. Included is a mount for fitting on a wall or on the back of a supported monitor. It is light enough to be portable making it ideal for when travelling between offices for example.
With the AMD Radeon Graphics, up to three monitors at 4K 60Hz are supported via the included two HDMI ports and USB Type-C port. It supports multiple windows, 4K video playback and even light video gaming!
Data connectivity is not an issue for the Beelink SER4. Inside you can find this Ryzen Mini PC has a gigabit ethernet port for high speed and reliable wired transfer. The Wi-Fi 6 802.11ax supports up to 3.6 Gbps speeds on compatible routers. For wireless peripherals such as keyboards or speakers there is Bluetooth 5 support.
The Beelink SER4 mini PC with Windows 11 is excellent for the work environment whether that be at home or in the office. Across the triple displays, it can effortlessly work through your everyday tasks from web browsing and office documents, through to more demanding tasks such as video editing. The high speed and reliable ethernet, Wi-Fi 6 and Bluetooth 5 ensure no waiting around for large files to safely transfer.
Technical Specifications
Software
OS
Windows 11
Security
PIN/Password
Processor
Brand
AMD
Model
Ryzen™ 7 4800U
Technology for CPU Cores
TSMC 7nm FinFET
# Cores
8
# Threads
16
Base Frequency
1.8Ghz
Turbo Frequency
Up to 4.2 Ghz
L2 Cache
4 MB
L3 Cache
8 MB
More Info
Click Here
Graphics Processor
Interface
Integrated
Brand
AMD
Model
AMD Radeon™ Graphics
Frequency
1750 Mhz
Graphics Core Count
8
Memory (RAM)
Capacity
up to 64GB
Technology
Single-Channel / Dual-Channel DDR4 SO-DIMM
Speed
3200Mhz
Storage (ROM)
Capacity
up to 2TB
Technology
M.2 2280 NVMe SSD
Network
Ethernet
1x RJ45 Gigabit
Bluetooth
5.0
Wi-Fi
WiFi 6E
I/O Interface
USB
1x USB Type-C ; 4x USB Type-A 3.0
Video
2x HDMI 2.0(4K@60Hz) ; 1x USB Type-C (4K@60Hz)
Audio
2x HDMI 2.0 ; 1x USB Type-C ; 1x 3.5mm Jack
Package Includes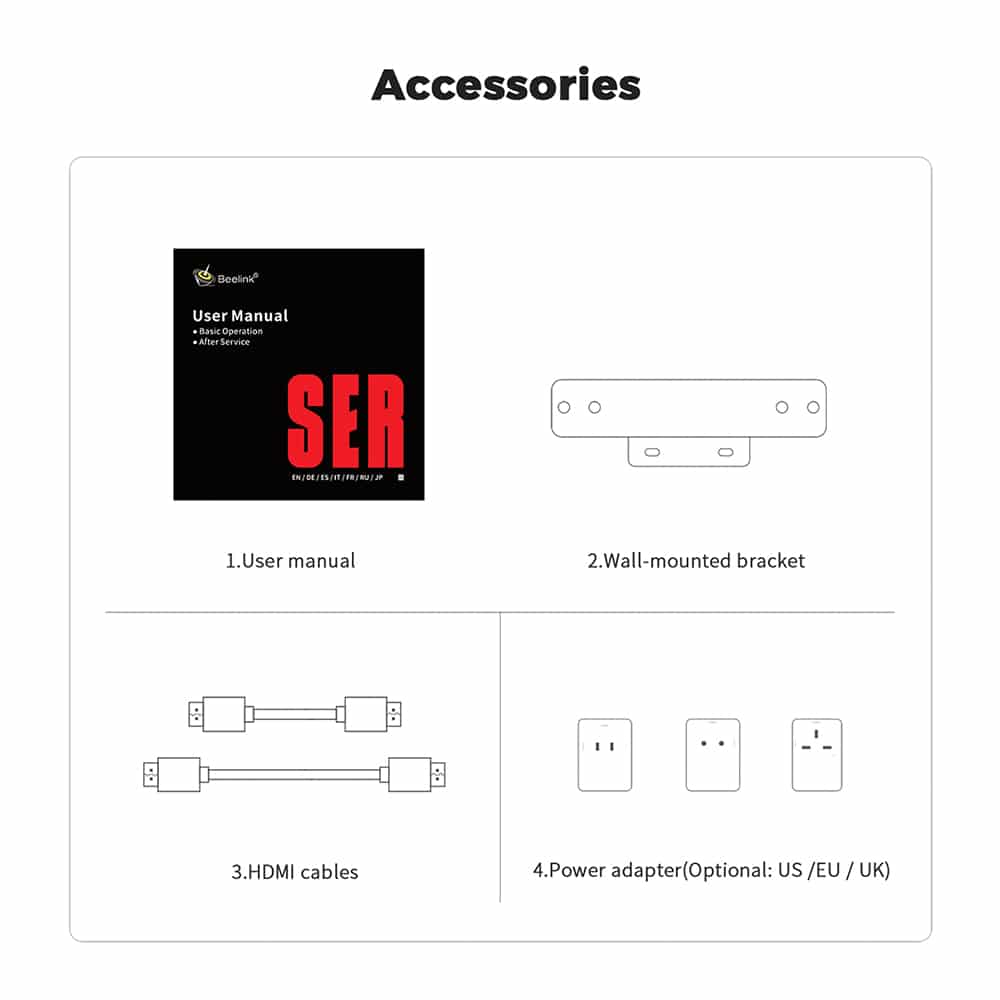 1 * User Manual
1 * Power Supply
1 * HDMI Cable
1 * Mounting Bracket
Please Note
In line with the policy of continued development, the manufacturer reserves the right to amend the specifications without prior notification. The illustrations in the user manual are for reference only.
Reviews
In truth this item has shocked me
I build my own computers and have built a HTPC. Basically desktops but also a reasonably powerful HTPC and a Flight Sim which gives good results for MSFS 2020. This little baby is shockingly competent on most levels and fast considering it doesn't have a discrete graphics card. Sits well in my new hardwood TV cabinet and performs more than well.
Great little pc replacement
This thing does everything I need it to do. It's even smaller than I imagined. Shipping from UK was fast and hassle free. I'm extremely pleased with this unit.
Love it - Nice selection of ports and very quiet
Despite reading reports of fan noise ours so far has been blissfully quiet. Maybe that's because we got the 32 Gb 1 Tb version. The only downside for us was it came with windows 10 not the Windows 11 advertised. Support were great in getting the 11 install organised but you need a wired ethernet to do this as you have to reload wifi drivers. Very cool little box.
Great mini PC to replace and old tower PC
Exactly what I needed to replace my old PC, that was not able to be upgraded to Windows 11. It hardly takes up any room on my work station, VERY quiet and I can easily add a USB 3 DVD/CD player for downloading some of my old favourite software.
Highly recommend, I don't play games, but should be perfect for editing and creating videos. Do a lot of creating pdf's on my desktop publisher. Ideal!! Still using SerifPlage Plus X6! Downloaded all my software with no issues.
Storage space shouldn't be an issue, as I already have a 4GB external hard drive. But will upgrade with another 16GB ram and internal storage drive sometime in the future.
Worth every penny!
Better than I've expected and it's quiet. Makes sound even less than regular laptop. I'm vey pleased with purchase!
Beelink SER4 AMD Ryzen 7 Mini PC
Starting at € 706.20 Incl. VATStarting at € 588.50 Excl. VAT