MinisForum EliteMini UM700 AMD Ryzen Mini PC
AMD Ryzen 7 3750H 4.0GHz cTDP: 12-35w
Up to 32GB Dual Channel DDR4, 1TB NVMe
Radeon™ RX Vega 10 Graphics
Triple monitor support; 4K@60Hz
Wi-Fi 5 & Bluetooth 4, USB 3.1, Type C
Starting at $ 684.94 Incl. VATStarting at $ 570.78 Excl. VAT
Great Accessories
AMD Ryzen 7 3750H 4.0GHz cTDP: 12-35w
Up to 32GB Dual Channel DDR4, 1TB NVMe
Radeon™ RX Vega 10 Graphics
Triple monitor support; 4K@60Hz
Wi-Fi 5 & Bluetooth 4, USB 3.1, Type C
Description
From MINISFORUM, the manufacturers behind the DMAF5 and the H31 mini PC's, comes the most powerful NUC yet – the MINISFORUM UM700 AMD Ryzen NUC Mini PC. Perfect for the home office, digital signage application, home theatre PC (HTPC), or even a mass-deployment enterprise PC solution.
While similar to the DMAF5 in appearance, the UM700 is powered by a cutting-edge AMD Ryzen 7 3750H GPU (capable of clocking at up to 4.0GHz!), and supported by the powerful RX Vega 10 GPU, the UM700 is an exceptional performer when it comes to general home and office use, but also surprisingly capable in games too.
With a blazing-fast 256GB/512GB/1TB (Depending on the model purchased) M.2 NVMe SSD and 16GB/32GB (Depending on the model purchased) DDR4 dual-channel PC2666 RAM, this mini computer will provide hyper-fast loading times and seamless multi-tasking of your various applications.
The UM700 supports three displays at once through the HDMI, DisplayPort and USB-C ports. Enabling increased productivity with this Ryzen Mini PC over more common single/dual display setups.
Featured on the mini computer are four USB ports. Three of which are USB 3.1, capable of speeds of up to 10Gbps, the fourth of which is a USB 3.0 port which is only capable of up to 5Gbps speed, but can be used to charge devices while the PC is turned off.
Dual gigabit ethernet and Wi-Fi 5 support enable a high degree of flexibility when it comes to network connections.
Weighing in at around 500g and 128×127×46mm, the UM700's small footprint enables it to comfortably fit in any home office or any home media centre as a HTPC.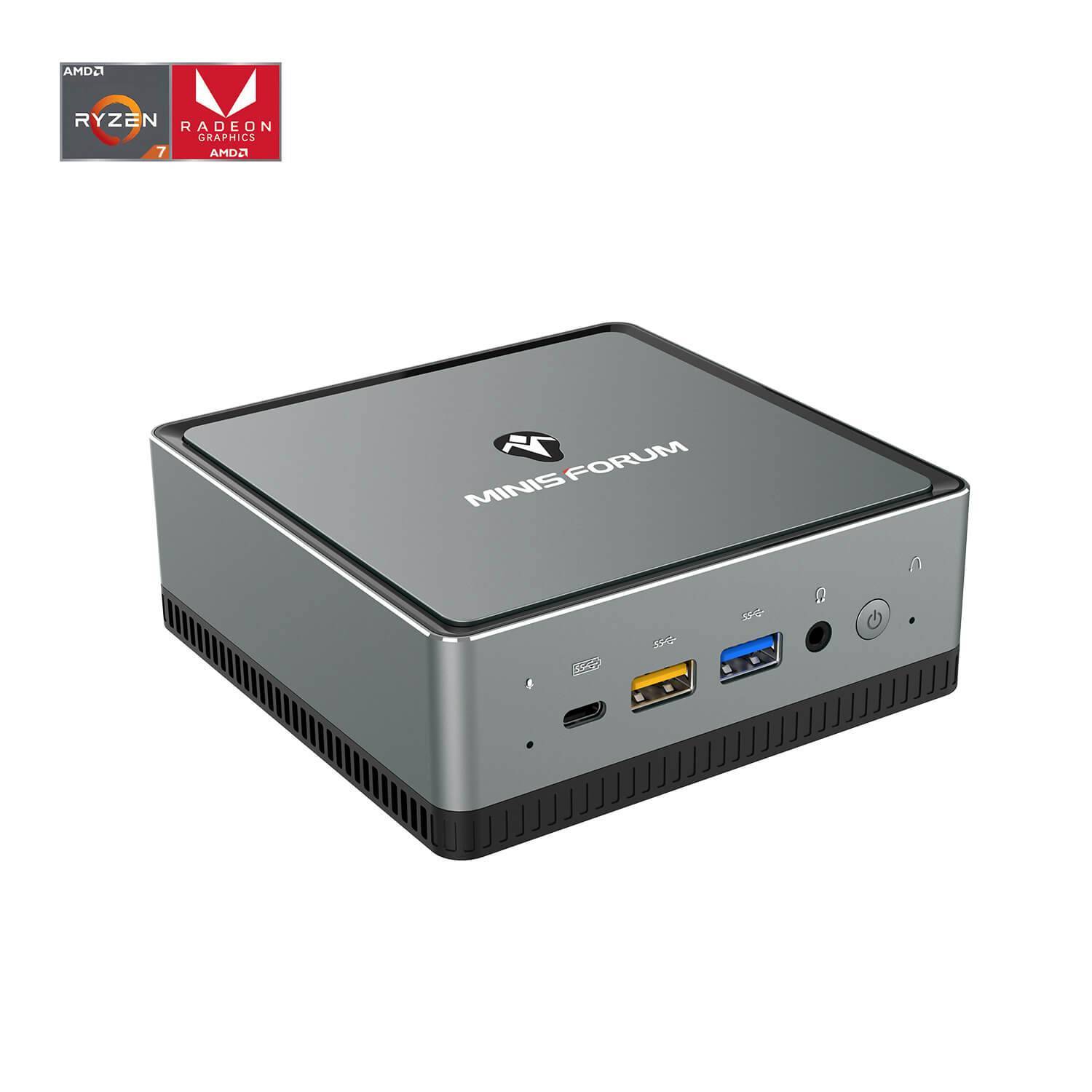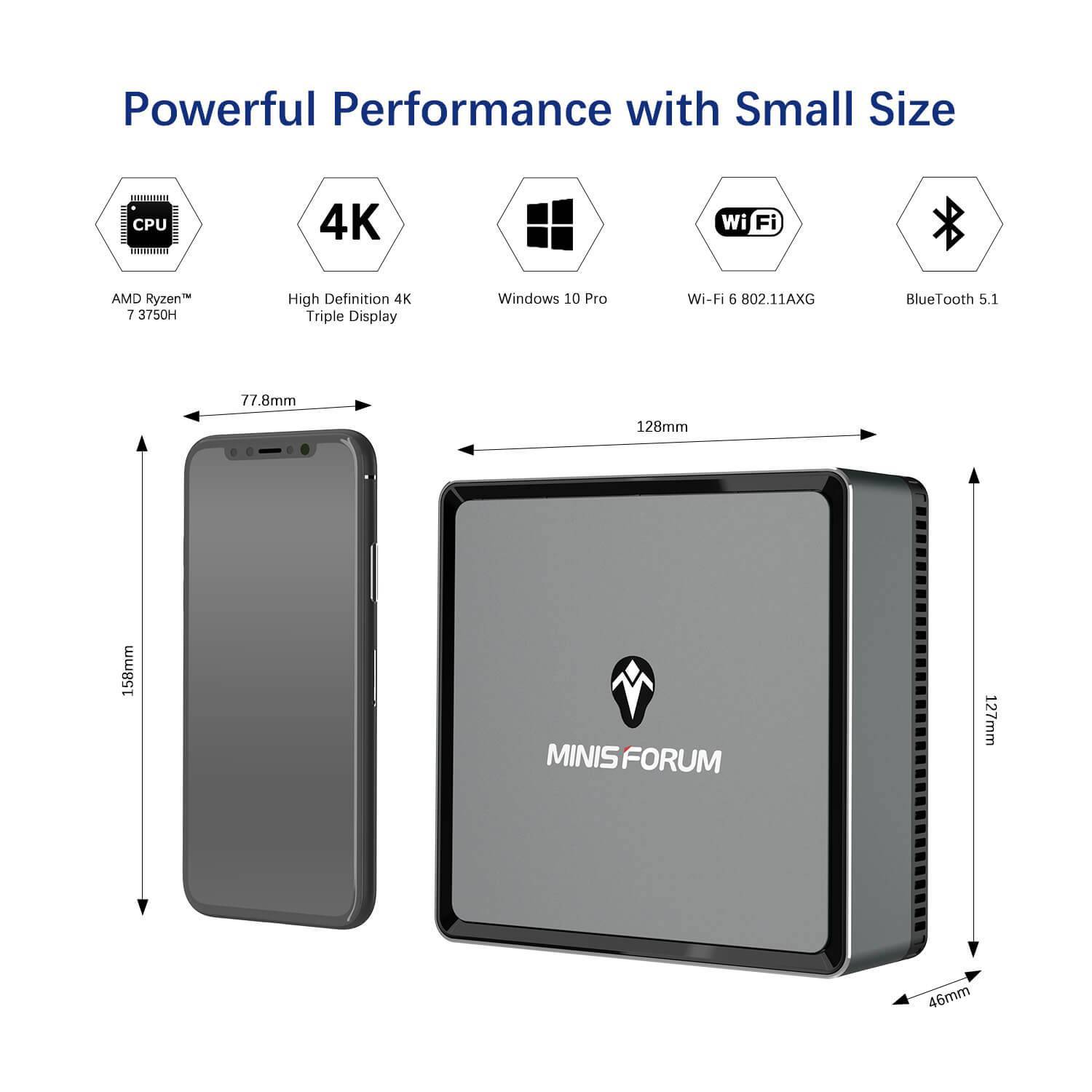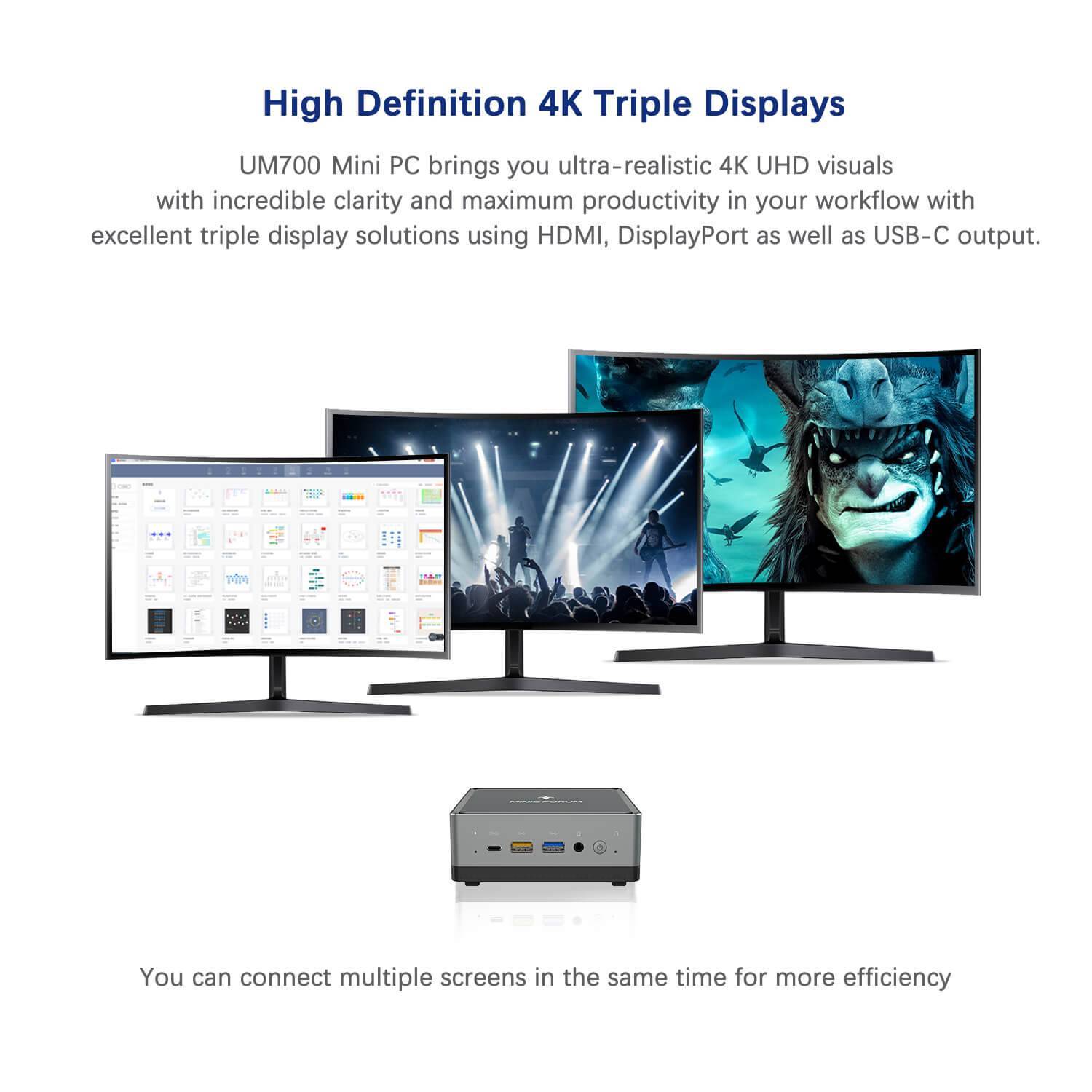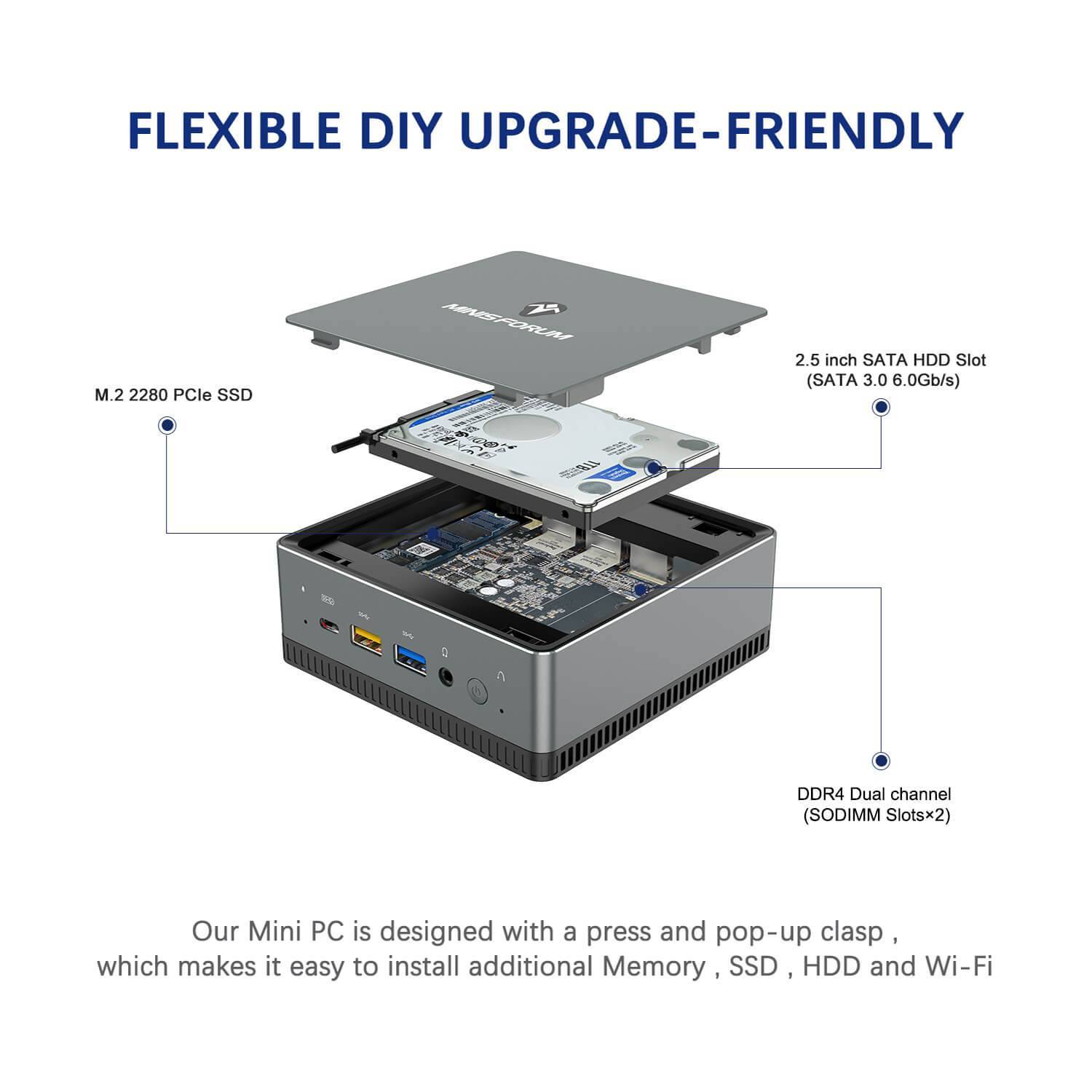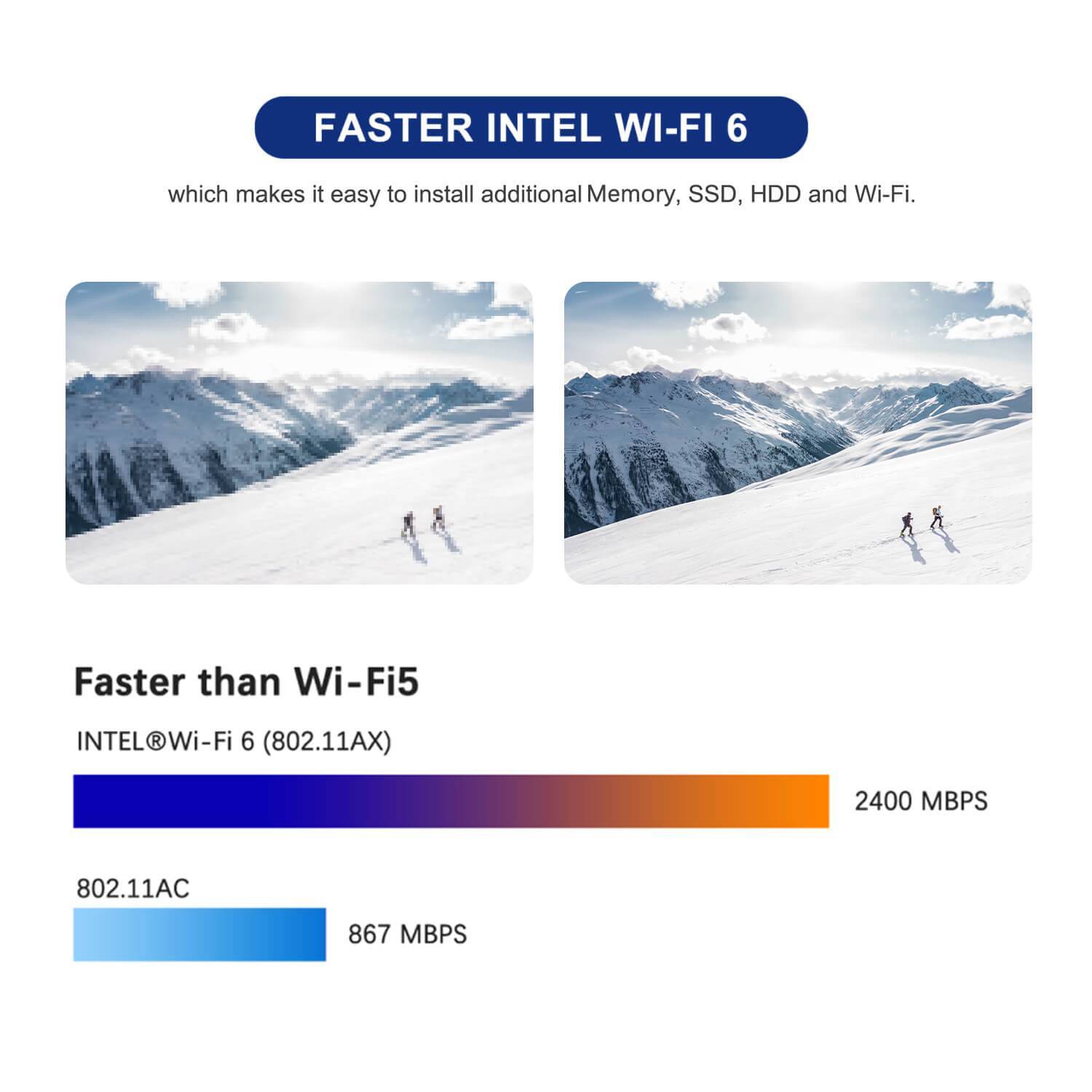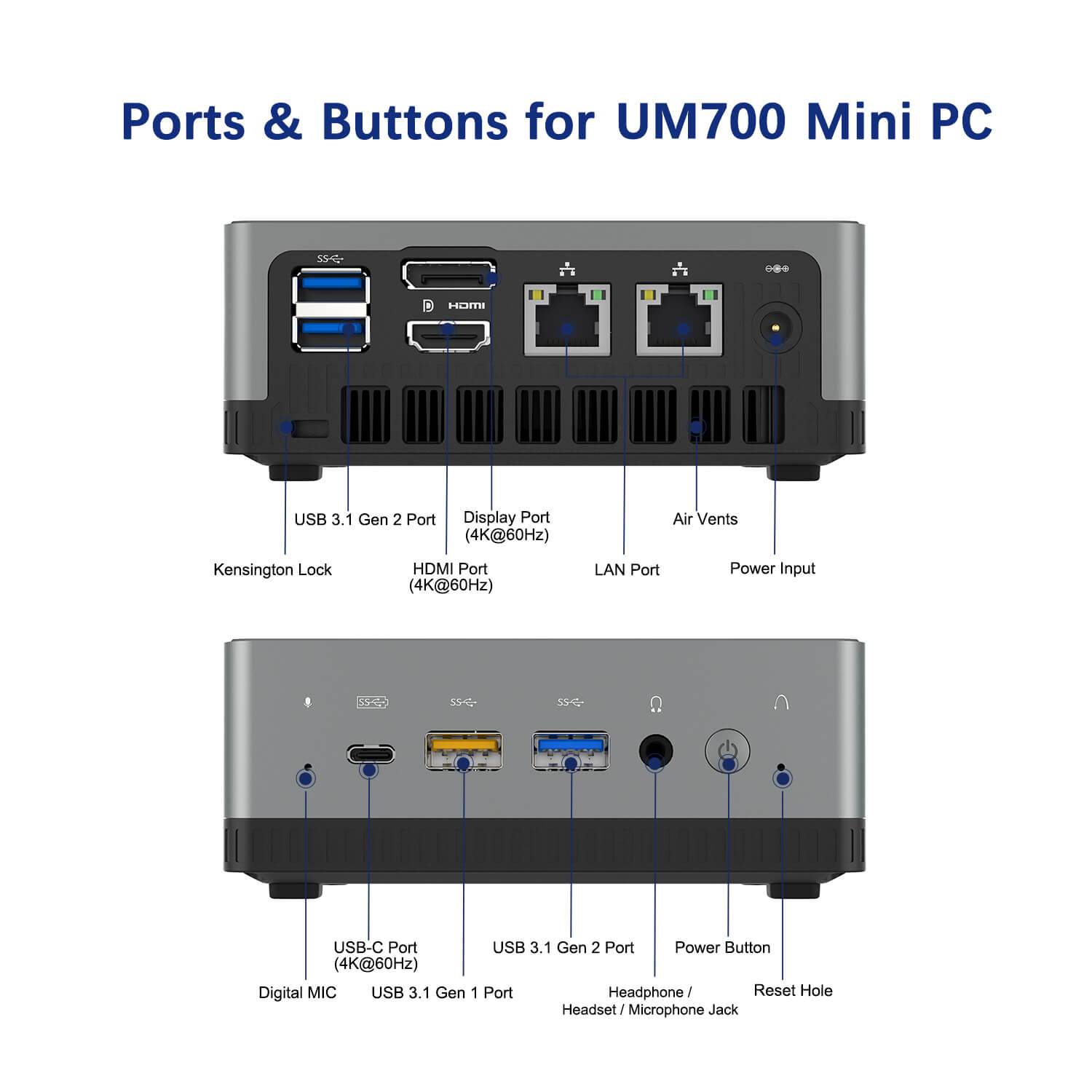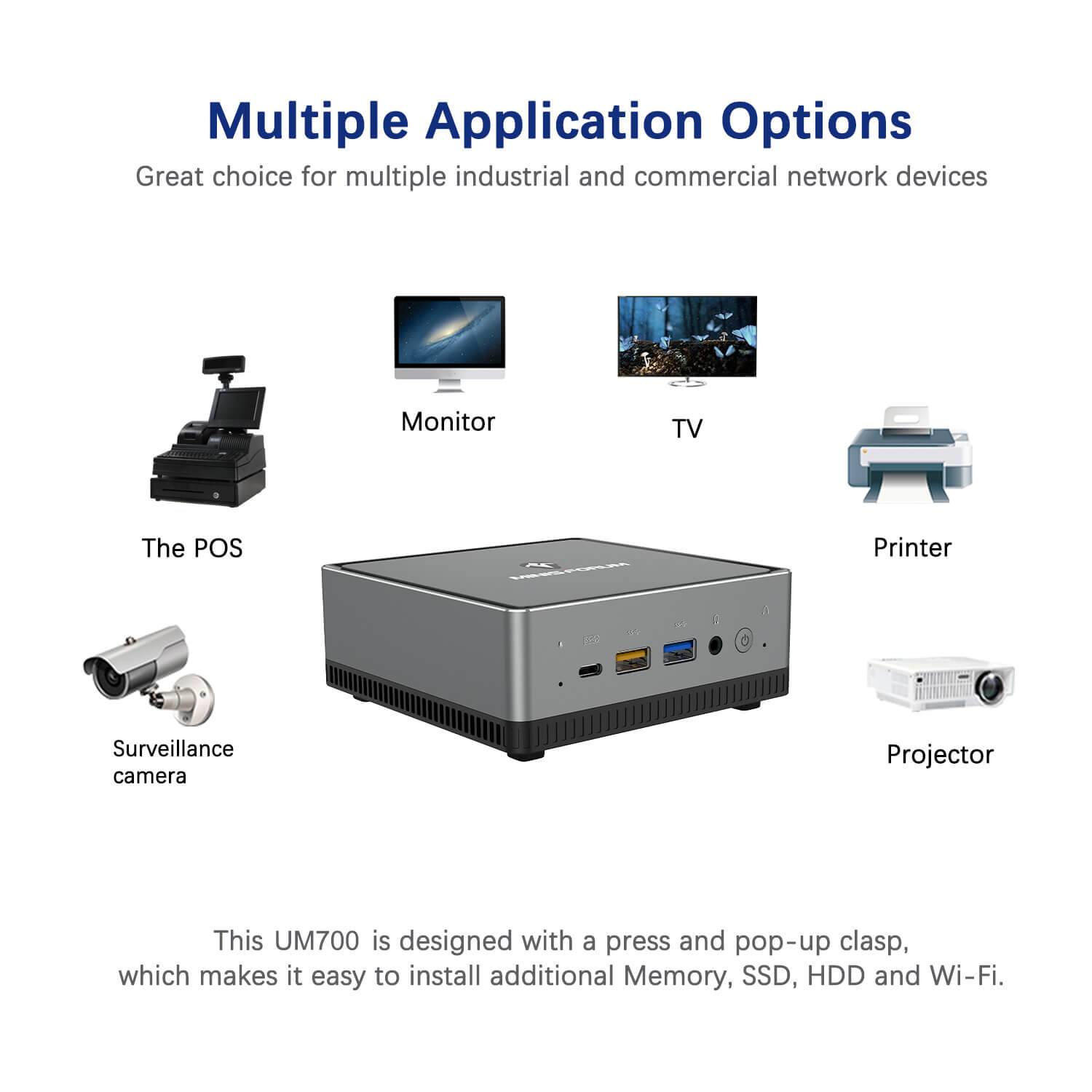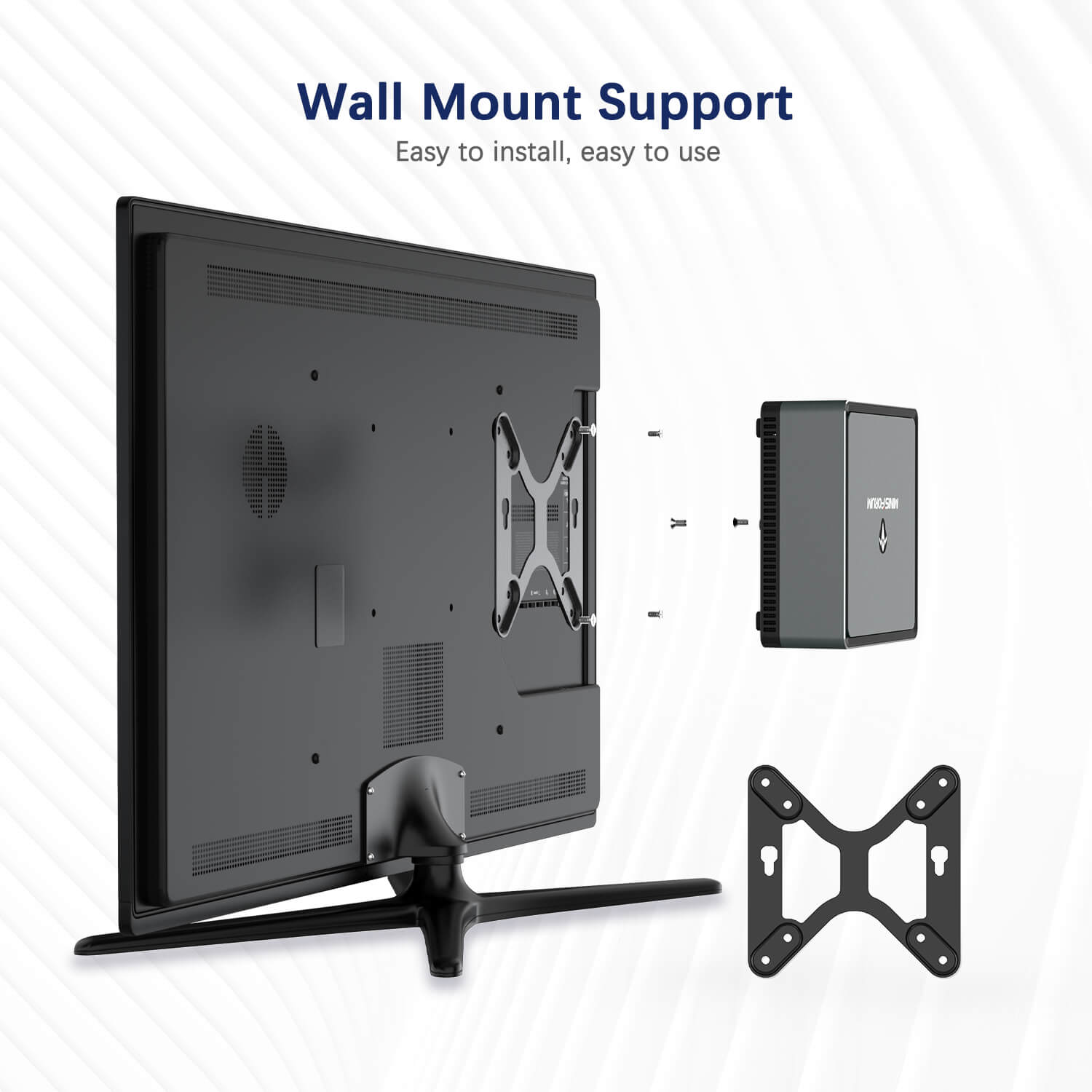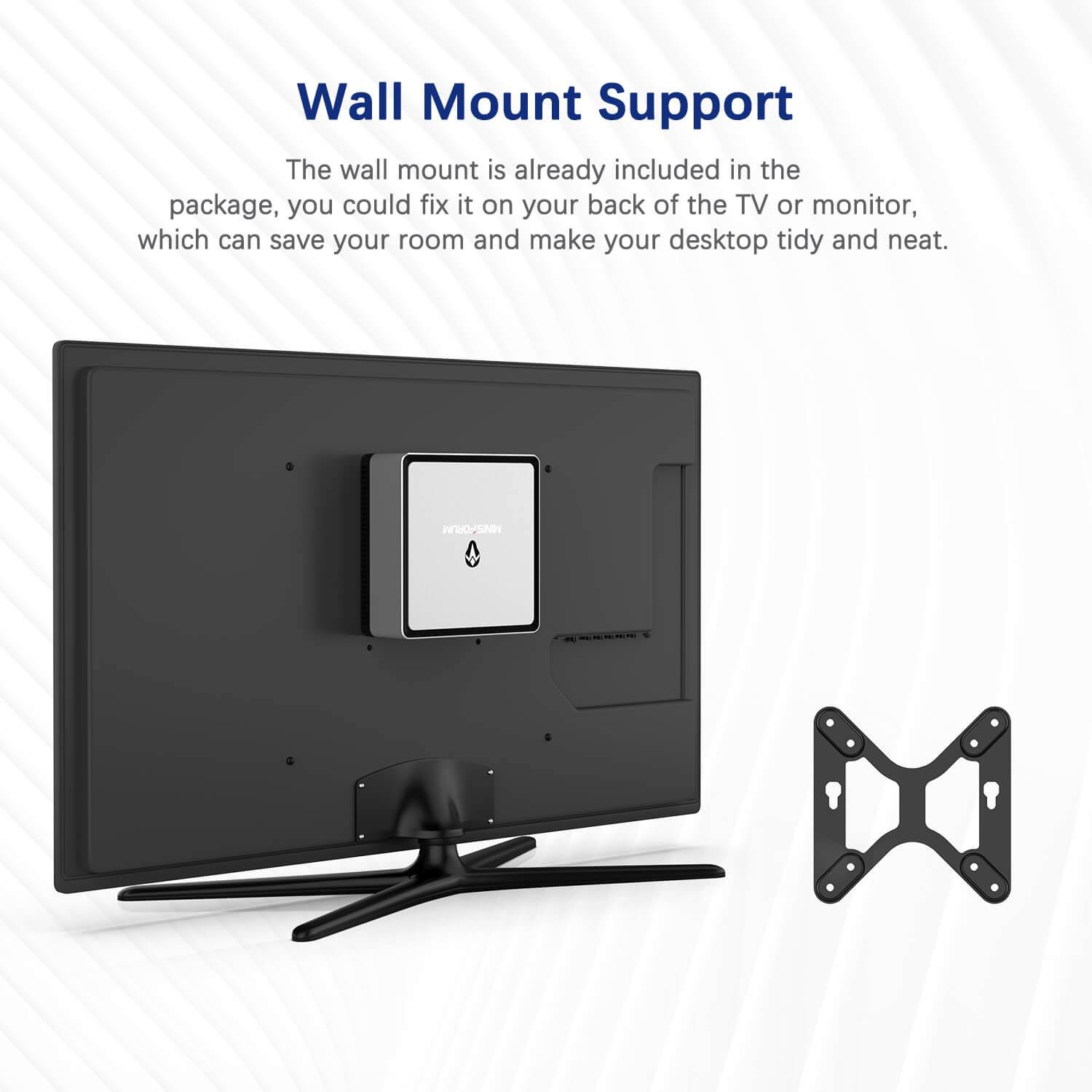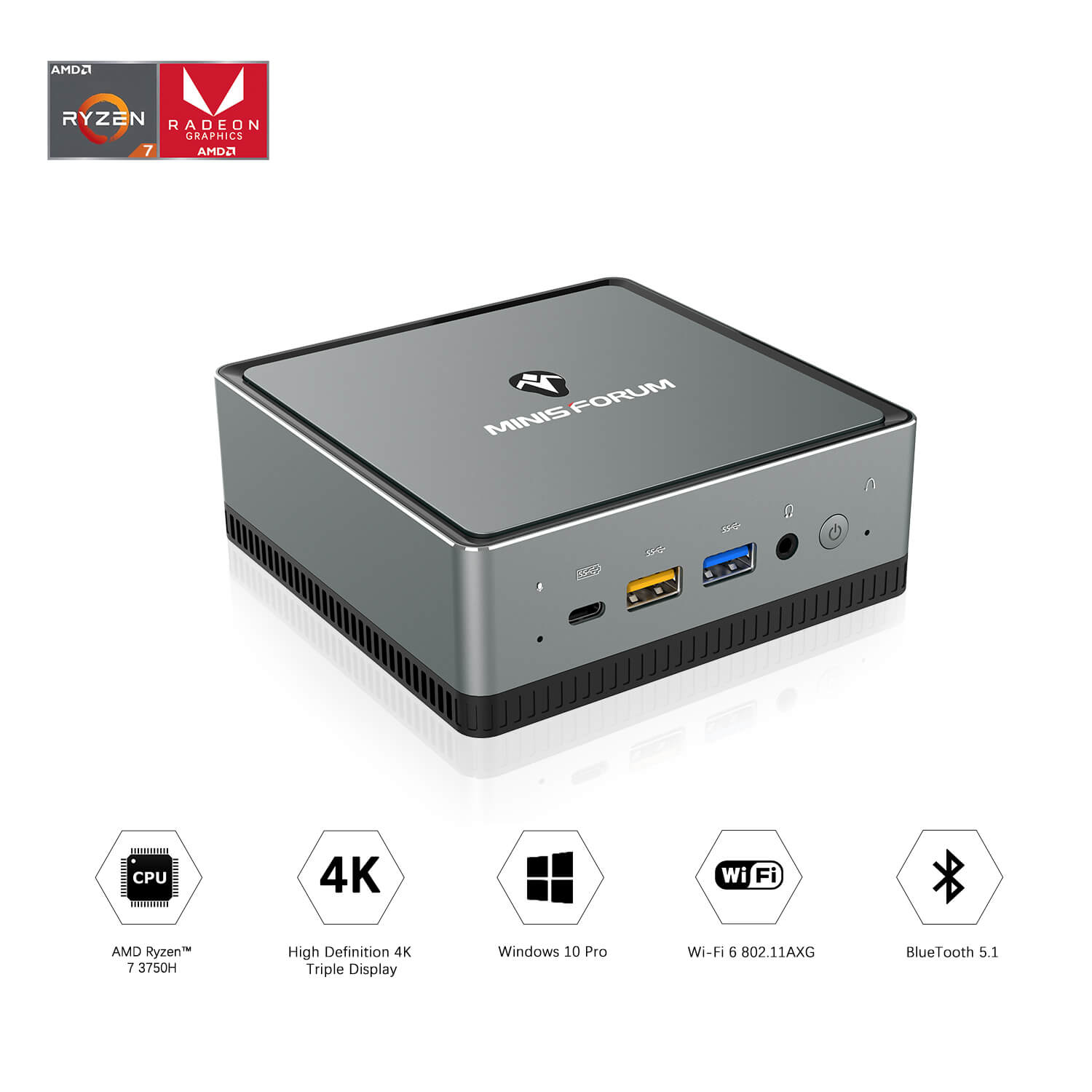 Technical Specifications
Softwares
OS
Windows 10 Pro
Processor
Brand
AMD
Model
Ryzen™ 7 3750H
Arhitecture
12nm
# Cores
4
# Threads
8
Base Frequency
2.3Ghz
Turbo Frequency
4.0Ghz
Graphics Processor
Interface
On-Board
Brand
AMD
Model
2
Turbo Frequency
1.40Ghz
Displays Supported
3
DirectX Support
✓
AMD FreeSync™ Technology
✓
AMD SenseMI Technology
✓
Memory (RAM)
Capacity
16GB/32GB (Depending on the model purchased)
Technology
DDR4 SO-DIMM
Storage (ROM)
Capacity
256GB/512GB/1TB (Depending on the model purchased)
Technology
M.2 NVMe PCI-E SSD
Expandable
2.5" HDD/SSD
Network
Ethernet
2x 1GB/s RJ45
Wi-Fi
802.11a/ac/b/g/n Module – Dual-Band (Wi-Fi 5)
Bluetooth
4
I/O Interface
USB
1x USB Type-A 3.1 (Yellow - Shutdown charging) ; 3x USB Type-A 3.1
Video
1x HDMI ; 1x DisplayPort ; 1x USB Type-C
Audio
1x HDMI ; 1x DisplayPort ; 1x 3.5mm Headphone&Microphone Jack
Dimension/Weight
Product Dimensions
(L x W x H): 12.8 x 12.7 x 4.60 cm / 5 x 5 x 1.8 inches
Product Weight
550g / 1.21lb
Package Dimensions
(L x W x H): 15.8 x 15.8 x 10 cm / 6.2 x 6.2 x 3.9 inches
Package Weight
1400g / 3.08lb
Application Ready
At the time of publication, this list is comprehensive and accurate. Specific apps or add-ons may be removed or added in the future.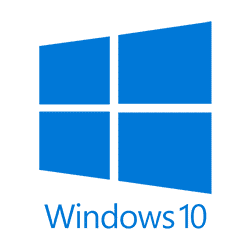 Windows 10 OS
The most used Operating System on the planet. That's for a reason
Package Includes
1 * Power Adapter
1 * Mounting Bracket
1 * HDMI Cable
1 * DisplayPort Cable
1 * User manual
Please Note
In line with the policy of continued development, the manufacturer reserves the right to amend the specifications without prior notification. The illustrations in the user manual are for reference only.
Reviews
MinisForum EliteMini UM700 AMD Ryzen Mini PC
MinisForum EliteMini UM700 AMD Ryzen Mini PC
Fabulously small, fast, quiet (99% of the time silent), and set-up including Windows 11 has been smooth and simple. 10/10.
Fantastic little box running Linux
Before buying I had a couple of questions for the Droix support team which have been answered quickly and professionally. Initially I wanted to buy the UM700 Linux version but this is only available directly from US (too much hassle with TAX and return if there had been problems). Bought the Win version from Droix and swapped my SSD with Garuda Linux from my old PC into the empty slot in the UM700, switched it on and to my surprise everything worked without any issues. The UM700 is very fast, silent, small and I'm glad I've decided for it. Highly recommended.
Small and powerful
Its amazing that such a small device packs so much power. Browsing and doing everyday tasks is fast and responsive. Games play pretty decently with even modern AAA titles running fairly well with medium settings. There is a space in the top to fit a hard drive which is very easy to add. Overall im very happy with my purchase.
Extremely good value for money
A great little machine .Ticks all the boxes for me .Very good value for money and so easy for me to set up . I am extremely pleased with my purchase .Delivery was first class less than 24 hours . Thank you Droix .
MinisForum EliteMini UM700 AMD Ryzen Mini PC
Starting at $ 684.94 Incl. VATStarting at $ 570.78 Excl. VAT