Gaming Mini PCs
Here's a secret… PC gaming doesn't have to be all about having the largest case with everything in RGB to 'make it go faster'. Our range of gaming mini PC's are far smaller, just as fast and no RGB, OK well maybe a little on some!
Showing all 3 results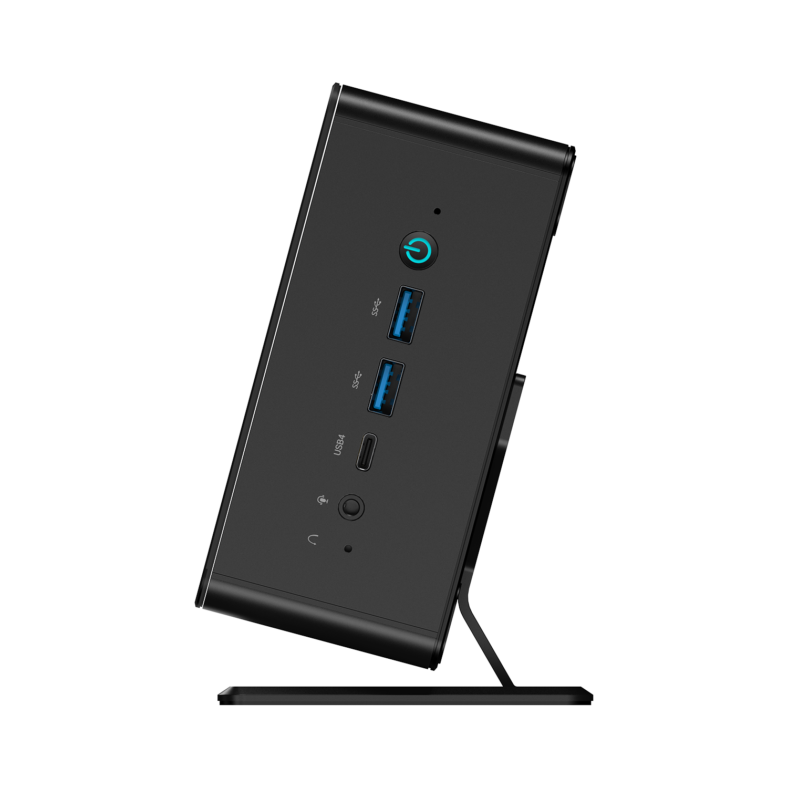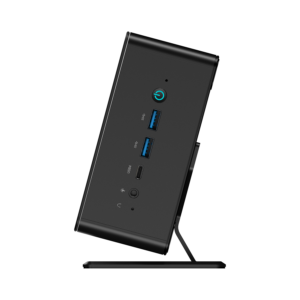 AMD Ryzen™ 7 7840HS / Radeon 780M
up to 64GB DDR5 @ 4800MHz
up to 4TB High-Speed PCIe 4.0 M.2 2280 SSD
Quad Display Output DP 1.4, HDMI 2.1 2x USB 4
WiFi 6E  & Bluetooth 5.0 Support
Item on Pre-Order – Release Date: 14/12/2023
Starting at

£

679.95 Incl. VAT
AMD Ryzen 9 6900HX @ Up to 4.90 GHz cTDP: 45W
32GB Dual-Channel DDR5 &  500GB NVMe
AMD Radeon™ 680M– 8 cores @2400 MHz
4 HDMI ports support Quad Screens 8K Display
WiFi 6E & Bluetooth 5.2, Type-C
£

920.95
Starting at

£

630.95 Incl. VAT
AMD Ryzen 3 PRO 4350G 4.0GHz cTDP: 45-65W
Up to 32GB Dual-Channel DDR4, 1TB NVMe
Radeon™ RX Vega 6 Graphics
Dual monitor support; 4K@60Hz
WiFi 6 & Bluetooth 5.1, USB 3.0
£

564.95
Starting at

£

367.94 Incl. VAT
What is a gaming mini PC?
A gaming mini PC is essentially a PC in a small form factor that has the same functionality for playing games as you would on a desktop size PC. At a minimum, the processor should be high performance and have either a fast integrated or separate GPU. It should be capable of running many of the latest games at playable settings.
Where to buy a gaming mini PC?
You can buy a gaming mini PC from DroiX. Many of the staff are gamers, some with experience of gaming of over 35 years. We know our games and what it takes for a gaming mini PC to be great!
What is the best gaming mini PC?
The Minisforum NUCXi7 with Nvidia GeForce RTX 3070 is the best gaming mini PC. It can play AAA Windows games such as Forza Horizon 5, Overwatch 2 and more at high graphics levels and resolutions.
Choosing a Gaming Mini PC
If you are limited on space, or simply do not want the clutter of a massive desktop gaming PC then a gaming mini PC is the easy choice! With all the power and performance in a case not much larger than a box of teabags, you can enjoy the latest AAA Windows games.
Over the years as technology has progressed, we no longer need to have desktop PC's for gaming. Gaming laptops have been around for some time already and now that technology has been introduced to mini PC's. A gaming mini computer takes up very little space making it ideal to play on the living room TV for example.
Companies such as Beelink and MinisForum are among the main innovators in gaming mini PC's. Their popular GTR series feature high performance AMD Ryzen based processors with integrated graphics. They are great for gaming as many games are optimised for AMD chipsets. You can for example play Call of Duty Modern Warfare II at good graphics settings at high resolution with ease.
Deciding on which one to buy is thankfully made easier with our best gaming mini PC buying guide. The guide is useful to see an overview of the available range and if you want to read our unbiased in depth reviews with system and games benchmark scores you can do so.
As well as taking up less space on your desktop or in the living room, gaming mini computers are far more power efficient than a desktop PC.. A medium level desktop can use as much as 500W power supply, versus far less at around 181W on the Minisforum NUCXi7 with Nvidia GeForce 3070 graphics card for example. It both saves on your energy bills as well as your environmental footprint.
Gaming mini PC's can also be upgraded with more memory and storage. And Intel based models with a thunderbolt port can also take advantage of being able to connect an eGPU (external graphics) to it, and use that instead of the integrated graphics. You are then limited by the power of the eGPU on the graphics settings and resolution. For example a Geforce 4080 can play games at 4K on High or Ultra graphics settings.
Not only are gaming mini computers great for gaming but they are also excellent for retro gaming. You will have no issues emulating systems from the earliest up to more recent systems such as the Xbox 360. They are even capable of more current gaming consoles and handhelds. With many systems you can upscale the graphics to higher than their native resolutions and transform classic games to the large TV.
And of course, gaming mini PC's are great at your day to day tasks. Whether it be browsing the web, consuming media or video calling. Or more demanding tasks such as working with large office documents or video editing and rendering. These high end mini PC's are built for performance and can easily breeze through your workload in the home or office workplaces.