Beelink MINI S Intel N5095 Mini PC
Energy efficient Intel N5095 quad-core 2.0Ghz CPU
Fast 8GB @ 2933Mhz RAM
Up to 256GB M.2 SATA 2280 SSD and internal 2.5" drive
Supports dual monitor 4K @60Hz via HDMI
Windows 11 PRO installed and ready to use
£140.95Starting at £127.94 Incl. VATStarting at £106.62 Excl. VAT
Description
The Beelink MINI S is a high-performance Mini PC with a budget price that is ideal for the home or office work environment.
The Beelink MINI S mini computer features the 11th generation Jasper Lake Intel Celeron N5095 quad-core processor running up to 2.0Ghz. It is an energy efficient processor running at 15W, meaning that it uses less energy than a traditional desktop PC which can run as high as 600W. It saves both energy bills and the environment.
The RAM and Storage are both very capable of meeting your daily workload. There is 8GB of fast DDR4 RAM, with a maximum of 16GB @ 2933Mhz, and a choice of fast 128GB or 256GB M.2 SATA 2280 SSD.
The Beelink MINI S office mini PC has two HDMI ports supporting up to dual 4K 60Hz display on monitors. It is great for multitasking on the Windows 11 PRO version that comes pre-installed and ready to use.
For data communications there is fast 2.4G & 5G 802.11 B/G/N/AC Dual band Wi-Fi providing up to 450Mbps on 2.4G and 1300Mbps on 5G. There is Bluetooth support for connecting wireless peripherals if required. For wired connection there is a gigabit Ethernet port for fast and stable data transfer on this home mini PC.
The Beelink MINI S has a small footprint and weight like and Intel making it ideal for those with limited desk space. Whether it be in the home or office workplace, or travelling between offices for meetings or presentations, this mini PC is portable, lightweight and gets your tasks done!
Technical Specifications
Software
OS
Windows 11
Security
PIN/Password
Processor
Brand
Intel
Model
Intel® Celeron® N5095
Litography
10nm
# Cores
4
# Threads
4
Base Frequency
2.0 Ghz
Turbo Frequency
2.9 Ghz
Cache
3 MB L3
TDP
15W
Graphics Processor
Interface
Integrated
Brand
Intel
Model
Intel® UHD Graphics
Base Frequency
450 Mhz
Turbo Frequency
750 Ghz
DirectX Support
✓
OpenGL Support
✓
Intel® Quick Sync Video
✓
Intel® Clear Video HD Technology
✓
Intel® Clear Video Technology
✓
Memory (RAM)
Capacity
8GB
Technology
DDR4
Storage (ROM)
Capacity
128GB/256GB (Depending on the model purchased)
Technology
M.2 SATA SSD
Network
Ethernet
10/100/1000M Ethernet Adapter (RJ45)
Wi-Fi
802.11a/ac/b/g/n Module – Dual-Band
Bluetooth
✓
I/O Interface
USB
4x USB 3.0
Video
2x HDMI Port
Audio
1x HDMI Port
Power
DC power port
Package Includes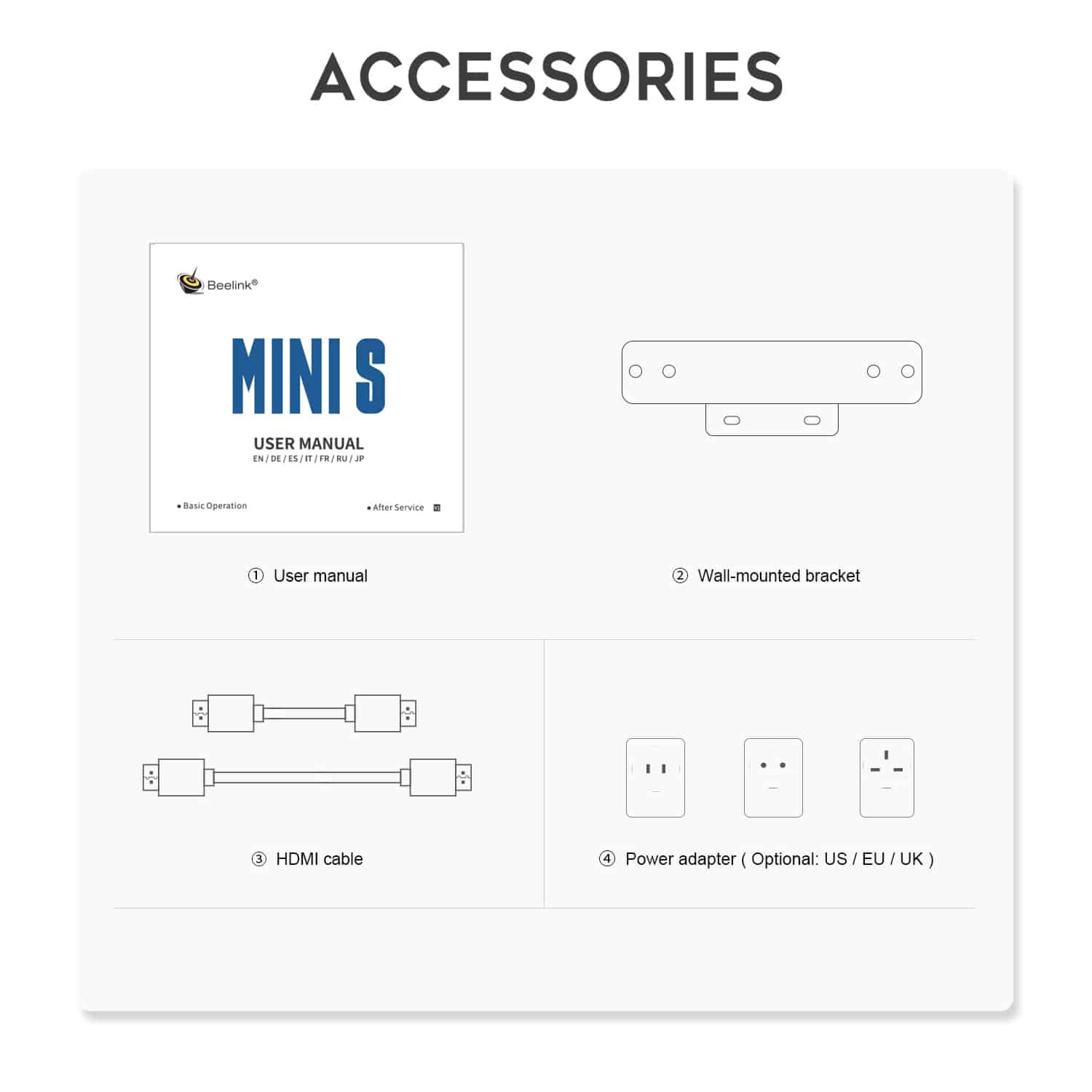 1* User Manual
1* Wall-mounted bracket
2* HDMI Cable
1* Power Adapter
Please Note
In line with the policy of continued development, the manufacturer reserves the right to amend the specifications without prior notification. The illustrations in the user manual are for reference only.
Reviews
I got this mini...
I got this mini PC as upgrade to my old one which had basic specs and really needed upgrade after I had faced some performance issues post installation of heady graphics designing applications. While I was searching for a upgradable mini PC, found this and impressed with its specs - decided to give it a go. It arrived in a nicely packaged box and out of the box - to my surprise, this is way too compact than I thought which was great to see.
Its so small that it can be easily mounted on the wall behind Any smart TV.
Well, I use it now as plug and play PC for portable monitor as well as sometimes connect it to 77 inch smart TV at home when I want to use the bigger screen at comfort of sofa in the living room.
Talking about the spec 6GB RAM/128GB is a great combo - which is more than enough for my requirements now. I mostly connect it via Wifi and so far not faced any issues as such. Overall noice level is also definitely lower than my old mini PC. I have tried playing some 4K movies on prime and they do work smoothly and looks great as well.
In short - this mini PC exceeded my expectations. I don't have any complaints to share at the moment. Will probably update the feedback based on experience 6 months down the line.
So far based on my experience - highly recommended !!
I purchased the...
I purchased the Beelink Gemini T34 Mini PC to make a complete workstation out of the large-screen monitor, keyboard etc. installed so my wife could work from home in comfort and safety. Space being a major consideration, I opted for the smallest solution on offer.
I didn't expect much of it. The idea was that it would be a 'spare' computer. I was amazed when I first used it. So much in such a small package! It is a proper computer. And a decent machine. As good as any computer I have had. Fast, Responsive. Adequate for almost all purposes in terms of specification. A real treat to use.
Downsides? Graphic support is not the greatest, I can live with that given the way the machine is being used. Onboard storage is tight. But that's easily solved with an external drive. You certainly won't have any problem connecting it. The Beelink Gemini T34 Mini PC fairly bristles with options.
Amazing!
Beelink MINI S Intel N5095 Mini PC
£140.95Starting at £127.94 Incl. VATStarting at £106.62 Excl. VAT