Processor: Qualcomm Snapdragon SD845
CPU: Quad-core Kyro [email protected] & Quad-core Kyro [email protected]
GPU: Adreno 630@787 MHz
DRAM: 8GB LPDDR4x
Storage: 128GB/256
£370.95Starting at £274.95 Incl. VATStarting at £229.13 Excl. VAT
Description
AYN Odin Pro: Dive into the Past with a Modern Touch
With technology advancing at a rapid pace, the urge to revisit the past and relive the classic gaming moments of yore has never been stronger. Enter the AYN Odin Pro – your passport to both the classics and modern titles. Whether you're a fan of 8-bit adventures or newer, more intricate narratives, this portable gaming handheld will deliver an unparalleled gaming experience. 
Revive Old Games with a High-Tech Heartbeat
Under the hood, the AYN Odin Pro boasts the mighty Qualcomm Snapdragon SD845. With a quad-core Kryo Gold ticking at 2.8Ghz and a quad-core Silver running at 1.8GHz, games from every era will come alive in your hands. Be it fast-paced action titles, retro consoles or strategic RPGs, this CPU promises smooth gameplay with no lags or stutters. 
Graphics That Leave You Mesmerized
Graphics play a pivotal role in immersing the gamer into the world of pixels and sprites. The Adreno 630 GPU running at a zippy 787Mhz ensures that every frame is rendered beautifully. Whether you're diving into pixelated retro worlds or HD realms, this vintage gaming handheld offers stunning visuals for every title you embark upon. 
Never Run Out of Space with the AYN Odin Pro
Packed with 8GB LPDDR4x RAM, the Odin Pro ensures smooth multitasking and seamless gameplay. Choose between a roomy 128GB or a massive 256GB storage option, so you never have to compromise on which games to keep. 
Gaming at its Vibrant Best
The 5.98″ IPS LCD touchscreen offers gamers a crystal-clear canvas with a 1080×1920 resolution, perfectly blending retro charm with modern display finesse. With a 16:9 aspect ratio and a sharp 369 PPI, games will look better than ever. And fret not about the rigours of intense gaming; the Dragontrail glass promises protection against scuffs. 
Experience Games in Their True Glory
With the Micro HDMI output, you can bring your favourite titles to the big screen for those times when you feel nostalgic in the company of friends. The Qualcomm Aqstic Audio Codec, paired with a 2x1W Speaker Amplifier, guarantees that every beep, blip, and explosion is heard in pristine clarity, elevating your mobile gaming handheld journey. 
Uninterrupted Gaming On-the-Go
The Odin Pro supports both 2.4 and 5G Wi-Fi 802.11 a/b/g/n/ac. Whether you're at home or at your favourite café, the connection is swift. Bluetooth 5.0 ensures quick pairing with a plethora of devices, while the USB Type-C 3.1, Micro HDMI, and 3.5mm audio jack make sure you're always connected. 
Classic Gaming on a Modern Platform
While the heart beats for the classics, the brain of this portable retro gaming console is thoroughly modern. Running Android 10, it not only lets you indulge in gaming but opens a world of apps and features. 
No Pause to Your Nostalgic Trip
A robust 6600mA battery ensures your trip down memory lane is not cut short. When it's time to juice up, Quick Charge 3.0/4.0+ ensures you're back in the game in no time. 
Elegance Meets Durability
The AYN Odin Pro's sleek measurements of 8.8 x 3.7 x 0.5 in are complemented by its light weight of 365g, making it the perfect gaming companion for on-the-move. Choose between the understated Black, the minimalist Cold Grey, or the pristine Clear White case colours. 
More Than Just Gaming
With Game Launcher and Screen Mapping, dive into your favourite titles with ease. And with OTA updateable firmware, your device will always stay in top gaming shape. 
Pros:
High-End Performance: Powered by Qualcomm Snapdragon SD845 and 8GB RAM, it ensures smooth gameplay and multitasking, outclassing many other retro handhelds in terms of raw power.

 

Versatile Connectivity: With options such as 2.4/5G Wi-Fi, Bluetooth 5.0, USB Type-C 3.1, Micro HDMI, and a 3.5mm audio jack, it offers more ways to connect and play than most of its competitors.

 

Modern OS with Classic Feel: Running Android 10, it allows access to a vast array of apps and features beyond just gaming, making it more versatile than many retro-only devices.

 

Robust Storage Options: With choices between 128GB or 256GB, gamers have ample storage space, which is often a limitation in other retro gaming handhelds.

 

Unique Features: The inclusion of Game Launcher, Screen Mapping, and OTA updateable firmware gives it an edge in terms of user-friendly features not commonly found in similar devices.

 
Cons:
Android OS Learning Curve: While versatile, Android 10 might be overwhelming for those looking solely for a plug-and-play retro gaming experience.

 
Read our full AYN Odin Pro review here for more information. Are you new to Android handhelds, learn more and how to use them on our getting started guide here. 
Technical Specifications
Software
Operating System
Android 10
Dual Boot
No
Dual Boot OS
N/A
Processor
Processor (CPU) Base Frequency
(Quad-core Kryo Gold) 2.8Ghz, (Quad-core Kryo Silver) 1.8Ghz
Processor (CPU) Brand
Qualcomm
Processor (CPU) Cores / Threads
(Snapdragon SD845) 8 Cores / 8 Threads
Processor (CPU) Max Frequency
(Quad-core Kryo Gold) 2.8Ghz, (Quad-core Kryo Silver) 1.8Ghz
Processor (CPU) Model
Snapdragon SD845
Graphics Card (GPU)
Graphics (GPU) Brand
Qualcomm
Graphics (GPU) Max Frequency
(Adreno 630) 787 Mhz
Graphics (GPU) Model
Adreno 630
Graphics (GPU) Memory
Shared w/ RAM Capacity
Display
Aspect Ratio
16:9
Pixels/Inch
369 PPI
Resolution
1920×1080
Size
5.98 Inch
Touchscreen
Yes
Memory (RAM)
Memory (RAM) Capacity
8GB
Memory (RAM) Technology
LPDDR4x
Storage Capacity
128GB, 256GB
Storage Expansion
1x Micro SD Card Slot
Ports
I/O Audio
1x 3.5mm Headphone Jack, Speaker: Dual Speakers
I/O USB
1x USB 3.1 Type C
I/O Video
1x Micro HDMI
Connectivity
Wi-Fi
5
Bluetooth
5.0
Battery
Battery Capacity
6600 mAh
Battery Life
Gaming: Up To 7 Hours
Battery Type
Li-Po
Package Includes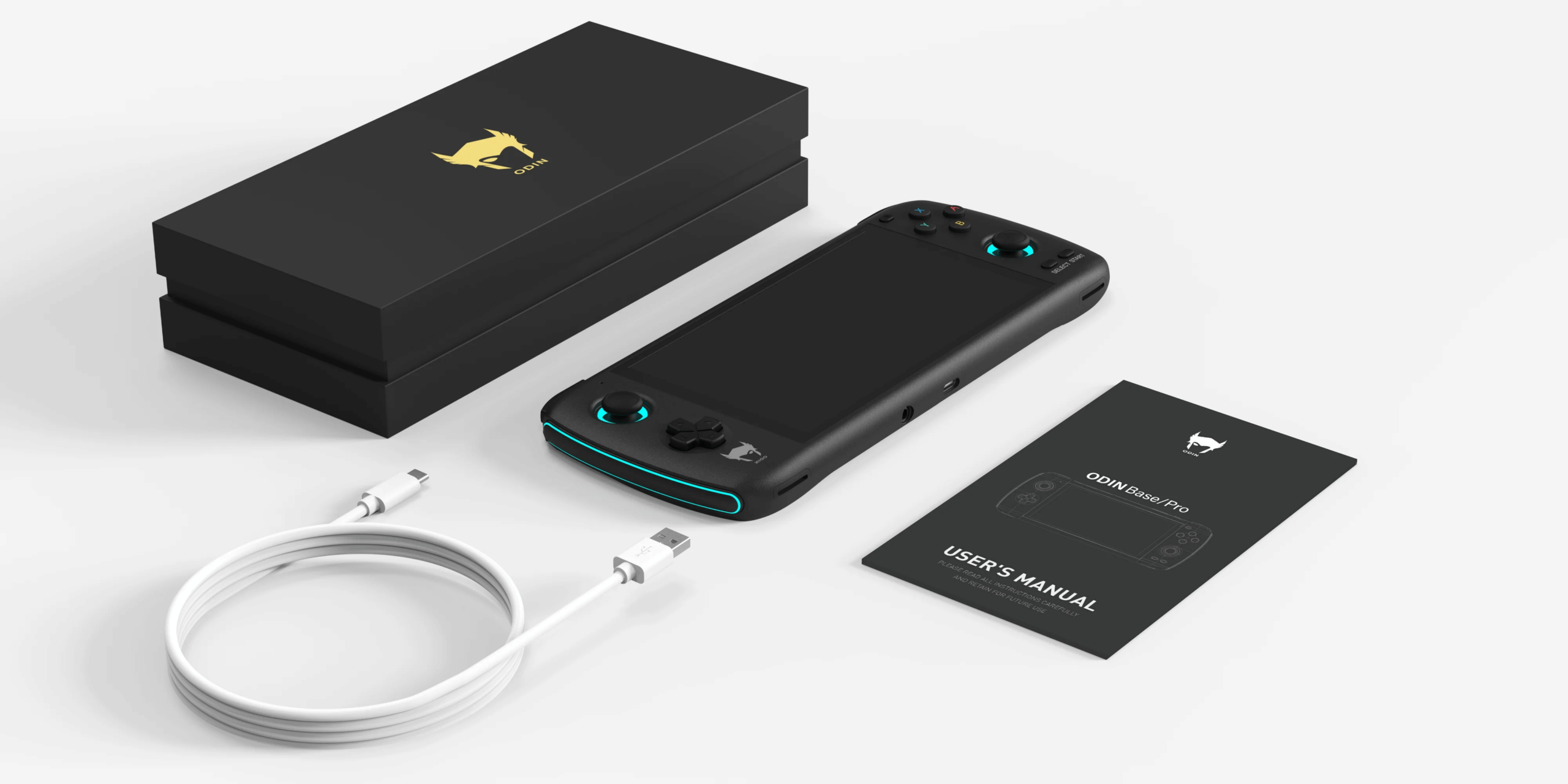 1x AYN Odin Pro
1x USB Type-C Cable
1x User Manual
Please Note
In line with the policy of continued development, the manufacturer reserves the right to amend the specifications without prior notification. The illustrations in the user manual are for reference only.
Reviews
AYN ODIN PRO 256gb Black
The Odin Pro doesn't fail to impress, it is a really nice looking unit. The display is beautiful, with great colours and brightness . The blue LED lights are a nice touch on the casing and stick controls. The Odin Pro emulates a great range of consoles smoothly and with such ease. The built in fan helps to cool the unit when it is in intensive performance/high performance mode All in all a fantastic handheld device. It may have been out for a while, yet it is a highly capable retro gaming emulator one of the very best for the price range. The usual high standard of service and shipping from Droix.
£370.95Starting at £274.95 Incl. VATStarting at £229.13 Excl. VAT