15.6″ 4K portable monitor with stylus support
15.6″ 4K portable monitor Stunning 4K UHD Display
Touchscreen Capability Included Stylus
Foldable case as monitor stand
Portable and Lightweight
Powered by USB, supports mini-HDMI, USB Type-C
£360.95 Incl. VAT£300.79 Excl. VAT£289.95 Incl. VAT£241.63 Excl. VAT
Description
Introducing the 15.6″ 4K Portable Monitor: Your Ultra-High-Definition Mobile Display
Experience the next level of visual brilliance with the 15.6″ 4K portable monitor. Designed for those who crave immersive viewing and professional-grade performance, this exceptional portable screen is packed with innovative features to enhance your mobile computing experience. Whether you are a digital nomad, photographer, or graphic designer, it will revolutionize the way you work and play on the go. 
Immersive 4K UHD Display: Your Portable Gateway to Stunning Visuals
The 4K portable screen boasts an incredible 15.6-inch G+G full-lamination touchscreen monitor with a 16:9 widescreen aspect ratio. Its LED backlight technology ensures vivid colours and sharp contrasts, bringing your content to life like never before. With a staggering resolution of 3840 x 2160 pixels and a colour depth of 10-bit, this 4K UHD travel monitor delivers impeccable image clarity and detail, making it perfect for viewing your favourite 4K content, photo editing, and graphic design work. 
Sleek Design and Intuitive Touchscreen
The monitor housing of the 4K UHD portable monitor is crafted from high-quality aluminium alloy material, combining durability with a sleek and modern aesthetic. Its narrow border design maximizes the screen real estate, giving you a more immersive viewing experience. Equipped with a capacitive 10-point touch screen, it offers intuitive and responsive touch controls, enabling you to interact effortlessly with your content, whether you are navigating menus, editing photos, or sketching ideas. 
Enhanced Viewing Experience
The 15.6-inch panel features an active area of 344.2×193.6 mm (H×V) and a pixel pitch of 0.0607×0.1821 mm, delivering an expansive canvas for your creativity. With a wide viewing angle of 85 degrees in all directions, you can share your screen effortlessly with colleagues or friends without compromising on image quality. The impressive contrast ratio of 1500:1 ensures deep blacks and vibrant colours, while the high brightness of 600 cd/m2 guarantees excellent visibility even in well-lit environments. 
Seamless Connectivity and Versatility
The portable monitor for 4K content offers a range of connectivity options to accommodate various devices. It features an HDMI Mini port and a Type C port for video data transfer, allowing you to connect smartphones, laptops, and gaming consoles like PlayStation 5, Xbox One, Xbox 360, Switch and more. The additional Type C port serves as a power supply, ensuring you stay productive without draining your device's battery. Moreover, the micro-USB port enables you to connect a keyboard and mouse, transforming it into a full-fledged workstation. 
Unleash Your Creativity with the Stylus Pen
The portable monitor for graphic design is compatible with a separately sold 4096 pressure stylus pen, offering precise and natural pen input. Whether you are sketching, taking notes, or retouching photos, the stylus pen provides a seamless and intuitive experience, making your creative workflow more efficient and enjoyable. (Stylus pen sold separately) 
Portable Powerhouse: Unplug and Play Anywhere
With its built-in 10000 mAh battery, the portable monitor for gaming lets you enjoy uninterrupted usage for 4-5 hours, allowing you to work or entertain yourself on the go without worrying about finding a power source. Its compact dimensions of 357x223x9mm and lightweight design of 1300g make it incredibly portable, fitting effortlessly into your backpack or laptop bag. Whether you are travelling for business or pleasure, it is your reliable companion that brings the power of a high-resolution display wherever you go. 
Unleash Your Productivity and Entertainment
This is not just a portable monitor; it is a productivity and entertainment powerhouse. Boost your workflow by extending your laptop or smartphone screen, giving you the extra screen real estate, you need to multitask efficiently. Connect your gaming console and immerse yourself in stunning 4K UHD visuals, experiencing your favourite games in all their glory. Whether you are editing documents, watching movies, or browsing the web, it enhances your experience and lets you do more, anytime, anywhere. 
Enhanced Audio Experience
Immerse yourself in rich, high-quality sound with the 15.6" 4K portable monitor dual built-in speakers. With 2 x 1.0W speakers, you can enjoy clear audio and immersive soundscapes, whether you are watching movies, playing games, or listening to music. It elevates your entertainment experience by delivering impressive visuals and audio, making every moment come to life. 
Unmatched Compatibility
This 4K portable screen is compatible with a wide range of HDMI and Type-C devices, ensuring seamless connectivity and versatility. Connect your smartphone, laptop, gaming consoles, PC, or other mobile devices effortlessly, and enjoy the convenience of a larger, high-resolution display. Whether you are a professional on the go, a gamer seeking an immersive experience, or a content creator needing precise colour accuracy, it is the ultimate portable monitor for your needs. 
Designed for Professionals
For photographers, graphic designers, and digital artists, it is a significant change. Its 4K UHD resolution and accurate colour reproduction provide an ideal canvas for photo editing and graphic design work. With 100% sRGB coverage and a colour depth of 10-bit, you can trust it to deliver true-to-life colours and exceptional image quality. Take your creativity to new heights with this portable monitor that meets the demanding requirements of professionals. 
Effortless Setup and Intuitive Controls
The 15.6" 4K portable monitor is designed to be user-friendly and hassle-free. With its plug-and-play functionality, you can set it up within seconds without the need for complicated software installations or driver updates. The intuitive controls and on-screen display menu allow you to customize your viewing preferences with ease. Adjust the brightness, contrast, and colour settings to suit your needs, ensuring optimal visual comfort and accuracy for long working sessions or immersive entertainment experiences. 
Reliable Quality and Durability
The 4K UHD portable monitor is built to last, featuring a high-quality aluminium alloy housing that not only looks sleek but also provides robust protection for the monitor. The durable construction ensures that your portable monitor can withstand the rigors of daily use and travel, offering peace of mind knowing that it can handle the demands of your on-the-go lifestyle. With its narrow border design, it combines aesthetics with functionality, maximizing the screen space and minimizing distractions for an immersive viewing experience. 
Conclusion 
Experience the future of mobile displays with the 15.6″ 4K portable monitor. Its stunning 4K UHD resolution, touchscreen capability, and versatile connectivity options make it the perfect companion for professionals, gamers, and anyone in need of a portable display solution. Whether you are working on photo editing, graphic design, or simply enjoying high-quality entertainment, it delivers exceptional performance and visual excellence. Its sleek design, lightweight build, and long-lasting battery ensure that you can take it with you wherever you go, unleashing productivity and entertainment on the move. 
Pros of the 15.6″ 4K Portable Monitor: 
Stunning 4K UHD Display: It offers an ultra-high-definition display with a resolution of 3840 x 2160 pixels, providing exceptional clarity and detail for a truly immersive visual experience.

 

Touchscreen Capability: The capacitive 10-point touch screen adds a layer of interactivity, allowing for intuitive and responsive control, making it ideal for creative professionals and gamers.

 

Versatile Connectivity: With HDMI and Type-C ports, the portable monitor offers seamless compatibility with a wide range of devices, including smartphones, laptops, gaming consoles, and PCs, giving you the flexibility to extend your screen wherever you go.

 

Portable and Lightweight: Weighing only 1300g and with a slim design, the 15.6" 4K monitor is highly portable, making it easy to carry in your bag or backpack. Its built-in battery provides 4-5 hours of continuous use, allowing for on-the-go productivity and entertainment.

 

Durable and Stylish Design: The portable monitor features a high-quality aluminium alloy housing that not only protects the monitor but also adds a sleek and modern look. The narrow border design maximizes the screen space, providing an immersive viewing experience.

 
Cons of the 15.6″ 4K Portable Monitor: 
Stylus Pen Sold Separately: While it supports a stylus pen for precise input, it is not included with the monitor and needs to be purchased separately, adding an additional cost for those who require stylus functionality.

 

Limited Battery Life: Although the portable monitor offers a built-in battery for portability, the 4-5 hours of continuous use may not be sufficient for long working sessions or extended periods of entertainment, requiring occasional recharging.

 

Limited Speakers: While the 4K portable screen features built-in speakers, the output may not be as powerful or immersive compared to external speaker systems, which may be preferred for those seeking a more robust audio experience.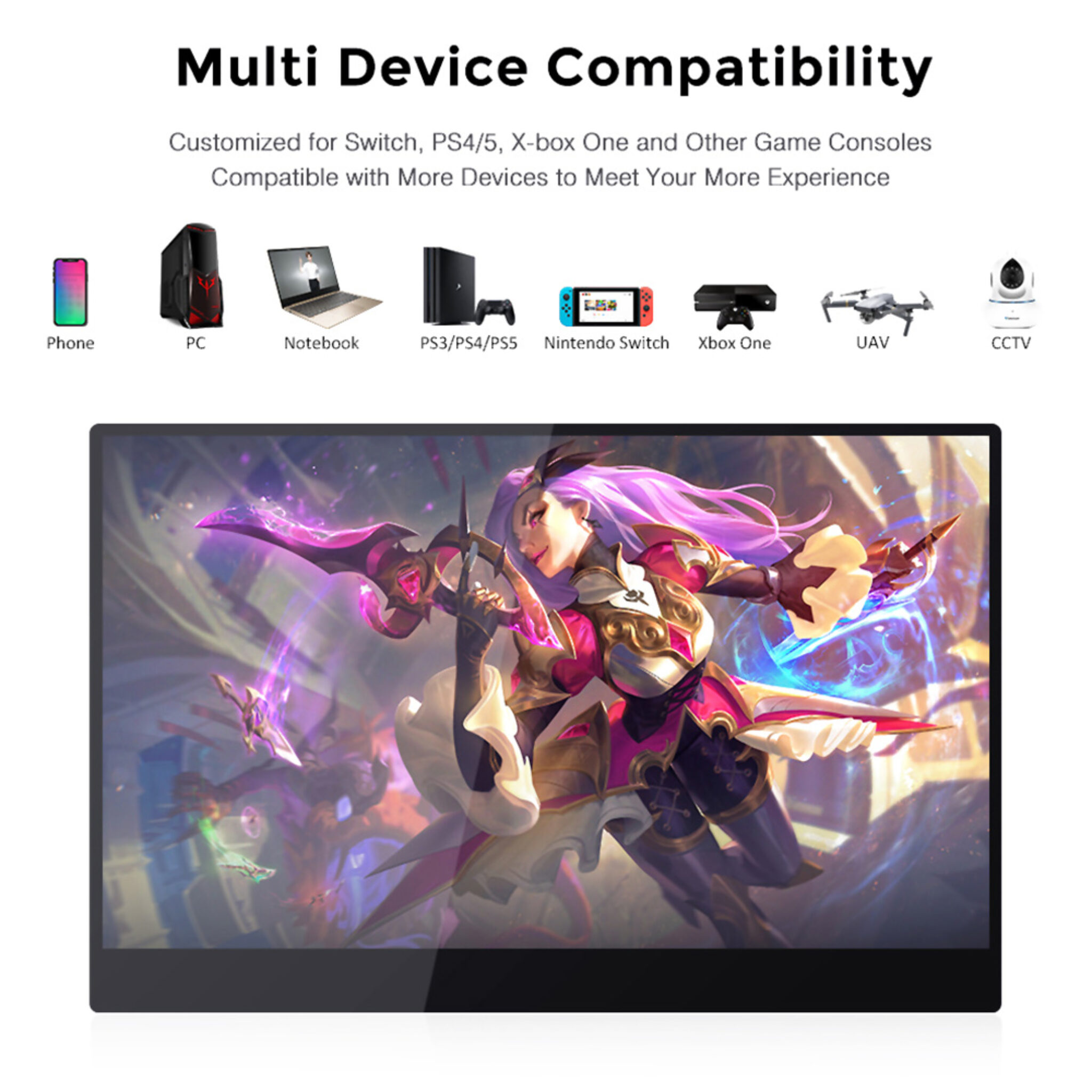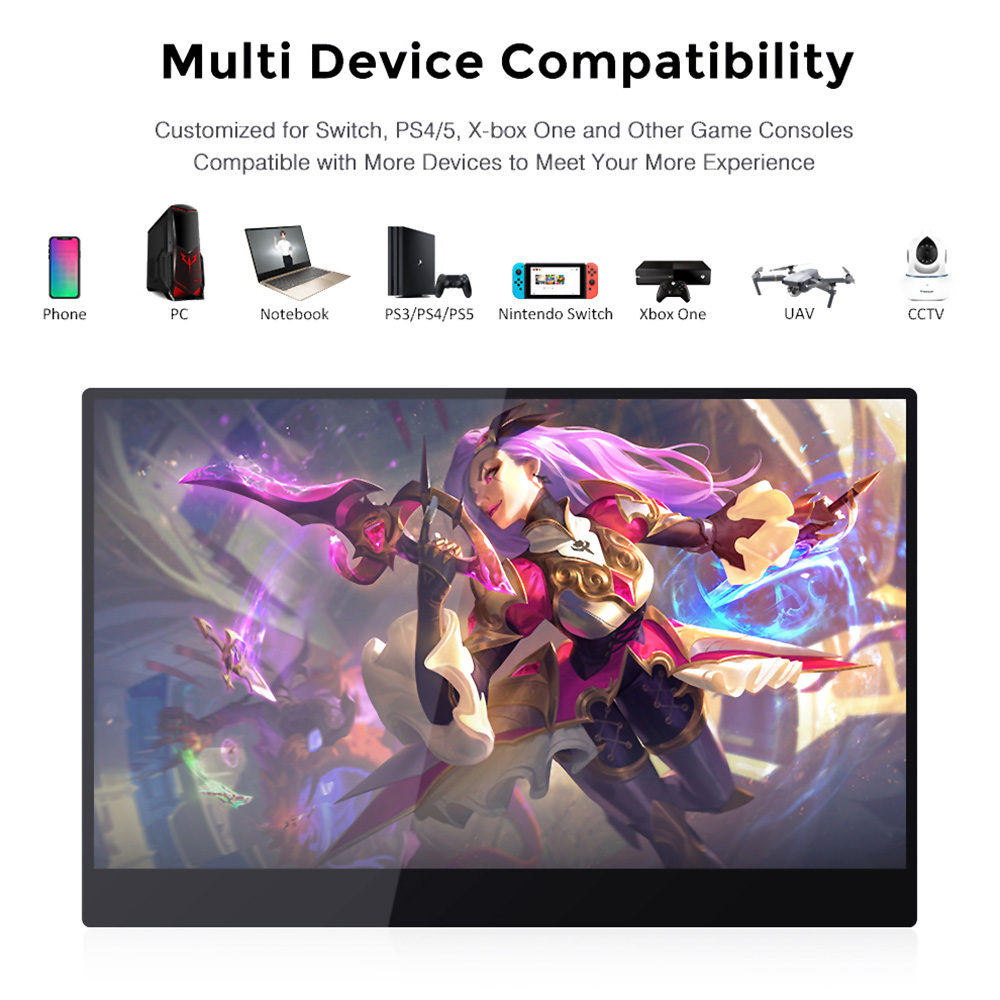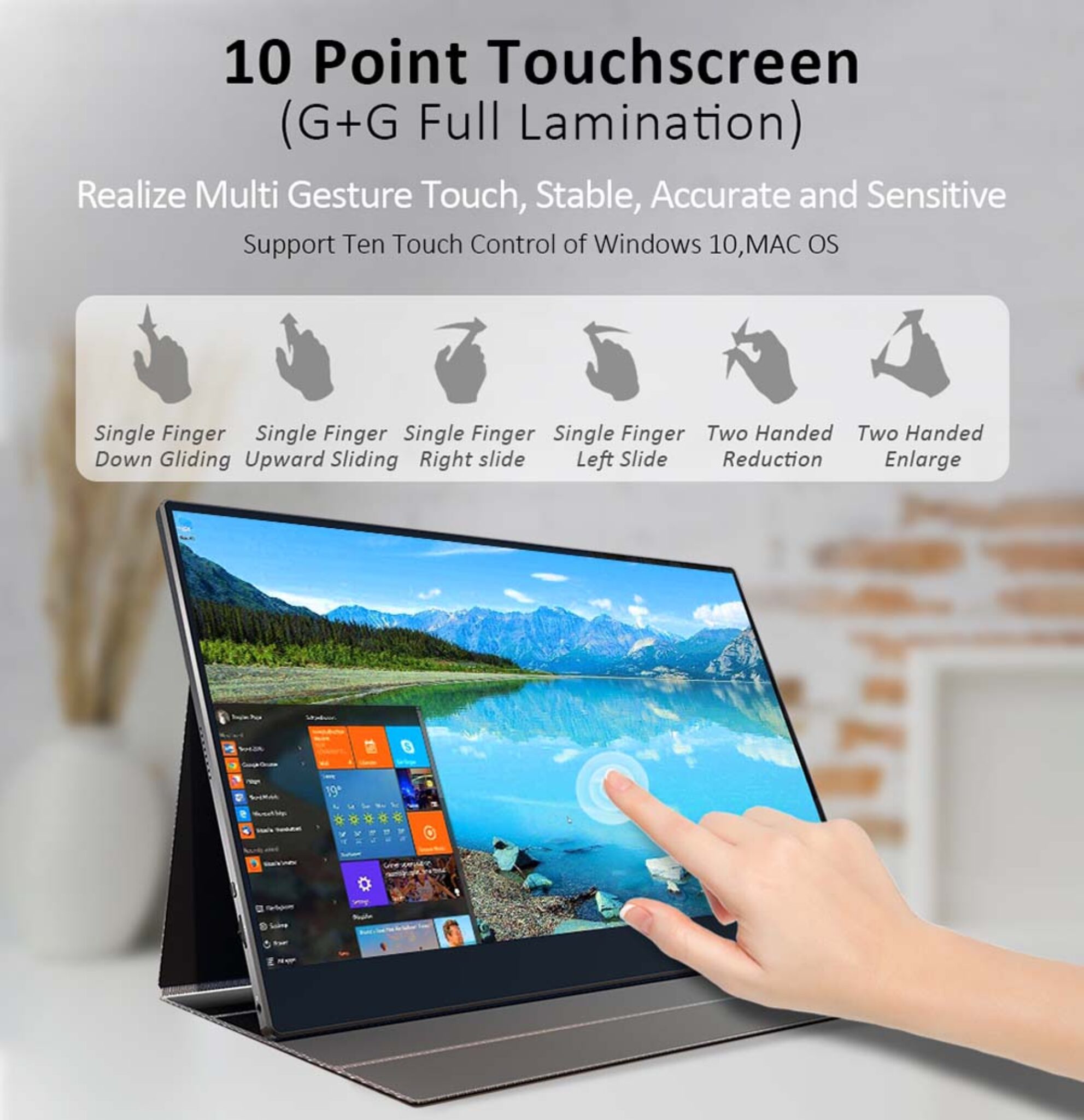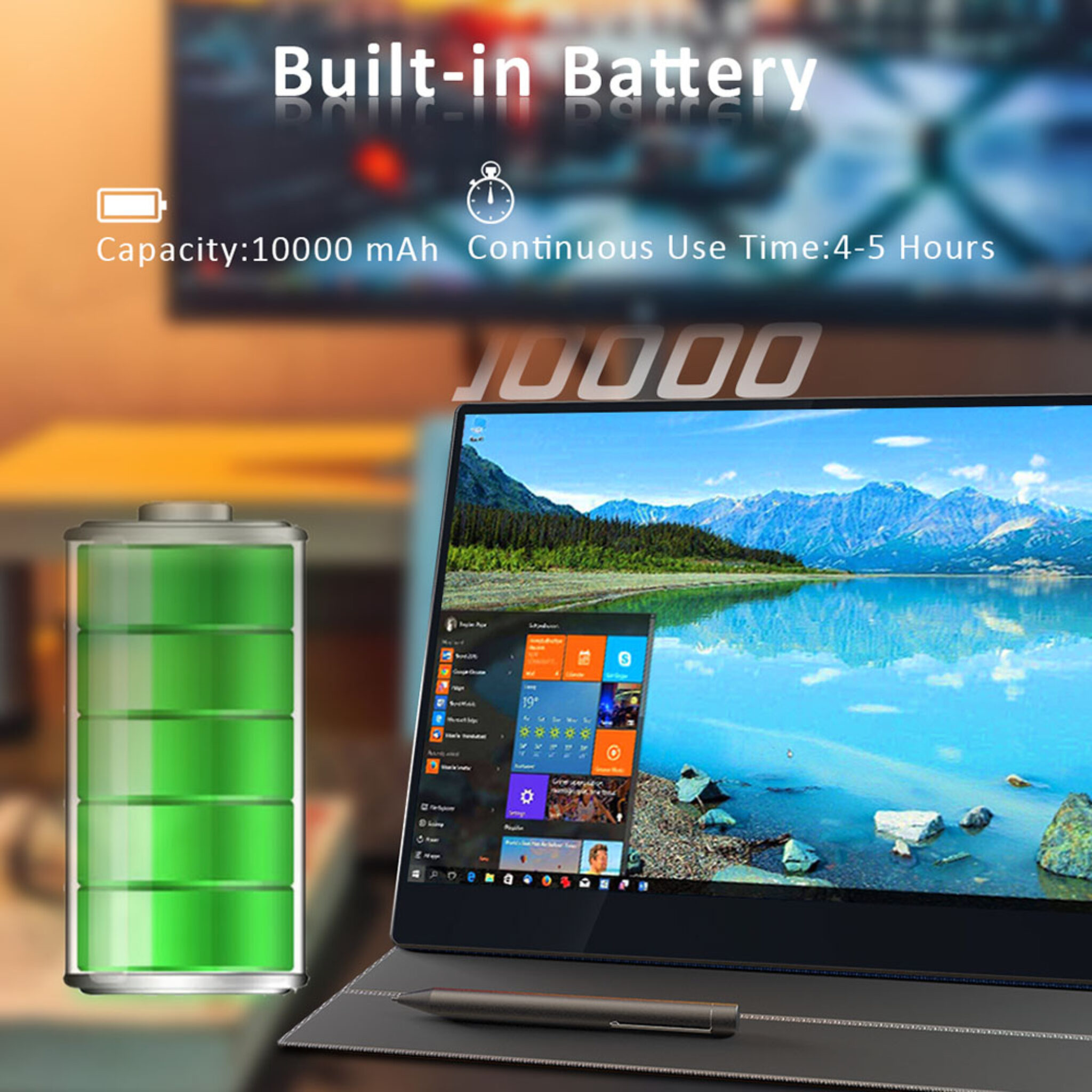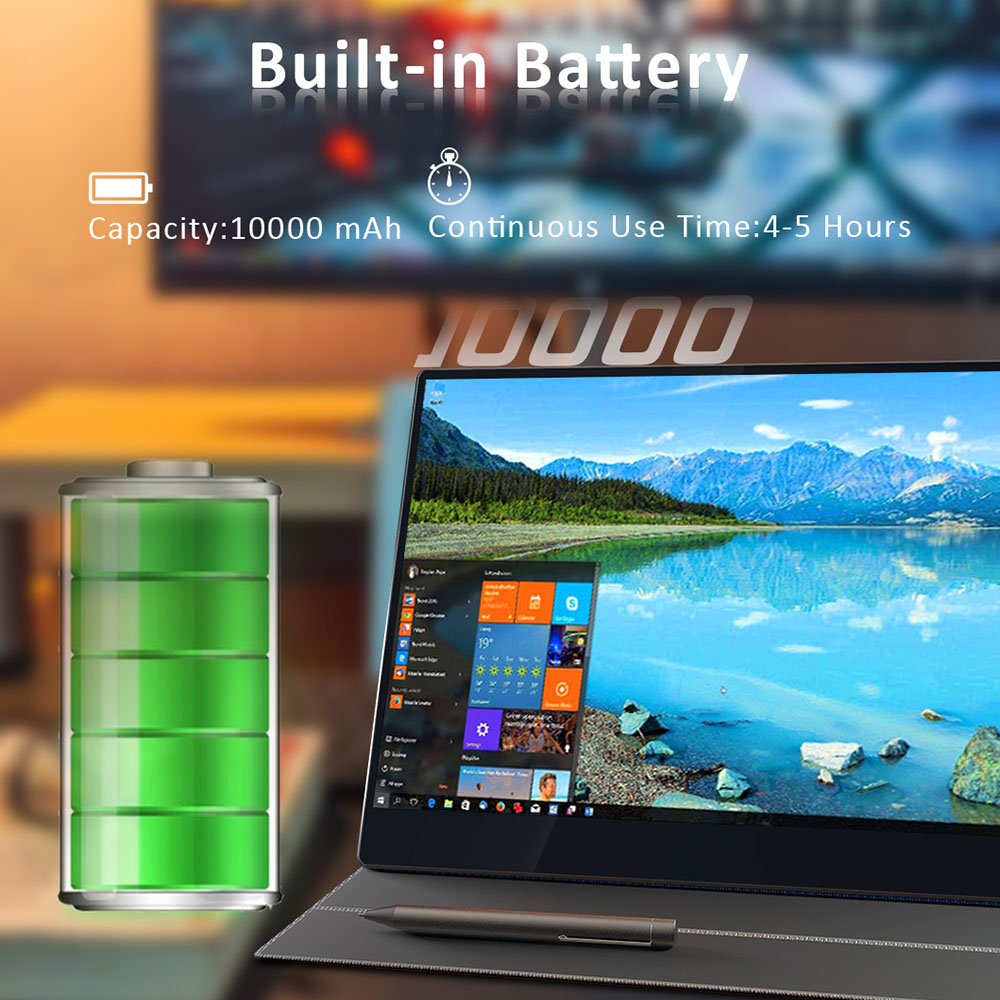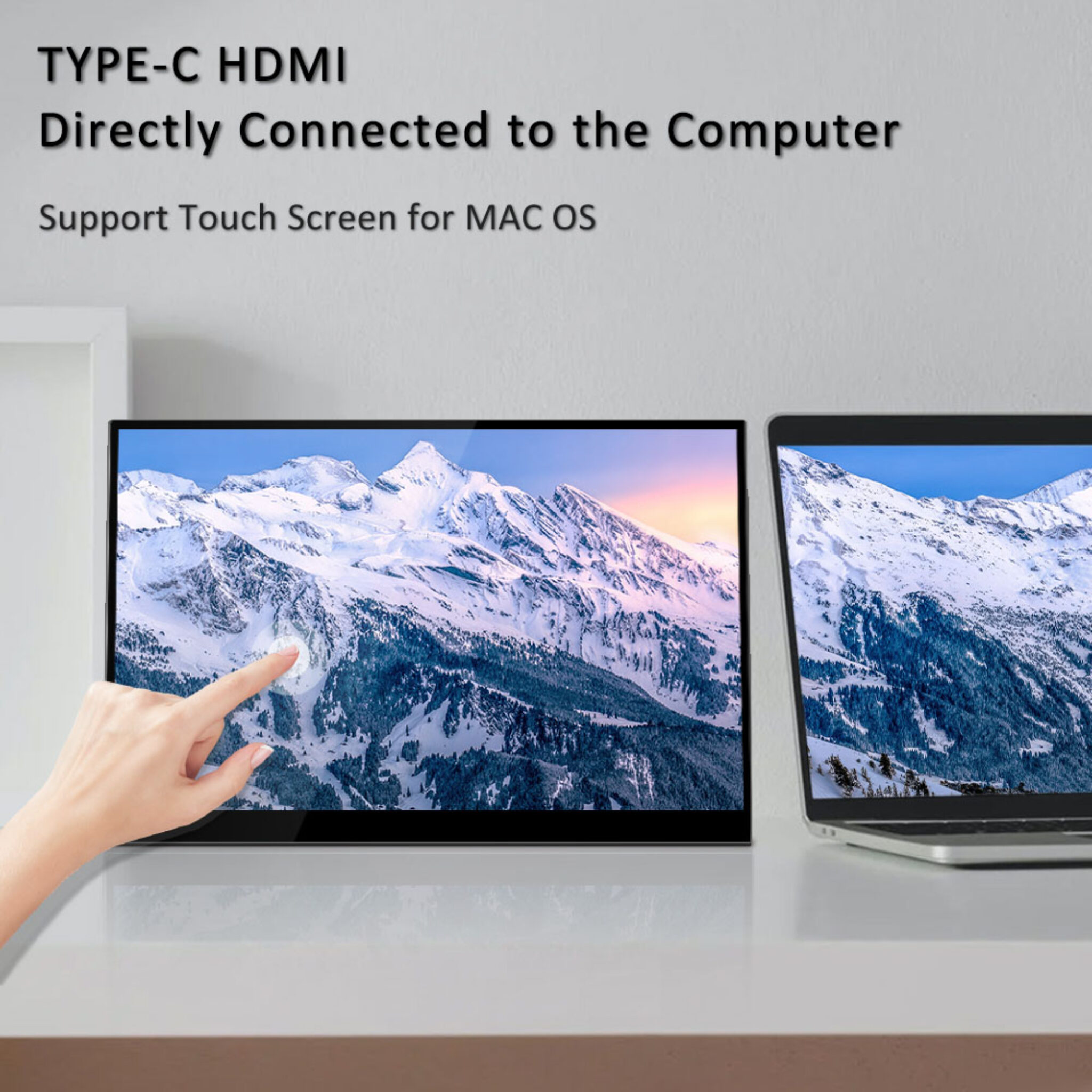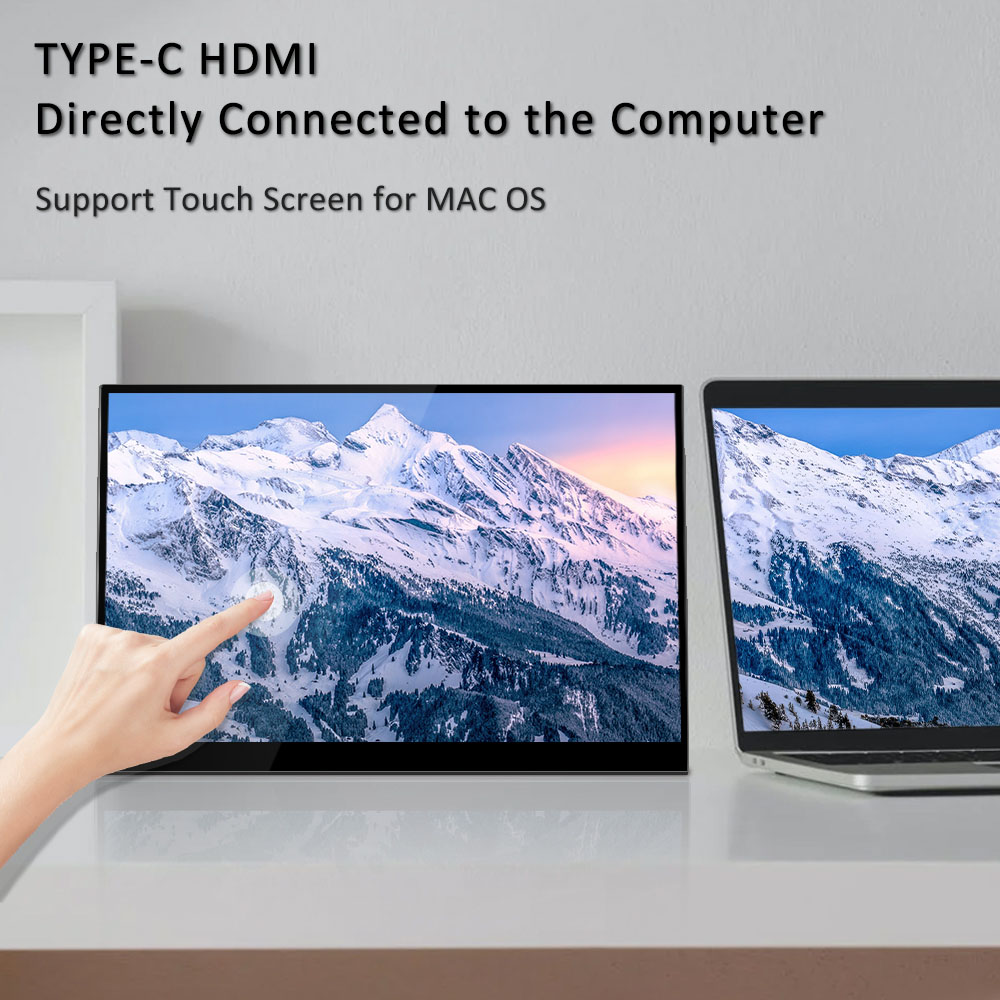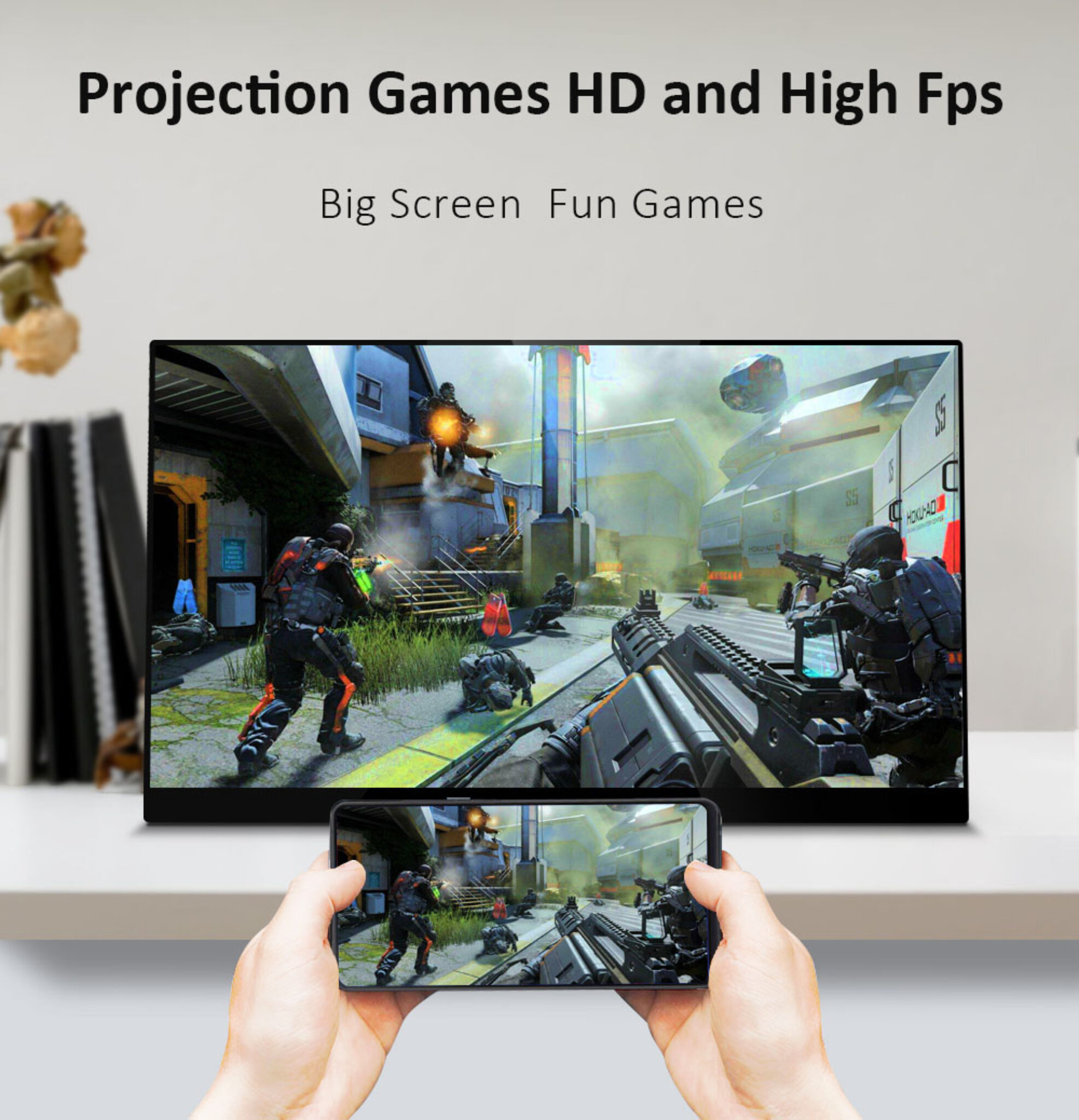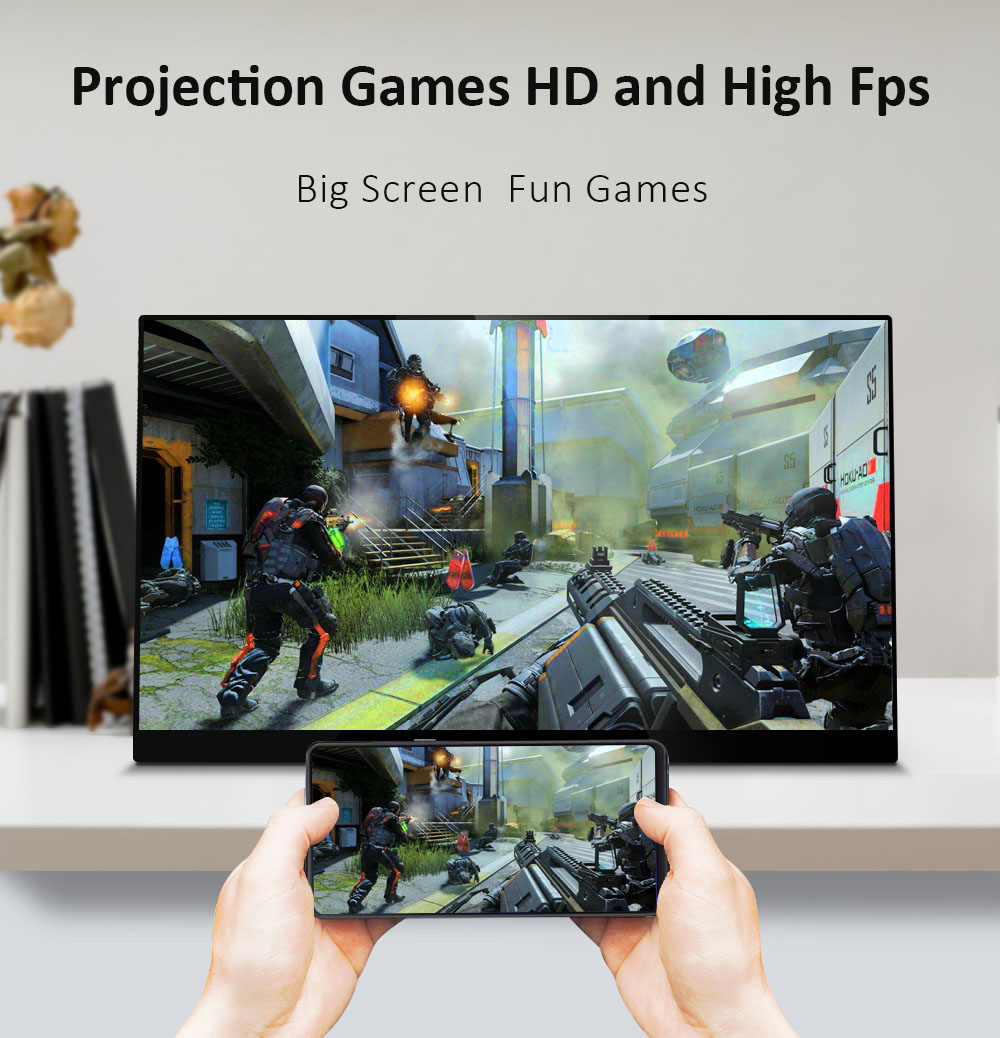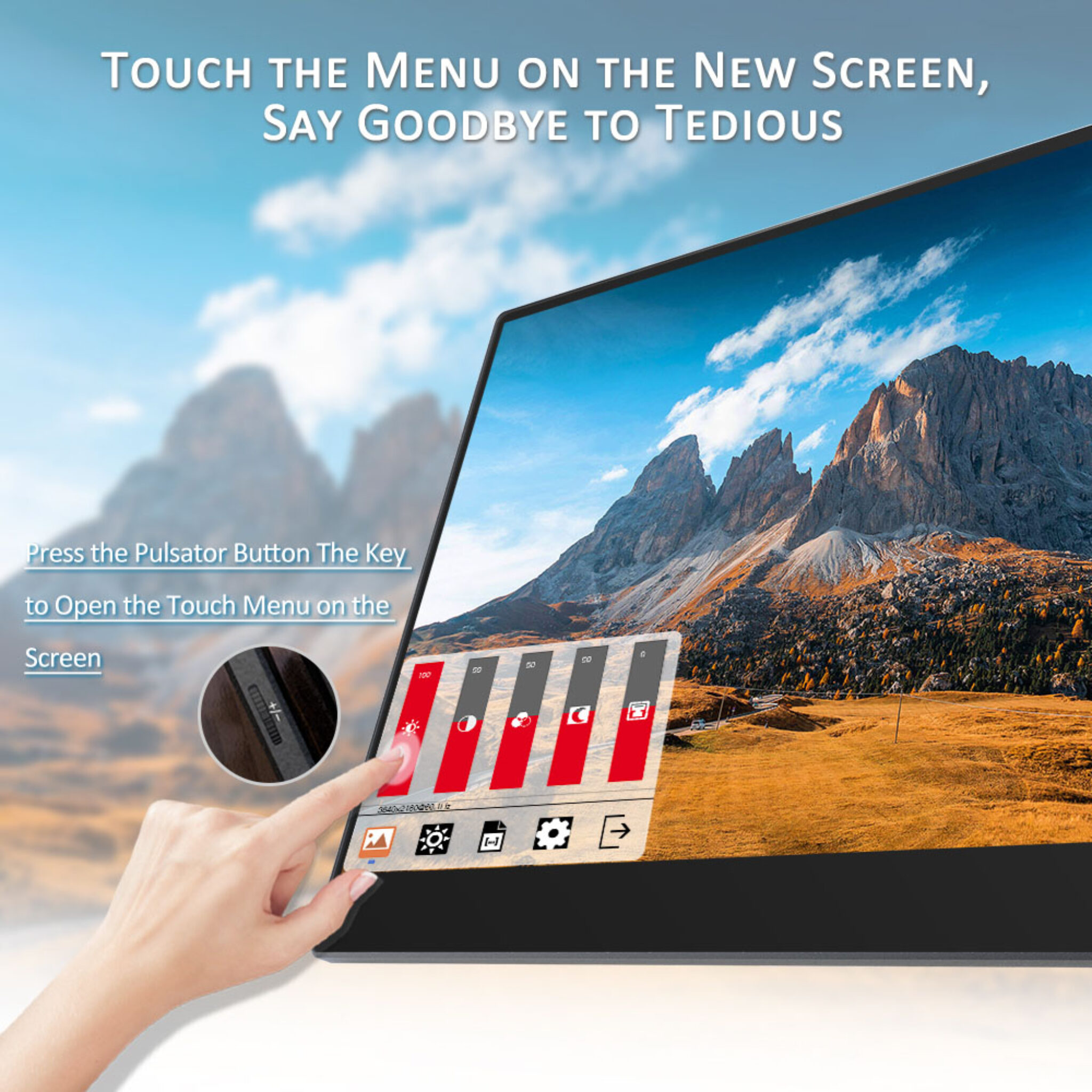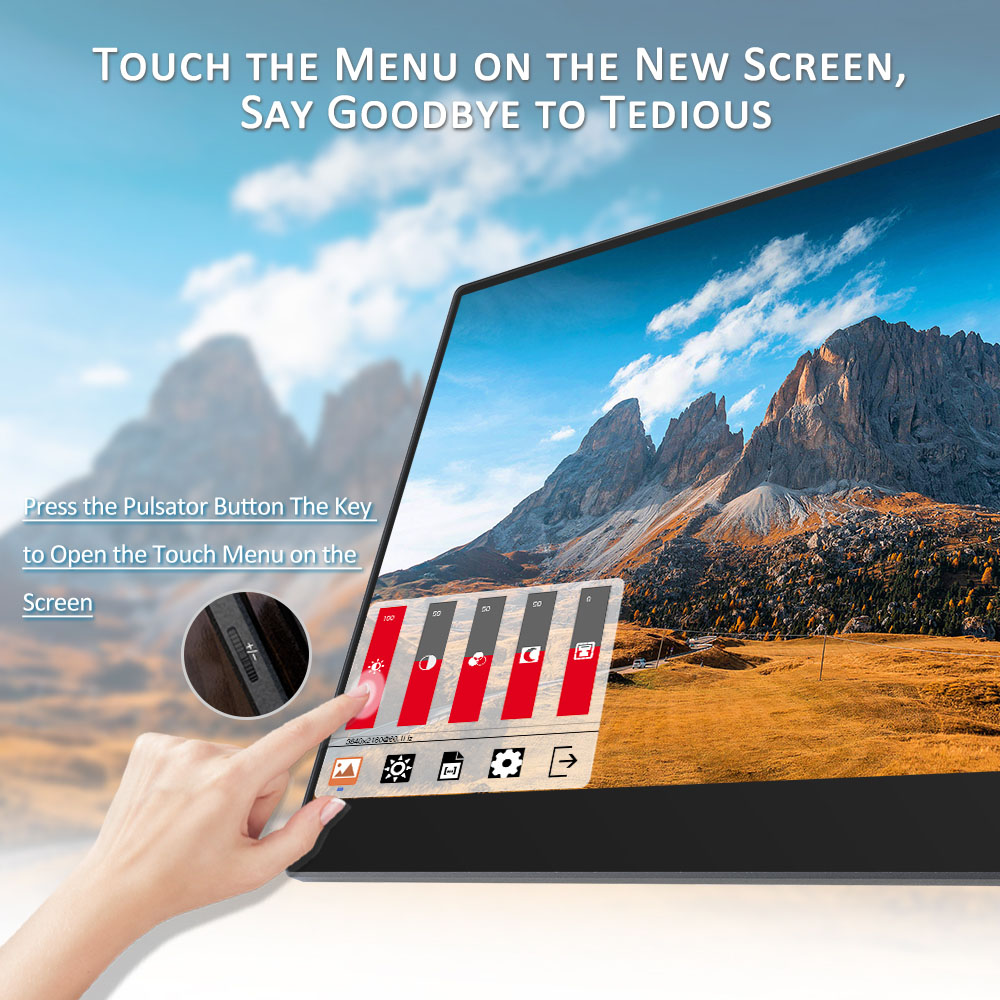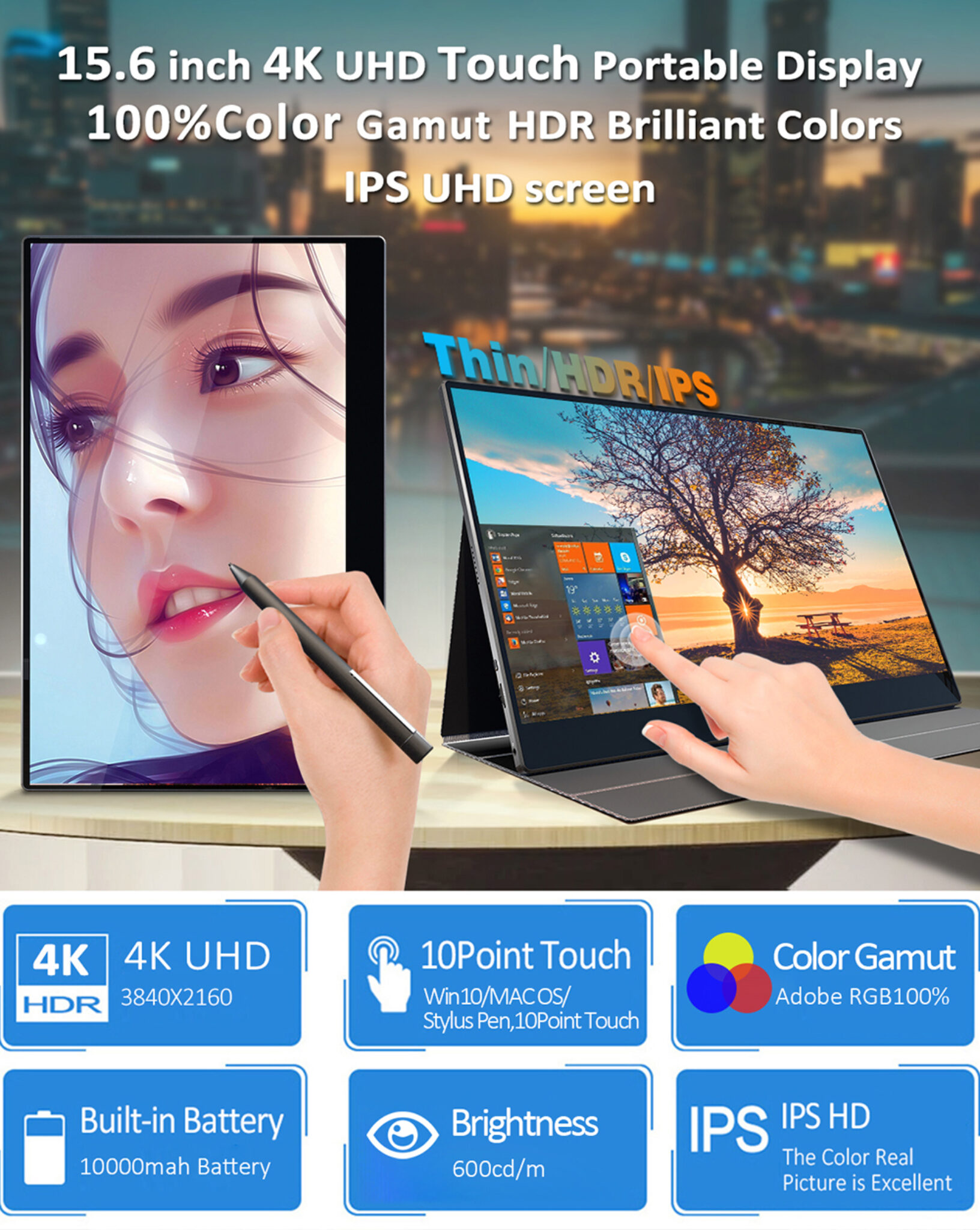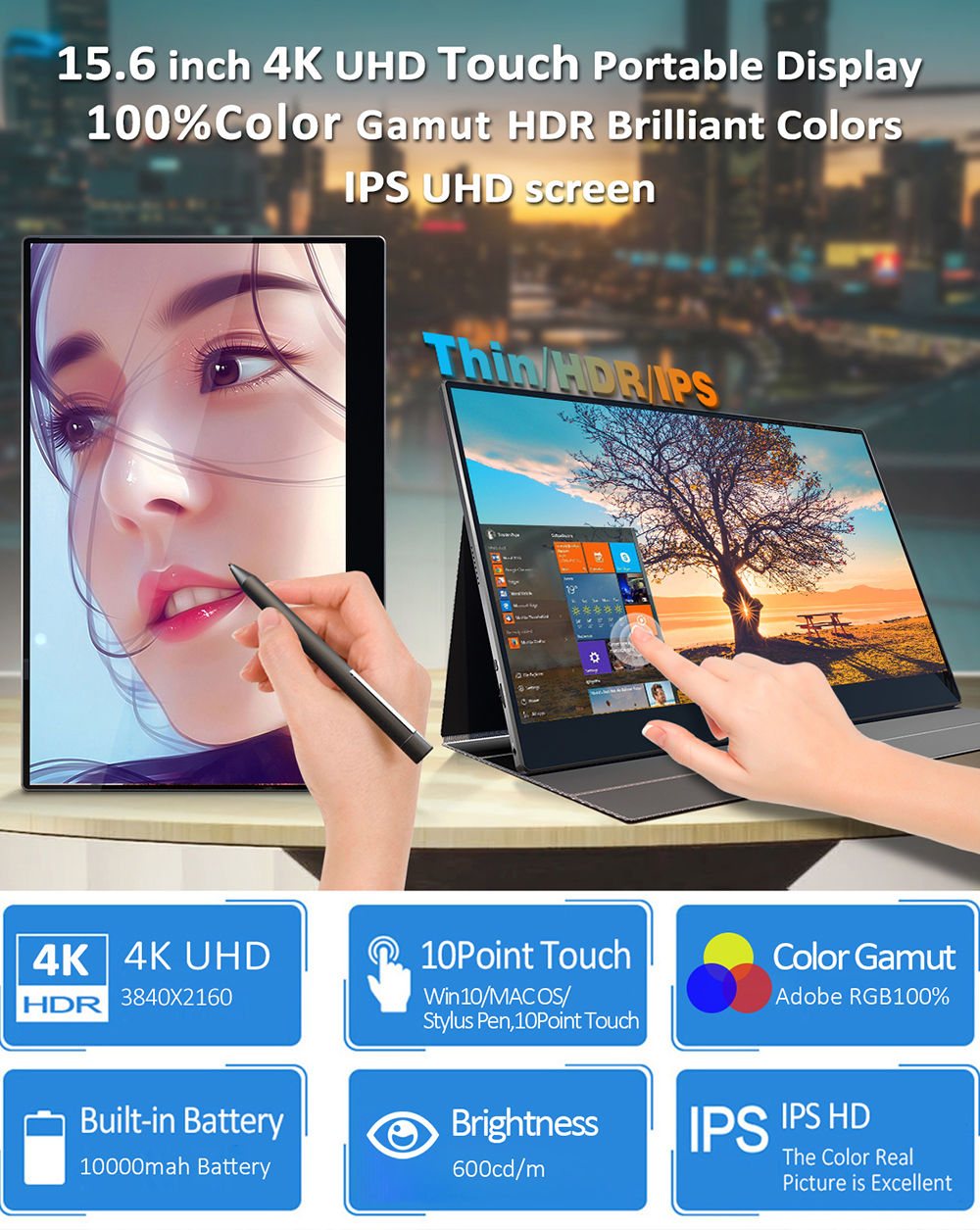 Technical Specifications
Technical Specifications
Model
15.6 inch
Panel Type
15.6 inch TFT IPS LCD (16:9 Wide) LED Backlight
Touch Screen
G+G Capacitive Touch Screen with Full Lamination
Resolution / Color Depth
4K, 3840(RGB)×2160, UHD
Pixel Pitch
0.0607×0.1821 mm
Viewing Angle(U/D/L/R)
85/85/85/85 (Typ.)(CR≥10)
Contrast Ratio
1500:1
Flat Ratio
16:9 (H:V)
Brightness
340(cd/m 2)
Vertical Frequency
60Hz
Battery
Built-in 10000mAh
I/O Interface
USB
1*Micro-USB port (For connect with keyboard & Mouse)
Video
1*Type C Port ; 1*HDMI Port
Audio
1*Head Phone Port (3.5MM)
Speakers
2x1.0W(Max.)
Package Includes
1 * Power Adapter
1 * Stylus
1 * User manual
Please Note
In line with the policy of continued development, the manufacturer reserves the right to amend the specifications without prior notification. The illustrations in the user manual are for reference only.
Reviews
Speedy delivery
After ordering the monitor online I received it within 24 hours. So far the impressions of it are very good.
Amazing monitor
I love my portable monitor from DroiX. It's working perfectly connected to my Macbook Pro m1 via USB cable. colours are vivid and picture is nice in 4K.
not using the touchscreen, due to Macbook not fully supporting it.
It comes very useful when you travel, but used to work with 2 montors.
Btw, you can have 2 monitors connected :D but maybe it's bit too much? :D
15.6″ 4K portable monitor with stylus support
£360.95 Incl. VAT£300.79 Excl. VAT£289.95 Incl. VAT£241.63 Excl. VAT