Item on Back-Order: Restocking Date: 15/12/2023
£189.95Starting at £152.95 Incl. VATStarting at £127.46 Excl. VAT
Description
ANBERNIC RG405V Classic Gaming Handheld: Relive the Glory of Retro Gaming
If you're a true gaming enthusiast, you know that there's something truly special about classic gaming handhelds. The ANBERNIC RG405V is here to transport you back in time to the golden age of gaming. With its sleek design, powerful performance, and a wide range of features, this portable retro gaming console is the perfect companion for any gaming enthusiast. Let's dive into the exciting world of the ANBERNIC RG405V and explore its remarkable capabilities.
Portable Retro Gaming Console That Fits in Your Pocket
The ANBERNIC RG405V is a portable gaming handheld that combines nostalgia with modern technology. Its compact size allows you to take it with you wherever you go, transforming your surroundings into a playground of endless gaming possibilities. Whether you're on a long journey, waiting for a friend, or simply relaxing at home, this vintage gaming handheld lets you escape into the world of classic games.
Immerse Yourself in Gaming Heaven with a Stunning Display
Featuring a 4-inch IPS full viewing angle display, the ANBERNIC RG405V delivers excellent visuals. The zero-distance OCA full fit technology ensures that every pixel is vibrant and sharp, allowing you to experience your favorite retro games in all their glory. With a resolution of 640×480, the display brings back the nostalgia of classic gaming while enhancing the graphics for a truly immersive experience.
Unleash the Power of the Unisoc Tiger T618 Processor
Under the hood, the ANBERNIC RG405V is equipped with a powerful Unisoc Tiger T618 64-bit octa-core processor. With 2 high-performance A75 cores at 2.0GHz and 6 energy-efficient A55 cores at 2.0GHz, this handheld console offers a seamless and responsive gaming experience. Say goodbye to lag and hello to smooth gameplay as the processor effortlessly handles even the most demanding classic games.
Smooth and Efficient Performance with 4GB LPDDR4X RAM
To complement its powerful processor, the ANBERNIC RG405V comes with 4GB of LPDDR4X RAM running at 1866MHz. This high-performance memory ensures smooth multitasking and quick game loading times. Whether you're jumping between games or switching to different applications, the RG405V won't let you down. It's time to rediscover your favorite classics without any interruptions.
Stay Connected Anywhere with Wi-Fi and Bluetooth
The ANBERNIC RG405V understands the importance of connectivity in today's gaming world. With 2.4/5G Wi-Fi 802.11a/b/g/n/ac, you can easily download games, connect with friends, and explore a universe of possibilities. The Bluetooth 5.0 capability allows you to pair your controllers, providing a hassle-free gaming experience.
Android 12: A Versatile Platform for Retro Gaming
Running on the Android 12 operating system, the ANBERNIC RG405V provides a stable and versatile environment for retro gaming. Its compatibility with a wide range of classic gaming consoles and emulators ensures that you can revisit your favorite titles from different eras. Whether you want to relive the charm of the 1970s to 2000s, this handheld console has you covered.
Crystal-Clear Sound
Enhance your gaming experience with high-quality double horn stereo speakers and make use of the 3.5mm headphone jack for private gaming sessions. The ANBERNIC RG405V offers impressive hi-fi sound quality, immersing you in the nostalgic tunes and iconic sound effects of your favorite retro games.
Long-Lasting Battery for Extended Gaming Sessions
One of the essential features of a mobile gaming handheld is a reliable battery life. The ANBERNIC RG405V doesn't disappoint in this department, as it comes equipped with a massive 5500mAh battery. With up to 9 hours of battery life on a single charge, you can indulge in gaming marathons or long commutes without worrying about running out of power. Plus, it charges in just 3 hours.
Compact and Stylish Design for Gaming on the Go
Measuring at just 14.5cm in length, 10.5cm in width, and 3.5cm in height, and weighing only 282 grams, the ANBERNIC RG405V is designed to be compact and lightweight. Slip it into your pocket or bag, and you're ready to take your gaming adventures with you wherever you go. The sleek color options ensure that you'll be gaming in style.
In conclusion, the ANBERNIC RG405V classic gaming handheld is a portable retro gaming console that encapsulates the essence of nostalgia and modern technology. Its powerful processor, stunning display, and crystal-clear sound make it the ultimate choice for any gaming enthusiast. With the RG405V in your hands, you'll embark on a journey through the annals of gaming history, reliving the magic of your favorite classic games. Get ready to embark on a retro gaming adventure like no other with the ANBERNIC RG405V.
Technical Specifications
Software
Operating System
Android 12
Dual Boot
No
Dual Boot OS
N/A
Processor
Processor (CPU) Base Frequency
2.00Ghz
Processor (CPU) Brand
UNISOC
Processor (CPU) Cores / Threads
8 Cores / 8 Threads
Processor (CPU) Max Frequency
Up To 2.00Ghz
Processor (CPU) Model
Tiger T618
Graphics Card (GPU)
Graphics (GPU) Brand
Mali
Graphics (GPU) Max Frequency
850 Mhz
Graphics (GPU) Model
G52 MP2
Display
Aspect Ratio
4:3
Pixels/Inch
200 PPI
Resolution
640×480
Size
4 Inch
Touchscreen
Yes
Memory (RAM) / Storage
Memory (RAM) Capacity
4GB
Memory (RAM) Technology
LPDDR4x
Memory (RAM) Speed
1866 MT/s
Storage Capacity
128GB
Storage Expansion
1x Micro SD Card Slot
Storage Technology
eMMC
Ports
I/O Audio
1x 3.5mm Headphone Jack, Speaker: Dual Speakers
I/O USB
1x USB Type-C
Connectivity
Wi-Fi
5
Bluetooth
5.0
Battery
Battery Capacity
5500 mAh
Battery Life
Up To 9 Hours
Battery Type
Li-Po
Charging Time
Up To 3 Hours
Package Includes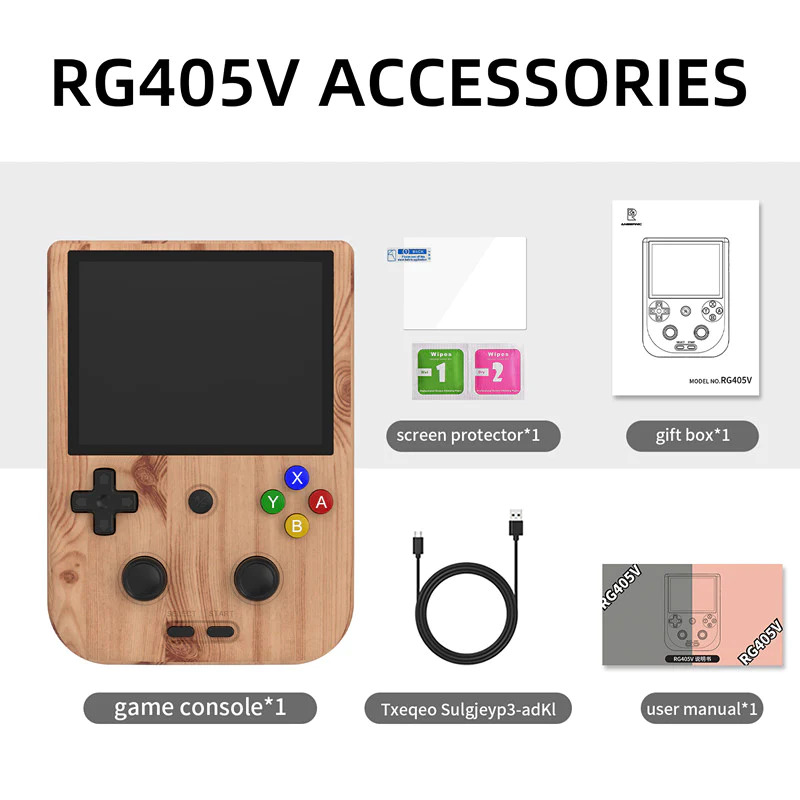 1x RG405V
1x 128GB Micro SD Card
1x USB Type-C Cable
1x User Manual
1x Screen Protector
Please Note
In line with the policy of continued development, the manufacturer reserves the right to amend the specifications without prior notification. The illustrations in the user manual are for reference only.
Reviews
Disappointing
I bought this thinking it would be a top grade product but it has severe light bleed which is not great and when raised with customer service I was dismissed as a normal problem with the rg405v well I got another from ebay which is better, I will be posting a review about droix on my YouTube channel and a scathing review on their customer service
Hi Darren,
Thanks for your message. Upon review the email chain between yourself and customer support, it seems there was a misunderstanding as to the questions you were asking and answers were given that the issue will not effect performance which is true. We will absolutely accept a return for this issue for replacement or refund as you are entitled to and please specifically request this is want you want in the email so we can come to the solution you are after. I have replied also in the email chain.
Awesome.
This is my first console emulation handheld and it's brilliant. Out the box I was able to play games within a few minutes, the buttons feel good and the size/grip ergonomics are comfortable for my larger hands. It came with a screen protector, and I would recommend ordering the official case for it to protect in carry. I'm yet to dive in and configure the software side of things but I've seen there a few easy changes that make the user experience of this device even better.
I essentially bought it by logic of it being a handheld N64, and a cool GB form factor, very happy.
Excellent form factor, not as big as was expecting
Having owned an RP3+ and sold it, I thought I would try out my first vertical handheld. I have to say, I'm pretty impressed with it. Decent battery life, powerful enough for PSP, and everything below it. Really enjoying it. The 4:3 aspect ratio screen is not great for Android gaming to be honest, and I've had a few issues with some android games detecting the controls, but, I mainly got this for emulation. And for that, its brilliant.
Excellent powerful handheld
I love this handheld, easy to use and set up, screen is a good size and very bright and clear. Easy to add extra storage and extra games. I have got a RG351V, but if You have got larger hands like Me this is the better option and games are easier to control.
£189.95Starting at £152.95 Incl. VATStarting at £127.46 Excl. VAT