Amlogic S905X4 SoC; Quad-core
Android 11 Red Velvet Cake
Multi-codec support; 4K@60FPS
4GB DDR3 RAM; 64GB eMMC Storage
Dual-Band Wi-Fi w/ 1x Ethernet Port
£79.95 Incl. VAT£66.63 Excl. VAT£64.95 Incl. VAT£54.13 Excl. VAT
Great Accessories
Amlogic S905X4 SoC; Quad-core
Android 11 Red Velvet Cake
Multi-codec support; 4K@60FPS
4GB DDR3 RAM; 64GB eMMC Storage
Dual-Band Wi-Fi w/ 1x Ethernet Port

£

9.95 Incl. VAT

£

7.96 Incl. VAT

Amlogic S905X4 SoC; Quad-core
Android 11 Red Velvet Cake
Multi-codec support; 4K@60FPS
4GB DDR3 RAM; 64GB eMMC Storage
Dual-Band Wi-Fi w/ 1x Ethernet Port

£

11.95 Incl. VAT

£

9.59 Incl. VAT

Amlogic S905X4 SoC; Quad-core
Android 11 Red Velvet Cake
Multi-codec support; 4K@60FPS
4GB DDR3 RAM; 64GB eMMC Storage
Dual-Band Wi-Fi w/ 1x Ethernet Port

£

13.95 Incl. VAT

£

11.19 Incl. VAT
Description
The DroiX X4 Android TV Box transforms your boring TV in a fully featured entertainment hub for media consumption and gaming!
The S905X4 Quad-Core ARM Cortex-A55 CPU combined with the ARM Mali-G31 MP2 GPU provide high performance for your Android apps with fast video decoding and graphics. The 4GB of DDR3 RAM ensures your apps stay open and perform as they are meant to. There is 64GB of fast internal storage and a micro SD card slot on the side of the DroiX X4 Android TV box for further storage expansion.
Running Android 11 provides excellent stability and performance. With the included Google Play Store, you can effortlessly install and update from many thousands of apps and games on the DroiX X4. With the ability to switch between rooted and unrooted you have full access to your Android TV box, not locked unlike others. You do not even have to reboot to switch between rooted and unrooted!
The front of the DroiX X4 features a convenient LCD display to show the current time and can be switched off if desired.  On the side of the Android TV box are a USB 2.0 and USB 3.0 for connecting peripherals to such as the included fully featured DroiX G10S air mouse remote. You can use the G10S air mouse as a traditional remote or activate the air mouse to move the cursor with your hand, it is fast and efficient way of navigation. There is also a built-in microphone which can be used for voice search in supported applications.
The back of the DroiX X4 Android TV box has a 3.5mm AV port, optical output, 100/1000 ethernet and HDMI ports. The HDMI supports up to 4K 60Hz with HDR10+, HDR10 and HLG for ultra-high quality video display.
The DroiX X4 comes with eShare which enables you to connect your Android, iPhone or iPad to the Android TV box. It is excellent for sharing content from your mobile device such as photos and media to the big screen TV, no more passing your phone around to show a photo!
Other supported apps include the excellent KDPlayer media centre for video, image and audio playback. You can install RetroArch for the ultimate in retro gaming, or if you prefer something a bit more modern you can stream the latest AAA Windows games with the Xbox Cloud Streaming apps. The possibilities are limitless!
The DroiX X4 is the perfect solution for transforming your TV into an entertainment hub. With the high-performance processor, access to many thousands of apps, an excellent G10S air mouse, it is the best Android TV box available! You can read more about it on our DroiX X4 review here.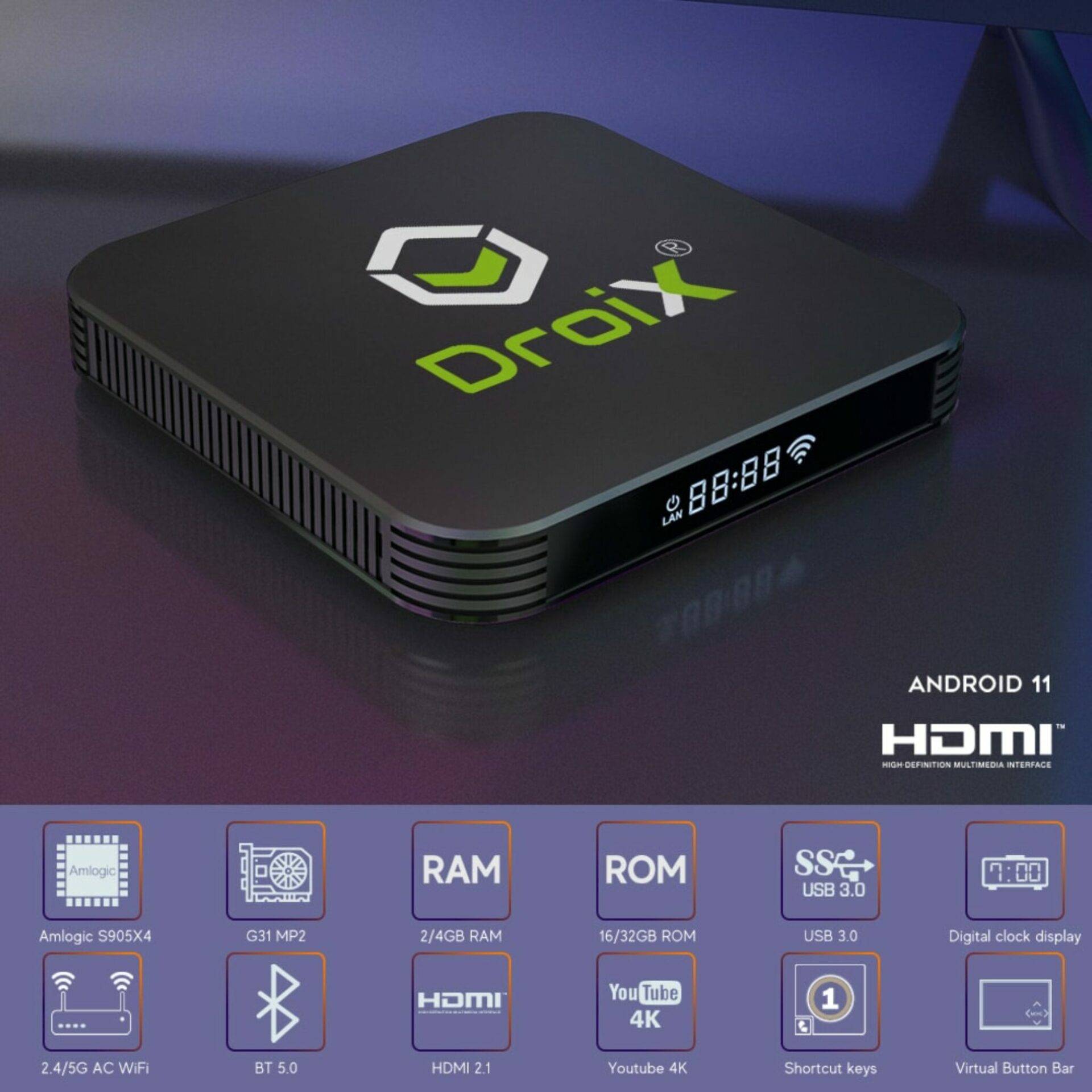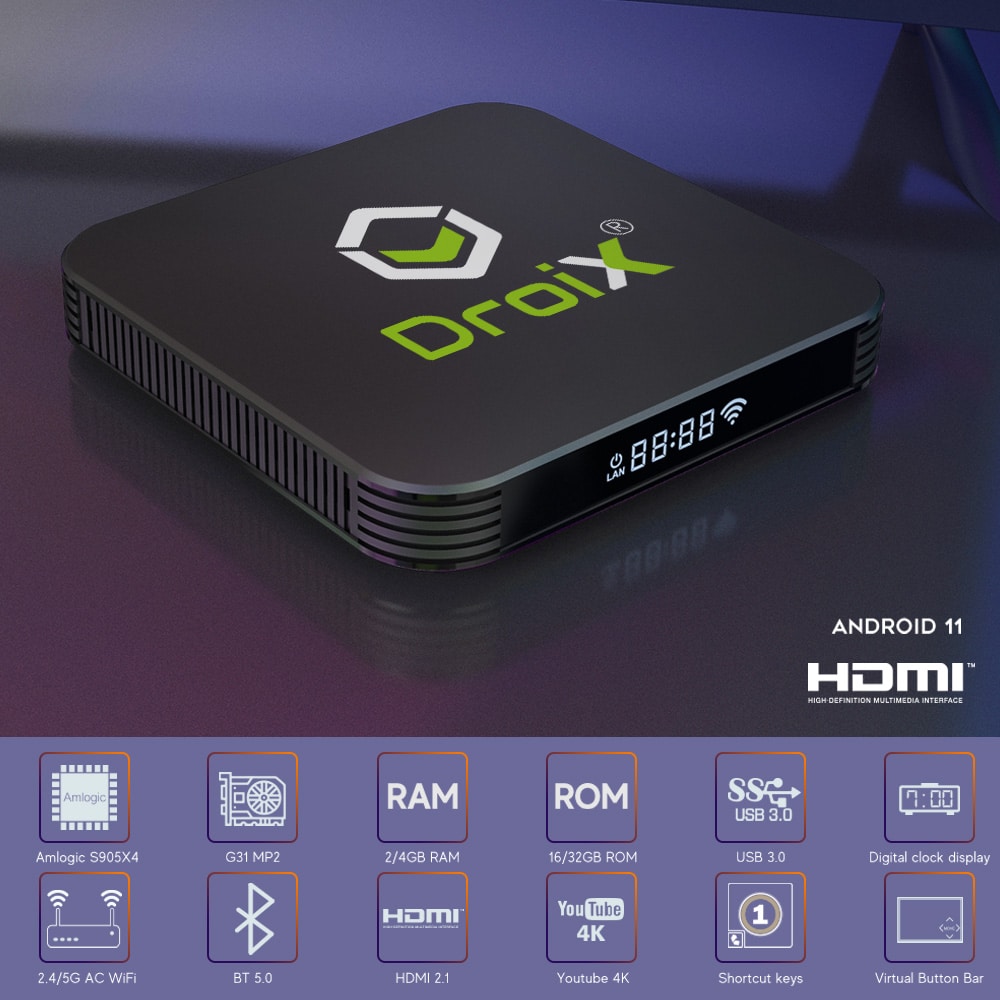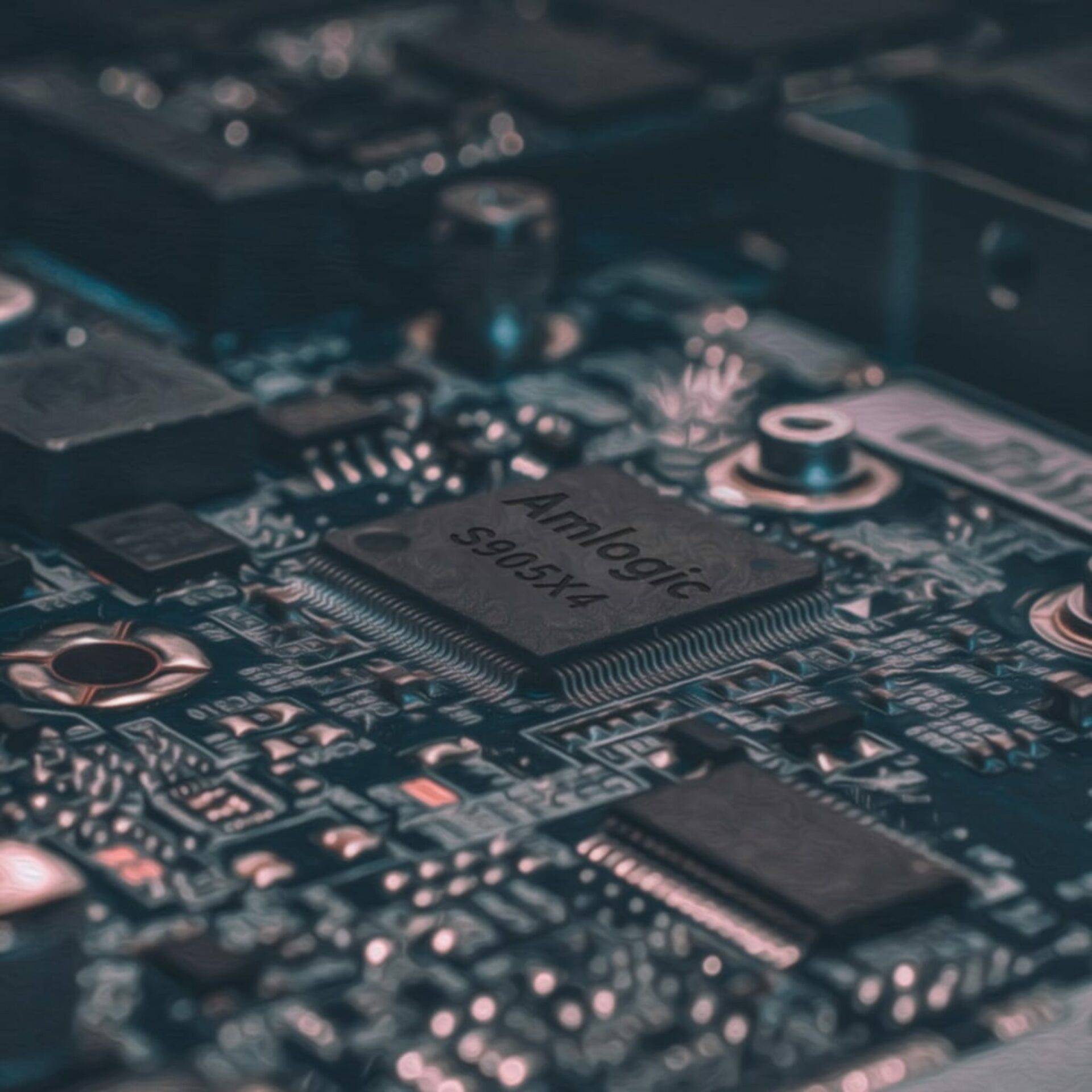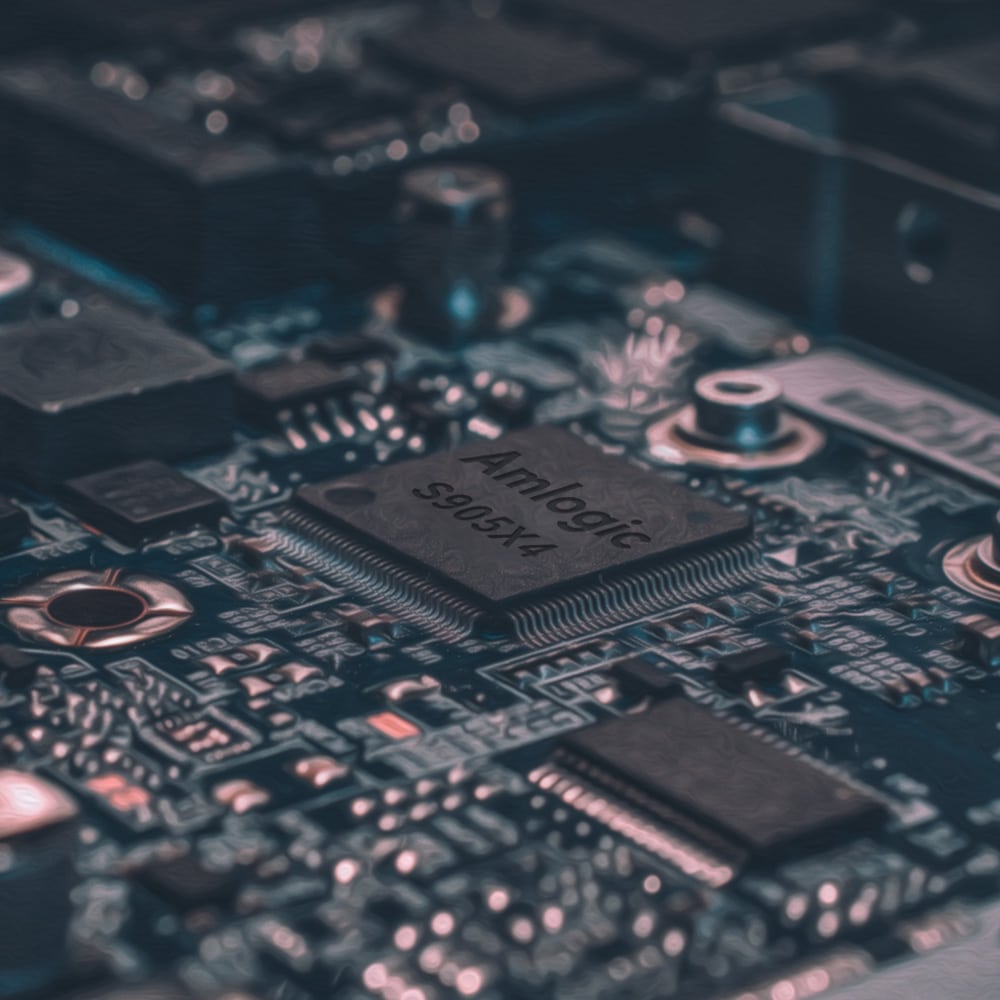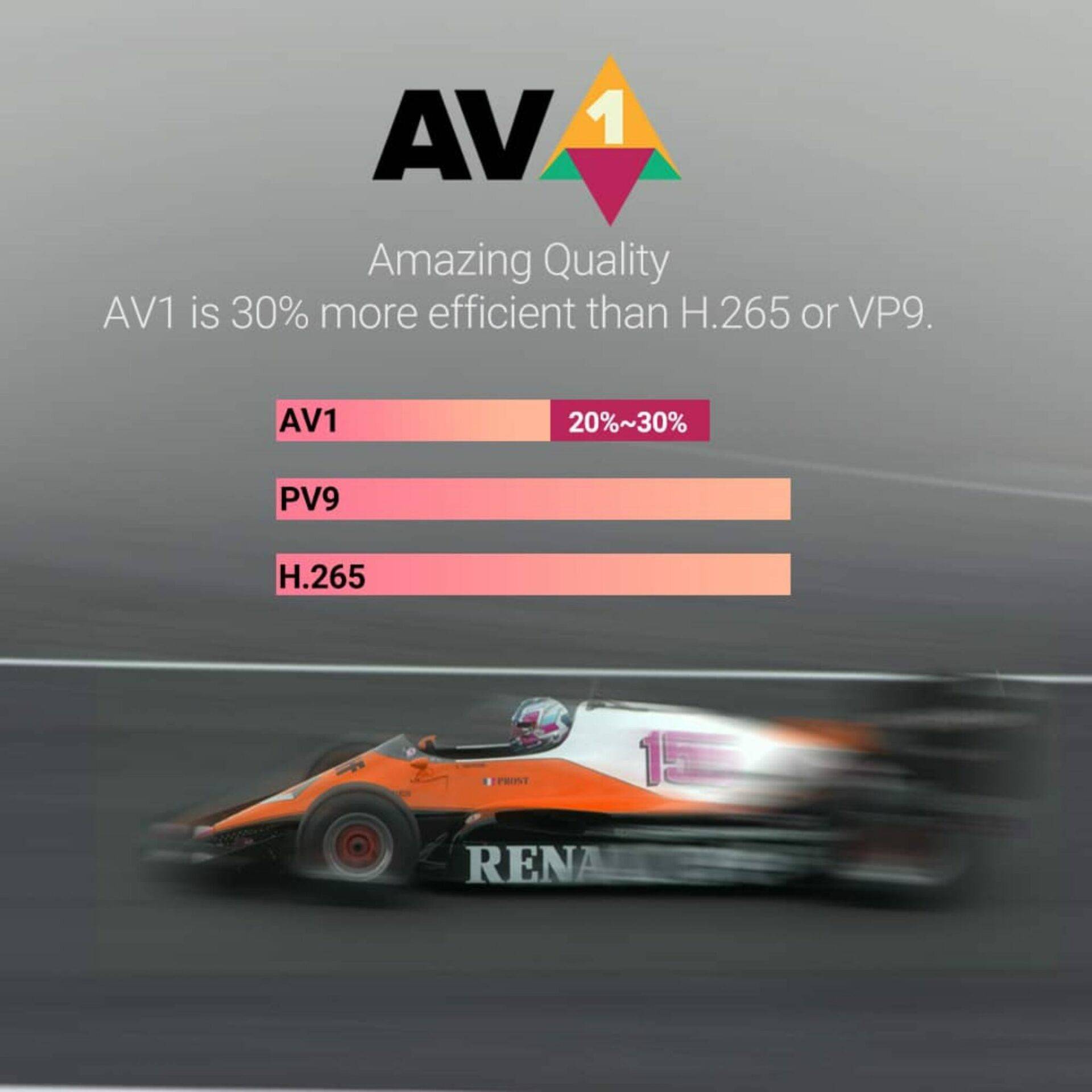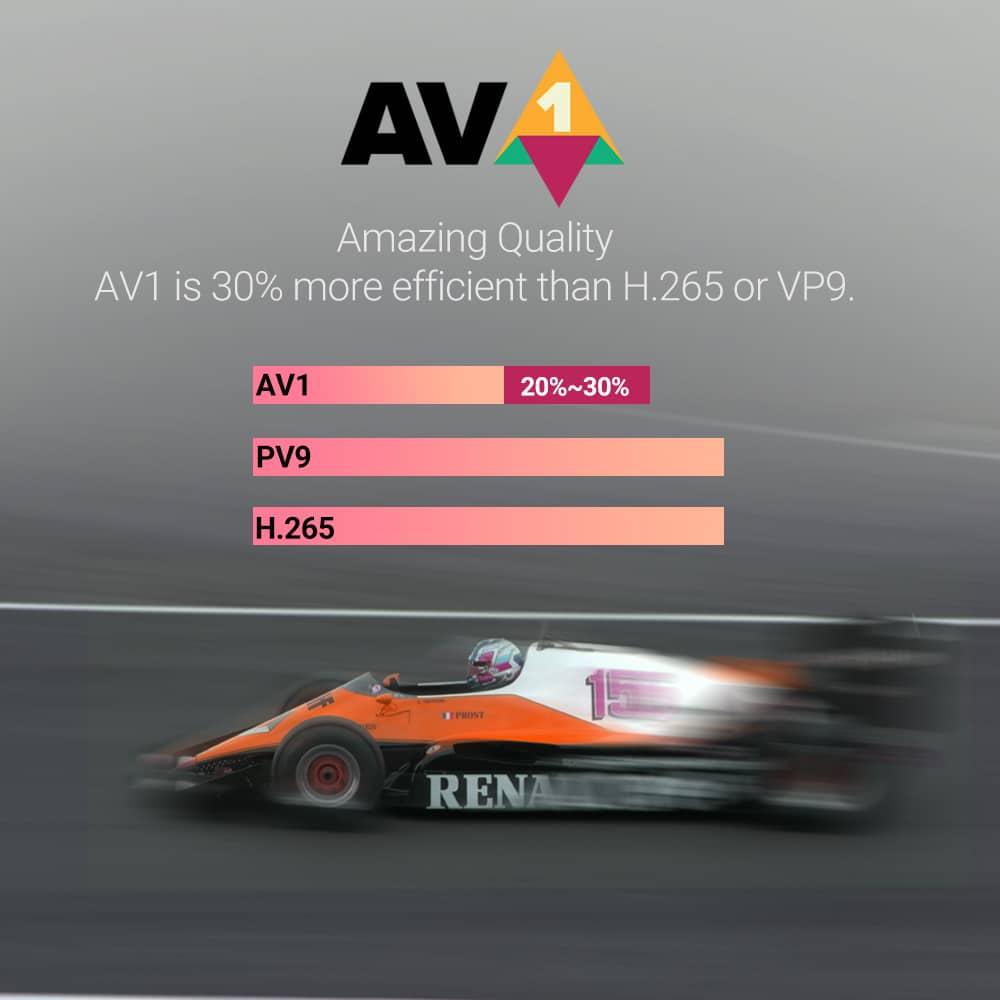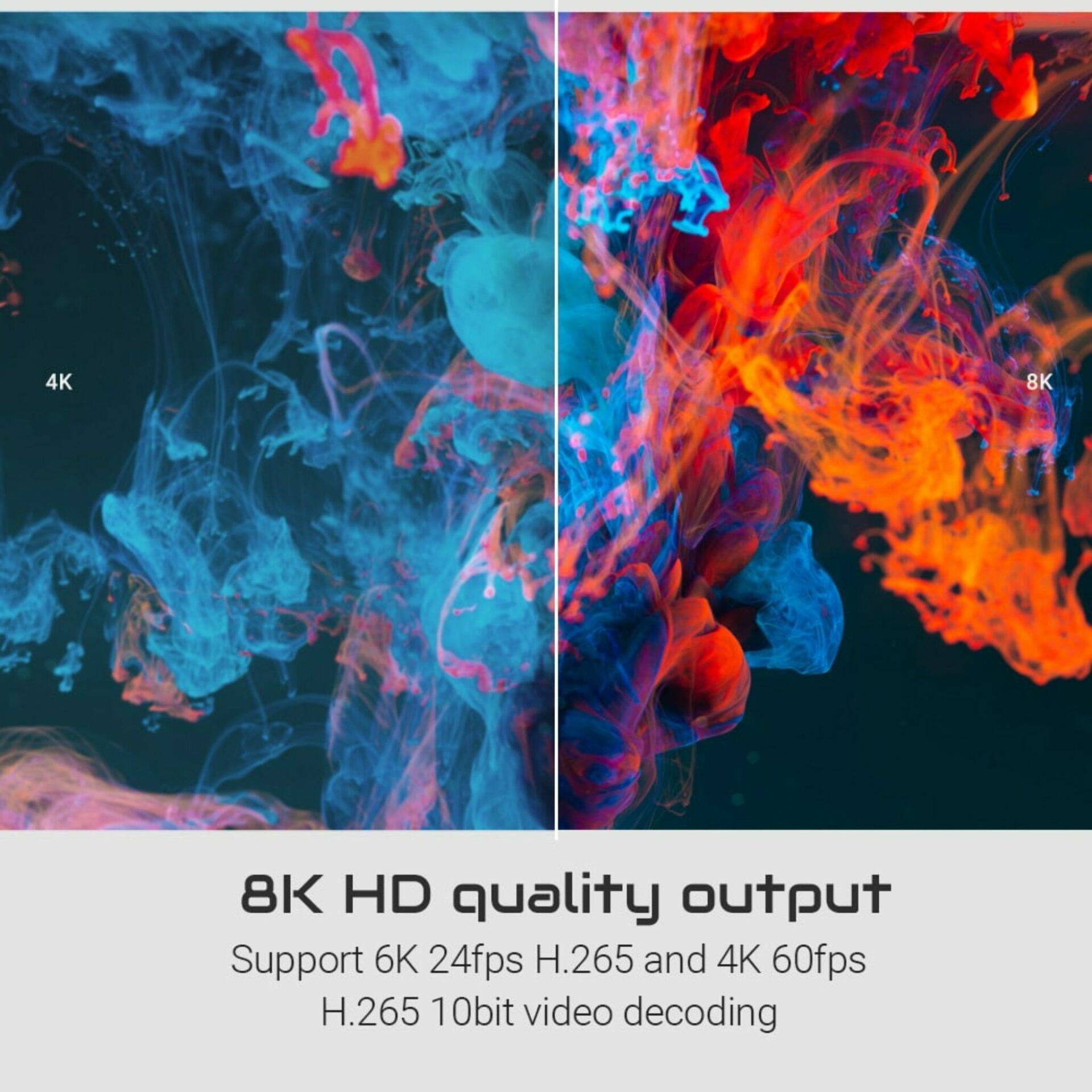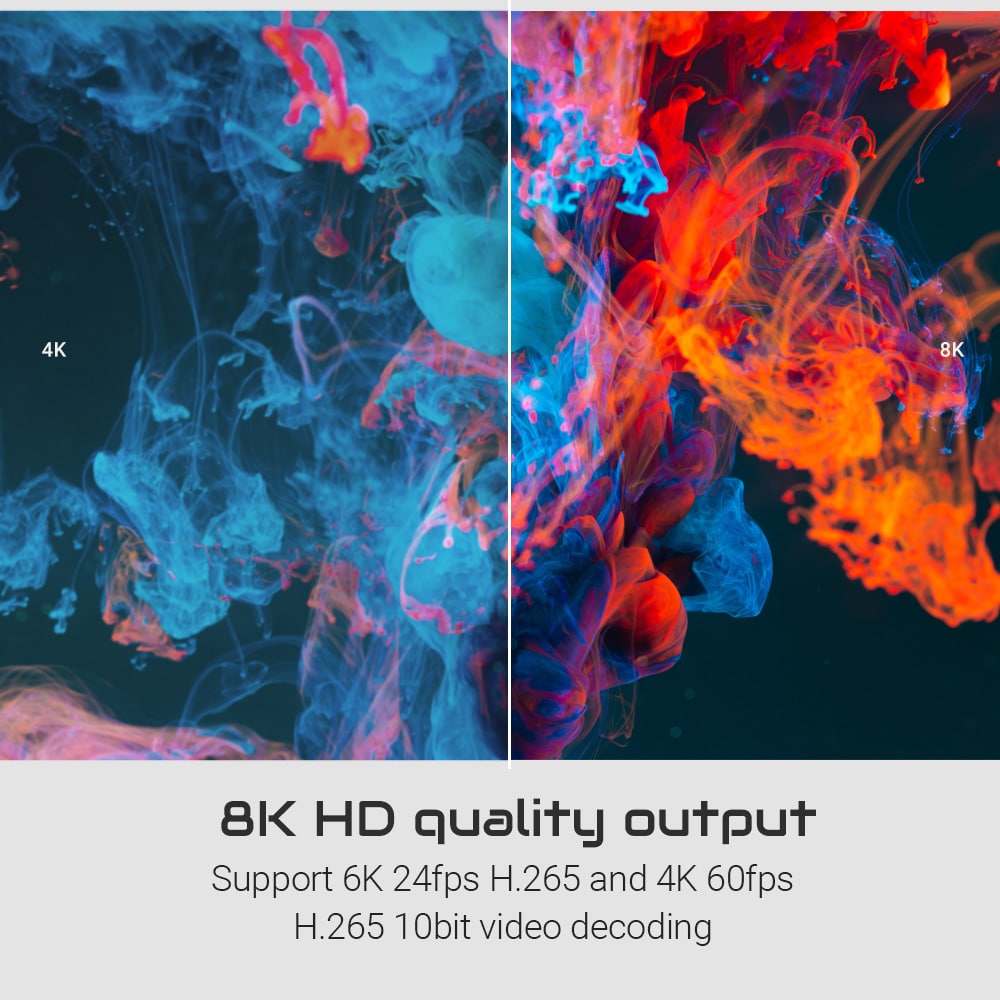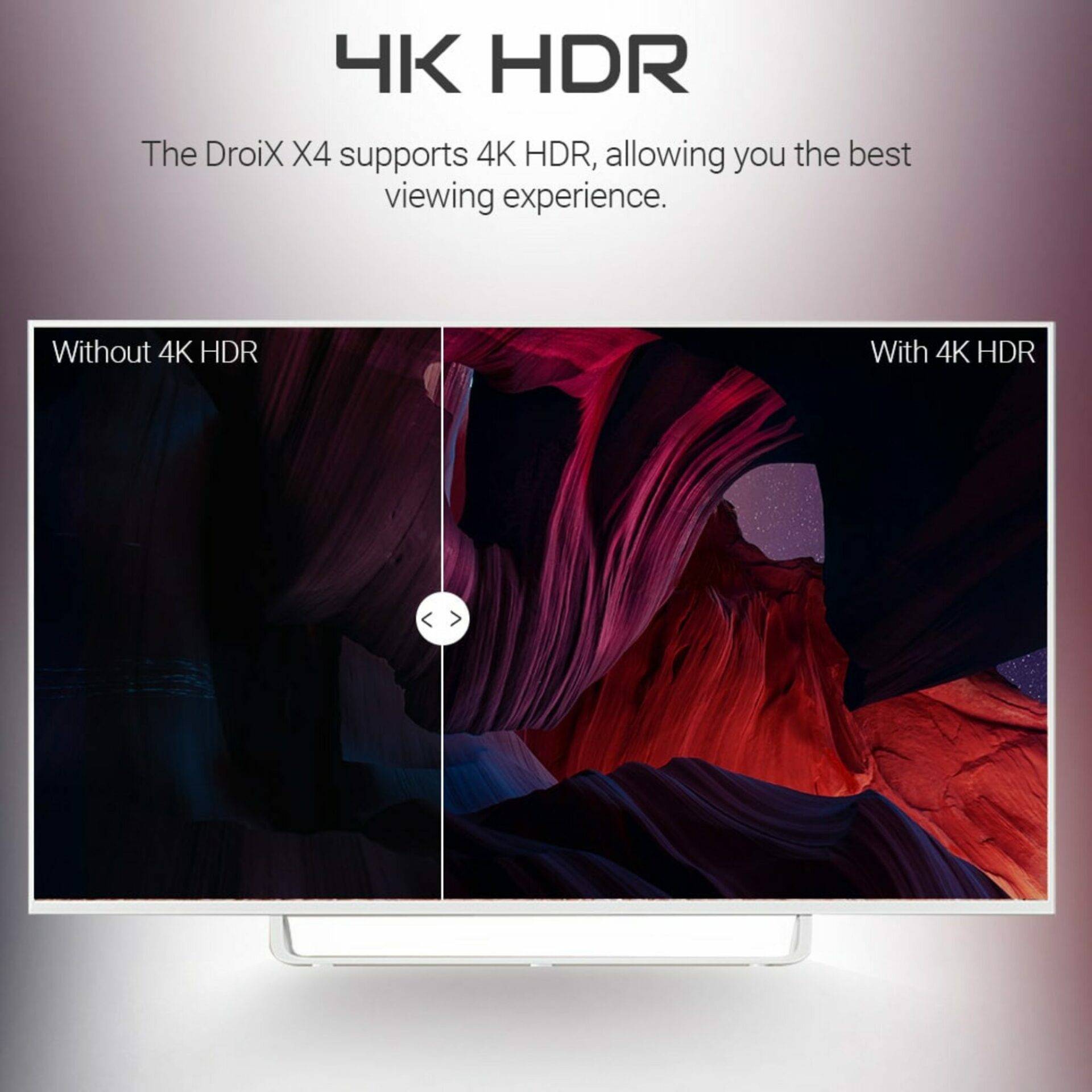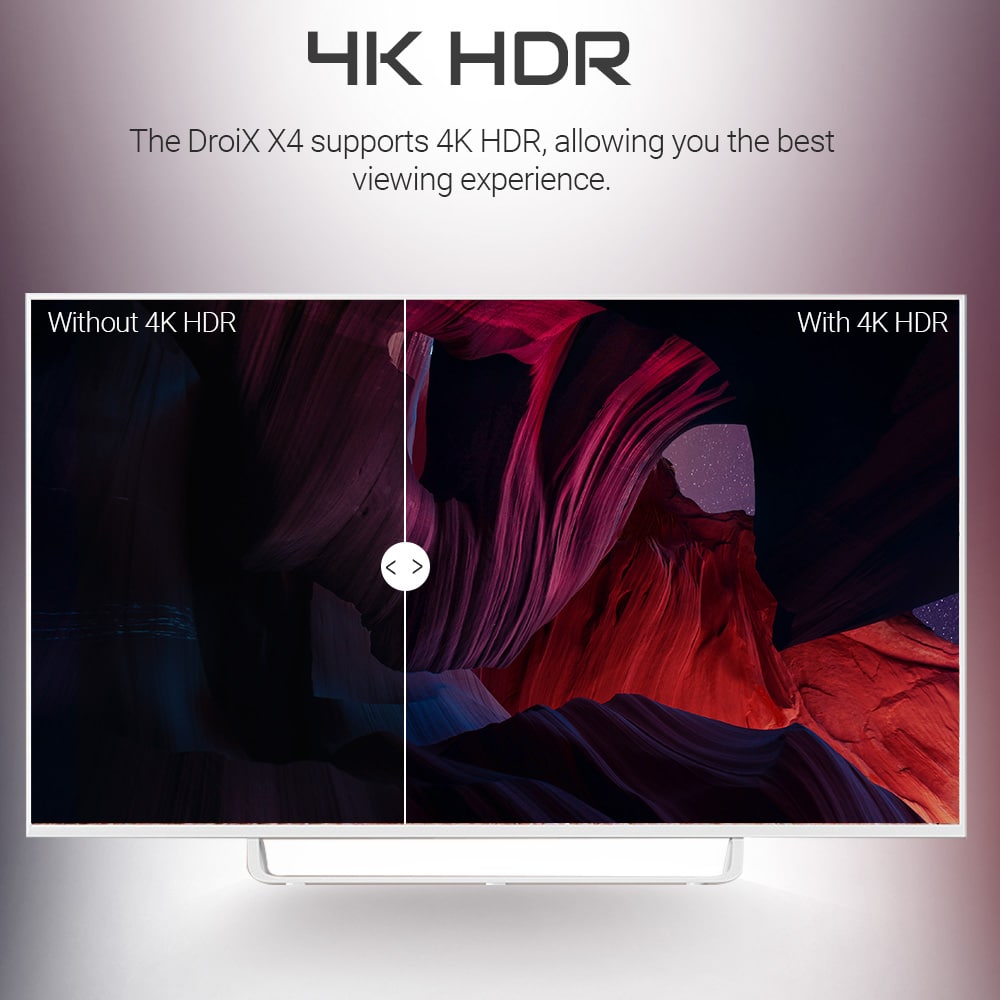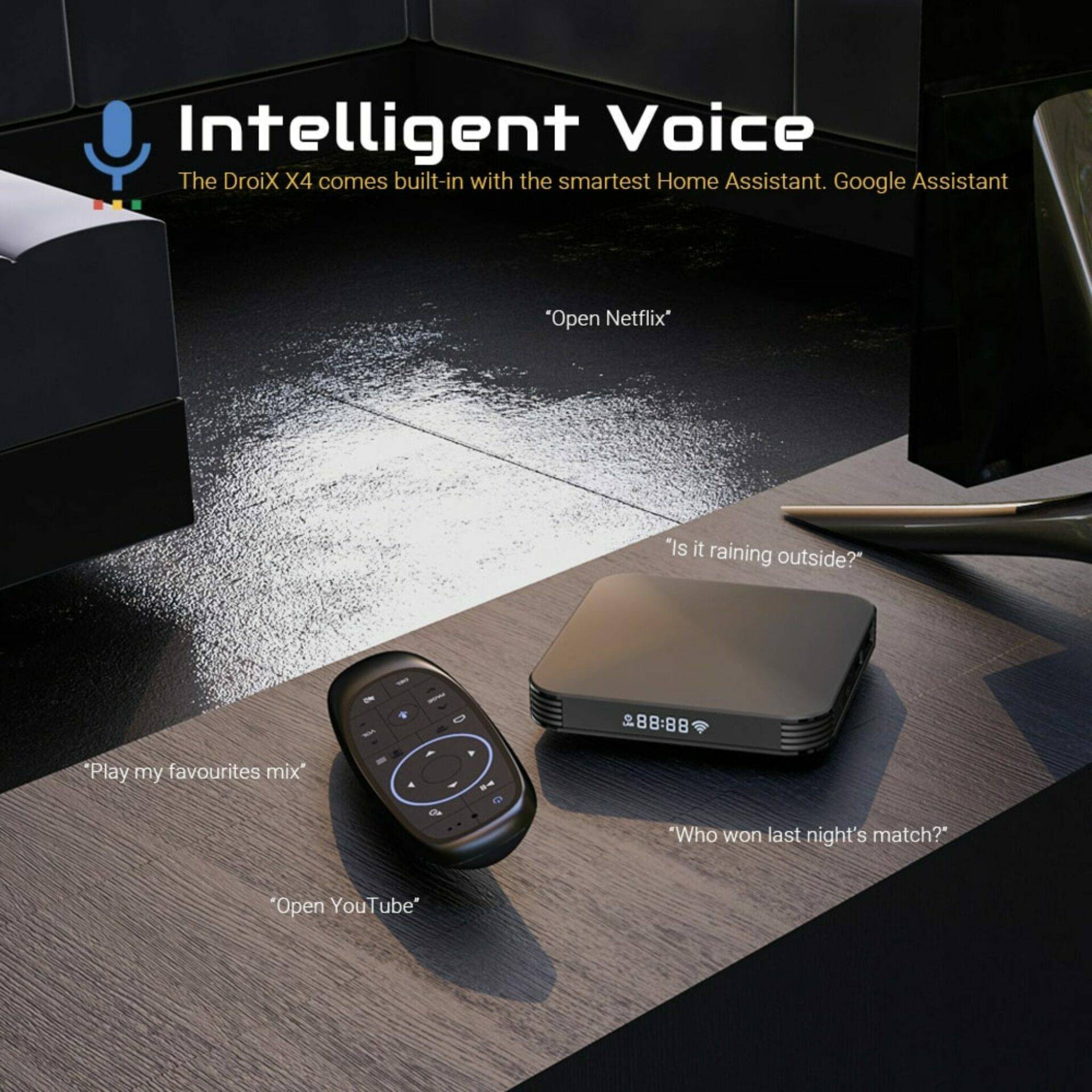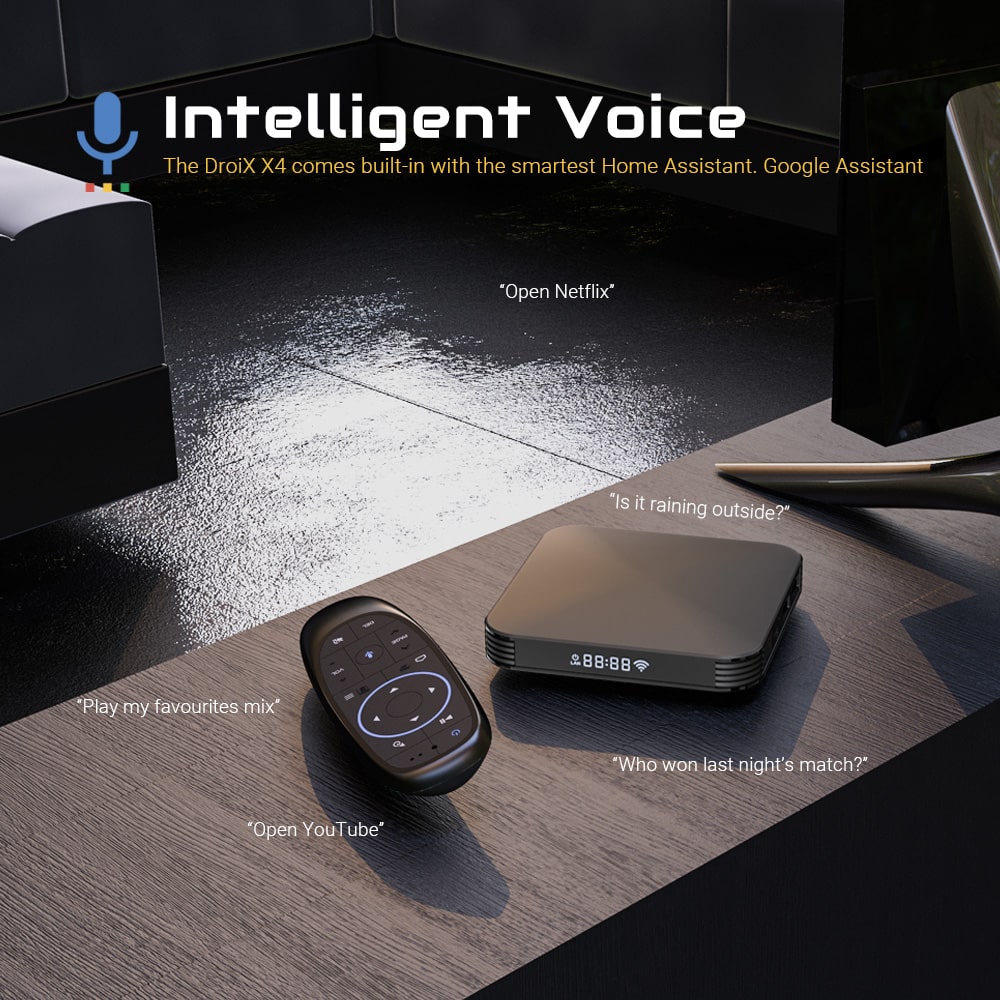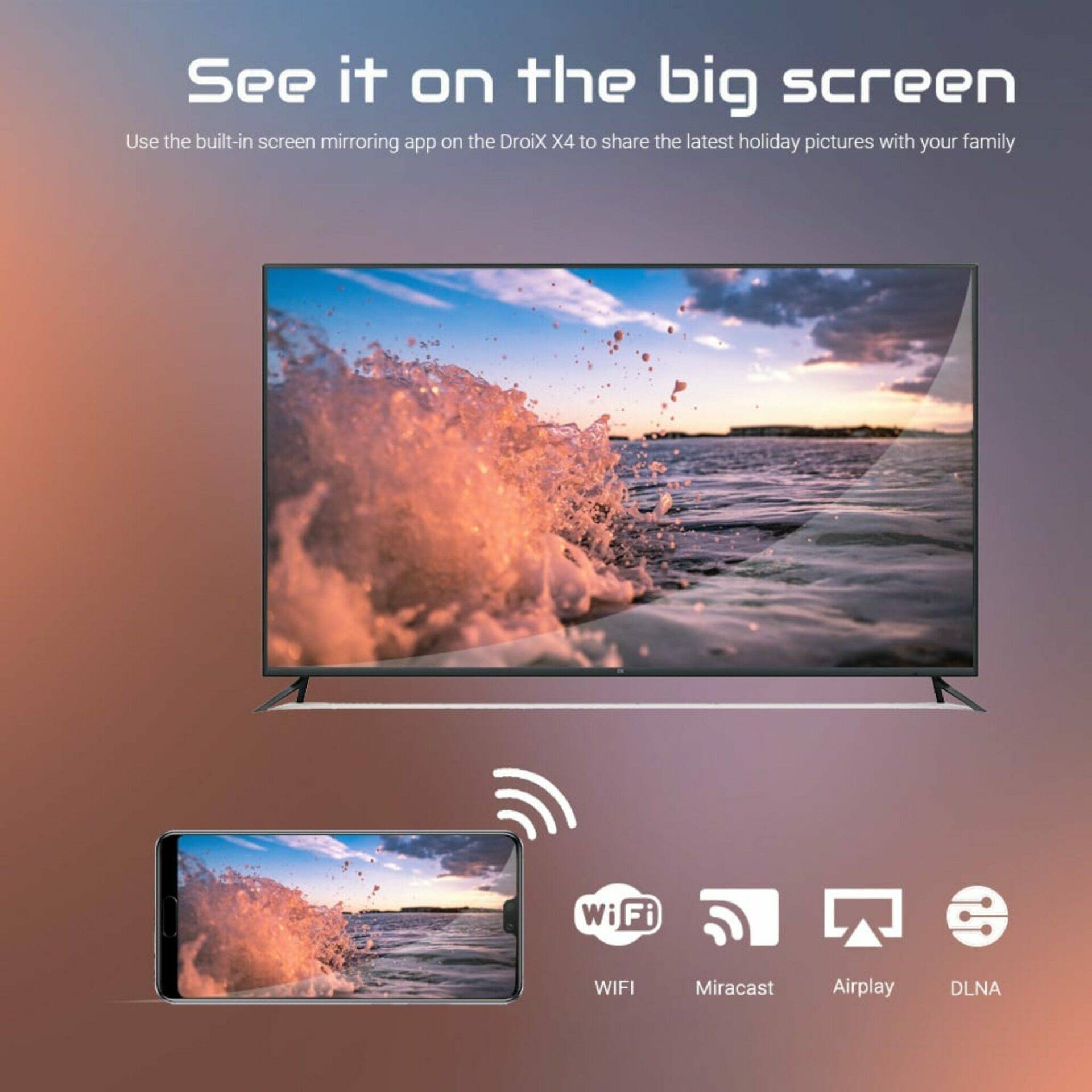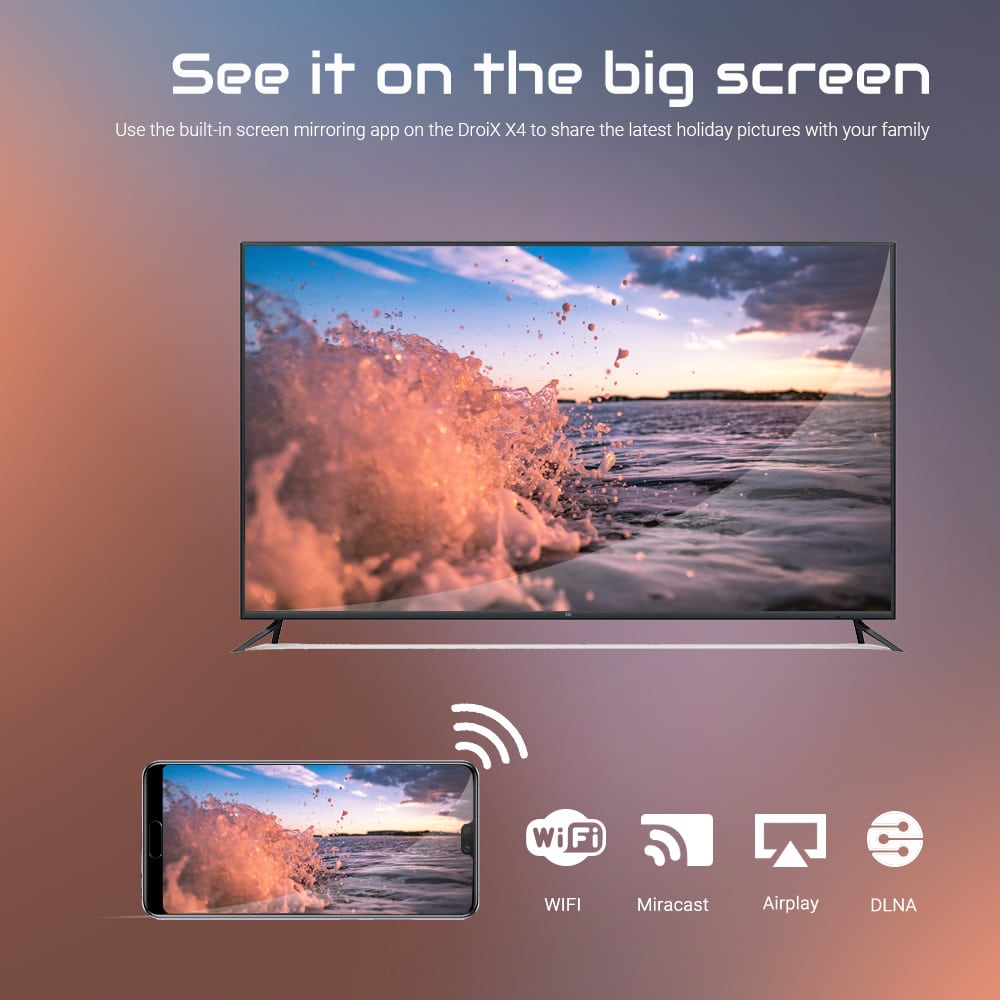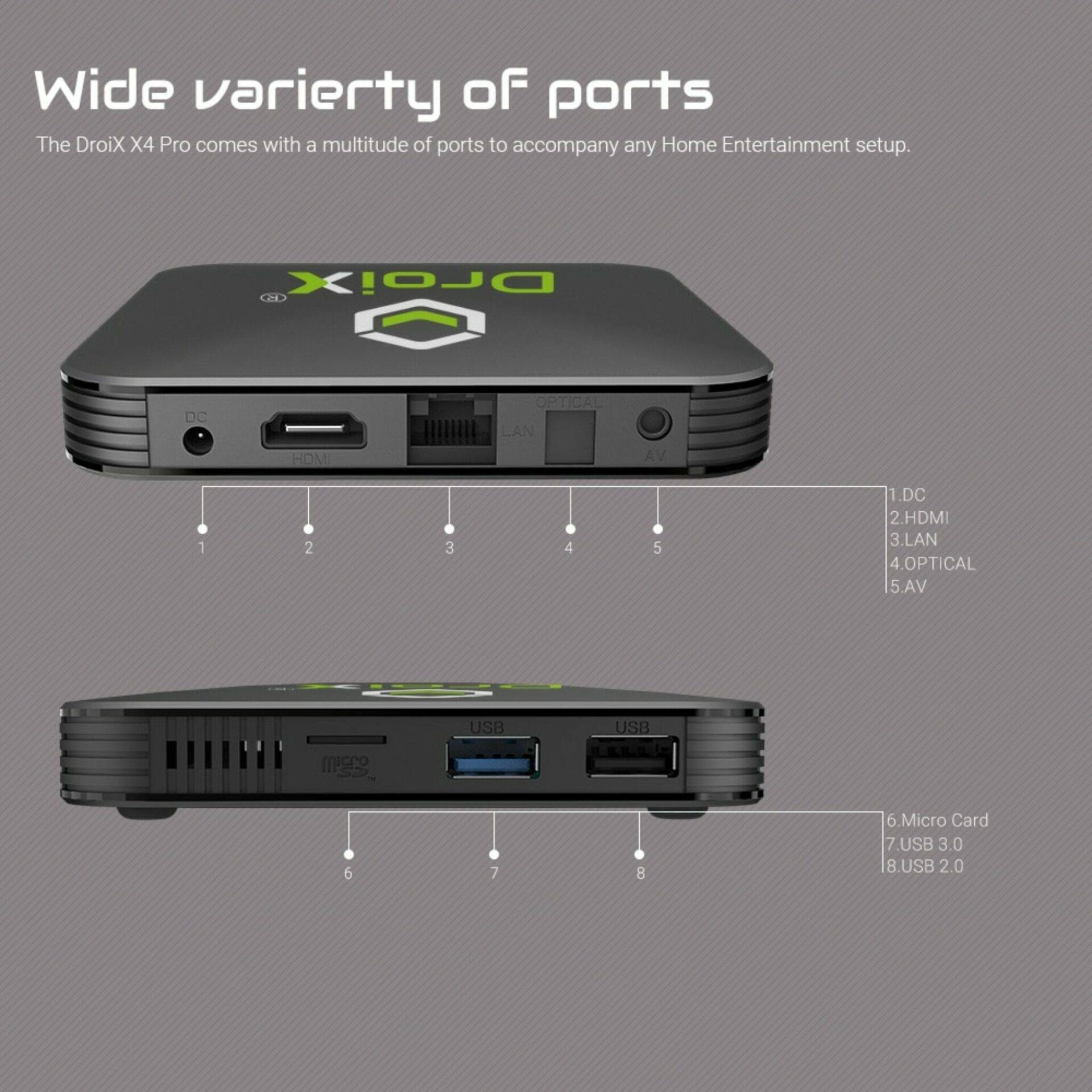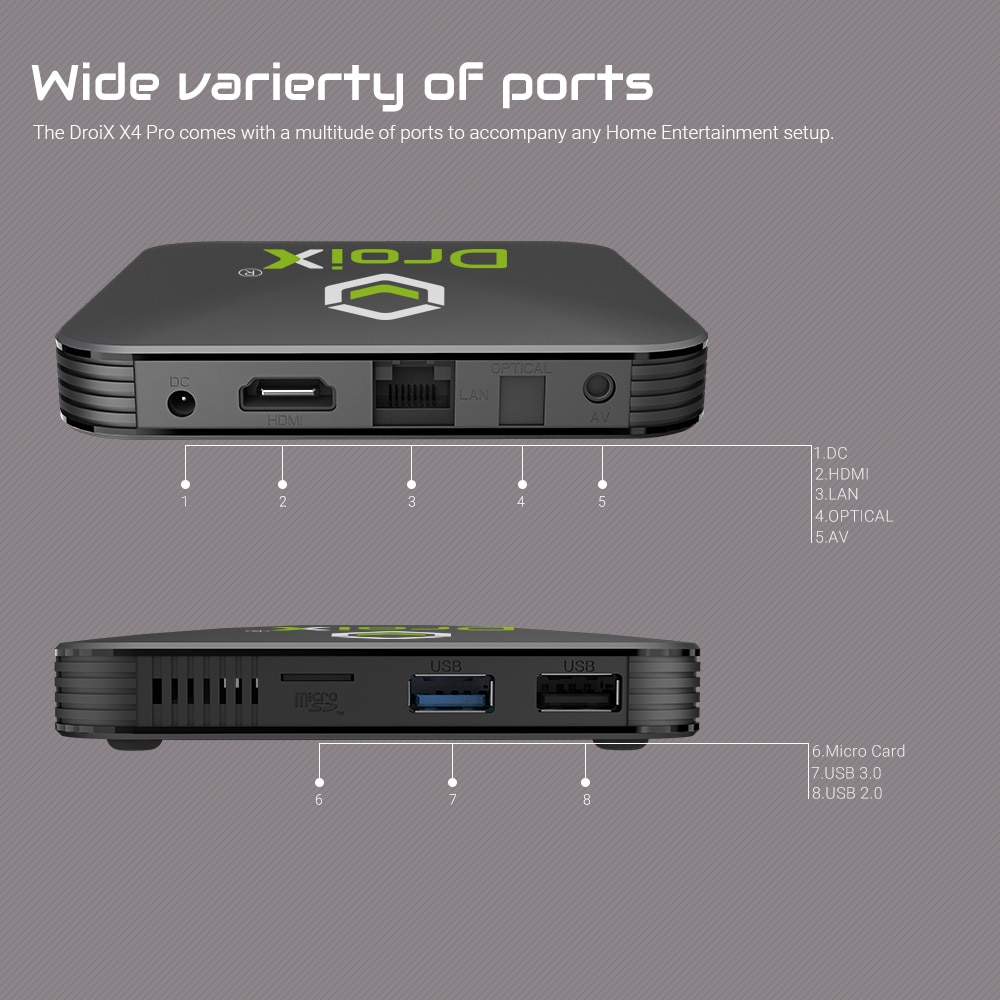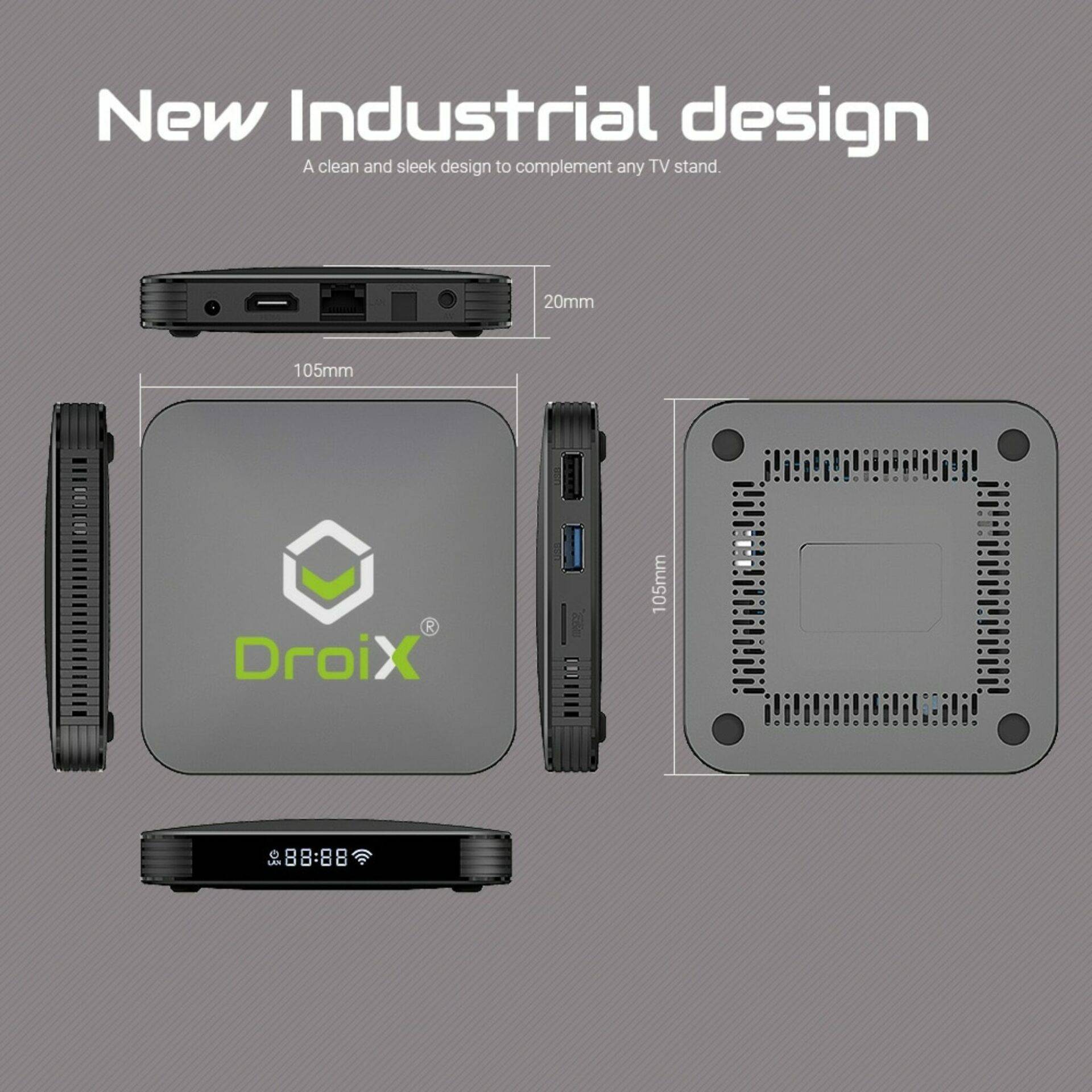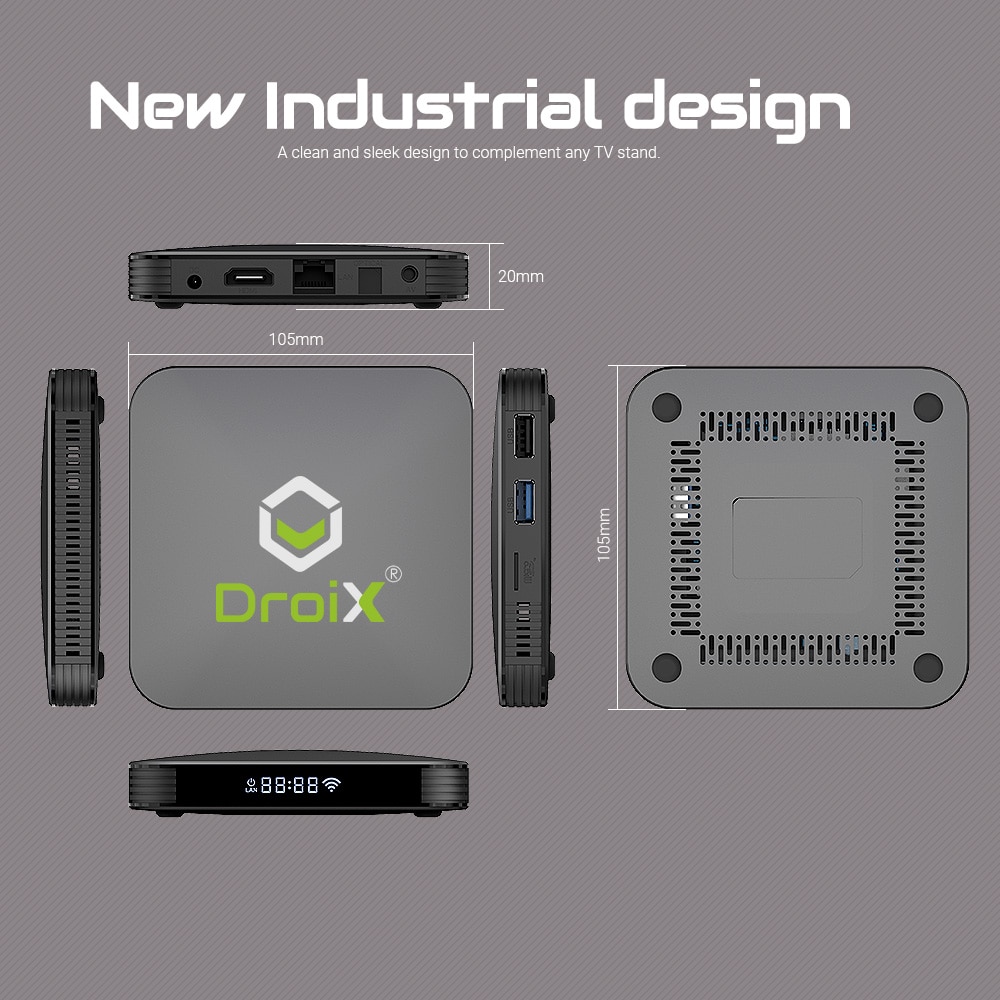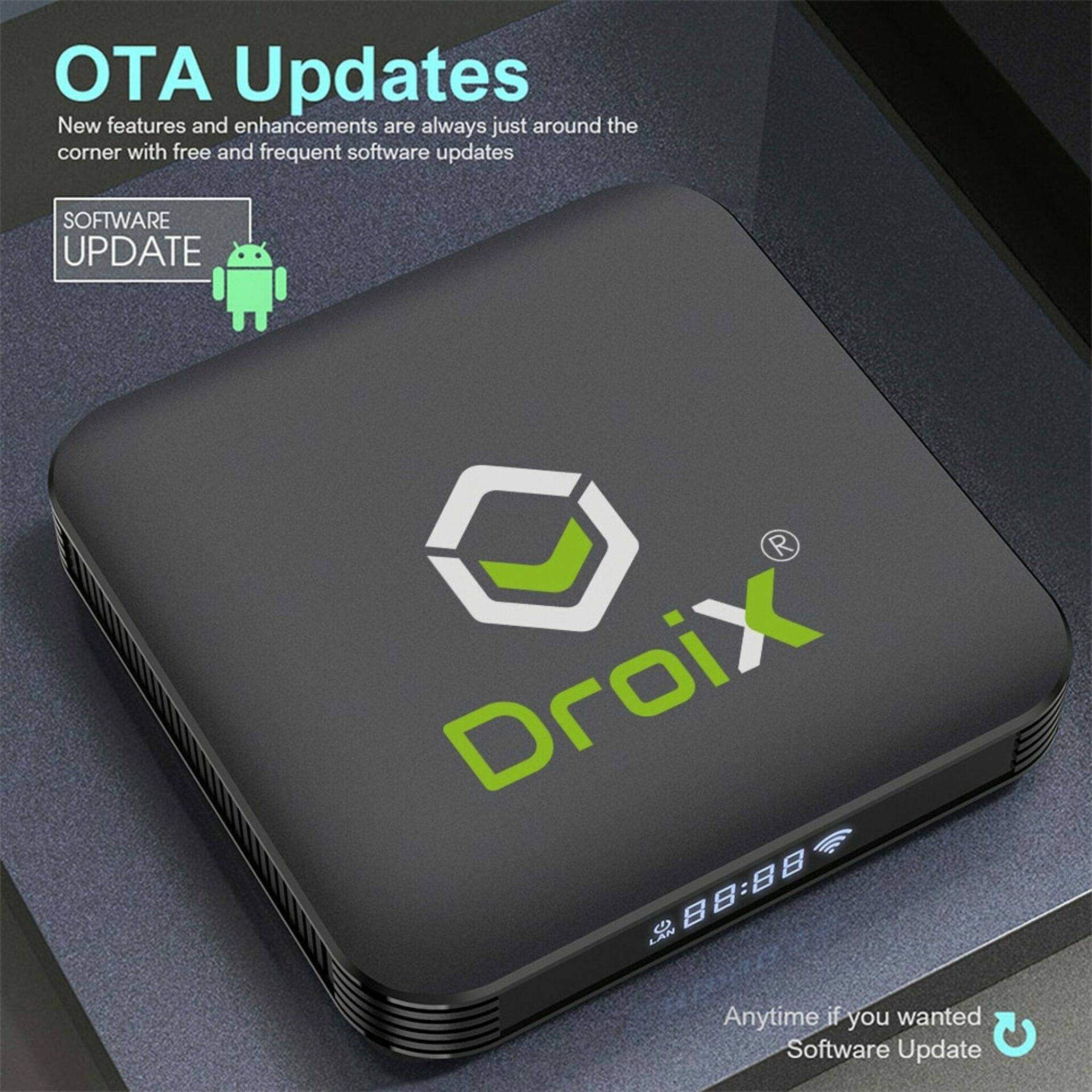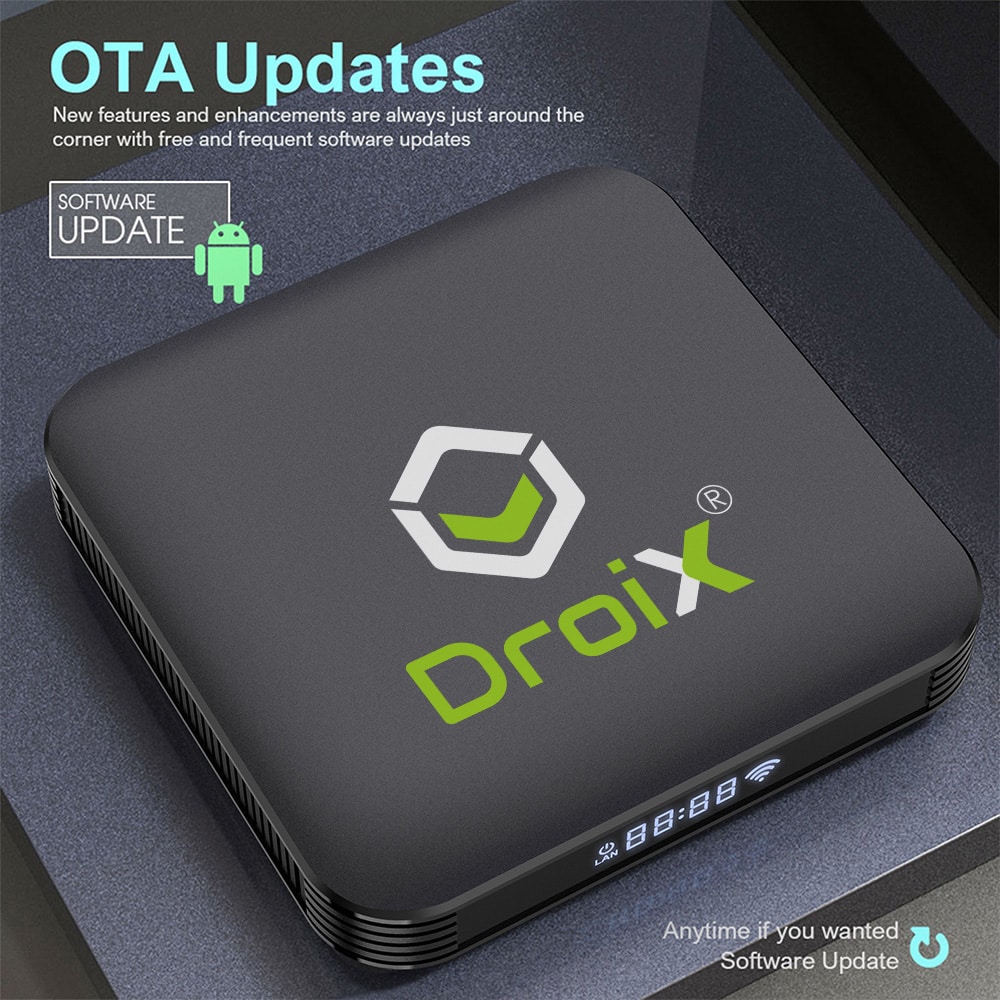 Technical Specifications
Softwares
OS
Android 11
Security
PIN/Pattern/Image
Processor
Brand
ARM
Model
S905X4
Arhitecture
Cortex-A55
Cores
4
Turbo Frequency
1.90Ghz
Graphics Processor
Interface
Built-in
Brand
ARM
Model
Mali-G31 MP2
Turbo Frequency
850 Mhz
4K Support
Yes@60Hz
Video Decoding
AV1 [email protected]
up to 4Kx2K@60 fps
VP9 Profile-2
up to 4Kx2k@60 fps
H.265 HEVC [email protected]
up to 4Kx2k@60 fps
AVS2-P2 Profile
up to 4Kx2K@60 fps
H.264 AVC [email protected]
up to 4Kx2K@30fps
MPEG-4 ASP@L5
up to 1080P@60fps (ISO-14496
WMV/VC-1 SP/MP/AP
up to 1080P@60fps
AVS-P16(AVS+) /AVS-P2 JiZhun Profile
up to 1080P@60fps
MPEG-2 MP/HL
up to 1080P@60fps (ISO-13818)
MPEG-1 MP/HL
up to 1080P@60fps (ISO-11172)
RAM
RAM
4GB
RAM(spec)
DDR3
Network
Ethernet
1GBIT Ethernet Adapter (RJ45)
Wi-Fi
IEEE 802.11 a/b/g/n/ac Module – Dual-Band (2.4/5.8Ghz)
Bluetooth
5.0
I/O Interface
USB
1x USB 3.0 , 1x USB 2.0
Video
HDMI 2.1 (4Kx2K@60 max resolution output)
Audio
CVBS 480i/576i
Software Included

Google Play Store
Download online, enjoy offline. Google Play is available on all devices at anytime. Get the best titles on your device now and enjoy them anytime.
Package Includes
1 * DroiX X4 Android TV BOX
1 * Droix G10 Air-Mouse
1 * Power Supply
1 * HDMI Cable
1 * User Manual
Please Note
In line with the policy of continued development, the manufacturer reserves the right to amend the specifications without prior notification. The illustrations in the user manual are for reference only.
Reviews
Very good box
this is one of the better android boxes I have had very impresserd with it up to ye
Good box.
Mush improved on my replacement of Droidbox T8. Quick loading and very good picture. Good value for money. Thoroughly recommend it
DroiX X4 Android TV Box
The DroiX X4 is a great piece of kit. A couple of clicks from initial power up and you have a very responsive Android 11 interface ready to customize with whatever additional apps you require. A fine replacement for the T8 V (From Ebox) which I still run. A couple of questions I had about it were quickly answered by the support team at DroiX through their Chat and Email. A better File Explorer (including network) and a Back-up App pre installed would have been nice and I've not tried a factory reset to see if it fully recovers should I ever need to do that at any time, but overall I'm very pleased with this little box.
Great little box
Great little android box very fast, you can download all the apps.
Took time getting remote control programmed with DroiX box would of liked it remote control came programmed with android box.
Hi,
Thank you for taking the time to leave a 4-star review for the DroiX X4 Android box. We're glad to hear that you found it to be a great little device, with impressive speed and the ability to download all your favorite apps.
Regarding the remote control programming, we apologize for any inconvenience caused. As remote controls are designed to be compatible with device, and therefore, they do require basic connection and IR learning programming as standard. We understand that it may have taken some time to set up the remote control with your DroiX box and TV and you can consider checking the user manual for any connection or setup related information.
We value your feedback, and we'll take it into consideration for future improvements. If you have any further concerns or questions, please don't hesitate to reach out to us directly. We are always here to assist you.
Kind Regards
Vikram
New Droix Android box
Loving my Droix box! Really quick and handles all the apps I need, the mouse is genius!
£79.95 Incl. VAT£66.63 Excl. VAT£64.95 Incl. VAT£54.13 Excl. VAT