Intel® Core™ i3-1005G1 3.40GHz, cTDP: 13-15W
Up to 16GB Dual Channel DDR4, 512TB
Intel UHD Graphics
Triple-Monitor Support; 4K@60Hz
Wi-FI 6 & Bluetooth 5.0; USB 3.0, Type-C
Starting at £ 409.95 Incl. VATStarting at £ 341.63 Excl. VAT
Great Accessories
Intel® Core™ i3-1005G1 3.40GHz, cTDP: 13-15W
Up to 16GB Dual Channel DDR4, 512TB
Intel UHD Graphics
Triple-Monitor Support; 4K@60Hz
Wi-FI 6 & Bluetooth 5.0; USB 3.0, Type-C

Intel® Core™ i3-1005G1 3.40GHz, cTDP: 13-15W
Up to 16GB Dual Channel DDR4, 512TB
Intel UHD Graphics
Triple-Monitor Support; 4K@60Hz
Wi-FI 6 & Bluetooth 5.0; USB 3.0, Type-C
Description
The Beelink GTi10 is the latest in Beelink's line-up of mini PC's. With their years of experience in crafting potently performing mini PC's, both Intel NUC and AMD NUC, the GTI does not disappoint and contains a myriad of features sure to provide a premium feeling mini PC experience that makes the perfect media centre or home office mini PC.
The Beelink GTi 10 is powered by a 10th generation Intel i3-1005G1 and Intel UHD Graphics (running at up to 900MHz frequency). Thanks to the power of the 10th Generation Intel Ice Lake chipset, the GTi 10 also supports blazing-fast DDR4 RAM of up to 3200MHz, of which it can support up to 64GB in a dual-channel configuration.
The Beelink GTi 10 is a rare mini PC that supports up to two M.2 SSDs. One NVMe and one SATA 3 SSD, allowing for a combination of flexibility and speed.
The GTi 10 has numerous interfaces to ensure that it will comfortably fit into any setup. With support for up to three monitors via the HDMI, DisplayPort and Type-C (Front-only) USB interfaces, as well as eight USB ports in total (4x 3.0, 2x 2.0, 2x Type-C), and a 3.5mm headphone/microphone jack on the front panel, you can easily connect all of your peripherals with no issue.
For connectivity there are dual gigabit Ethernet ports, as well as Wi-Fi 6 and Bluetooth 5.0 compatibility, allowing you to easily run it as a wired or wireless mini PC.
The chassis itself also features a built-in microphone making this a great mini PC for video calls, there is also a fingerprint reader that makes the GTi 10 a high-security mini PC. Finally, there is a CMOS reset button on the front of the device, which is useful for troubleshooting purposes.
Technical Specifications
Software
OS
Windows 10 Professional
Security
PIN/Password
Processor
Brand
Intel
Model
Core™ i3-1005G1
Litography
10nm
# Cores
2
# Threads
4
Base Frequency
1.20 Ghz
Turbo Frequency
3.40 Ghz
Cache
4 MB Intel® Smart Cache
Graphics Processor
Interface
Integrated
Brand
Intel
Model
UHD Graphics for 10th Gen Intel® Processors
Base Frequency
300 Mhz
Turbo Frequency
900 Mhz
DirectX Support
12
OpenGL Support
4.5
Intel® Quick Sync Video
✓
Memory (RAM)
Capacity
8GB/16GB (Depending on the model purchased)
Technology
DDR4 - Dual-Channel
Storage (ROM)
Capacity
256GB/512GB (Depending on the model purchased)
Technology
M.2 PCI-e NVMe SSD
Expandable
1x M.2 SATA III SSD
Network
Ethernet
2x 10/100/1000M Ethernet Adapter (RJ45)
Wi-Fi
Version 6 ; 802.11a/ac/b/g/n/ax Module – Dual-Band
Bluetooth
5.0
I/O Interface
USB
4x USB Type-A 3.0 Port ; 2x USB Type-A 2.0 Port ; 2x USB Type-C
Video
1x HDMI 2.0 Port (4K@60Hz) ; 1x DP Port (4K@60Hz)
Audio
1x HDMI 2.0 Port (4K@60Hz) ; 1x DP Port (4K@60Hz) ; 3.5mm Headphone Jack
Power
Power Adapter
Dimension/Weight
Product Dimensions
(L x W x H): 16.8 x 12.0 x 4 cm / 6.6 x 4.4 x 1.57 inches
Product Weight
720g / 1.65lb
Application Ready
At the time of publication, this list is comprehensive and accurate. Specific apps or add-ons may be removed or added in the future.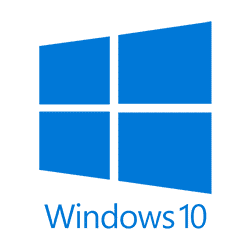 Windows 10 OS
The most used Operating System on the planet. That's for a reason
Package Includes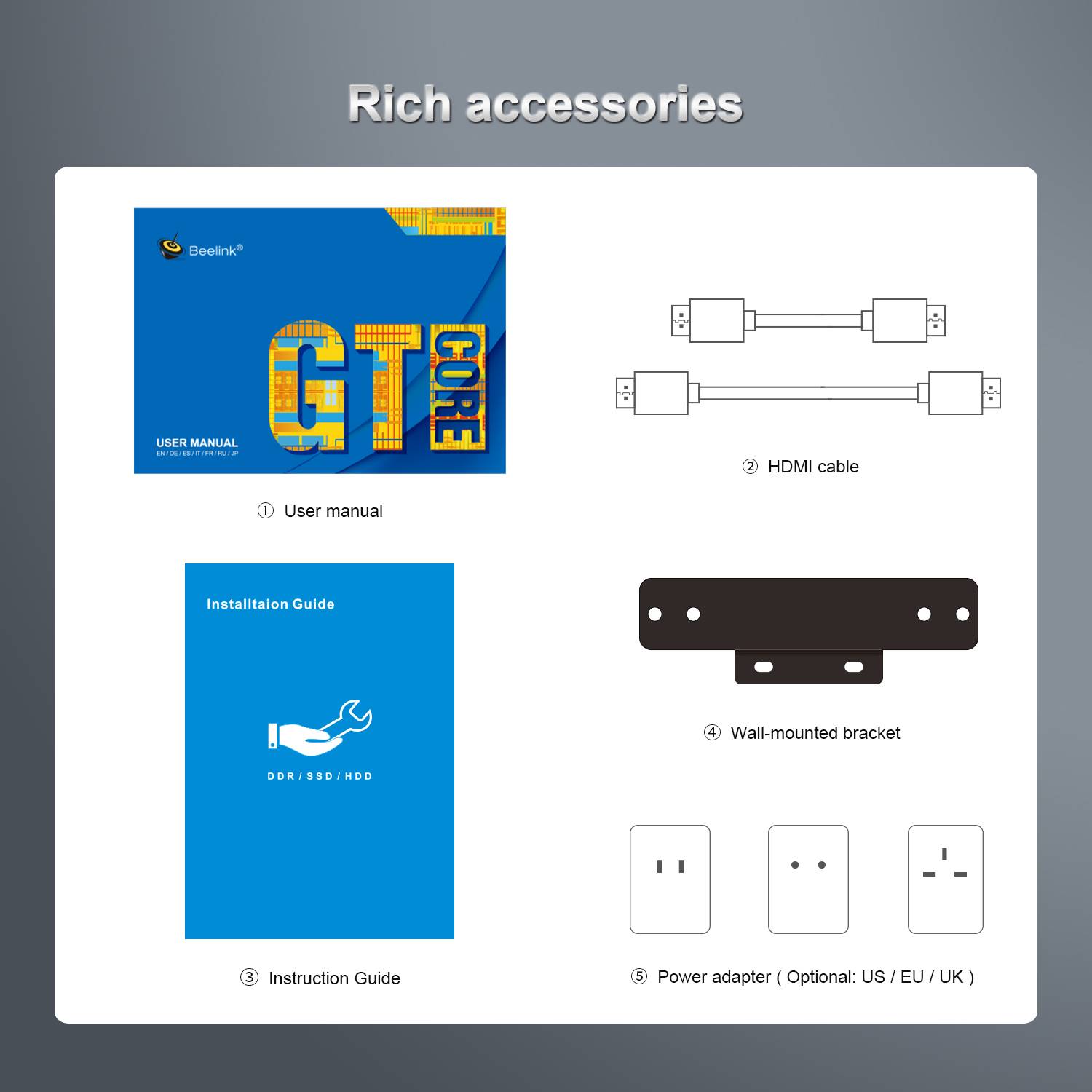 1 * Power Adapter
1 * HDMI Cable
1 * DP Cable
1 * TV Mount
1 * User Manual
1 * Starting Guide
Please Note
In line with the policy of continued development, the manufacturer reserves the right to amend the specifications without prior notification. The illustrations in the user manual are for reference only.
Reviews
I liked so much - silent, quic, good for me
GREAT (BUT)
Overall the Beelink GT-R is great. For as little as it is, it's very powerful. It is for my daughter and it works and does everything she wants it to. And the BUT is for the 32GB RAM and 1TB NvmeSSD The brand for these is KingSpec never heard of that brand and if you google KingSpec and look on YouTube you will see Linus tech tips talking about it. It's a shame it's not a more better brand but overall the machine works fine. The most important thing is my daughter is very happy with it
Fantastic device. Does what it says!
Always a bit skeptical when items we're used to go mini...well have to say, really impressed with the Beelink. Easy to install and set up. Just plug and play, especially if you already have a set up. The longest bit was the software updating.
Solid little barebones box of goodness. I excite!!
Set this little beast up with 16GB of 3200Mhz ram and some wicked-fast nvme and sata drives. Currently rocking Manjaro and Windows 10. It's used for music production (with Windows) and Manjaro is basically a massive 4-desktopped crypto trading suite that I use ALL THE TIME. It's solid as a rock even when I'm highly leveraged and knee-deep in a bad trade that's gone so far south I've lost hope of all recovery. But like this little beast of a PC, I just keep on going.
Remember folks, bullruns make you money, but bear markets make you rich. Do yourself a favour and pick up one of these excellent little boxes and then use it to learn about what Bitcoin is and how it can literally change society for the betterment of all. You'll then be able to buy all the PC's you want and never have to work again. Just like me ;-)
After a troubled start, a great device
My first gtr wouldn't install from usb key provided and kept locking up installing normal windows when I had dual memory installed, it then completely died, droid were great and arranged a replacement, the new one works brilliantly, it's fast and quiet (most of the time), would definitely recommend it I'm running multiple programs without any issues or slow down
Starting at £ 409.95 Incl. VATStarting at £ 341.63 Excl. VAT