10th Gen Intel® Core™ i3-10110U w/ Intel UHD Graphics
Up To 16GB Dual-Channel DDR4
Up To 512GB High-Speed PCI-E NVMe SSD
Dual-Monitor Support; 4K@60Hz
1GB/s Ethernet , WiFi 6 & Bluetooth 5 Support
Starting at £ 349.95 Incl. VATStarting at £ 291.63 Excl. VAT
Description
The Beelink SEi10 is a mini PC that provides professional performance in a portable package, at only 124 x 113 x 41mm in size, it's desktop or shelftop, optionally mountable solution for any home office, enterprise computing environment, or home media centre PC.
It is powered by a 10th generation Intel 10110U alongside 10th generation Intel UHD graphics. Thanks to being a 10th generation CPU, the Beelink SEi10 can support up to 64GB of dual-channel RAM up to 3200Mhz in speed and comes with 8GB of 16GB of dual-channel RAM, alongside disk read speeds of up to a lightning-fast 1900MB/s, the SEi10 will provide a seamless, smooth user experience in a variety of applications.
For storage, the SEi10 contains a fast 256GB or 512GB of M.2 NVMe SSD (that can be upgraded to up to 2TB in size), as well as space inside for an additional 2.5-inch SATA drive, ensuring that you never run out of space for all your applications/programs.
The Beelink SEi10 has numerous interfaces present that ensures that it fits into any setup. Enjoy usage of up to three monitors simultaneously running at 4K thanks to the dual HDMI ports and the Type-C USB port in the front. With four USB 3.0 ports as well, you'll easily be able to connect all your peripherals.
In terms of connectivity, the Beelink SEi10 is a flexible mini PC, sporting a Gigabit ethernet port, as well as Bluetooth 5.1 and WiFi 6 for fast, easy wireless connectivity in any environment.
Technical Specifications
Software
OS
Windows 10 Professional
Security
PIN/Password
Processor
Brand
Intel
Model
Core™ i3-10110U
Litography
14nm
# Cores
2
# Threads
4
Base Frequency
2.10 Ghz
Turbo Frequency
4.10 Ghz
Cache
4 MB Intel® Smart Cache
Graphics Processor
Interface
Integrated
Brand
Intel
Model
UHD Graphics for 10th Gen Intel® Processors
Base Frequency
300 Mhz
Turbo Frequency
1.00 Ghz
DirectX Support
12
OpenGL Support
4.5
Intel® Quick Sync Video
✓
Intel® Clear Video HD Technology
✓
Intel® Clear Video Technology
✓
Memory (RAM)
Capacity
8GB/16GB (Depending on the model purchased)
Technology
DDR4 - Dual-Channel
Storage (ROM)
Capacity
256GB/512GB (Depending on the model purchased)
Technology
M.2 PCI-e NVMe SSD
Expandable
1x 2.5" HDD/SSD ; 1x Micro SD Card (Up to 128GB)
Network
Ethernet
1x 10/100/1000M Ethernet Adapter (RJ45)
Wi-Fi
Version 6 ; 802.11a/ac/b/g/n/ax Module – Dual-Band
Bluetooth
5.1
I/O Interface
USB
4x USB Type-A 3.0 Port ; 1x USB Type-C
Video
2x HDMI 2.0a Port (4K@60Hz)
Audio
2x HDMI 2.0a Port (4K@60Hz) ; 3.5mm Headphone Jack
Power
Power Adapter
Dimension/Weight
Product Dimensions
(L x W x H): 12.4 x 11.3 x 4.1 cm / 4.8 x 4.4 x 1.6 inches
Product Weight
345.5g / 0.76lb
Application Ready
At the time of publication, this list is comprehensive and accurate. Specific apps or add-ons may be removed or added in the future.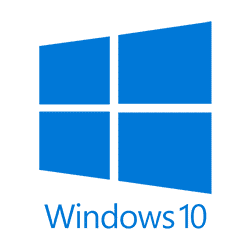 Windows 10 OS
The most used Operating System on the planet. That's for a reason
Package Includes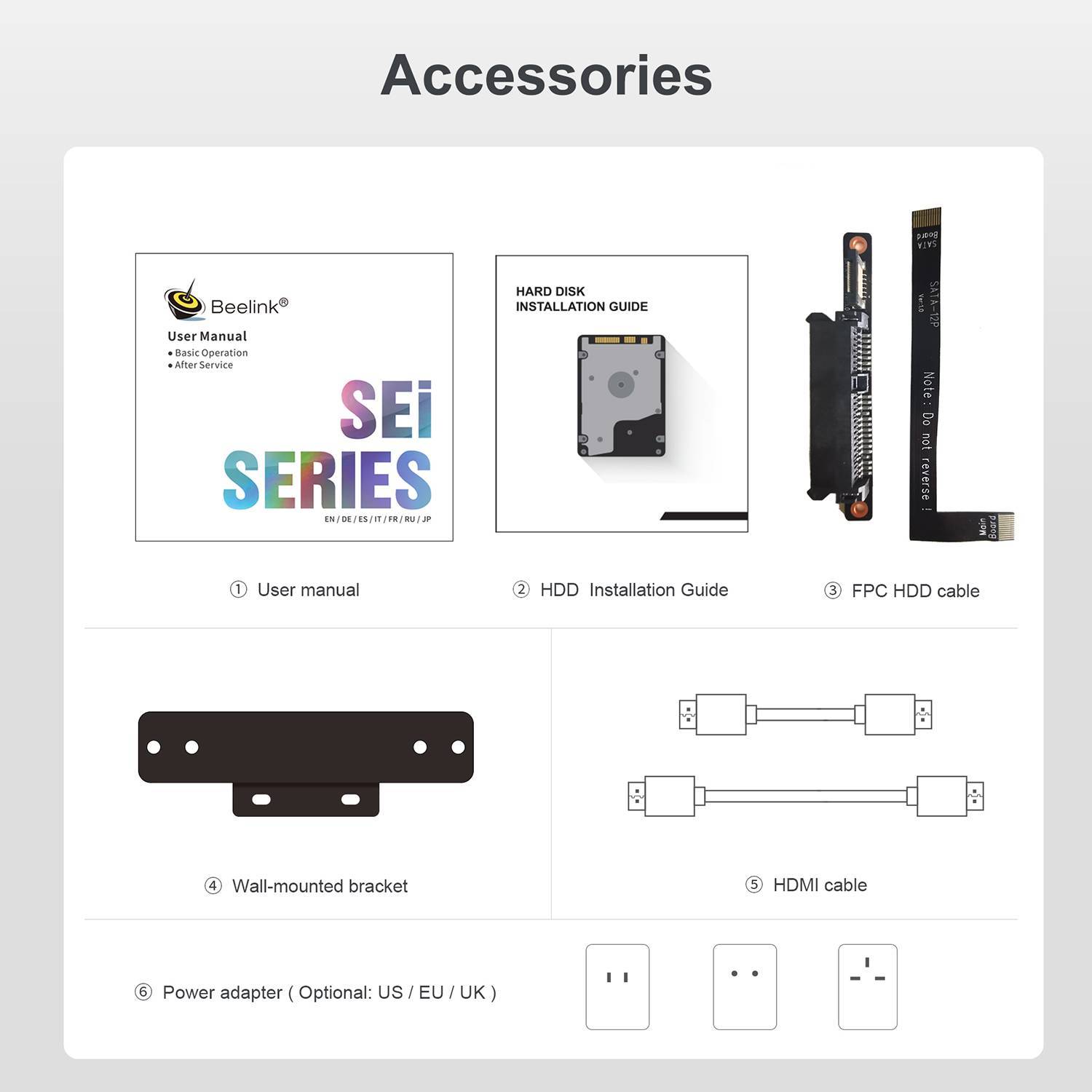 1 * Power Adapter
2 * HDMI Cable
1 * TV Mount
1 * User manual
1 * HDD Installation Guide
1 * FPC HDD Cable
Please Note
In line with the policy of continued development, the manufacturer reserves the right to amend the specifications without prior notification. The illustrations in the user manual are for reference only.
Reviews
Hard to believe...
Hard to believe how well this little computer does the job. I have basically retired my tower computer. Now I have an uncluttered desk with my usb hub and accessories all within easy reach. No more searching the back of the tower or reaching to find the various ports. All of that is right in front of me. I don't have to leave my chair to get connected. I say "it organized me." Obviously, am very satisfied.
Awesome mini p...
Awesome mini pc for home office! this mini pc is fast enough to run home office programs, this mini pc comes with windows 10 already installed. It supports 4K at 60 Hz dual screen and dual display, it comes with 4 USB 3.0 and 1 type C thunderbolt too! it supports linux operating system like Ubuntu for example!
Up until recent...
Up until recently i have had laptops running for my work needs which include running word processors, creating presentations but mostly, a lot of spreadsheets, their incumbent calculations and macros that go along with them.
My previous laptop struggled as did all of the ones before, but i didn't have the space for a full sized PC setup, however the Beelink GTi mini PC with a 10th gen CPU seems to have resolved both issues , it fits on my small desk at home where i do all of my work, and runs macros like they were nothing. No more waiting 15mins every time for them to load, it's almost immediate.
I don't use a lot of storage for my files as mentioned before it's mostly spreadsheets and presentations, so the 512GB storage is excessive, but nice to have available (it's satisfying knowing your device is above spec for everything you need it for)
My wife is preg...
My wife is pregnant with our first child and we are in the run up to her taking pregnancy leave. The plan is to slowly phase her out of the workplace so that her team become self sufficient and to do so she's going to be spending more time at home and less time in the hotel.
We needed a secondary workstation both for her work purposes, but also so she can help with out home business. We wanted something powerful enough that it would run a triple monitor setup without any complications but also something that didn't take up much space or turn the office into a fan room.
These devices are fantastic. They are very high spec'd with the latest 10th Generation Intel I3 processors, they have a whopping 16GB of DDR4 Ram, 512GB of Solid State Storage for fast boot times and extremely high data read and write speeds and most importantly for us they support Triple 4k Monitor display.
The unit itself is sleek modern and stylish looking, I love the letters on the cool grate, the top of it has a beautiful look and a lovely texted and it comes with a fingerprint reader on the surface for quick and easy opening of the PC but also ultra high security for your data.
looking for a m...
looking for a mini pc that could double as htpc and be unobtrusive under living room TV. this checked off a bunch of boxes, overkill to be used as just a plain kodi box but this little puppy can do so much more as it is a full blown pc just like it's 'big boy tower' counterparts. this has become the heart of my entertainment centre as yes it does kodi but also have it running emulators, which is brilliant since a lot of old school games does not need to have one spend 5hrs to get through a tutorial only to have your butt kicked in the first 10secs of a game's first level. anyways found meself revisiting a bunch of classics from psx/ps2 era, along with n64 & dreamcast. best part is no need to switch systems. so there a lot of pros for this device.
Starting at £ 349.95 Incl. VATStarting at £ 291.63 Excl. VAT