Beelink SER6 PRO Gaming Mini PC
AMD Ryzen 7 7735HS @ 4.75GHz; TDP 35-54W
32GB Dual-Channel DDR5 & up to 4TB PCIe 4.0 NVMe
AMD Radeon™ 680M– 12 cores @2200 MHz
Triple Display Support
WiFi 6  & Bluetooth 5.2, USB 4.0
£550.95Starting at £441.95 Incl. VATStarting at £368.29 Excl. VAT
Description
The Beelink SER6 PRO features the brand-new AMD Ryzen "Rembrandt R" codename processor with Zen3+ architecture for a high-performance gaming mini PC. With a fabric cloth cover design top, it adds a touch of class with no dust or fingerprints showing. 
The AMD Ryzen 7 7735HS CPU has 8 cores and 16 threads running up to a fast 4.75GHz, with a TDP of 35W-45W. The Ryzen mini PC features the AMD Radeon 680M graphics with 12 cores running up to 2200MHz. The combined performance can handle the heavy workloads from gaming through to image and video editing. 
The Beelink SER6 PRO comes with 32GB of DDR5 4800MHz RAM supporting up to a massive 64GB DDR5 4800MHz. The mini PC with Windows 11 has a 500GB M.2 2280 NVMe SSD as standard and can be expanded up to 4TB. The storage can be further upgraded with an internal 2.5" HDD or SSD so you can install many games without having to worry about space. 
There are a total of three USB 3.2 Gen 2 ports for high speed peripherals as well as one USB 2.0 for keyboards & mice. There is support for up to triple monitor display via two HDMI ports found on the back of the Beelink SER6 PRO and the USB 4 Type-C port. The USB 4 port can be used to connect an external graphics card to increase the graphics performance on the mini PC. 
For connectivity on the Beelink SER6 PRO there is a 2.5G ethernet port for fast and reliable data transfer. For wireless options there is 2.4Gbps WiFi 6 and Bluetooth 5.2, both offering the best in signal strength over distance. 
The Beelink SER6 PRO gaming mini PC is capable of playing the latest Windows games at high resolutions and graphics settings. It is also excellent for emulation and can run high end emulators from recent generations including PS3 at full speed on compatible games. 
Measuring only 4.96 x 4.44 x 1.64 inches, the Beelink SER6 PRO mini PC remains compact, taking up minimal space on your desktop. It is also very portable and ideal if travelling for work or pleasure for gaming anywhere.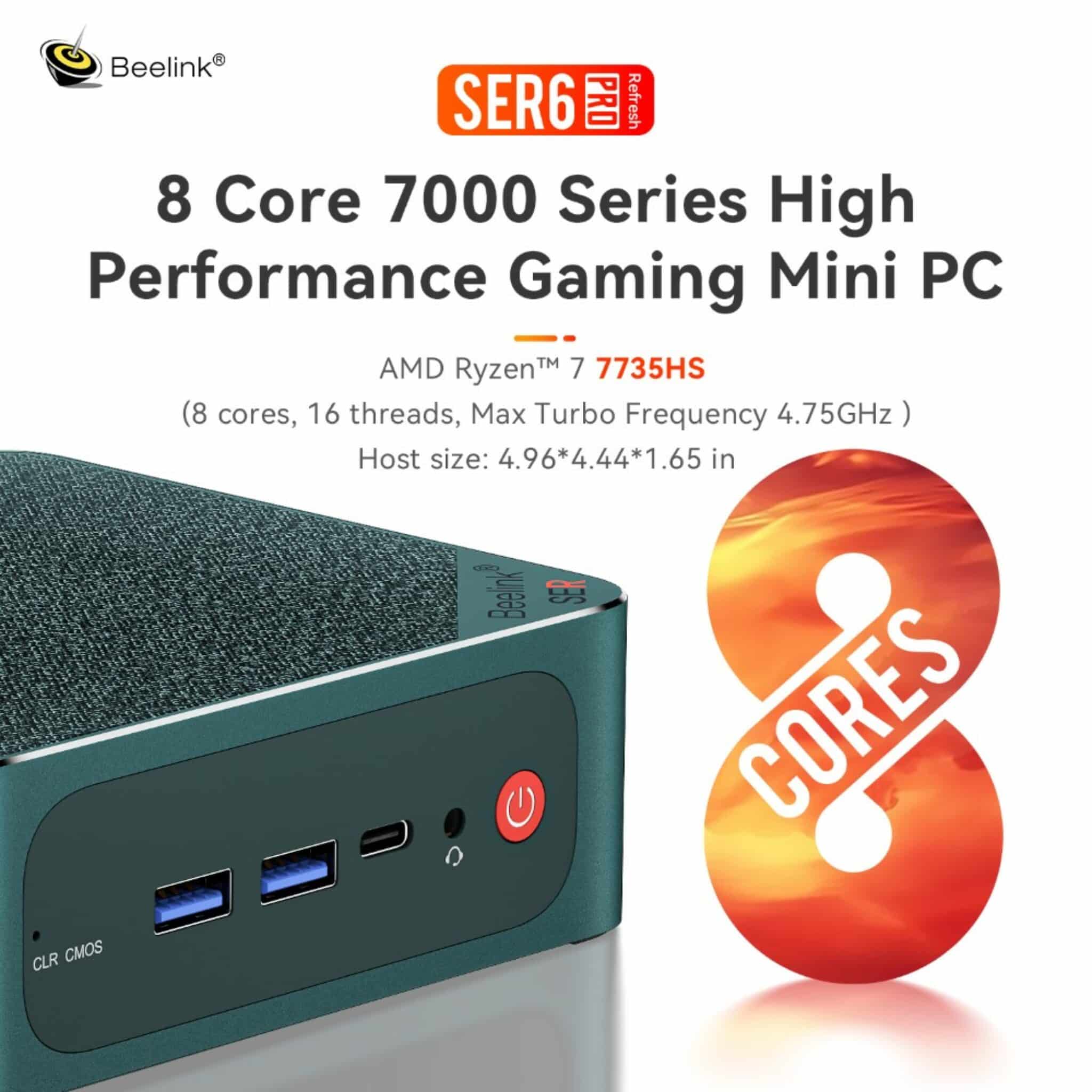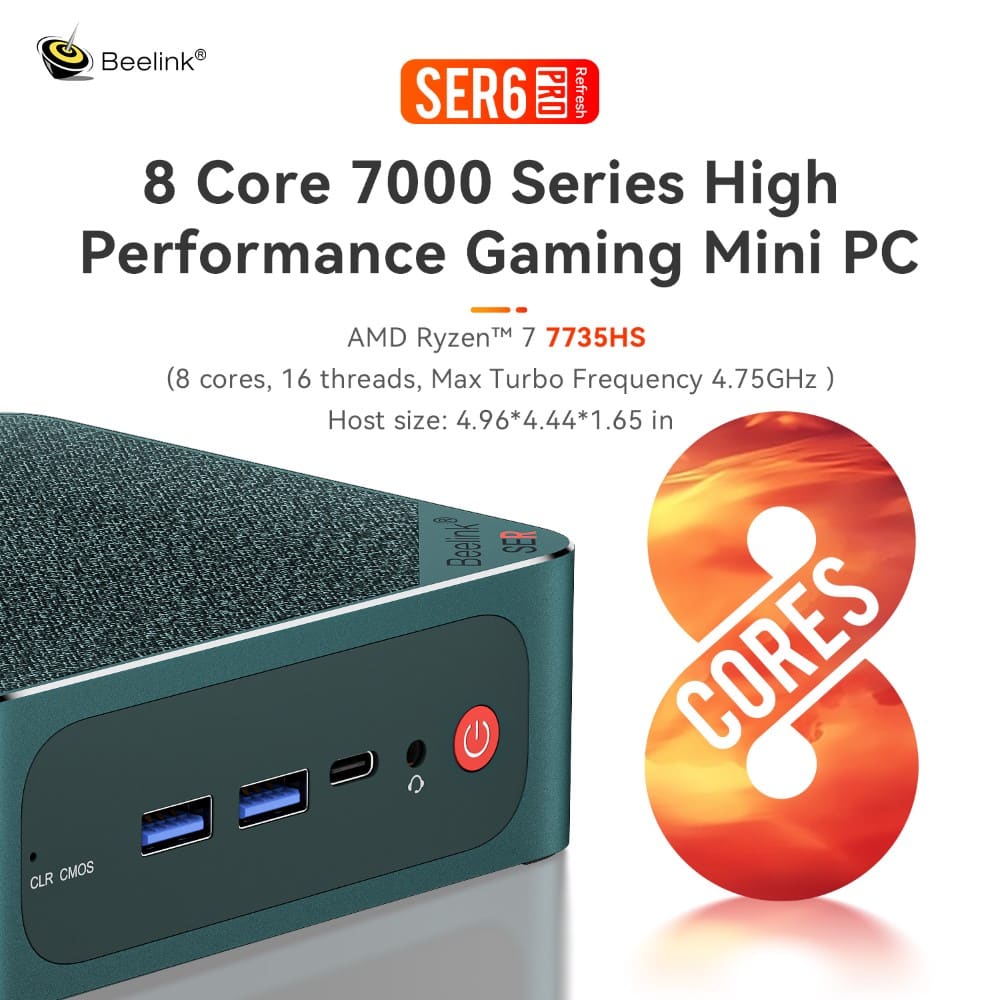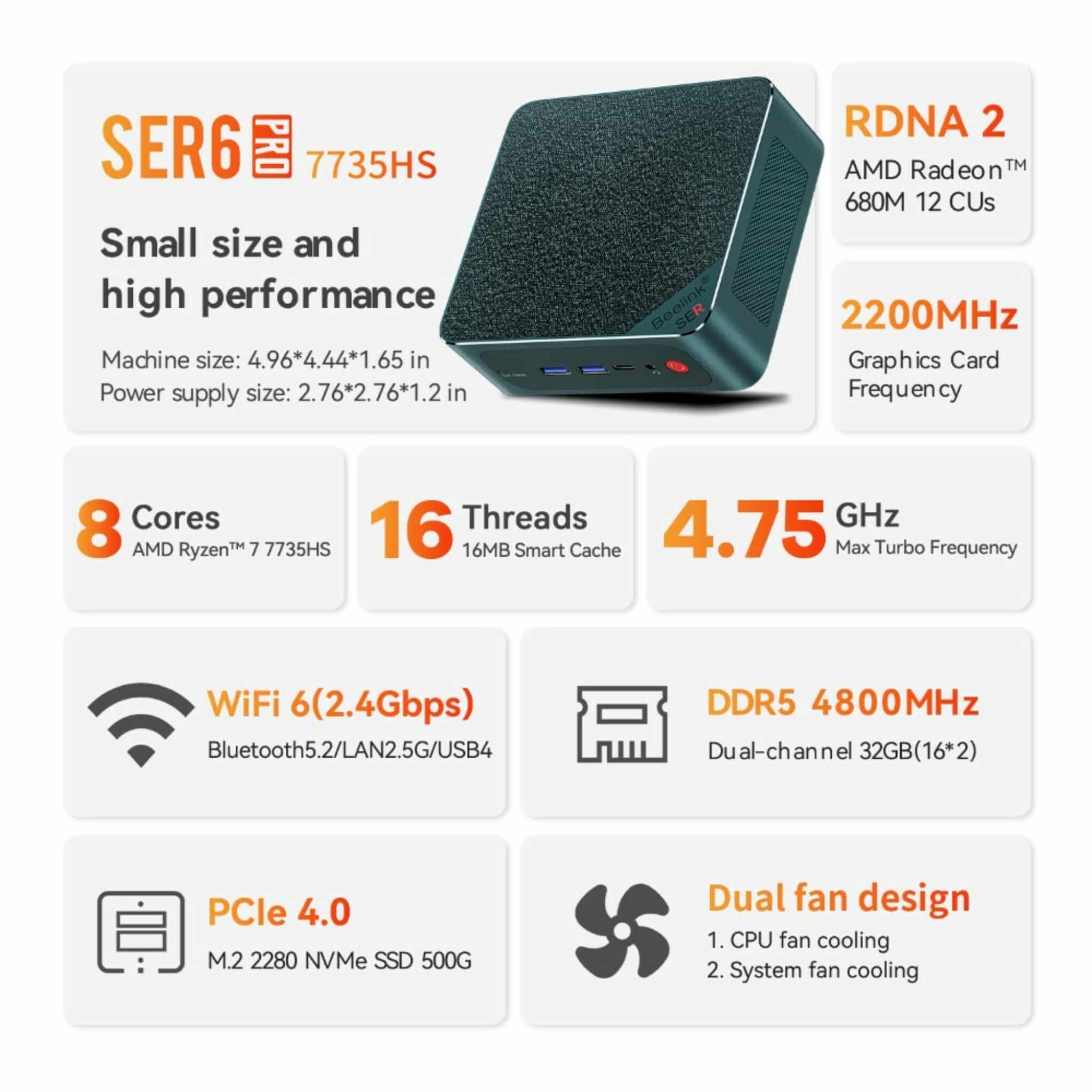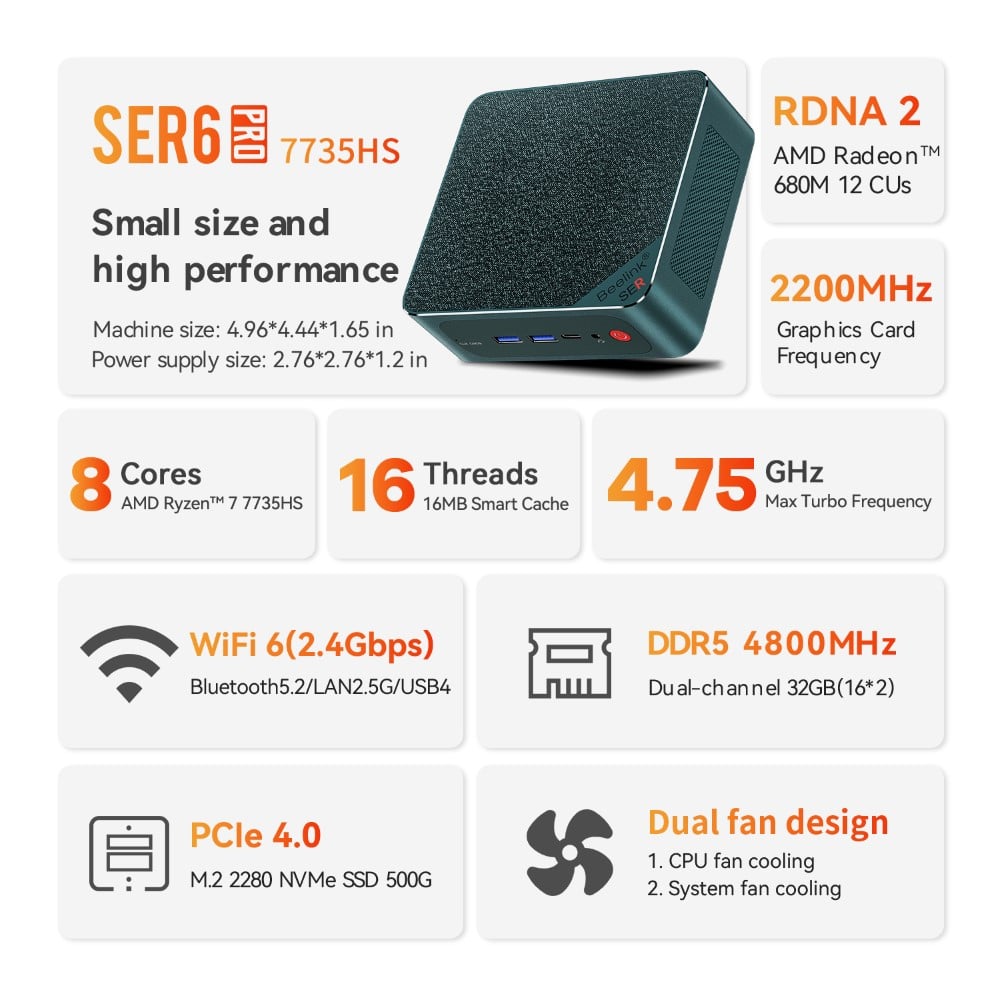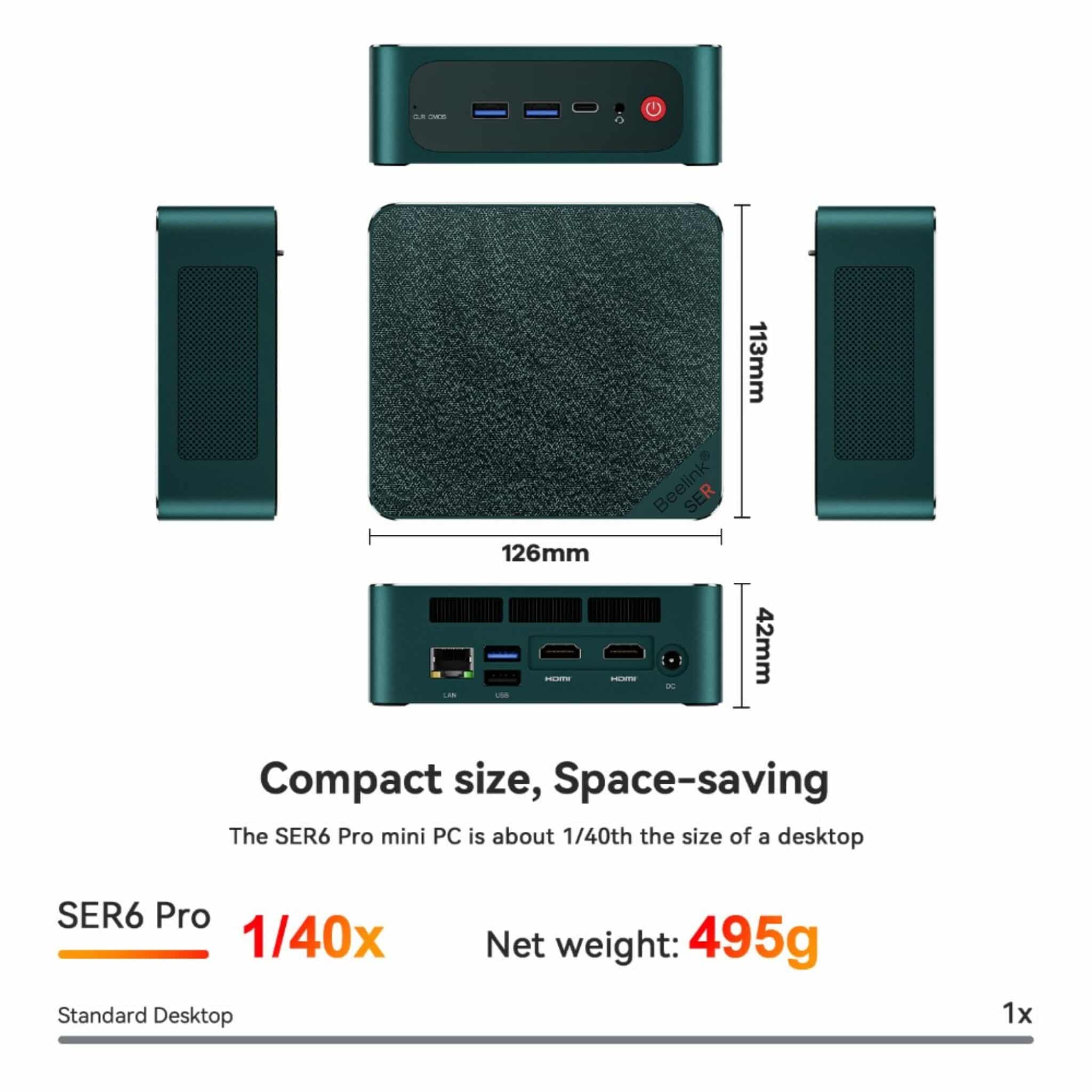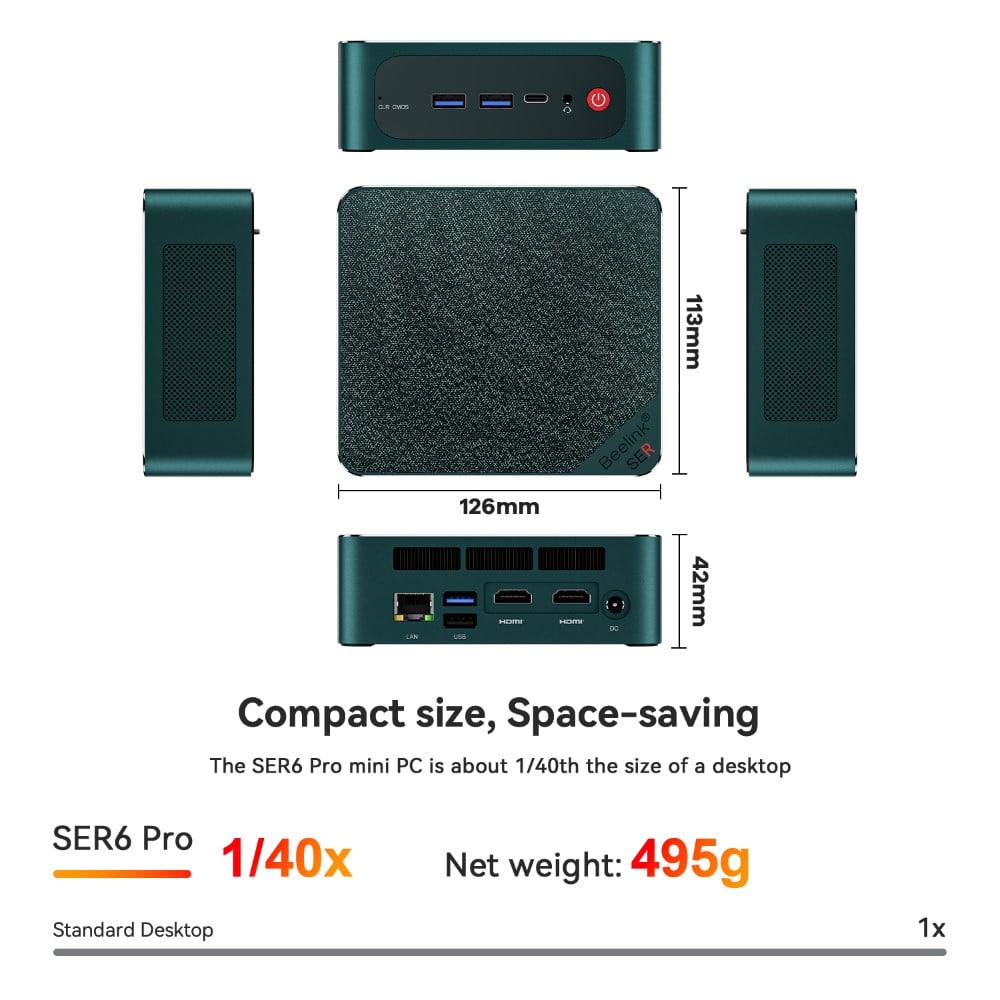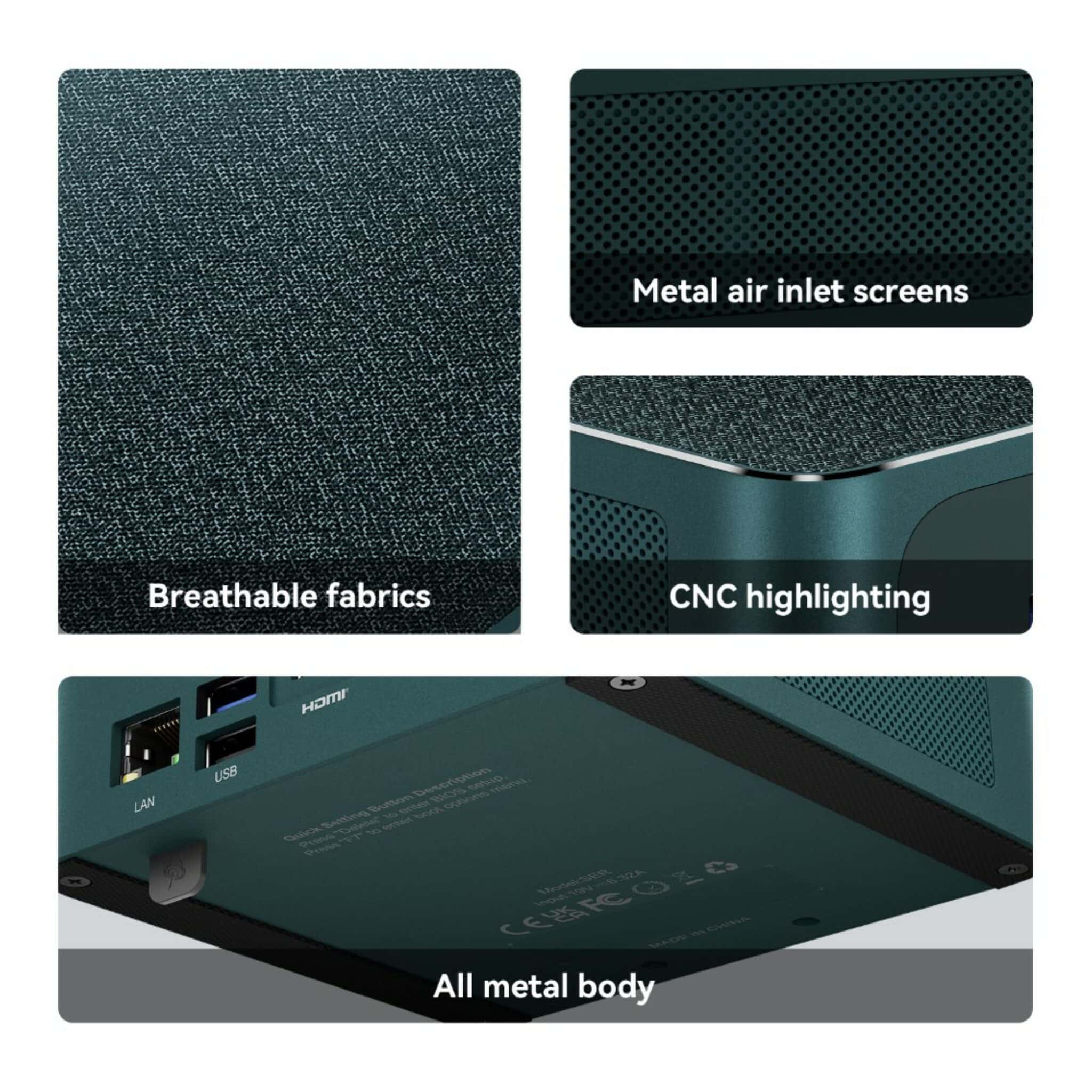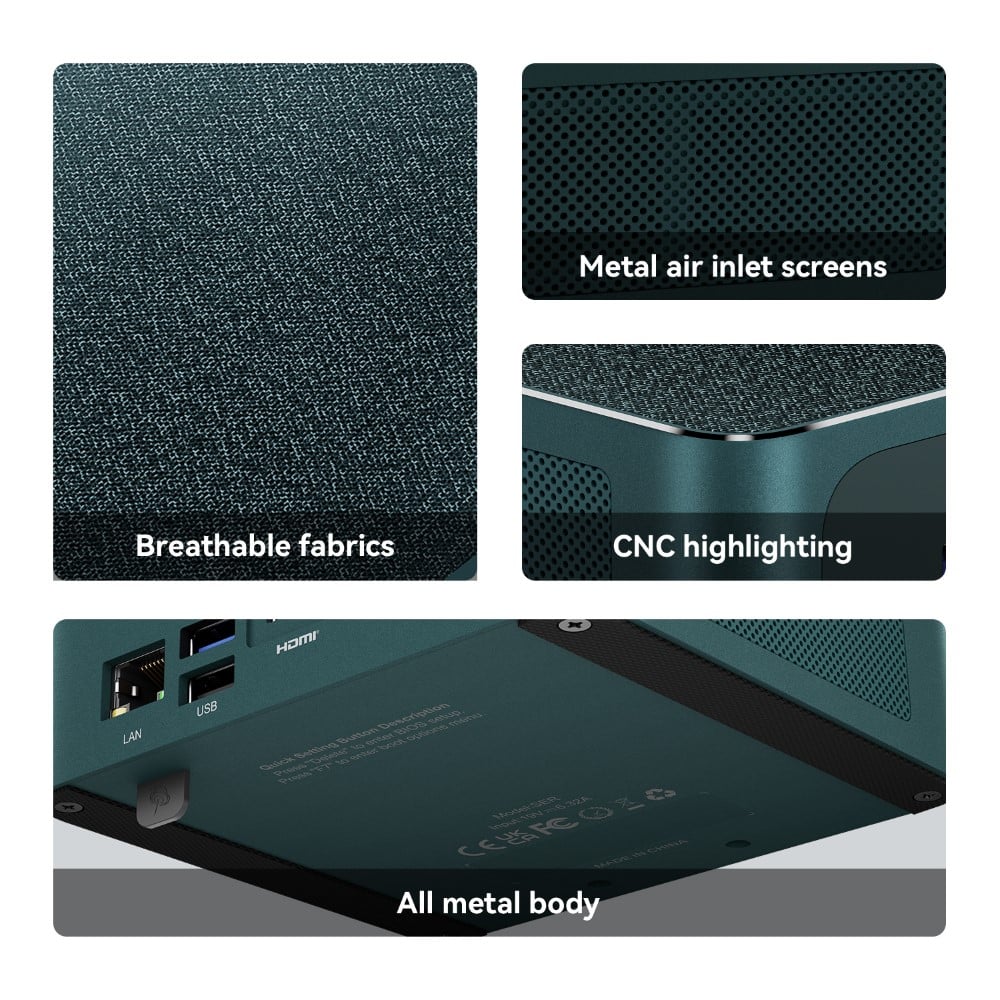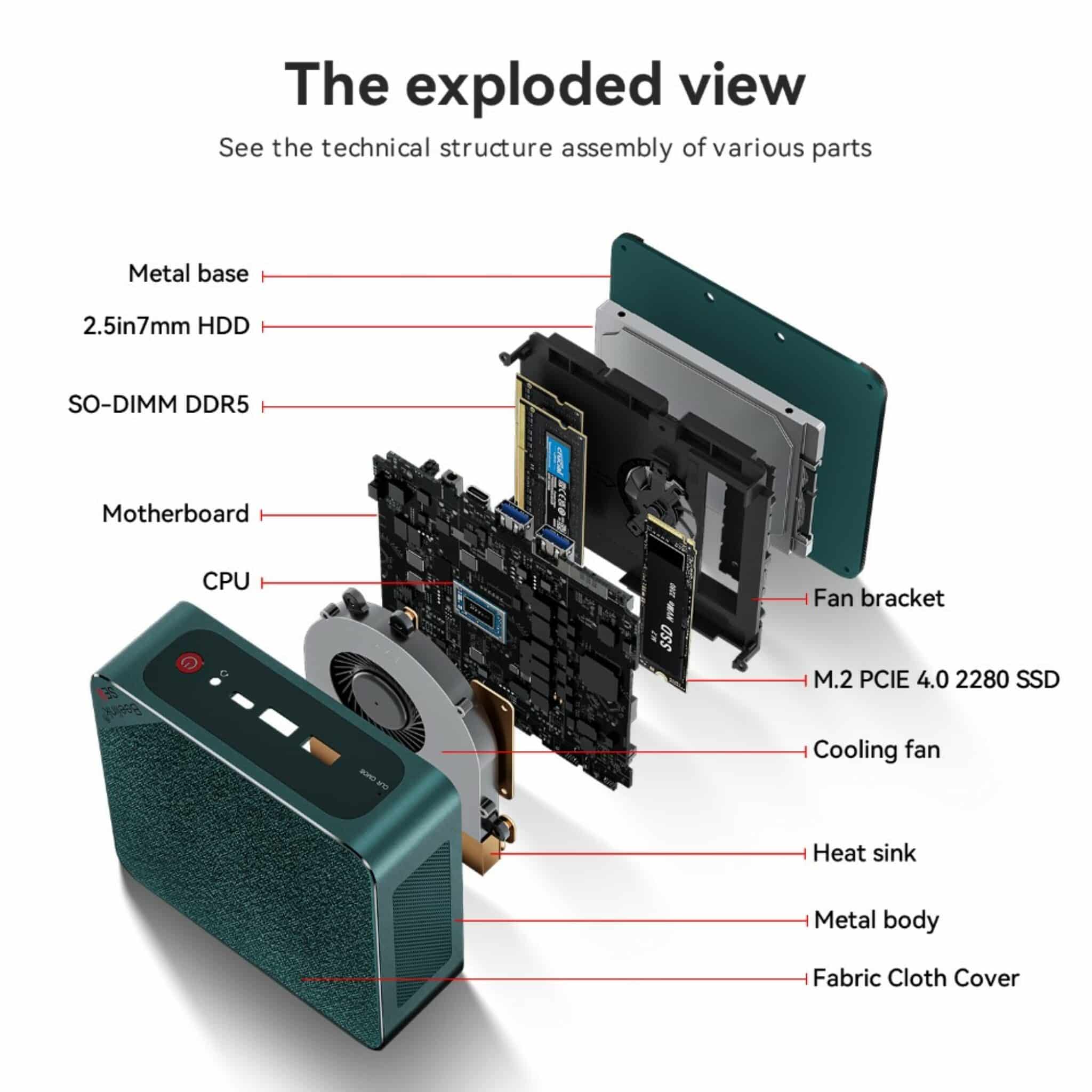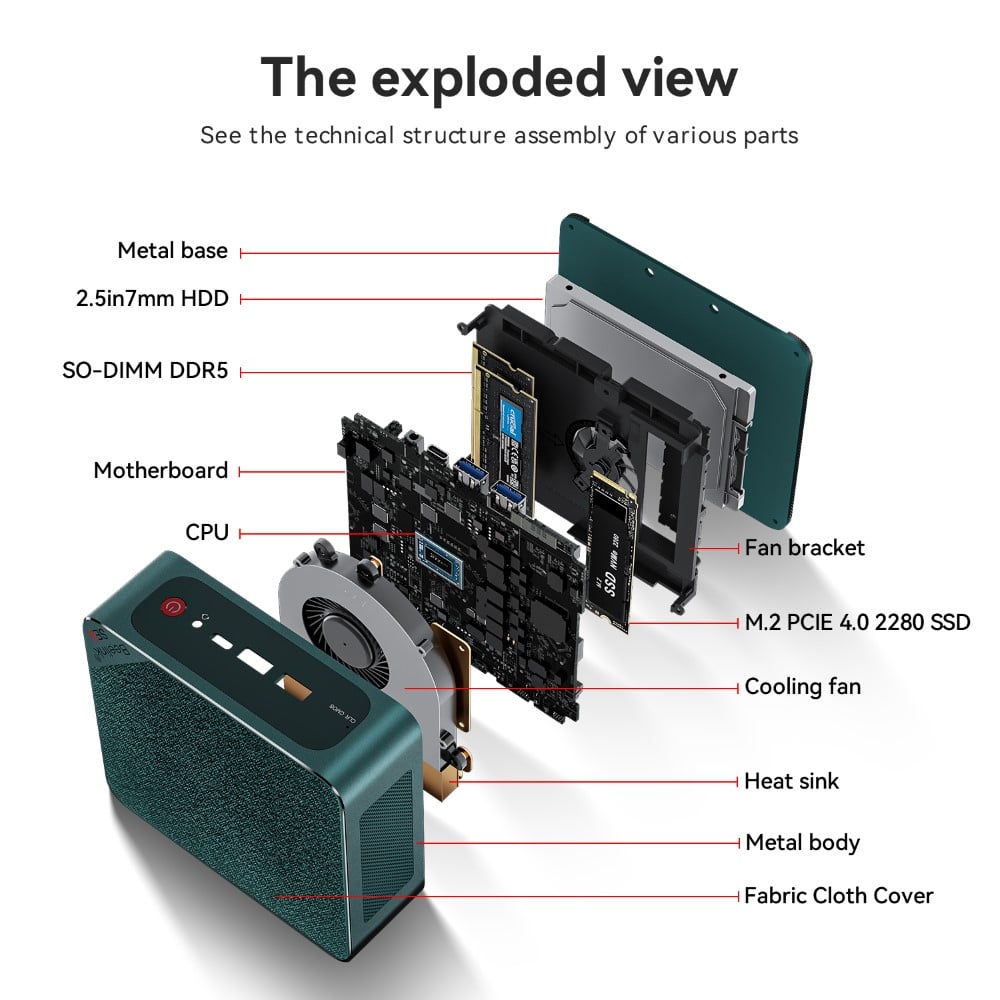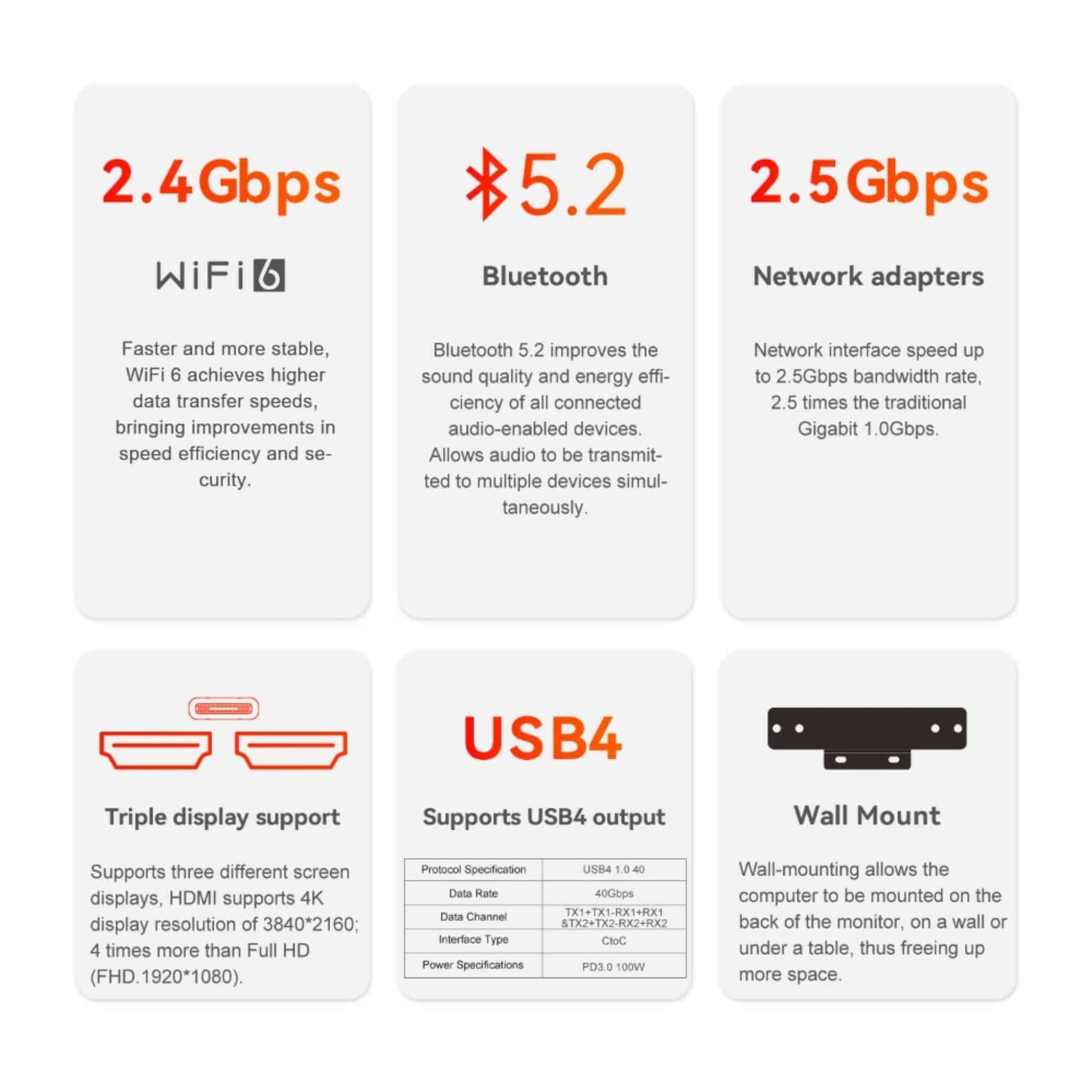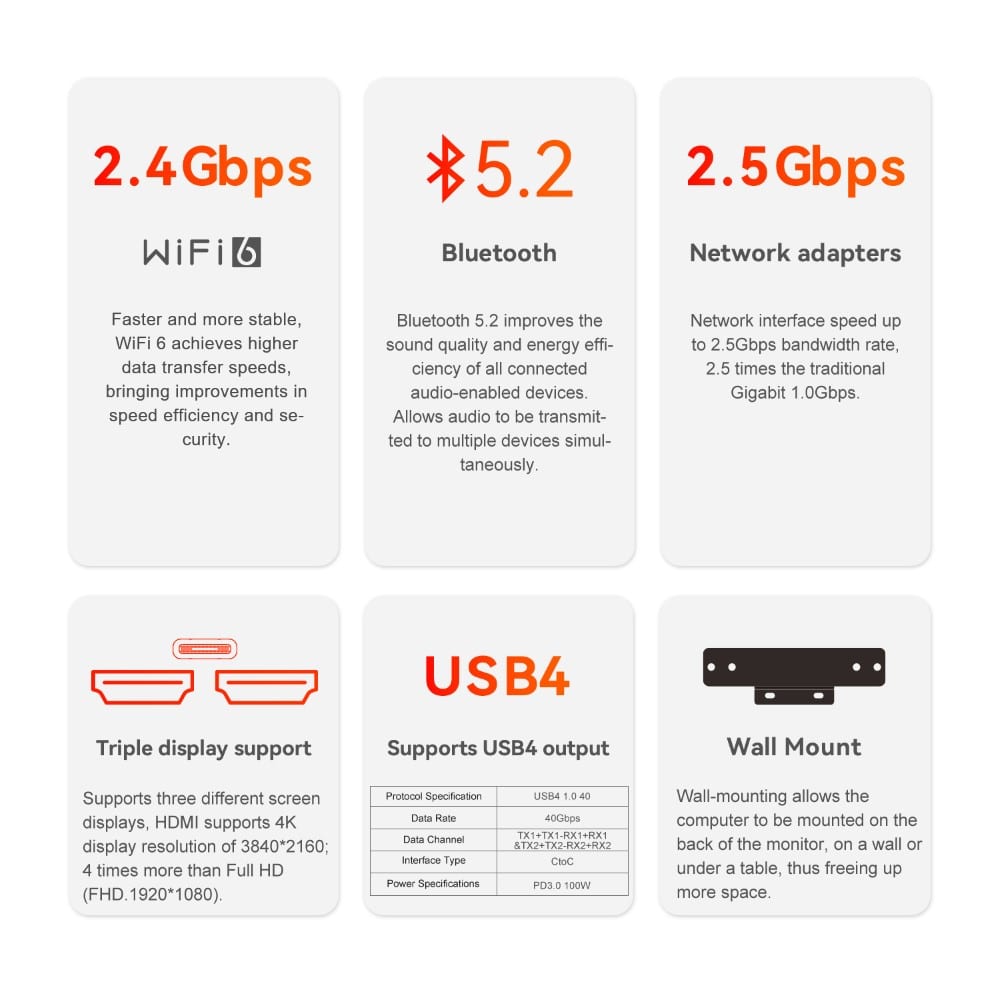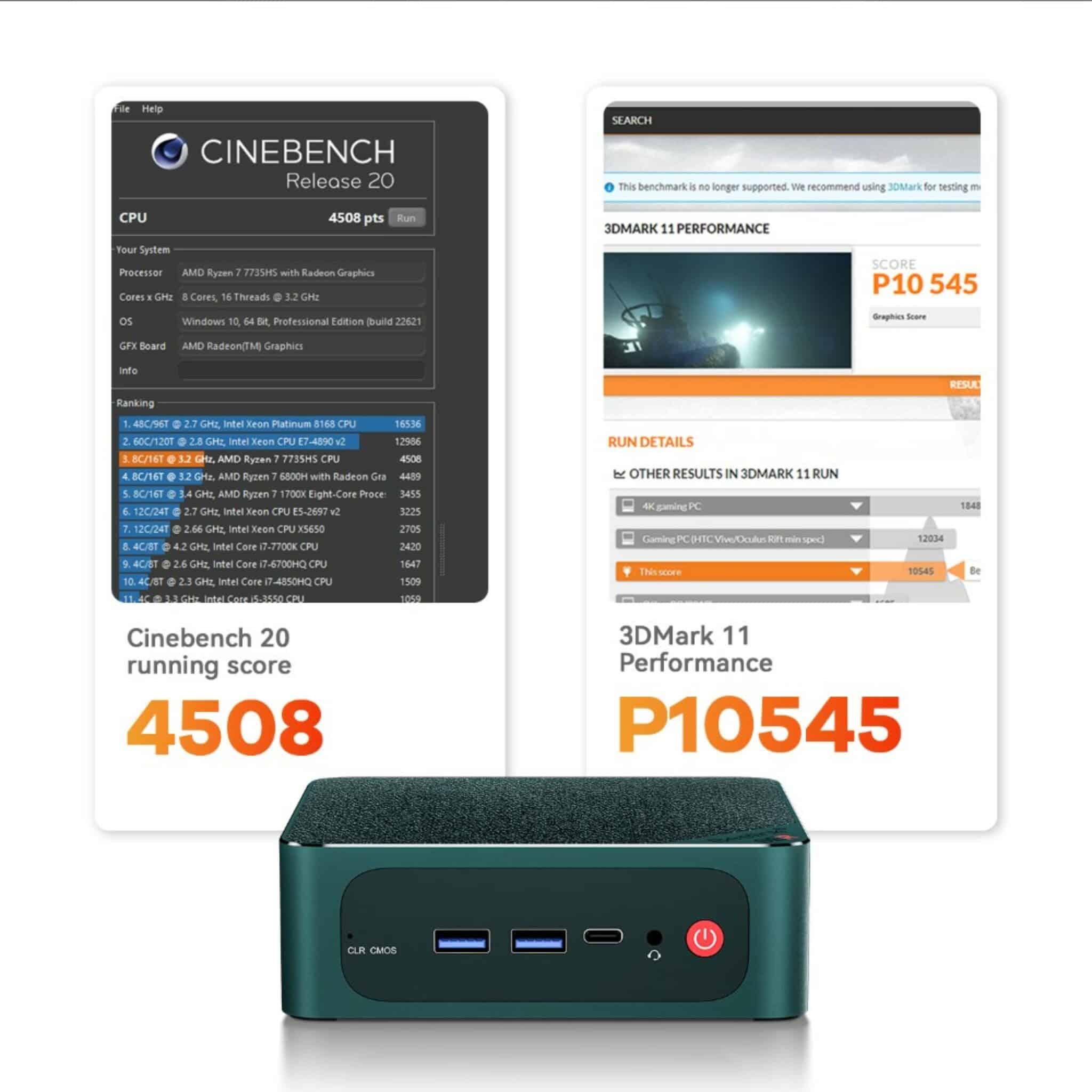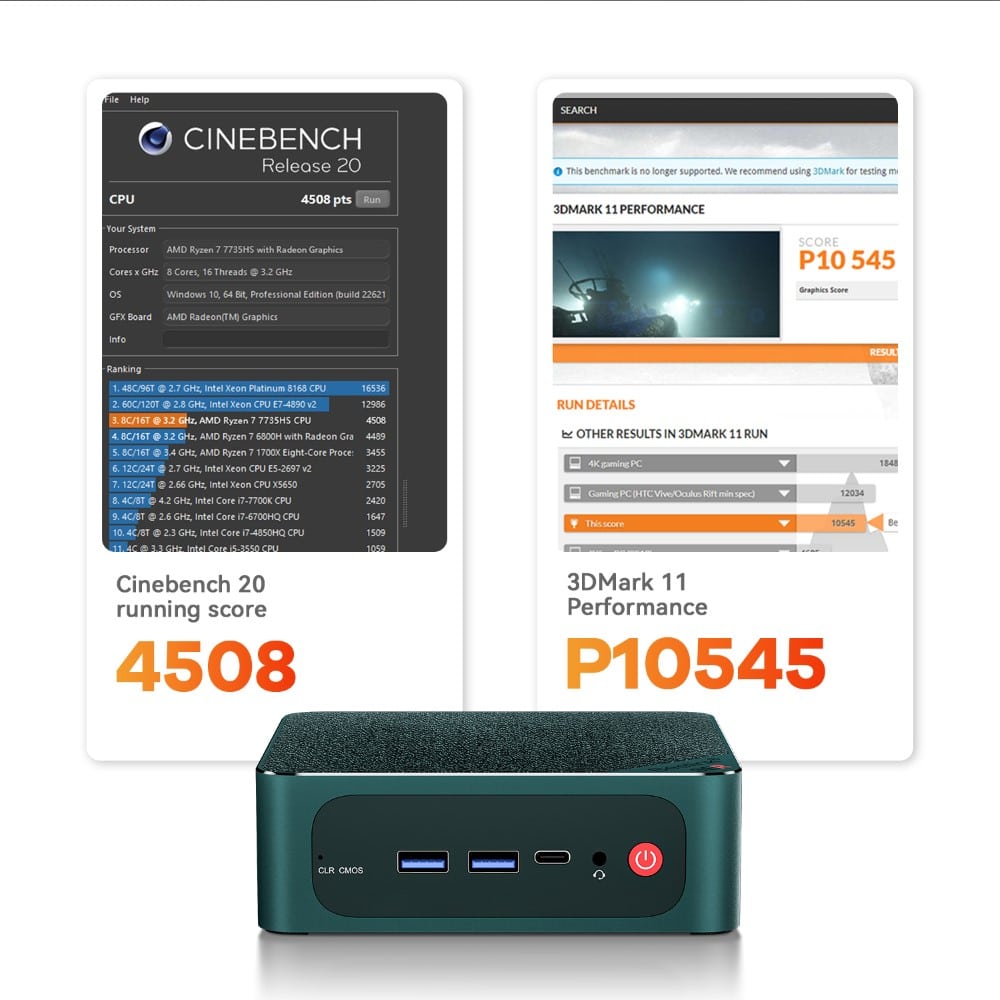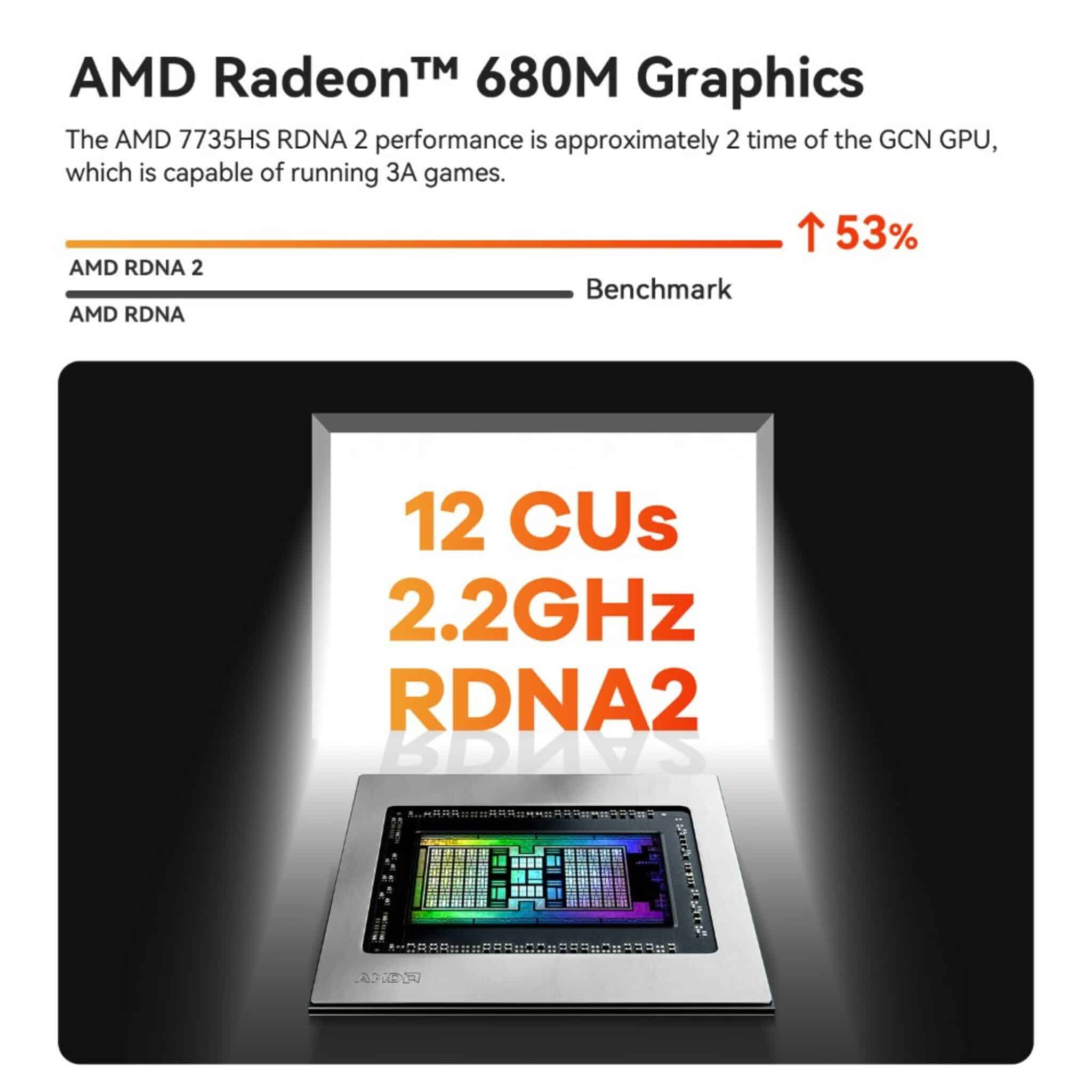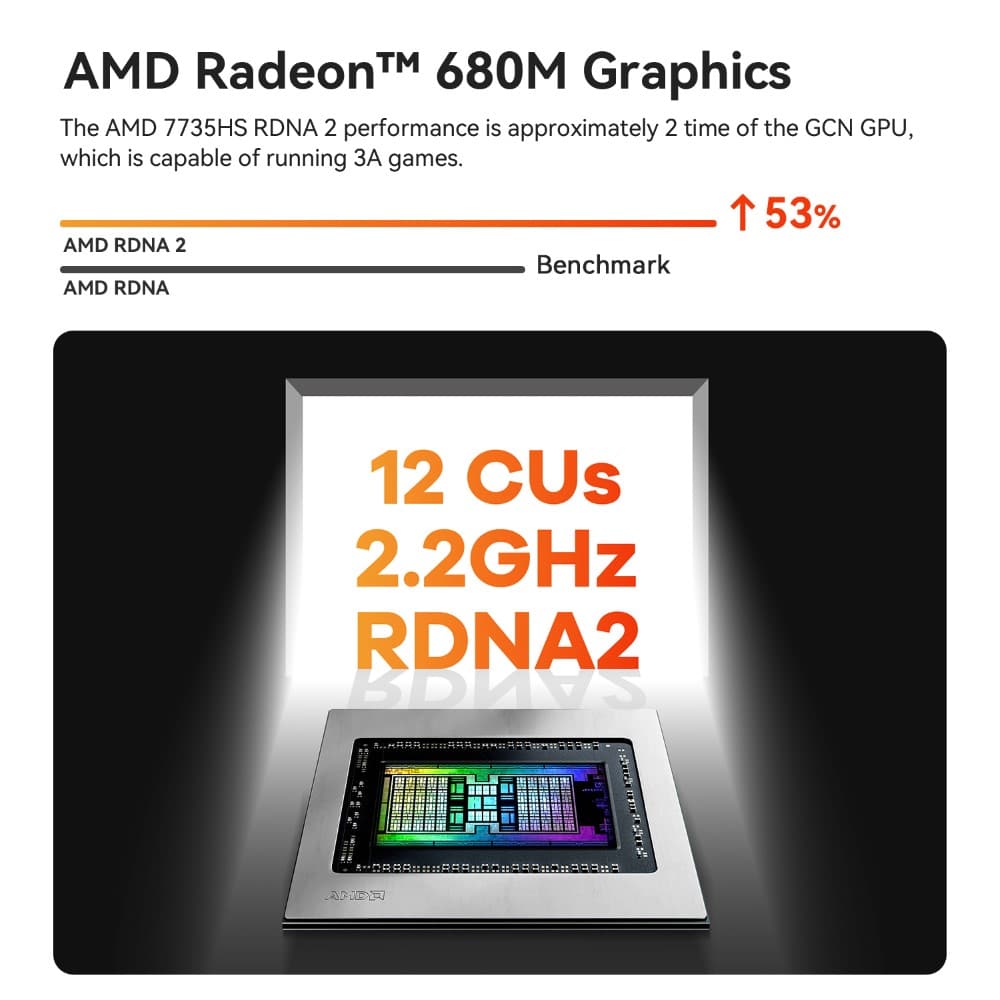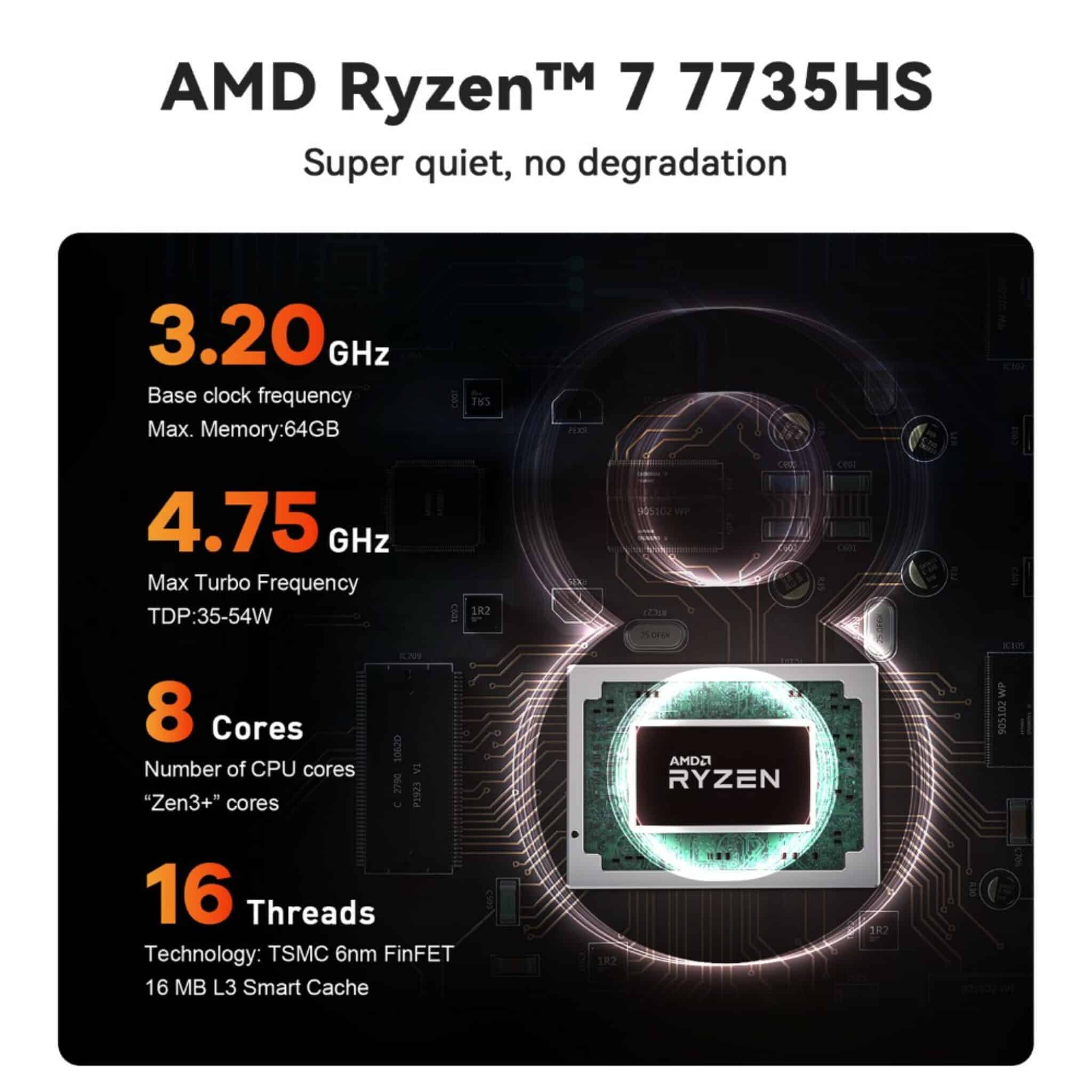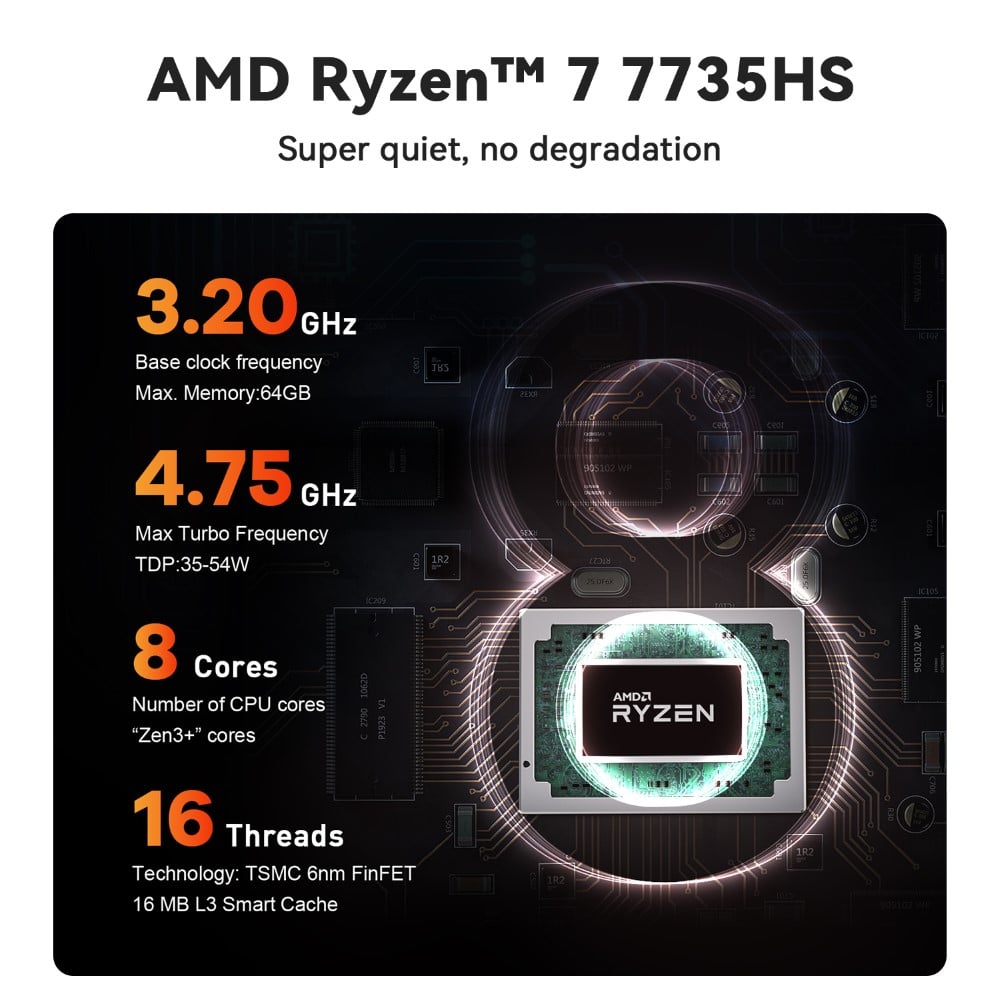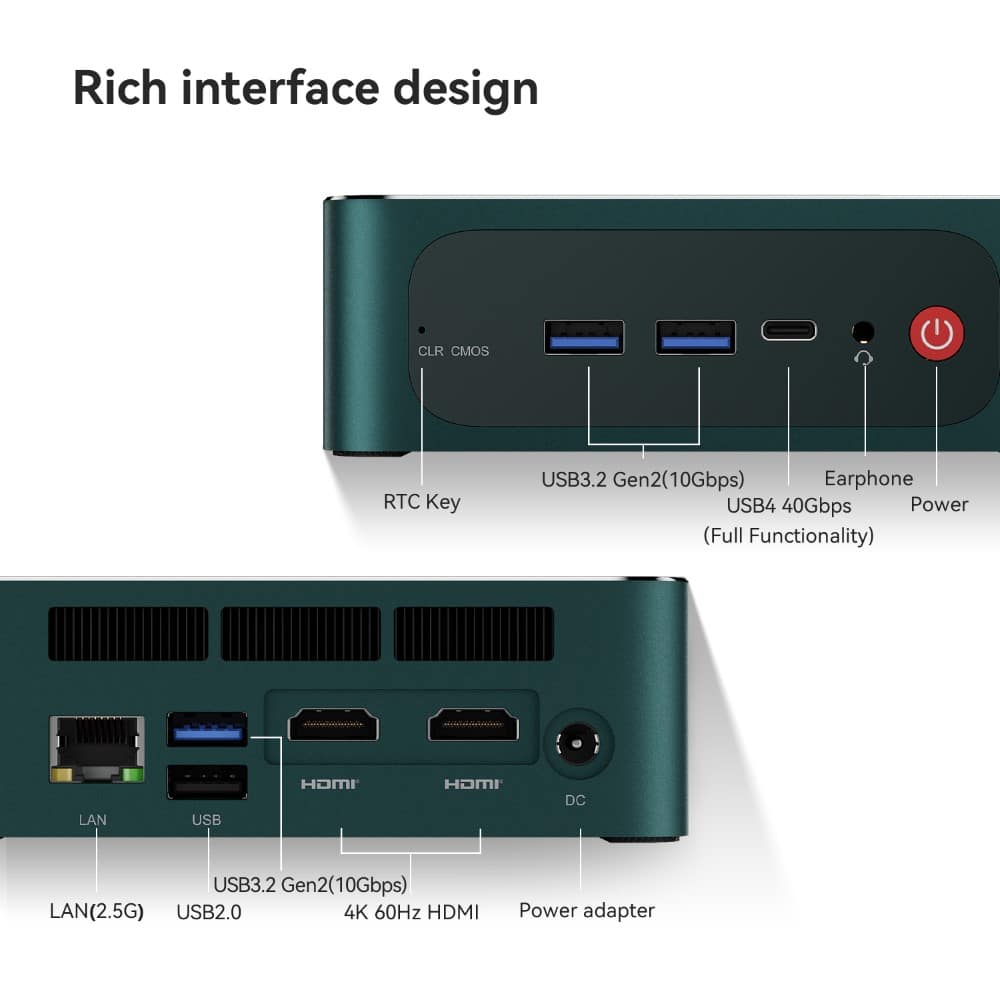 Technical Specifications
Software
OS
Windows 11
Security
PIN/Password
Processor
Brand
AMD
Model
Ryzen™ 7 7735HS
Technology for CPU Cores
TSMC 6nm FinFET
# Cores
8
# Threads
16
Base Frequency
3.2 Ghz
Turbo Frequency
Up to 4.75GHz
L2 Cache
4 MB
L3 Cache
16 MB
More Info
Click Here
Graphics Processor
Interface
Integrated
Brand
AMD
Model
AMD Radeon™ 680M
Frequency
2200 MHz
Graphics Core Count
12
Memory (RAM)
Capacity
32GB
Technology
Single-Channel / Dual-Channel DDR5 SO-DIMM
Speed
DDR5-4800
Storage (ROM)
Capacity
up to 4TB
Technology
M.2 2280 NVMe SSD
Speed
up tp 3500MB/s - R/W
Network
Ethernet
1x RJ45 2.5 Gigabit
Bluetooth
5.2
Wi-Fi
WiFi 6
I/O Interface
USB
3x USB3.2 Gen2 , 1x USB2.0 , 1x USB4
Video
2x HDMI
Audio
1x 3.5mm Jack
Package Includes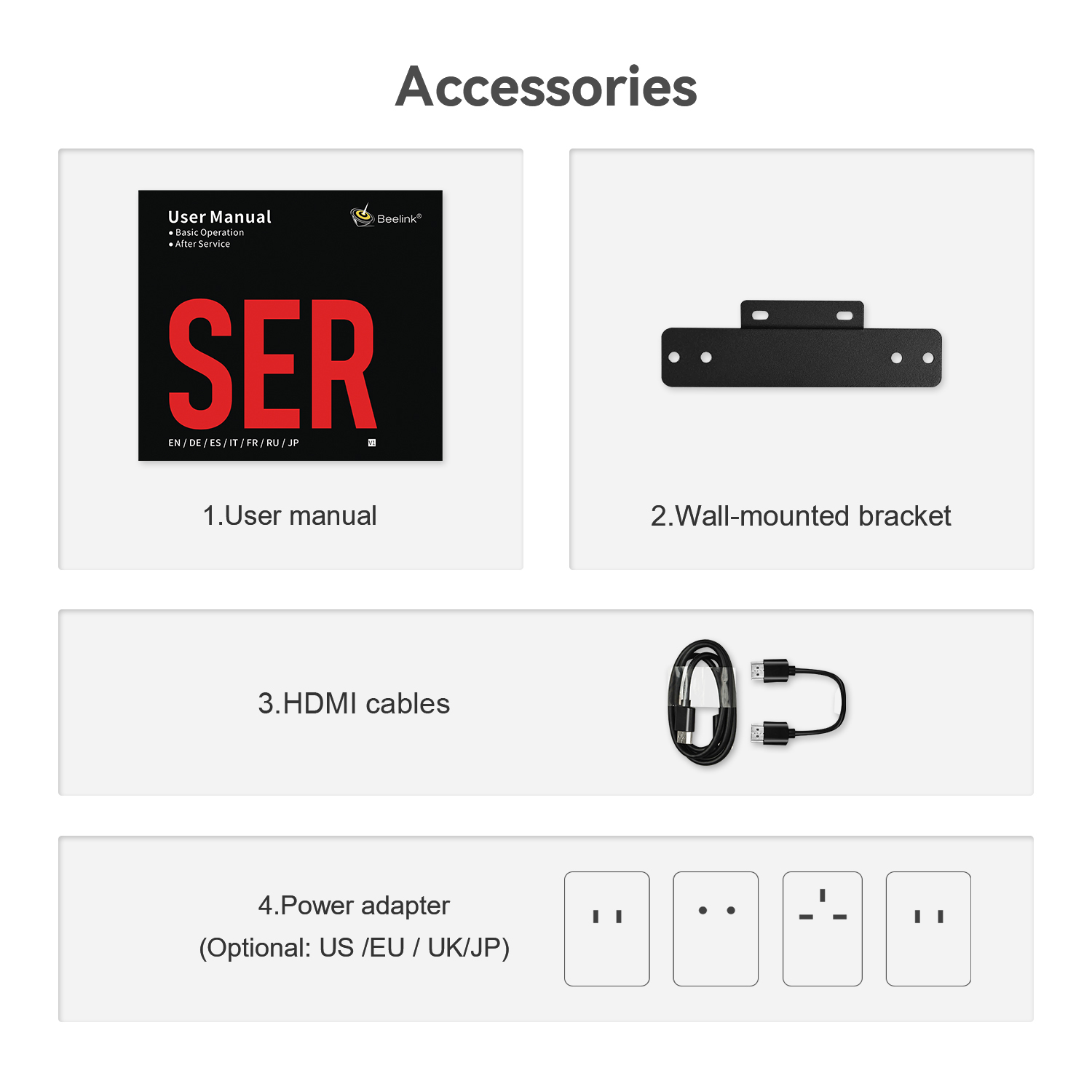 1 * User Manual
1 * Power Supply
1 * HDMI Cable
1 * Mounting Bracket
Please Note
In line with the policy of continued development, the manufacturer reserves the right to amend the specifications without prior notification. The illustrations in the user manual are for reference only.
Reviews
Great, fast Mini PC
Had this SER6 for about a month now.
Despite a few software issues when I first loaded them, it performs very fast. Sometime in the future I hope to do some video editing, so I can't comment on how it performs in that department.
Desktop Publishing creations are a breeze!
Have installed a 4TB extra SSD internal hard drive.
Overall very pleased with my purchase. Thanks Droix!!
Mini PC Beelink ser6
S dodávkou do ČR nebyl žádný problém , vše došlo v pořádku.Mini PC Beelink ser6 pro pracuje také dobře a zatím nemám důvod být nespokojený.
+ tichý chod
+ rychlost
+ malé rozměry
+ dobrá konektivita
+ cena
- menší disk, ale to není problém si přidat :-)
BeeLink SER PRO
Its tiny and very neat. It has freed up a large amount of deskspace cf my HP laptop. I would have liked another USB port but it's hard to see where they would have put it. I have not pushed it yet as I am waiting for some new video editing software but it looks good and runs very quietly. The power supply is enormous- does it need 120W ?
Beelink SER6 PRO Gaming Mini PC
£550.95Starting at £441.95 Incl. VATStarting at £368.29 Excl. VAT