ANBERNIC RG353P Retro Gaming Console
High speed RK3566 quad-core 64-bit Cortext-A55 CPU
2GB LPDDR4 RAM and 32GB high speed eMMC storage
Android & Linux Dual OS for the best performance
5G WiFi for downloading apps, browsing and multiplayer
Supports over 20 classic retro gaming consoles
£142.95Starting at £114.92 Incl. VATStarting at £95.77 Excl. VAT
Description
The ANBERNIC RG353P retro gaming console is inspired by the classic retro gaming controller design available in USA purple theme and Japanese & European colour themes.
The RG353P retro handheld emulator features a 3.5" IPS touchscreen display with a 4:3 640×480 resolution which is perfect for retro games. It is powered by the RK3566 quad-core 64-bit Cortext-A55 CPU with a frequency up to 1.8Ghz for high performance gaming.
There is 2GB of RAM and 32GB high speed eMMC 5.1 storage for both the Android operating system. And 16GB Micro SD Card for the Linux operating system. A second Micro SD Card slot is used for the game and file storage. The RG353P features a 3,500mAh li-polymer battery which lasts for up to six hours depending on the usage.
Gaming controls are particularly important and the RG353P covers all angles from pixel perfect D-Pad precision and 3D action clickable dual analogue sticks. There are four front facing gaming buttons, and on the top are shoulder and trigger buttons.
For wireless communication there is fast 802.11 a/b/g/n/ac 2.4/5G WiFi and Bluetooth 4.2. You can use this to connect the retro handheld emulator to the internet for access to the Google Play Store, browse the web or watch videos on YouTube. With RetroArch and compatible cores, you can connect to other gamers online via WiFi and play your favourite multiplayer retro games.
If you are at home and want to play on a larger screen, the RG353P retro console makes this a breeze. Simply connect a compatible HDMI cable to your TV or monitor for big screen gaming. It works very well and looks great!
The RG353P retro handheld emulator supports dozens of your favourite systems including PSP, Dreamcast, PS1, CPS1, CPS2, Final Burn Alpha, NeoGeo, Mega Drive/Genesis, Master System, MSX, PC Engine, WonderSwan and many more.
As well as emulation and retro gaming, the RG353P retro console supports Android apps meaning that you can download and install Android apps just like you would on your Android phone. This opens access to thousands of apps and games from the Google Play Store for example. The RG353P retro gaming console has built in screen mapping software which allows you to simulate screen presses via the built-in controls and makes gaming far easier than tapping on a screen.
The RG353P retro gaming console is the perfect choice for those who want to play their favourite retro games either while on the go such as your daily commute or want to kick back and enjoy some gaming on the big screen.
You can read our in-depth RG353P review here.
Technical Specifications
Operating Systems (OS)
Primary (eMMC)
Dual OS: Android 11, LINUX
Processor
Model
RK3566 Quad-Core 64
# Cores
2
Frequency
1.80 Ghz
WIFI/Bluetooth
WiFi
2.4/5G WIFI 802.11a/b/g/n/ac
Bluetooth
Bluetooth 4.2
Display
Panel Technology
IPS Display
Touch-Screen
✓
Size
3.5 inch
Screen Resolution
640 x 480
Memory (RAM)
Capacity
2GB
Technology
LPDDR4
Storage (ROM)
Capacity
32GB (eMMC 5.1)
TF card
max to 512GB
I/O Interface
USB
Charging
Video
HDMI
Audio
3.5mm Headphone
Battery
Capacity
3500mAh
Longevity
6 Hours (Depending on usage)
Package Includes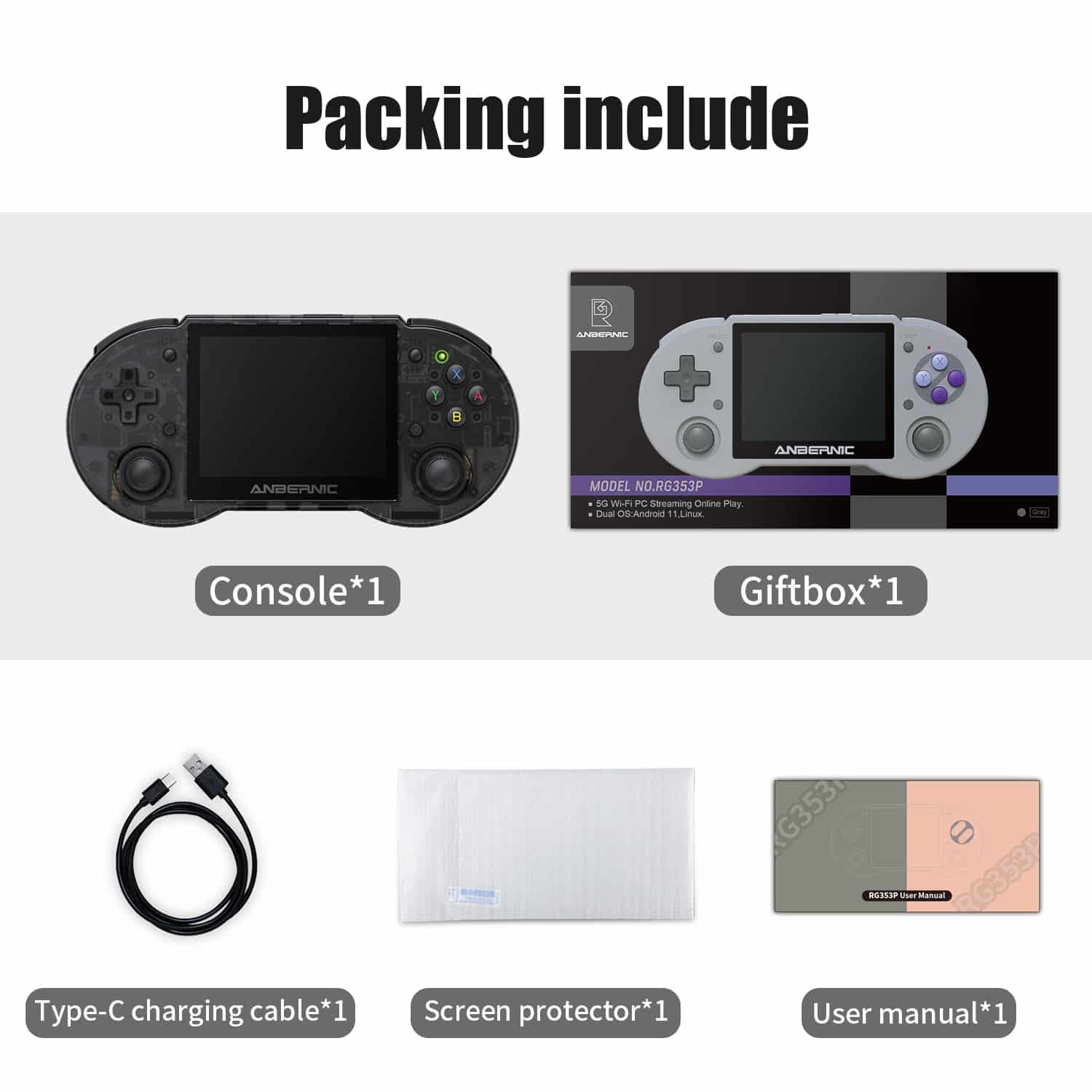 1 * RG353P Console
1 * User Manual
1 * Screen Protector
1 * Type-C Charging Cable
Please Note
In line with the policy of continued development, the manufacturer reserves the right to amend the specifications without prior notification. The illustrations in the user manual are for reference only.
Reviews
Great form factor
Really enjoy this device, far more sturdy than my RG35XX. Stock firmware is good, having options of others to add ma hones is great. Form factor is really comfortable and small enough to take anywhere. Got case at same time, perfect fit for it.
The One
This might not be the best chipset out there, but this is exactly the console I have been waiting for - a SNES controller with a screen in the middle and analogue sticks! Plays everything I would hope for, feels amazing, looks perfect.
Great console great design!
Great console great design!
It takes some work, but exceptional device...
Great controls, beautiful screen, very compact, amazing battery life, very easy to use Linux stock-firmware and generally speaking, you could use this straight from the box, within seconds.
But I'd recommend you at least replace the supplied memory cards, with better quality branded ones.
And if you have the time, I would also recommend installing JELOS to replace the stock Linux firmware, and also update the Android to the Anbernic released version (although I never use the Android myself).
I have encountered one small issue though.
The Linux boot up, whether the stock firmware or JELOS do not boot up each time you turn it on. Sometimes it takes a "reset" to make it work. Not the worst issue ever, but a small bit frustrating. Unsure if hardware issue or firmware.
Very solid device. You'll want
Very solid device. You'll want to use your own SD card with a new OS but it's easy.
ANBERNIC RG353P Retro Gaming Console
£142.95Starting at £114.92 Incl. VATStarting at £95.77 Excl. VAT
You may also like…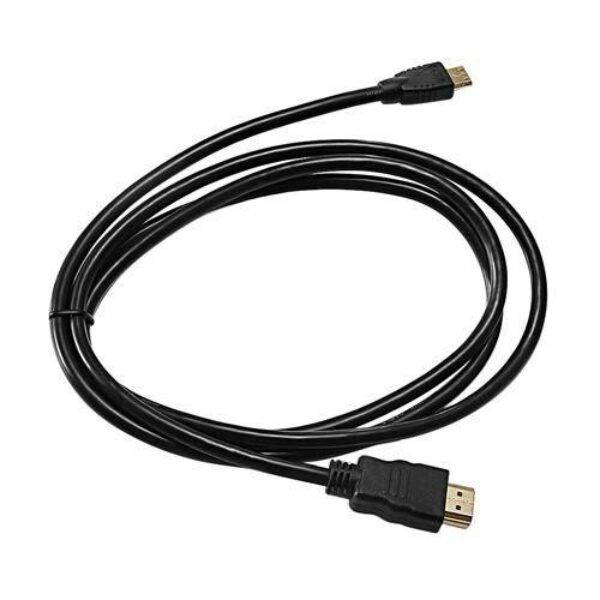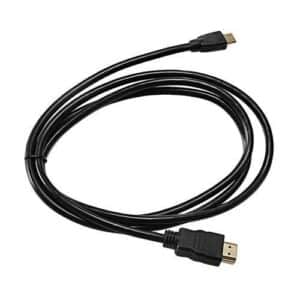 Designed for all Mini-HDMI Devices
Supports up-to 4K
£

7.49 Incl. VAT
£

4.99 Incl. VAT