ANBERNIC RG35XX V2 Handheld Gaming Console
ARM Cortex-A9
PowerVR SGX544MP GPU
Linux Dual OS: (Official system+GarlicOS)
HDMI output TV
3.5-inch IPS full viewing angle
£67.95Starting at £54.93 Incl. VATStarting at £45.78 Excl. VAT
Description
The RG35XX is an amazing budget retro gaming handheld that plays many of your favourite classic consoles.
The RG35XX features the Actions ATM7039S quad core processor running up to 1.6GHz with a quad core PowerVR SGX544MP GPU. Combined they provide enough performance for all 4th generation gaming consoles and some newer ones. The retro gaming handheld comes with 256MB DDR3 RAM which is more than enough for the OS and emulator for the gaming consoles it supports.
The 3.5" IPS display runs at a 640×480 resolution at 4:3 aspect ratio which is perfect for retro gaming. The RG35XX display looks bright and colourful and not so small it is hard to see any detail. HDMI output to a monitor or TV is supported via the Mini HDMI port found on the top of the retro gaming handheld, it also upscales your games to 720P on your big screen.
There is an included 64GB Micro SD card with the RG35XX which contains the Linux based operating system and game storage. A second Micro SD card up to 512GB can be used for additional game storage on the retro gaming handheld. The RG35XX now also supports dual OS, allowing you to either use the official OS or GarlicOS
The RG35XX retro gaming handheld has a classic style D-Pad with the standard gaming buttons. On the back on the handheld are four additional buttons which can be used in supported emulators.
There are sixteen classic gaming systems supported on the RG35XX retro gaming handheld. You can relive or discover amazing games up to the fourth generation of consoles, also including Arcade and PS1.
Measuring only 3.18 x 4.6 x 0.7 inches (8.1 x 11.7 x 2.0 cm) and weighing just 165g, the RG35XX is very light and portable, fitting into a pocket or small bag. With the 2600mAh rechargeable battery inside the retro gaming handheld you get up to 5 hours battery life depending on the emulator you are playing.
Read our full RG35XX review here.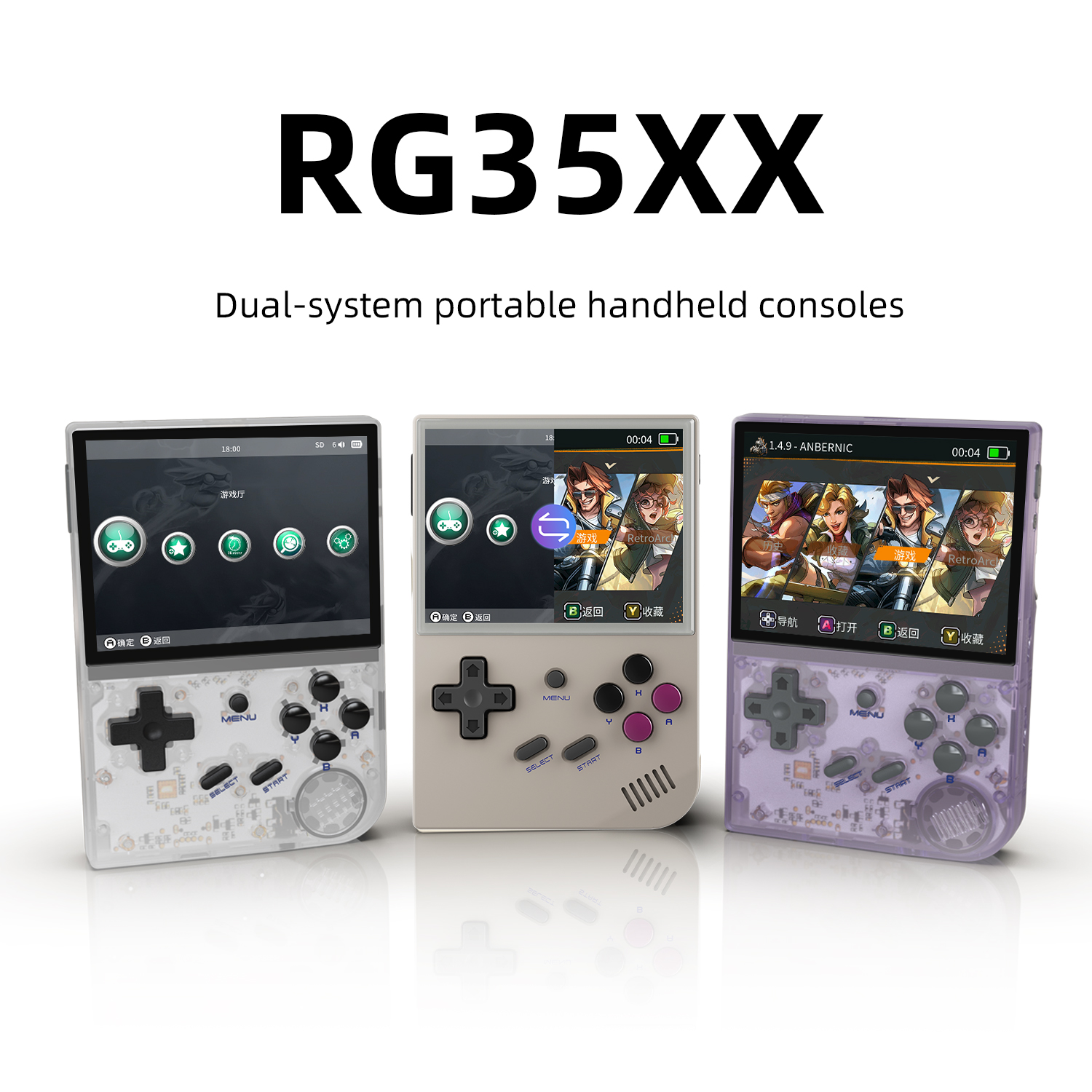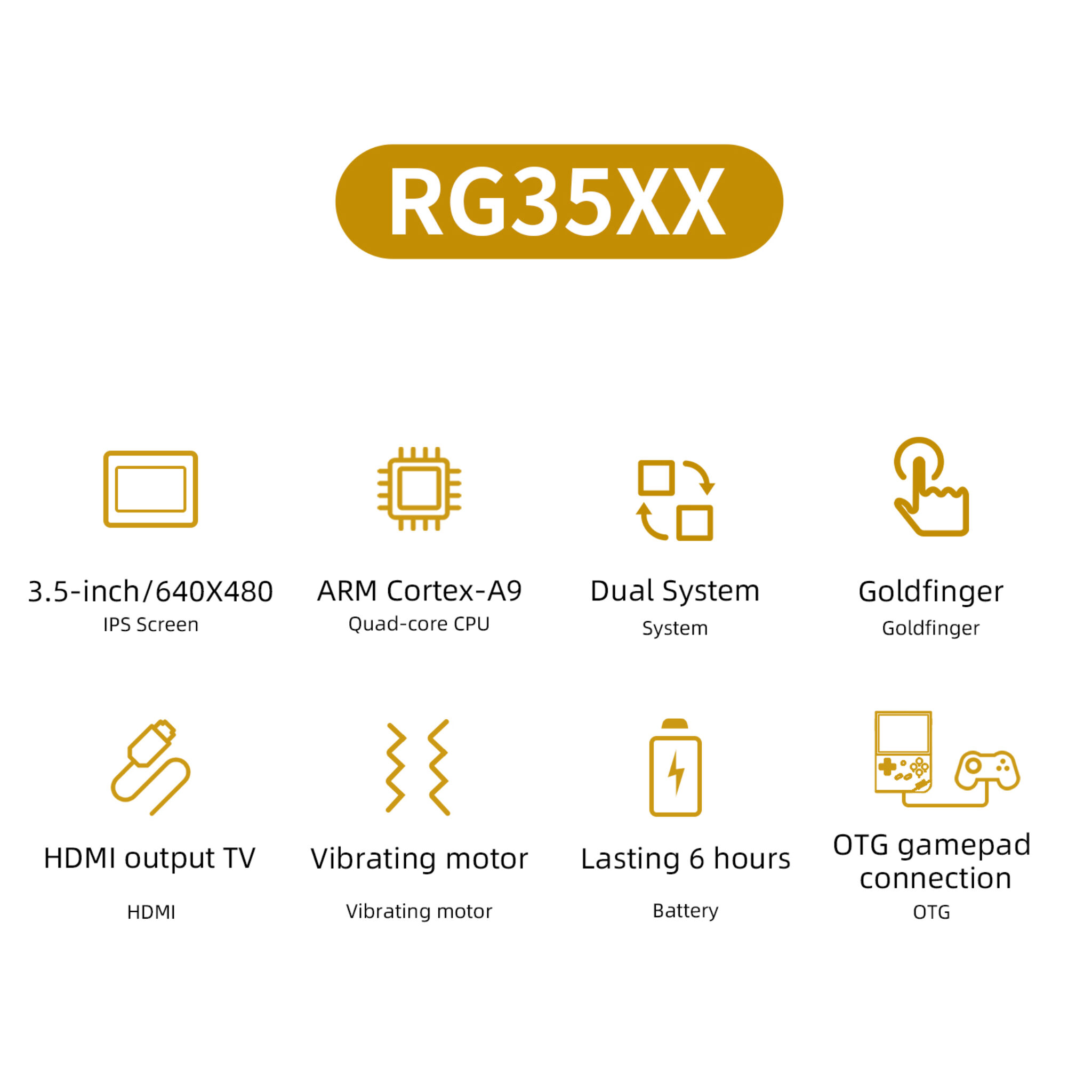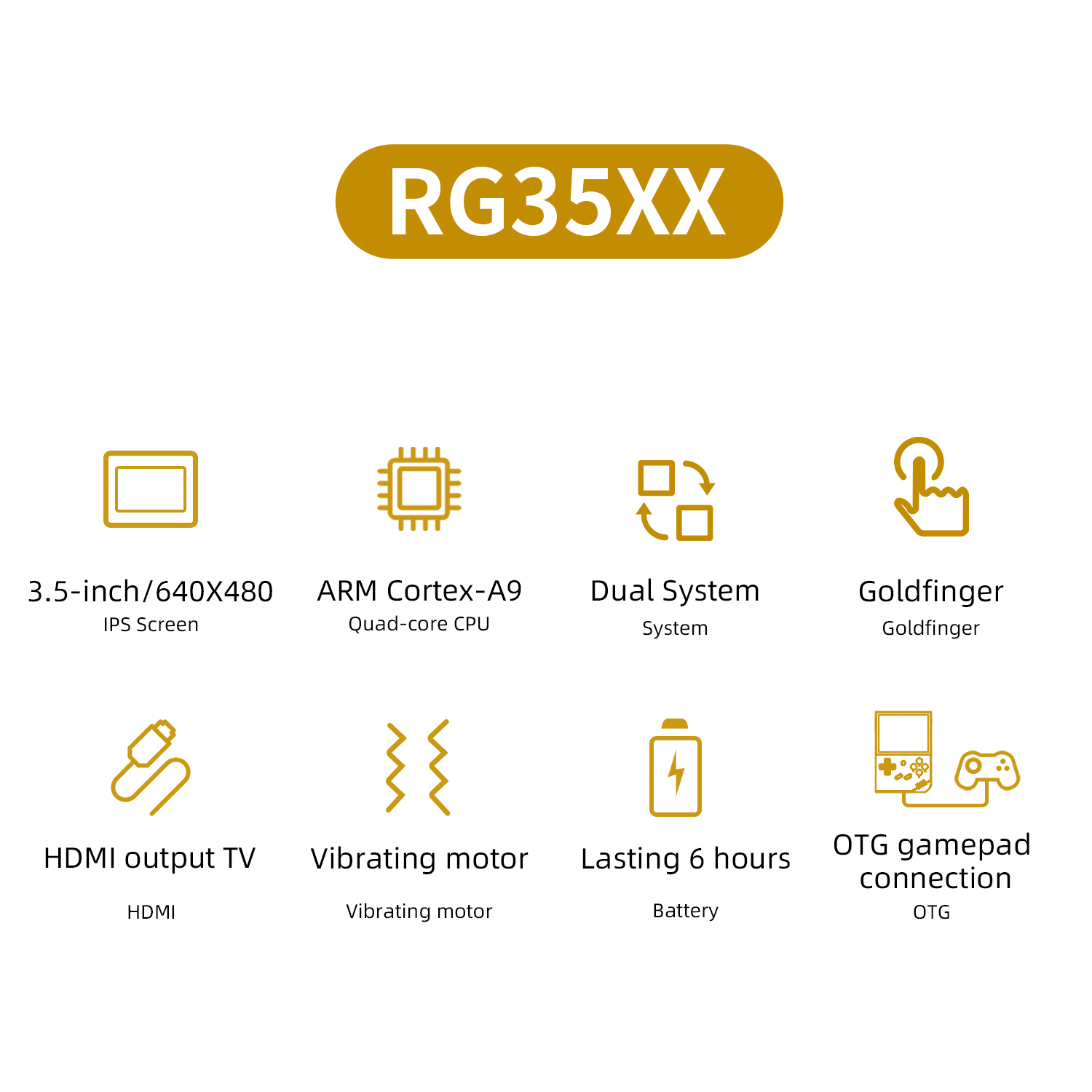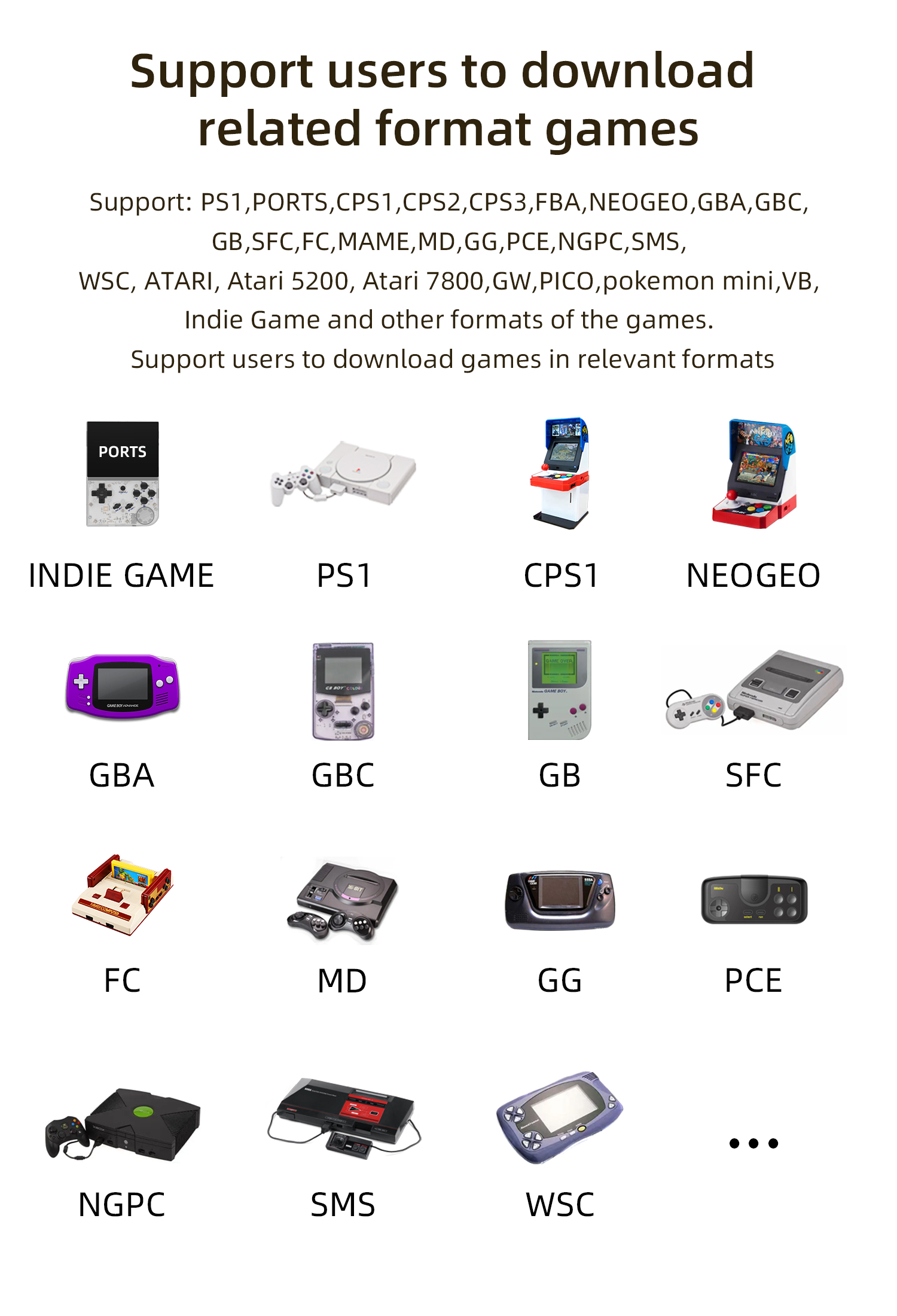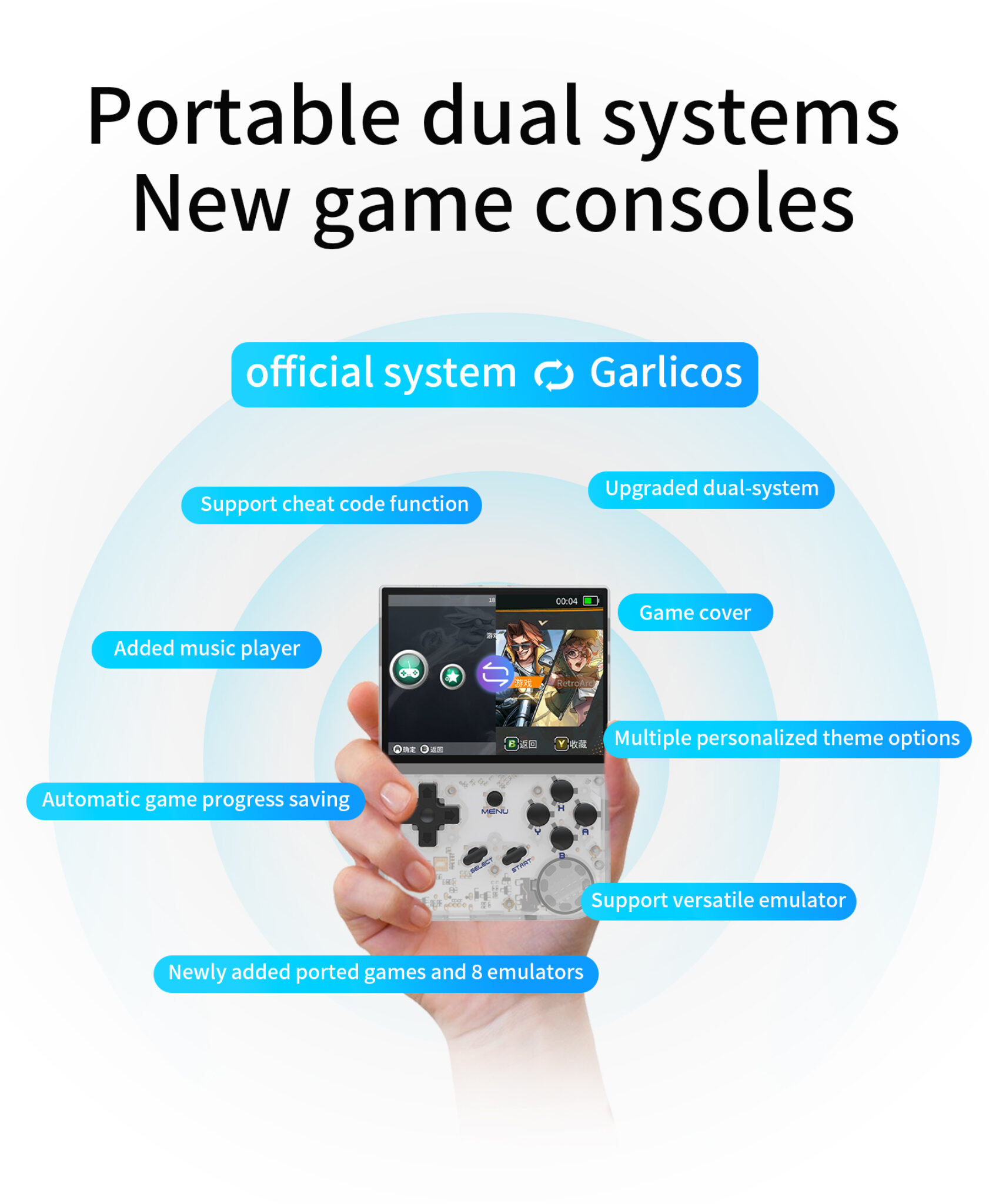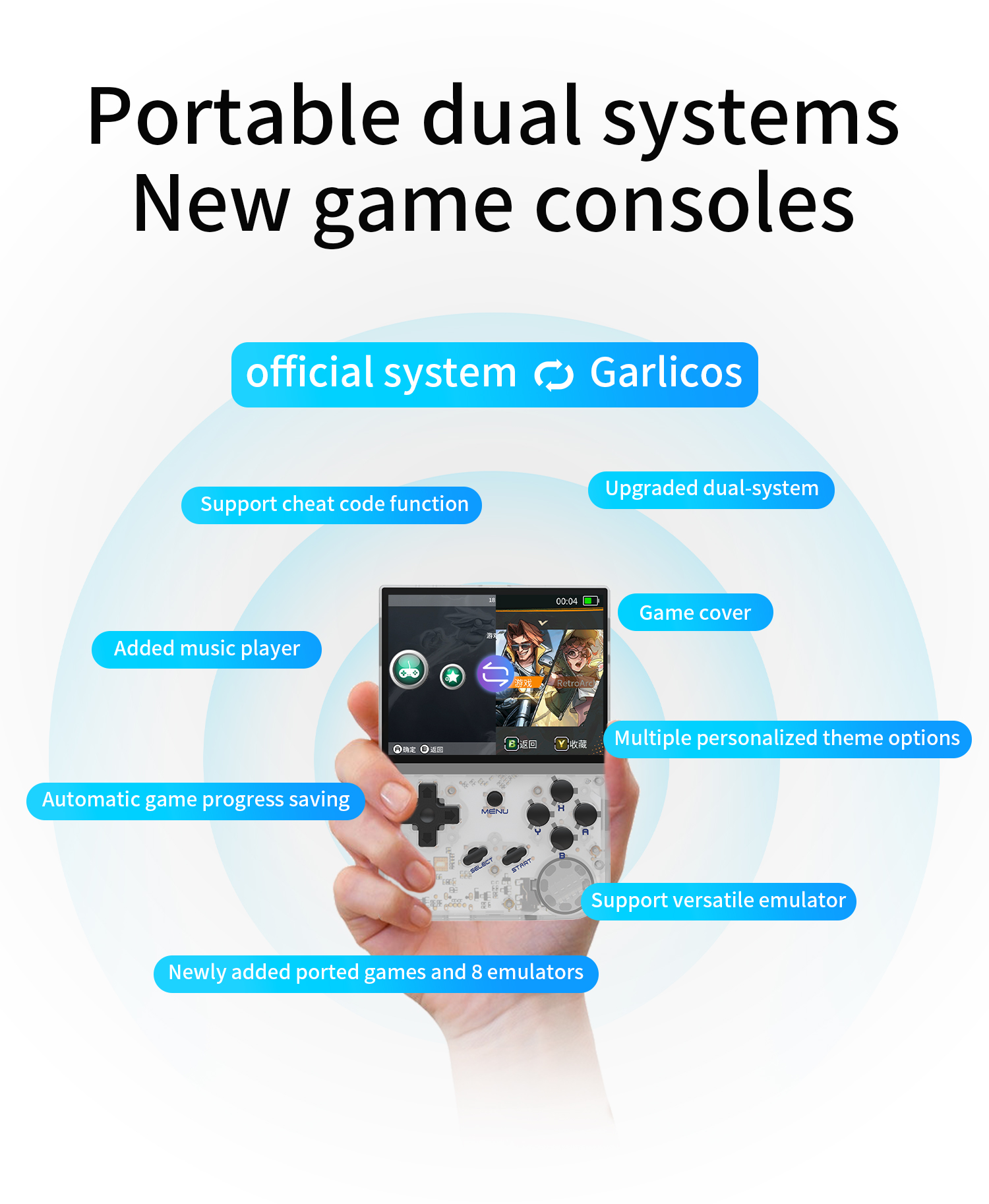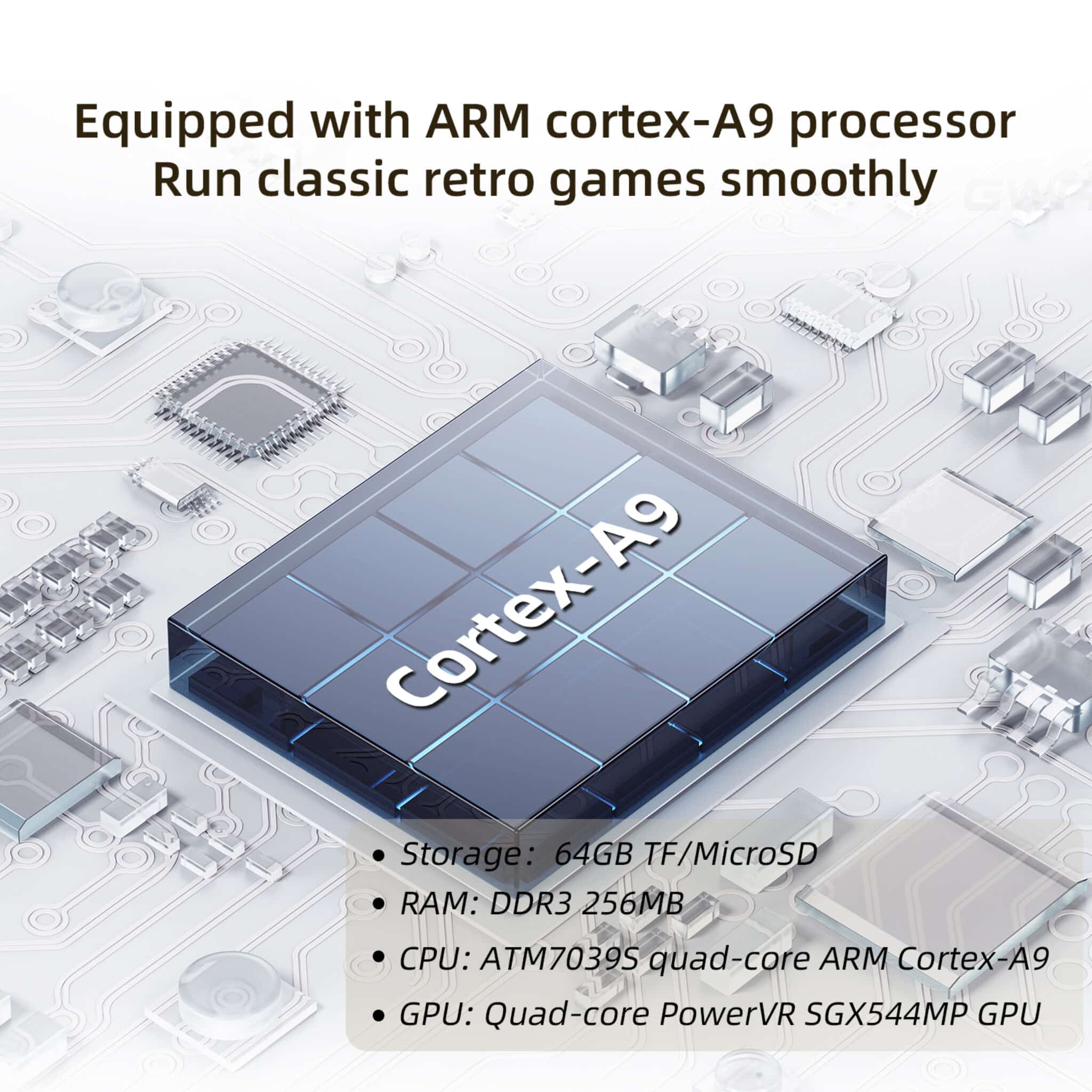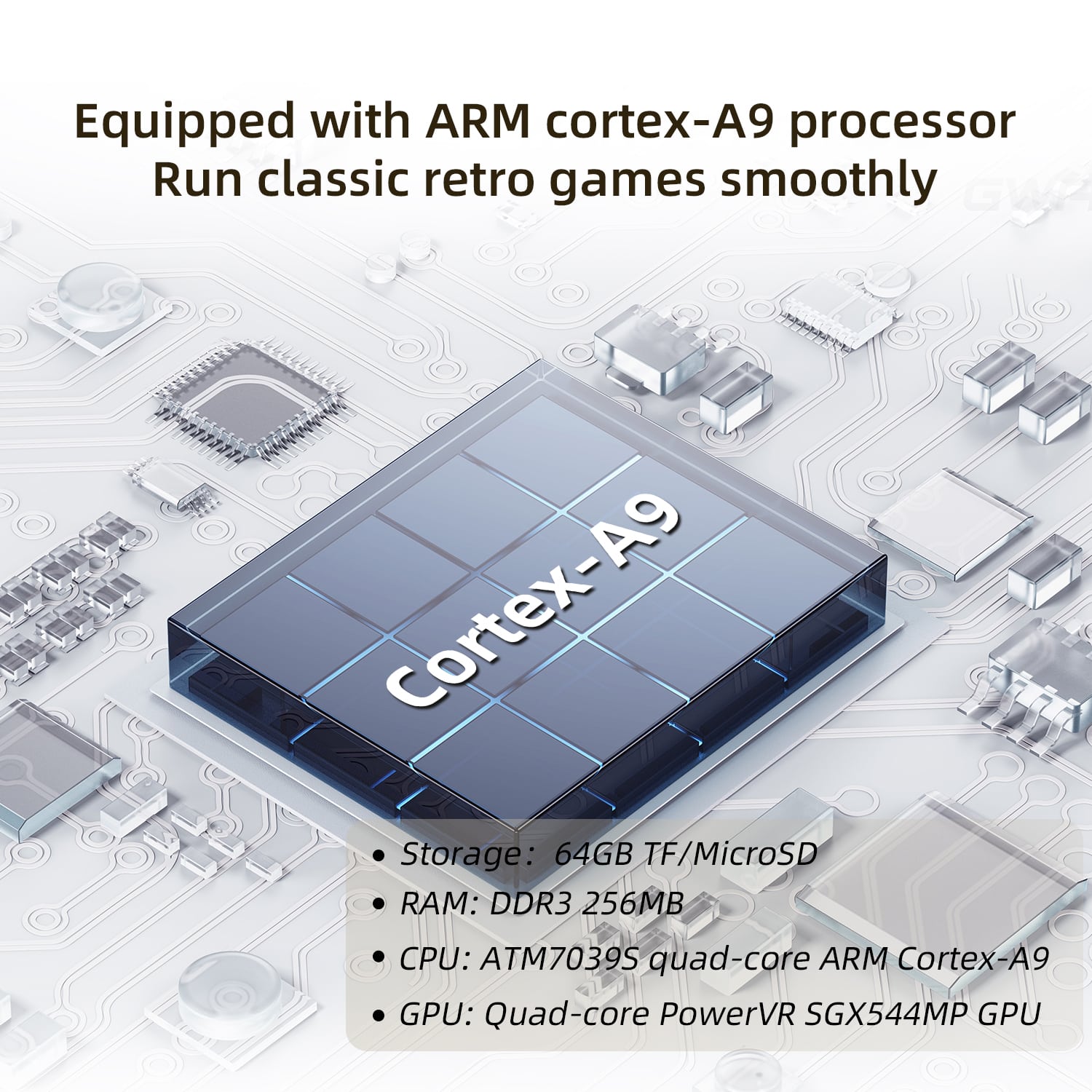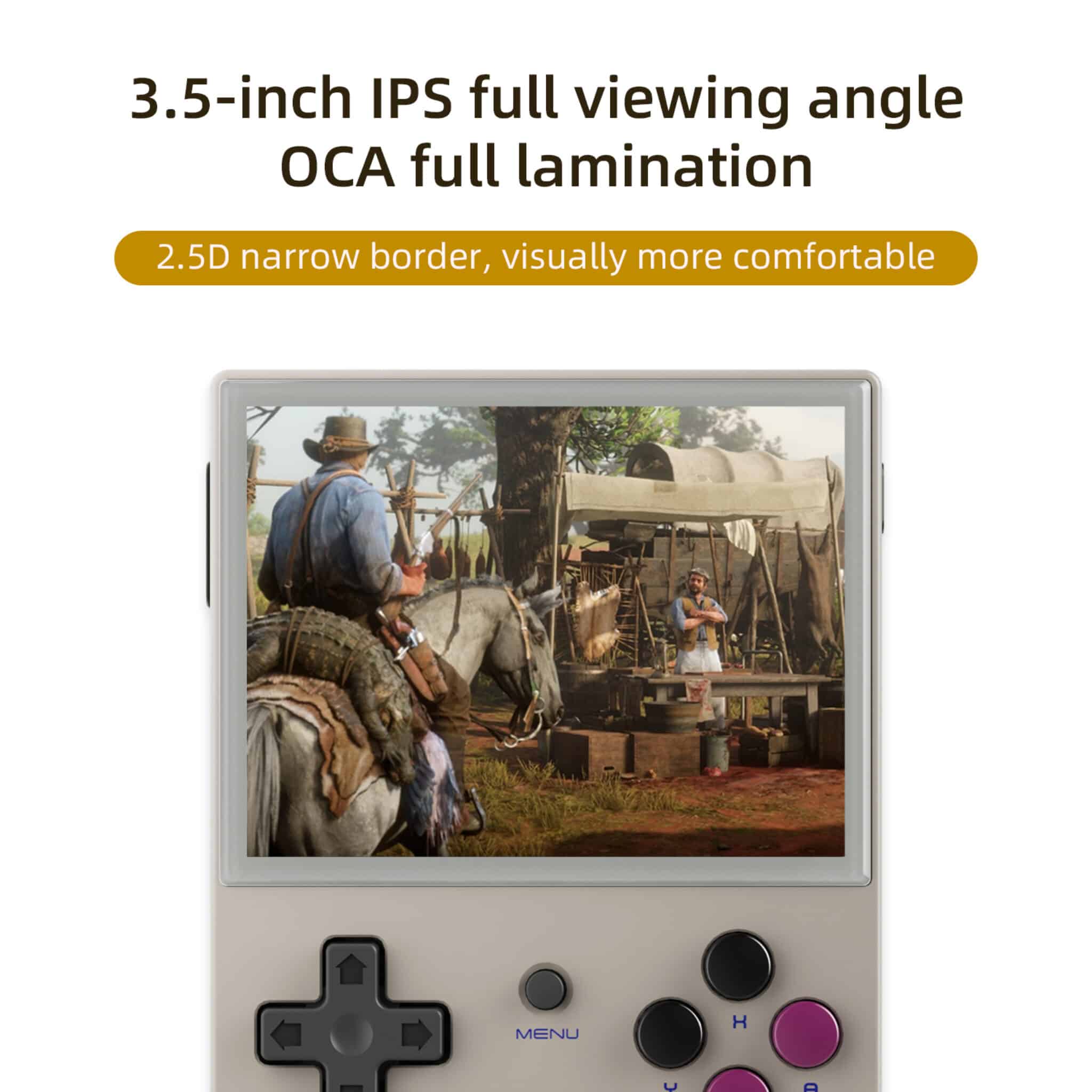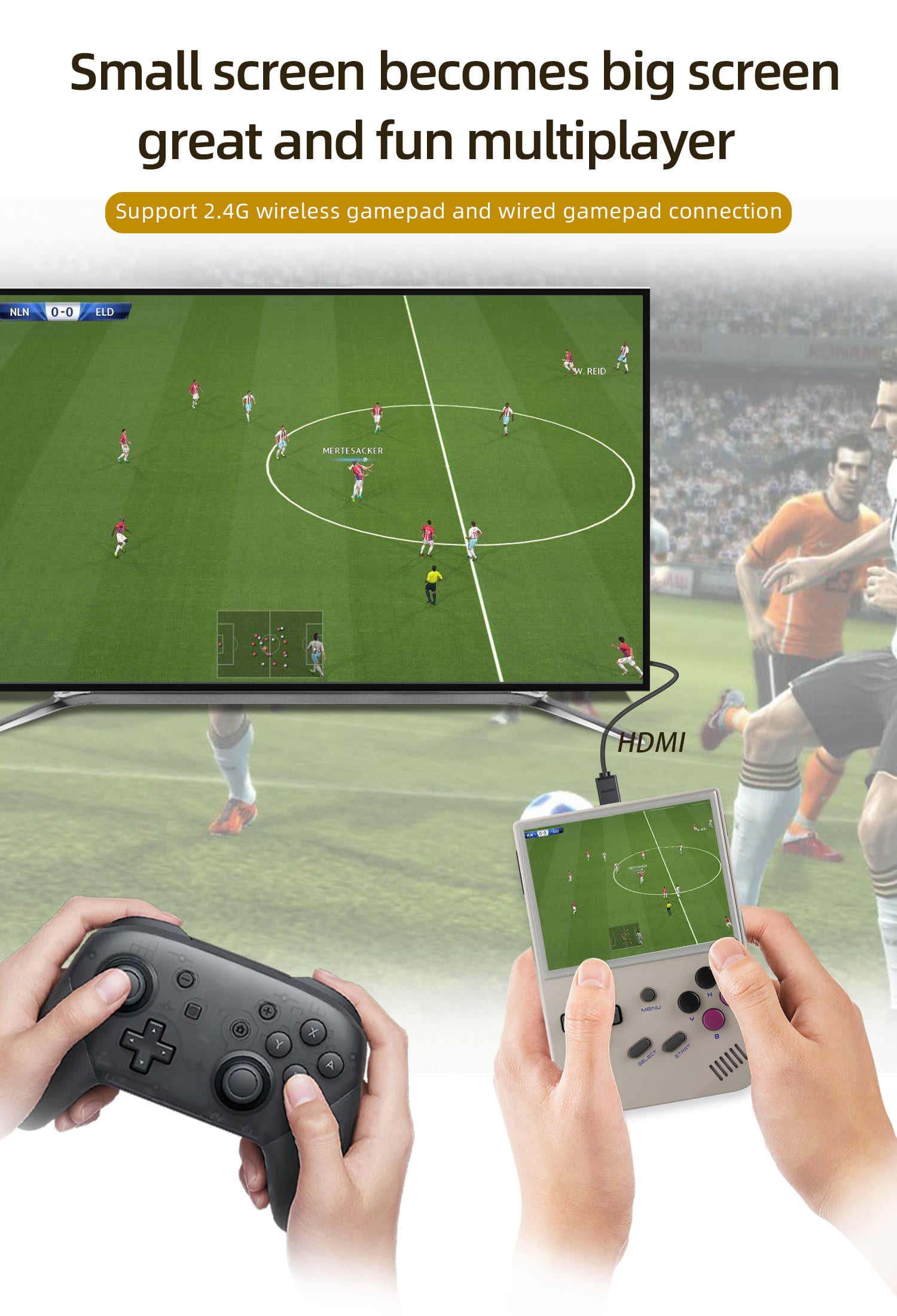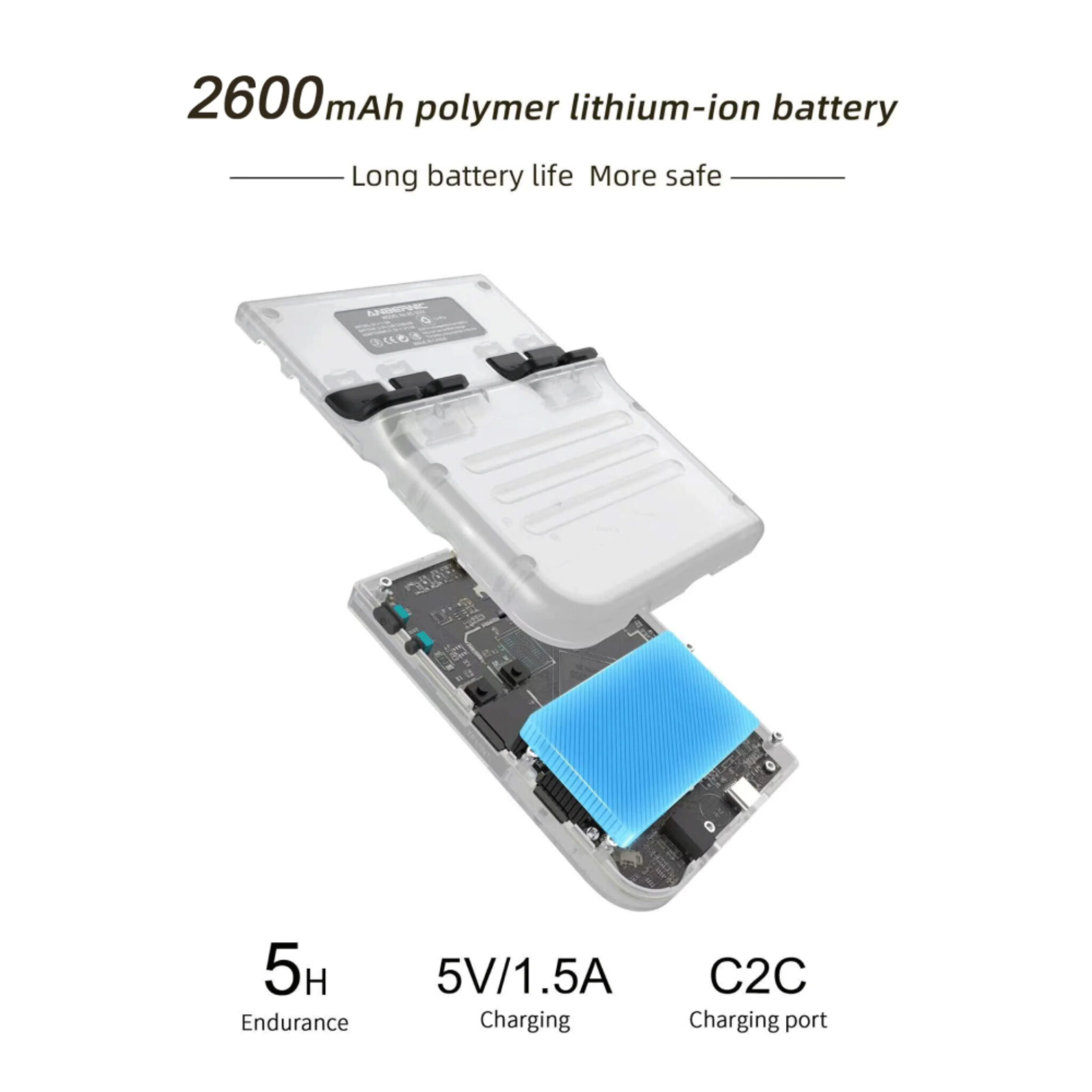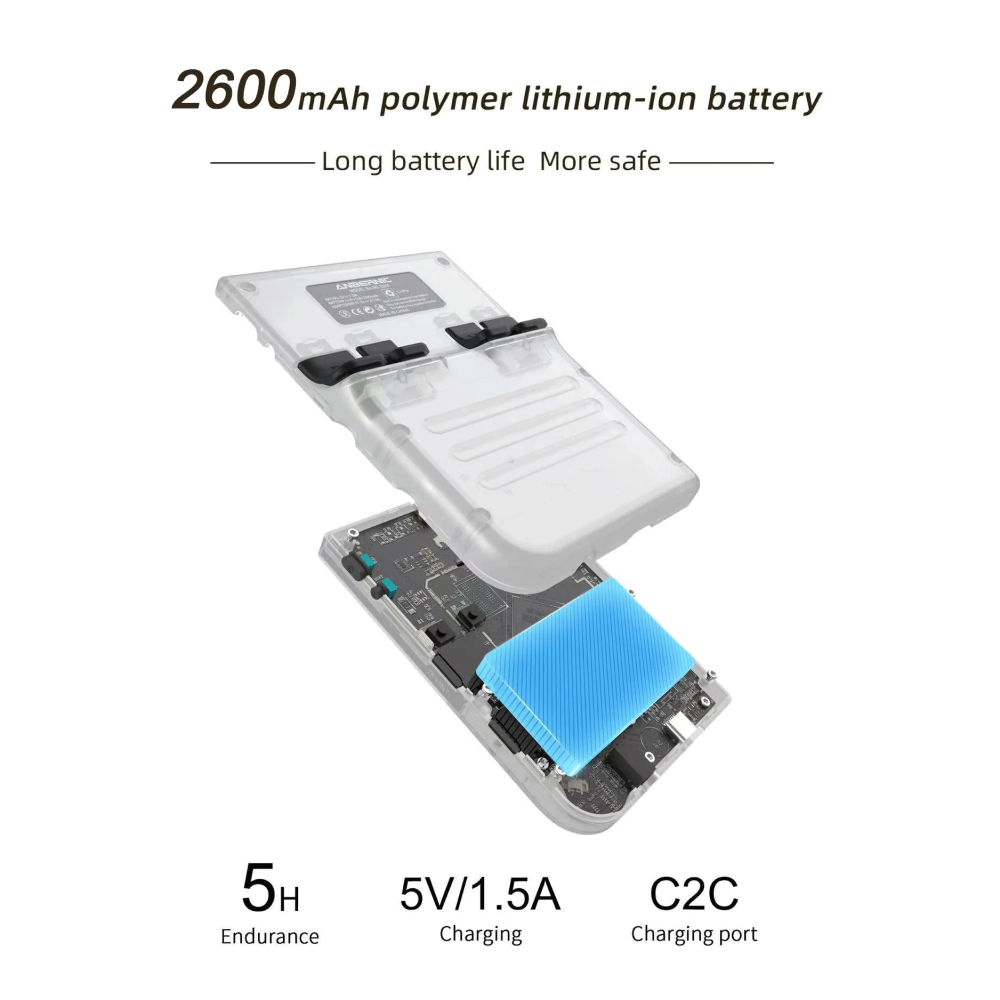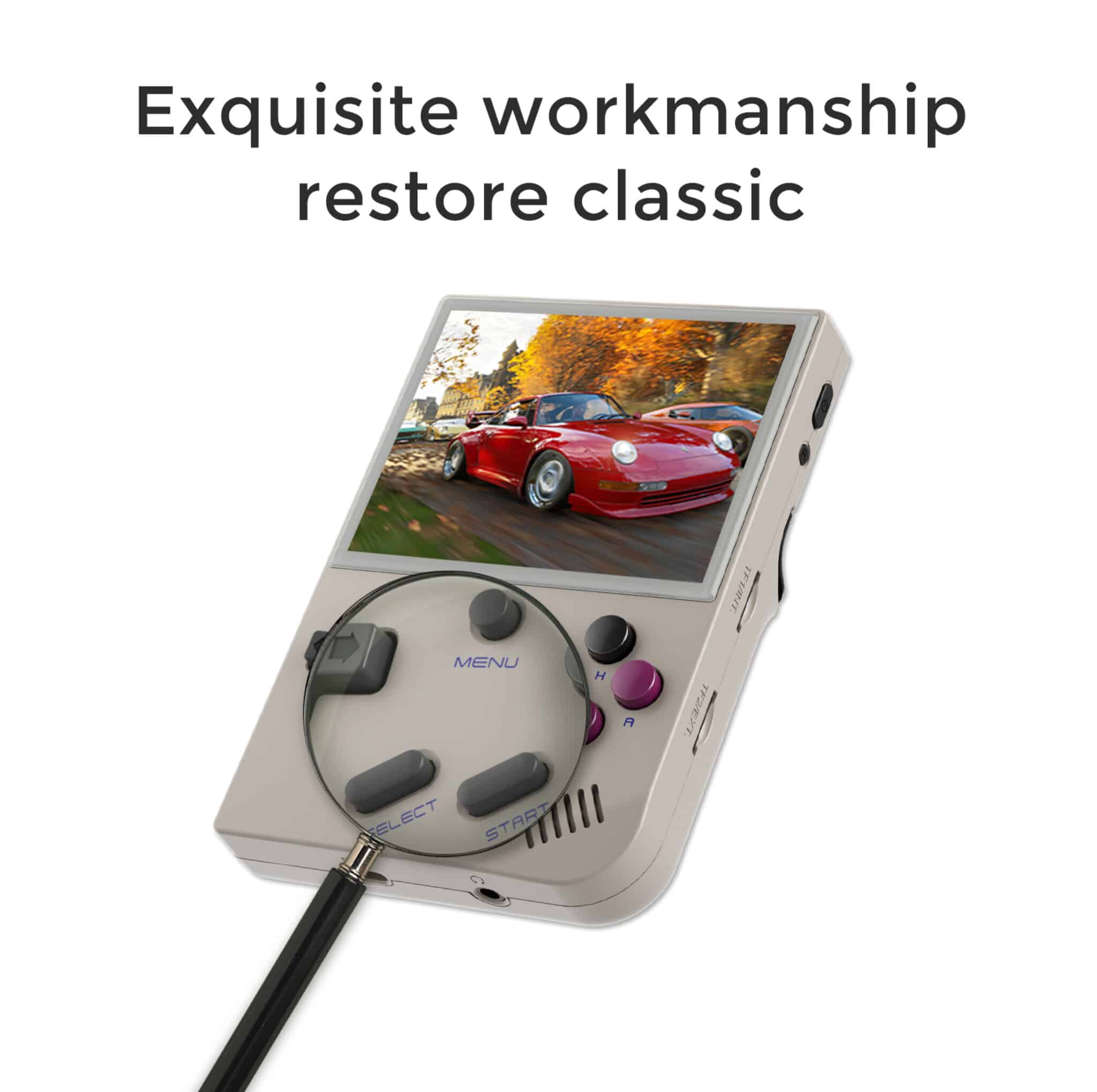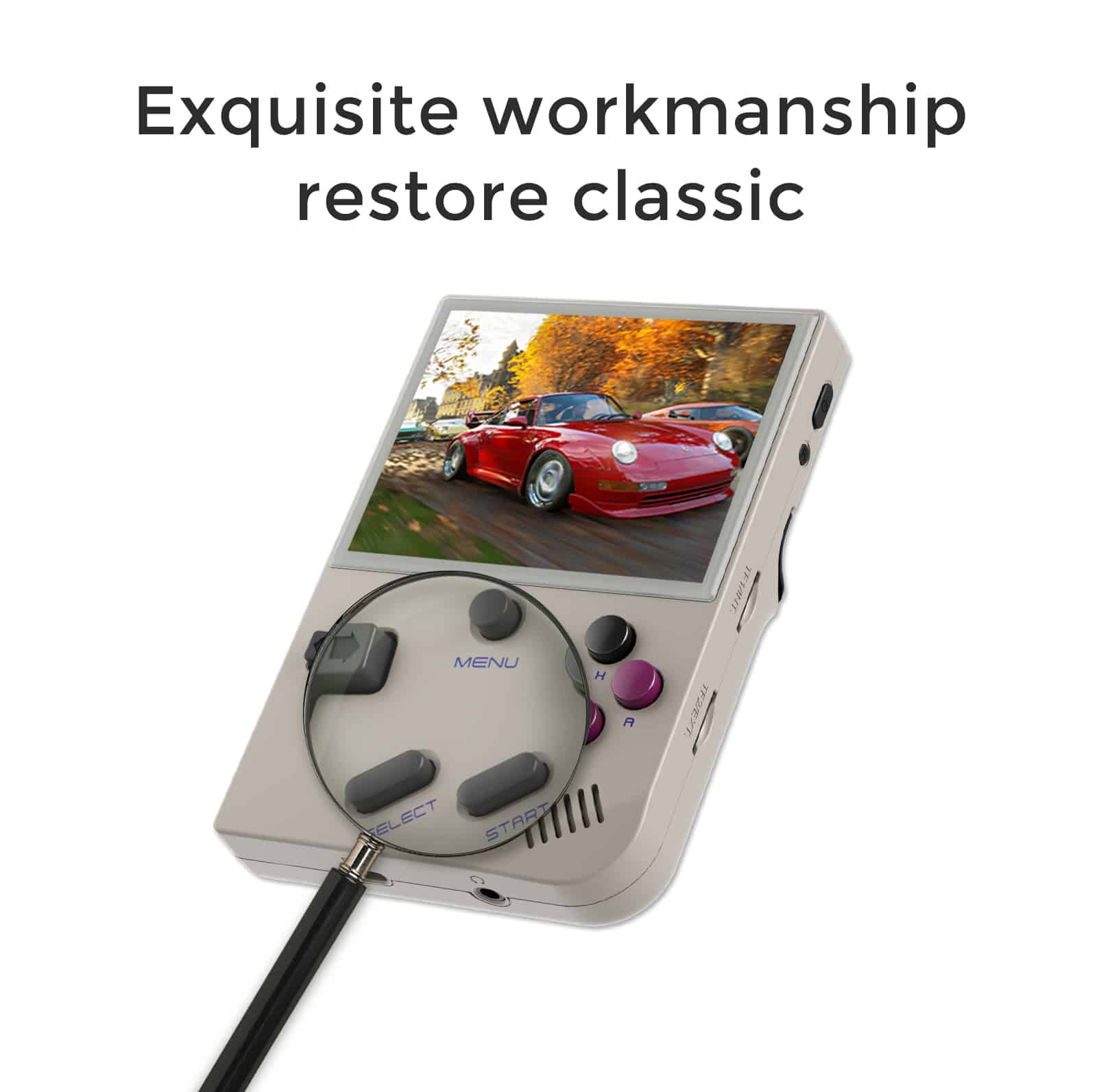 Technical Specifications
Software
Operating System
GarlicOS, Linux
Dual Boot
Yes
Processor
Processor (CPU) Brand
Cortex
Processor (CPU) Cores / Threads
4 Cores / 4 Threads
Processor (CPU) Max Frequency
Up To 1.60Ghz
Processor (CPU) Model
A9
Graphics Card (GPU)
Graphics (GPU) Brand
PowerVR
Graphics (GPU) Max Frequency
Up To 450 Mhz
Graphics (GPU) Model
PowerVR SGX544MP
Display
Aspect Ratio
4:3
Pixels/Inch
228 PPI
Resolution
640×480
Size
3.5 Inch
Touchscreen
No
Memory/Storage
Memory (RAM) Capacity
256MB
Memory (RAM) Technology
LPDDR3
Storage Capacity
64GB via Included Micro SD Card
Storage Expansion
1x Micro SD Card Slot
Storage Technology
Micro SD
Ports
I/O Audio
Output: 1x 3.5mm Headphone Jack
I/O USB
1x USB Type-C
I/O Video
1x Mini HDMI
Battery
Battery Capacity
2600 mAh
Battery Life
Gaming: Up To 5 Hours
Battery Type
Li-Ion
Package Includes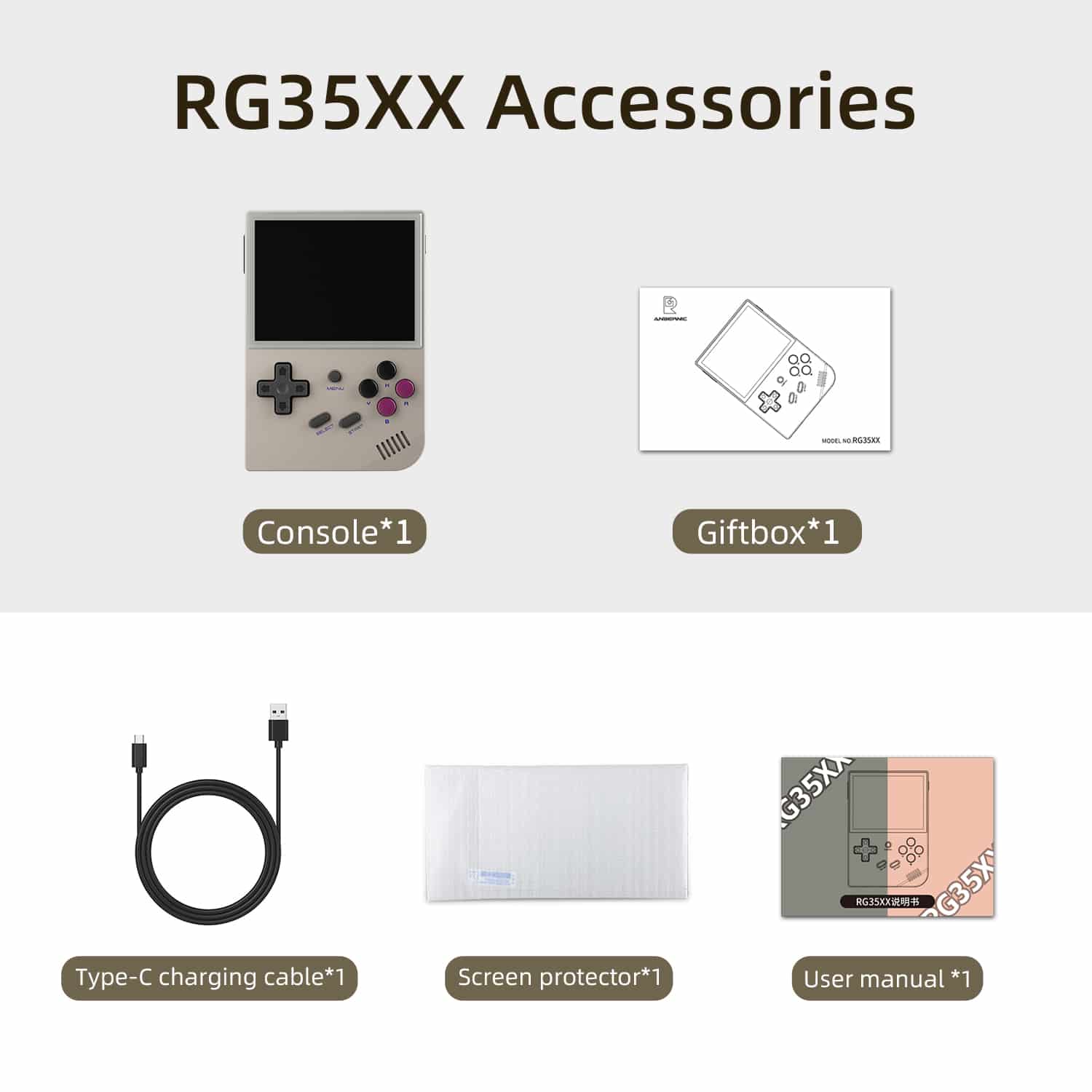 1 * USB Type-C Cable
1 * Power Adapter
1 * User manual
Please Note
In line with the policy of continued development, the manufacturer reserves the right to amend the specifications without prior notification. The illustrations in the user manual are for reference only.
Reviews
A bit finicky but otherwise a lovely little machine
I've been on the lookout for a device to primarily play Gameboy games on and having read a lot of review finally settled on this one. I'm glad I did too, the build quality and overall feel of this thing is wonderful. The screen is incredible for the money, super bright with great colours, and all the controls feel great. It is perhaps on the smaller side so if you have larger hands like myself this unit may not be for you, but I've found it to be pretty comfortable regardless.
The software is going to be the biggest hurdle for most people. It came with a pre-loaded SD card which was a nice surprise and if you just want something to pick up and play you'll be good to go, but if you want to change anything there's a bit of a learning curve. If you have experience with RetroPie or similar stuff you're probably okay but for newcomers I would maybe suggest looking into an Android based device over this.
That being said I've enjoyed tinkering with mine to get everything set up. I would highly recommend sticking with GarlicOS, not only does it have a huge list of supported emulators, extra software, and a plethora of customisation options, but it seems to run games better than the default OS.
Overall very happy with it, it's fits in perfectly as an addition to my other retro gaming machines and has been a joy to use so far. If you've been looking for a way to revisit some classic Gameboy games, this certainly hits the mark.
RG35XX
Bought this for some retro gaming on the go.
-installed garlic os.
-5 hour battery life.
-plays up to PS1.
Very happy with purchase.
The RG35xx V2 is great much improved over the first offering
Very please
Really pleased with this. It arrived very quickly and is really god quality.
ANBERNIC RG35XX V2 Handheld Gaming Console
ANBERNIC RG35XX V2 Handheld Gaming Console
£67.95Starting at £54.93 Incl. VATStarting at £45.78 Excl. VAT
You may also like…
Official ANBERNIC Accessory
Specifically designed for the ANBERNIC RG35XX
Durable external synthetic polymer shell
Soft fabric lining for added protection.
Convenient storage pocket for accessories
Out of Stock
£

2.95 Incl. VAT
£

1.94 Incl. VAT