AYA NEO NEXT Pro Handheld Gaming PC
AMD® Ryzen™ 7 5825U w/ AMD Radeon™ Vega 8 Graphics
32GB Dual-Channel LPDDR4x @ 4266Mhz
2TB High-Speed PCI-E NVMe SSD
7″ H-IPS Touchscreen Display
WiFi 6 IEEE & Bluetooth 5.2 Support
Starting at £1,349.95 Incl. VATStarting at £1,124.96 Excl. VAT
Description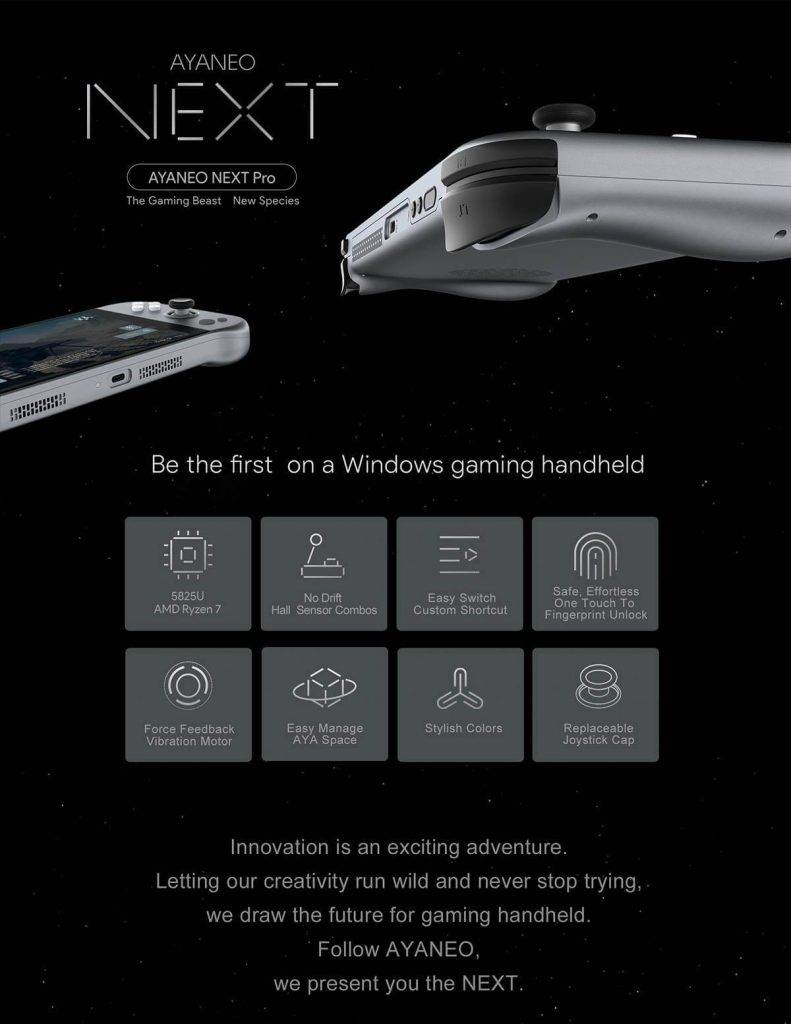 Up to 4.5Ghz of raw power
When it comes to Processing power, the AYANEO Next Pro PC Gaming Handheld is no slouch on the couch.
The "horsepower" is provided by an AMD Ryzen 7 5825U processor, based on the latest ZEN 3 Architecture. This provides a smooth experience in gaming while maintaining battery consumption at a minimum. The Ryzen 7 APU found in the AYANEO Next Pro is based off TSMC's 7nm FinFET litography
The 5825U Ryzen 7 Processor is an octa-core processor with 16 threads of execution. It can idle at 2.0Ghz and boost up to 4.5Ghz when under heavy load. Paired with the AYA Space software, you can configure the TDP of the AYANEO Next Pro Handheld up to 32W for even more performance.
Your games will be considerably faster compared to the latest generation PC Gaming Consoles. 
To aid with the Processing power, you will also find 32GB of Dual-Channel LPDDR4x RAM on board, this will keep up with the ever-growing system demands. Speaking of system demands, you have 2TB of high-speed NVMe SSD – This will ensure you have enough space on hand for the latest PC Games. (Looking at you, Call of Duty)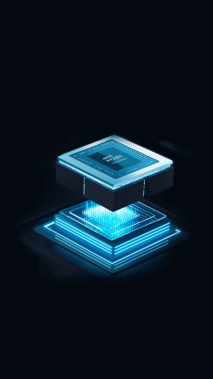 Play the latest AAA Games
The AMD Graphics found in the AYANEO Next Pro are perfect for gaming on-the-go. It is well known within the gaming community that AMD puts extra efforts into their integration and compatibility with the latest games on the market.
The graphics chipset found in the AYANEO Next Pro is 17% faster in benchmarks compared to the old generation AMD Graphics. Paired with the AYA Space software which allows you to control your console's TDP and the great cooling solution, the AYANEO Next Pro is a gaming beast.
When you're gaming, speed and FPS is not everything (ok, it's about 90% of the experience) but the medium through which you absorb the experience is very important.
That's the reason the AYANEO Next Pro comes with a beautiful 1280*800 H-IPS Touchscreen Display.
The AYANEO Next Pro PC Gaming Handheld ticks all the boxes – Coming with the best hardware to make your gaming sessions the most comfortable.
Technical Specifications
Software
OS
Windows 10 Home
Biometrics
Fingerprint
Security
PIN/Windows Hello (Fingerprint)
Processor
Brand
AMD
Model
Ryzen™ 7 5825U
Litography
TSMC 7nm FinFET
# Cores
8
# Threads
16
Base Frequency
2.00 Ghz
Turbo Frequency
4.50 Ghz
Cache
16 MB - L3
More Info
here
Graphics Processor
Interface
Integrated
Brand
AMD
Model
Radeon™ Graphics
# Cores
8
Max Dynamic Frequency
2000 Mhz
DirectX Support
12.1
OpenGL Support
4.6
Display
Panel Technology
H-IPS
Protection
Corning Gorilla Glass 5
Touch-Screen
✓
Size
7"
Aspect Ratio
16:9
Screen Resolution
1280x800
Pixels/Inch
215
Memory (RAM)
Capacity
32GB
Technology
LPDDR4x @ 4266Mhz - Dual Channel
Storage (ROM)
Capacity
2TB
Technology
NVMe
I/O Interface and Battery
USB
2x USB Type-C
Video
1x USB Type-C
Audio
1x 3.5mm Headphone&Microphone Combo
Battery Type
Li-Ion Battery
Battery Capacity
47wh/4100mAh
Input
Keyboard
Software (Hardware for quick access)
Mouse
Via Touchscreen / Software
(Gaming) Joystick
Dual Magnetic
(Gaming) Buttons
XBOX ; Analogue Trigger Buttons
(Gaming) Vibration
Dual-Motor
Software Included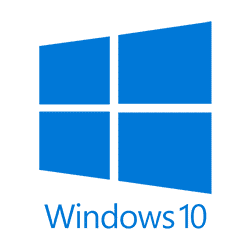 Windows 10 OS
The most used Operating System on the planet. That's for a reason
Package Includes
1 * AYANEO Next PRO Gaming Handheld
1 * USB Type-C Cable
1 * Power Adapter
1 * User manual
Please Note
In line with the policy of continued development, the manufacturer reserves the right to amend the specifications without prior notification. The illustrations in the user manual are for reference only.
Reviews
Plutôt pas mal...
J'ai acheté cette ayaneo car je cherchais une alternative à la Steam deck.
Cette console pc offre de bonne performance... beaucoup de jeux fonctionne très bien avec une qualité satisfaisante.
La qualité de l'ensemble est très bon malgré un poids important mais une bonne prise en main tout de même.
Un regret une batterie qui se décharge très vite selon les jeux.
Un prix élitiste car près de 2000euros pour l'avoir en France ..mais le plaisir est la est c'est tout même l'essentiel.
Merci au site droiX pour leurs rapidité dans l'envoi et dans les réponses apportées à mes questions.
Ayaneo next
Very fun, gonna be a great travel companion.
AyaNeo Next Pro
It's a medium sized handheld, certainly smaller than the onexplayer Ryzen 5800u. It's a great powerhouse for it's medium size. It does look and feel like a premium handheld. If I had to complain about anything, it would be the lack of a type A usb slot, no micro SD support and the bottom type c would have been better on the top of the device, making it X2 typeC slots, one for charging and one for SSD storage. Definitely a queen bee of handhelds.
AYA NEO NEXT Pro Handheld Gaming PC
Starting at £1,349.95 Incl. VATStarting at £1,124.96 Excl. VAT