Beelink GT King 4K Android TV Box
Based on the latest Amlogic Chipset – S922X
Android 9 Pie
4K UltraHD Video Output
4GB RAM – 64GB Storage
Dual-Band Wi-Fi 6 w/ 1GB/s Ethernet Adapter RJ45 Port
£119.95 Incl. VAT£99.96 Excl. VAT
Great Accessories
Based on the latest Amlogic Chipset – S922X
Android 9 Pie
4K UltraHD Video Output
4GB RAM – 64GB Storage
Dual-Band Wi-Fi 6 w/ 1GB/s Ethernet Adapter RJ45 Port

£

9.95 Incl. VAT

£

7.96 Incl. VAT

Based on the latest Amlogic Chipset – S922X
Android 9 Pie
4K UltraHD Video Output
4GB RAM – 64GB Storage
Dual-Band Wi-Fi 6 w/ 1GB/s Ethernet Adapter RJ45 Port

£

11.95 Incl. VAT

£

9.59 Incl. VAT
Description
The Beelink GT King features a fast AMLogic S922X Hexa-Core SoC processor, 4GB LPDDR4 RAM and 64GB eMMC built in storage running on Android 9.0 Pie. This Android TV box is fast, check out the S922X vs S905X2 benchmark article!
The Android box measures just 4.25 x 4.25 x 0.63 inches with an Alien head etched into the top, its eyes light up when powered on.. There are two USB Type-A 3.0 ports and one USB Type-A 2.0 ports to connect USB devices to.
Connectivity is provided with 802.11 a/b/g/n/ax, 2.4G/5G Dual Band WiFi, 1000M Ethernet and Bluetooth 4.1. Speed tests maxed out our WiFi and Ethernet (200Mb) connections and Bluetooth works great with gaming controllers.
If you are looking for an up to date Android Box then the Beelink GT King is a great solution. Apps can be downloaded from the Google Play Store or from any website through your browser. Download your favourite Android apps and turn your device into a fast performing Smart TV box.
Comparing side by side with the Beelink GT King and other devices you can see even simple tasks like navigating menus or switching channels that it has the edge. With streaming apps with a build installed there is a more noticeable increase in performance compared to other devices. You will definitely see the benefits of a faster processor for this.
The GT King is a great android streaming box and with Android 9 Pie installed it offers the best compatibility and performance.. If you are looking for an Android Box for streaming this is the best android box in this price range. With its fast processor, great internet capability and storage space, this is a genuine contender for Best Android Box in 2021.
Technical Specifications
Softwares
OS
Android 9 Pie
Processor
Processor
AMLogic S922X ; Hexa-Core SoC
GPU
GPUp
Mali G52-MP6
RAM
RAM
4GB
RAM(spec)
LPDDR4
ROM
ROM
64GB
ROM(Storage)
eMMC
Network
Ethernet
RJ45 Port - 1000M
Wi-Fi
802.11 a/b/g/n/ax, 2.4G/5G Dual Band
Bluetooth
4.1
Expandable Storage
Expandable Storage
MicroSD/TF - Up to 128GB
USB Ports
2x USB Type-A 3.0 ; 1x USB Type-A 2.0
Dimension/Weight
Product Dimensions
(L x W x H): 10.80 x 10.80 x 1.60 cm / 4.25 x 4.25 x 0.63 inches
Product Weight
190g
Package Dimensions
(L x W x H): 19.00 x 14.50 x 6.00 cm / 7.48 x 5.71 x 2.36 inches
Package Weight
630g
Package Includes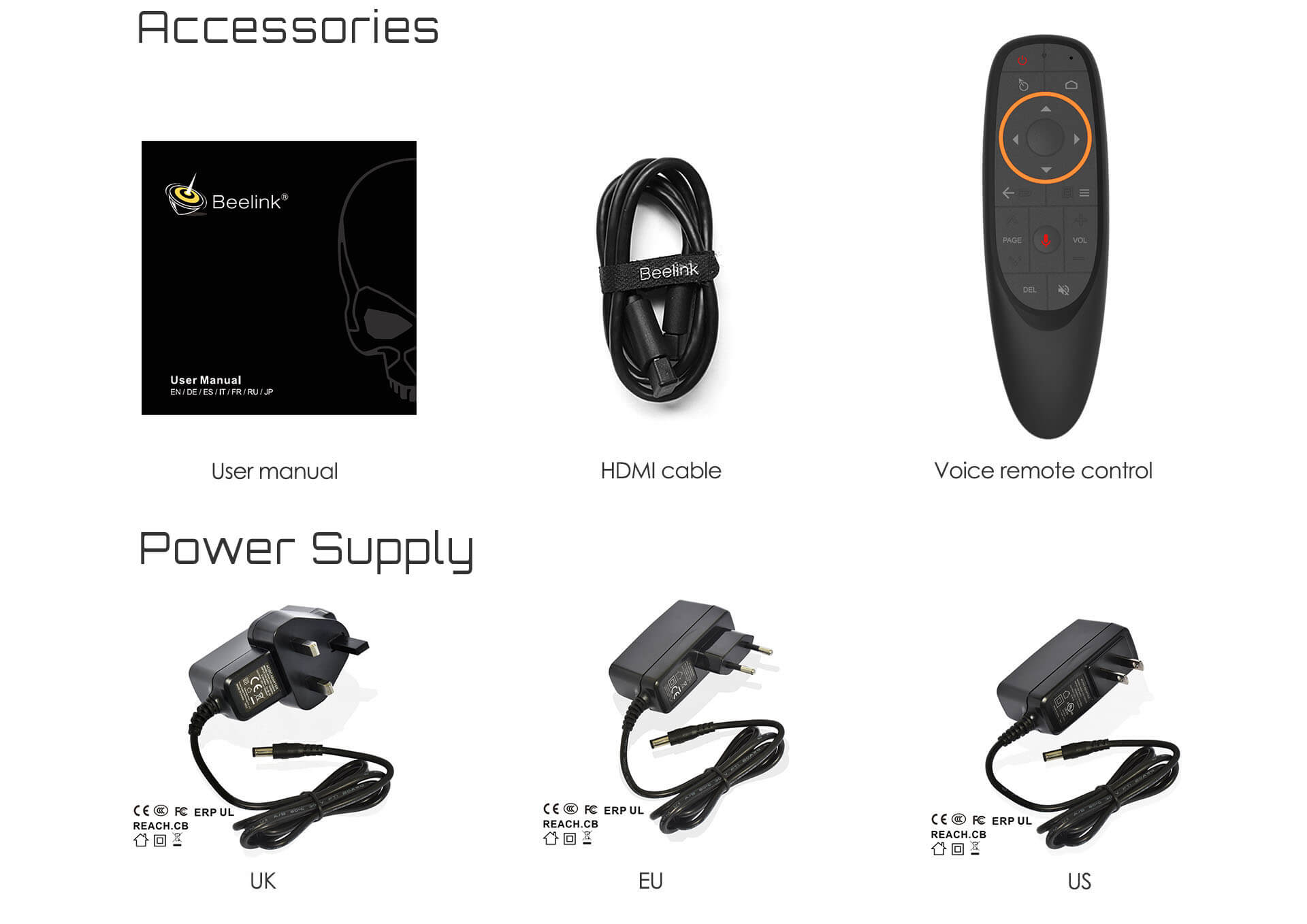 1 * GT King Android 9 Powered Mini PC
1 * Power Supply
1 * HDMI Cable
1 * G10 Air-Mouse
1 * User Manual
Please Note
In line with the policy of continued development, the manufacturer reserves the right to amend the specifications without prior notification. The illustrations in the user manual are for reference only.
Reviews
Gt king
Excellent machine best one ☝️ yet I bought from you guys glad I updated to this beast again your the best
BeeLink GT King
Lovely little box, really easy to use and very quick, love it
BeeLink GT King
Lovely little box, really easy to use and very quick, love it
Beelink GT King 4K Android TV Box
£119.95 Incl. VAT£99.96 Excl. VAT