Beelink GTR5 Ryzen Windows 11 Mini PC
AMD Ryzen 9 5900HX @ Up to 4.60 GHz cTDP: 35-54W
Up to 64GB Dual-Channel DDR4 & Up to 2TB NVMe
AMD Radeon™ Graphics – 8 cores @2100 MHz
Triple Monitor, 4K@60Hz & Fingerprint Sensor
Dual 2.5Gbps LAN Ports | WiFi 6E & Bluetooth 5.0, USB 3.0, Type-C
Starting at £690.95 Incl. VATStarting at £575.79 Excl. VAT
Description
The Beelink GTR5 Ryzen 9 Mini PC with Windows 11 is one of the most powerful ryzen mini pc for video editing. This Mini PC is a great mini pc for video editing, gaming and office work.
Coming with the powerful, AMD Ryzen™ 9 5900HX, the Beelink GTR5 Windows 11 Mini PC has 8 cores that can boost up to 4.60Ghz and 16 threads, ready to take on any task you throw at it. Paired with up to 64GB of DDR4 RAM and up to 2TB of blazing fast NVMe SSD Storage, you can quickly access all your files and modify them in an instant.
This mini pc for office supports a triple-display output, allowing you to work more efficiently and faster. On the top of this ryzen mini pc you will also find a fingerprint sensor compatible with Windows Hello for added security.
The Beelink GTR5 is also overachieving in connectivity! You have 2 2Gbps Ethernet Ports, as well as Wi-Fi 6E and Bluetooth 5.0.
This Ryzen Mini PC is a powerful solution for businesses and people that work from home to be more productive, save space and have the peace of mind that their computer will still pack a punch down the line.
Technical Specifications
Software
OS
Windows 11
Security
PIN/Password/Fingerprint
Processor
Brand
AMD
Model
Ryzen™ 9 5900HX
Technology for CPU Cores
TSMC 7nm FinFET
# Cores
8
# Threads
16
Base Frequency
3.3 GHz
Turbo Frequency
Up to 4.60 GHz
Total L2 Cache
4 MB
Total L3 Cache
16 MB
More Info
Click Here
Graphics Processor
Interface
Integrated
Brand
AMD
Model
AMD Radeon™ Graphics
Frequency
2100 Mhz
Graphics Core Count
8
Memory (RAM)
Capacity
Up-To 64GB (Depending on the model purchased)
Technology
Single-Channel / Dual-Channel DDR4 SO-DIMM
Speed
3200Mhz
Storage (ROM)
Capacity
Up-To 2TB(Depending on the model purchased)
Technology
PCI-E NVMe SATA SSD
Network
Ethernet
2x RJ45(2.5G)
Wi-Fi
Wi-Fi 6E
Bluetooth
5.0
I/O Interface
USB
1x USB Type-C ; 3x USB Type-A 3.0 ; 2x USB Type-A 2.0
Video
1x HDMI 2.0(4K@60Hz) ; 1x USB Type-C (4K@60Hz) ; 1x Display Port
Audio
1x HDMI 2.0 ; 1x USB Type-C
Package Includes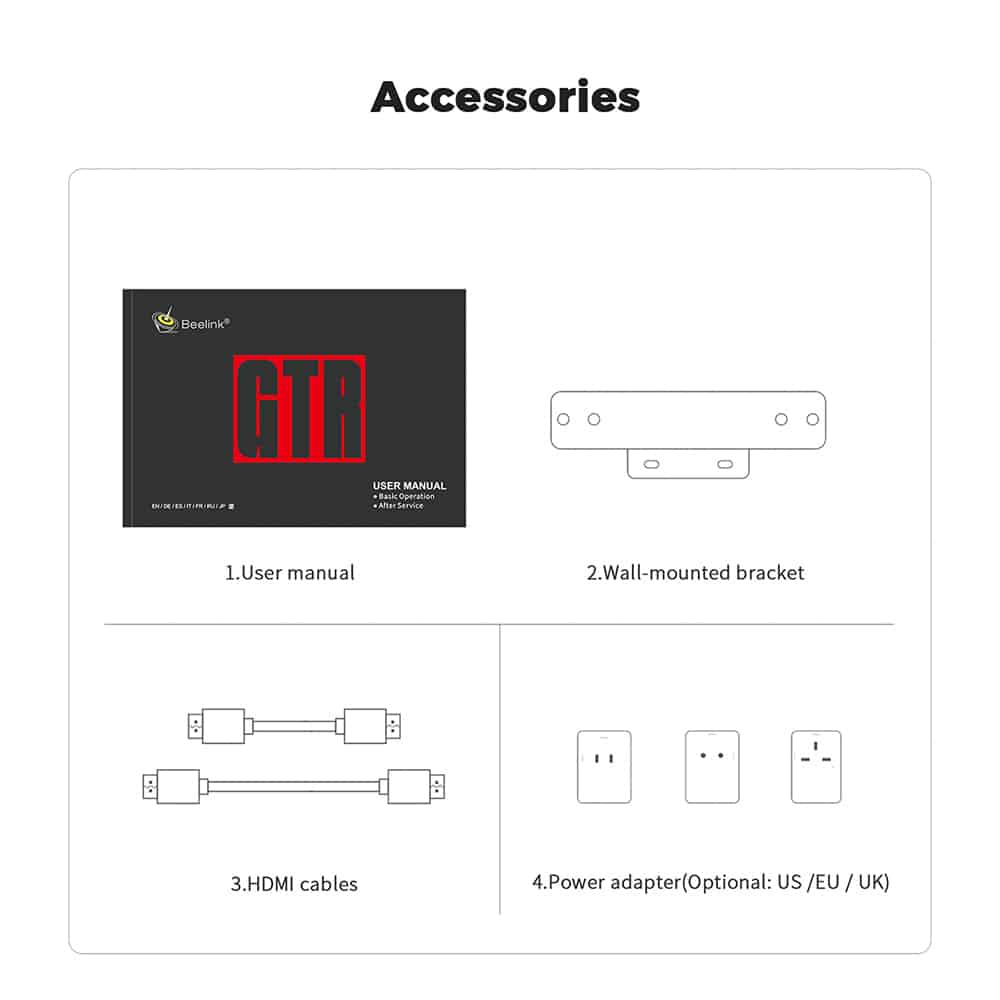 1 * Power Adapter
1 * HDMI Cable
1 * Wall Mount
1 * User Manual
Please Note
In line with the policy of continued development, the manufacturer reserves the right to amend the specifications without prior notification. The illustrations in the user manual are for reference only.
Reviews
Faulty unit!
Unit faulty, more so ssd or system board, sent back, still awaiting response!
We are extremely sorry to hear you had a bad experience regarding the NVMe in your machine becoming faulty. I can see internally that one of our support agents have completed your RMA and shipped it back to you. I do hope your device is working perfectly with the new NVMe. Any issues, just contact us and we'll be happy to help.
Ryzen 9 Mini PC
The Mini PC is super fast, quiet as a mouse and packs a punch for gaming and is built incredibly well so I couldn't be happier. The dispatch time was super speedy and the customer service was excellent! I highly recommend DroiX for any computing needs!
Phil
Great, to start....
This mini PC was awsome for the first few hours or so it was actually working. Super fast and great for a minimalist set up. The fingerprint scanner is also really convenient.
Unfortunatly it then froze and after rebooting it just kept getting stuck in a boot / splash screen cycle. Reinstalled Windows and it again worked for a few hours before freezing again and reverting to the aforementioned splash screen cycle.
Have returned and hoping for replacement too arrive soon. Can't fault Droix so far on their customer service and technical support thusfar.
Great Little PC !
Fantastic little machine with ample memory. I added a 2.5 SSD SATA drive and I installed Ubuntu on it (alongside Windows 11).
Watch out for skinny SATA cable when removing the case bottom although a spare was included in the box.
Beelink GTR5 Ryzen Windows 11 Mini PC
Starting at £690.95 Incl. VATStarting at £575.79 Excl. VAT