DroiX H96 Mini 4K Android TV Box
Allwinner H6 64 bit Processor
4GB RAM / 128GB Storage
Dual-Band Wi-Fi w/ 1GB/s Ethernet Adapter RJ45 Port
Optical Out
6K UltraHD Video Output
£ 54.95 Incl. VAT £ 45.79 Excl. VAT
Description
At its core of the DroiX H96 Smart TV box, you will find the Powerful Allwinner H6 Quad-Core processor based on the ARM Cortex A-53 Platform, paired with the Mali-T720 Graphical Processing Unit (GPU) capable of 6K Video Output at 30Hz, OpenGL 3.0 Support and OpenCL Support.
There is 4GB of High-Speed LPDDR3 RAM Built-In to help with switching tasks, and an outstanding 128GB of Storage. A number which has rarely been achieved in the Android box ecosystem, especially at this price range. The H96 Mini is the flagship Android TV box at a mid-range price.
Connecting to the Internet is as easy and fast as typing "www", with the Dual-Band Wi-Fi Chip built-in, the speeds are incredible, meaning no more buffering on your Smart TV box! If Wi-Fi is not your thing, the H96 Mini has a Ethernet Port built in as well for your convenience.
The I/O is solid, with 2 USB Type A Ports (One of which is the latest Gen 3.0), an A/V Port, RJ45 for Ethernet, one HDMI Port and the Power Adapter Plug. The build quality of this Android box for TV is solid, and the device has an artsy look to it, standing out in the current market.
Technical Specifications
Softwares
OS
Android 9 Pie
Processor
Model
H6 Cortex-A53 64bit
Manufacturer
Allwinner
Video Processor (GPU)
Model
T720
Manufacturer
Mali
Base Frequency
600 Mhz
RAM
RAM
4GB
RAM(spec)
DDR4L
Network
Wi-Fi
IEEE 802.11a/b/g/n/ac ; Dual-Band (2.4Ghz/5Ghz)
Bluetooth
4
I/O Ports:
Power
Power PlugHDMI Port AV Port
Ethernet
RJ45 Port
USB 3.0
1 Port
USB 2.0
1 Port
Dimension/Weight
Product Dimensions
(L x W x H): 10.00 x 10.00 x 1.8 cm / 3.93 x 3.93 x 0.71 inches
Product Weight
105g
Package Dimensions
(L x W x H): 18.00 x 11.00 x 6.50 cm / 7.01 x 4.33 x 2.55 inches
Package Weight
350g
Application Ready
At the time of publication, this list is comprehensive and accurate. Specific apps or add-ons may be removed or added in the future.

Google Play Store
Install and update all your applications
Package Includes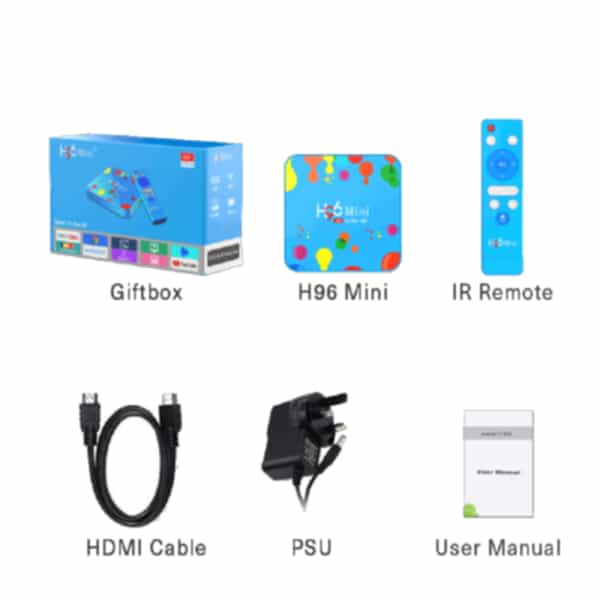 1* H96 Mini
1* IR Remote
1* Power Supply
1* HDMI Cable
1* User Manual


Please Note
In line with the policy of continued development, the manufacturer reserves the right to amend the specifications without prior notification. The illustrations in the user manual are for reference only.

Reviews
Incredibly po6t...
Incredibly po6tiny box. Excellent.
The box works a...
The box works as expected, no problems with that or the service. The extra storage is just what I've been looking for
Brilliant servi...
Brilliant service,brilliant products wot more can you ask for
Great little bo...
Great little box, play most links, seems not to like Fixanity ones, but seems to be great
This little box...
This little box is a beast!!!!
DroiX H96 Mini 4K Android TV Box
£ 54.95 Incl. VAT £ 45.79 Excl. VAT