MinisForum Elitemini B550 – AMD Ryzen Mini PC
AMD Ryzen 7 5700G @ 4.6GHz cTDP: 45-65W
Desktop GPU Mount
Up to 64GB Dual-Channel DDR4, 2TB NVMe
Radeon™ Vega Graphics @ 2000 Mhz
Triple monitor; 4K@60Hz
WiFi 6 & Bluetooth 5.1, USB 3.0, Type C
Starting at £799.95 Incl. VATStarting at £666.63 Excl. VAT
Description
The Minisforum Elitemini B550 mini PC provides high end performance with the option to attach an eGPU to the unique frame design for even faster gaming performance.
The Minisforum Elitemini B550 mini PC features the AMD Ryzen 7 5700G processor with 8 Cores and 16 Threads running up to 4.6GHz. It also has the Radeon Graphics running up to 2100Mhz for high performance video and 3D rendering.
Up to 64GB of DDR4 Dual Channel RAM can be installed. The Minisforum Elitemini B550 has support for up to 2TB M.2 2280 SSD with an additional slot for extra storage. There is also space inside the mini PC for a 2.5" HDD or SSD for additional storage.
There is support for up to three monitors via the two HDMI and DisplayPort capable of 4K at 60Hz each. There is an included frame design that is optionally attached to the Minisforum Elitemini B550, which in turn connects an external graphics card (eGPU) such as a GeForce 4090 for even faster performance! The process is easy and straightforward to install to the mini PC.
On the Minisforum Elitemini B550 Mini PC you can find high speed and reliable WiFi 6 and Bluetooth with a 2.5Gb ethernet for the best in data transmission. There is a USB Type-C Gen 2 port and four USB 3.2 for peripheral connectivity.
Measuring only 7.4 x 6.5 x 2.6 inches (15.8 x 16.65 x 6.7 cm) and weighing 1129 grams, the Minisforum Elitemini B550 mini PC takes up minimal space on your desktop and is also very portable for travelling between office meetings or longer term travel.
As an office mini PC the Minisforum Elitemini B550 PC does an outstanding job of your day to day whether at home of the office Where it really excels is the ability to connect an eGPU for the best in gameplay where it is possible to play the latest AAA Windows games in a breeze.
Lear more in our full Minsforum Elitemini B550 review where we compare two external graphics cards to see the differences in performance.
Technical Specifications
Software
OS
Windows 11
Security
PIN/Password
Processor
Brand
AMD
Model
AMD Ryzen™ 7 5700G
Litography
TSMC 7nm FinFET
# Cores
8
# Threads
16
Base Frequency
3.8 Ghz
Turbo Frequency
Up to 4.60 Ghz
Cache
L2 Cache: 4MB / L3 Cache: 16MB
More Info
Click Here
Graphics Processor
Interface
Integrated
Brand
AMD
Model
Radeon™ Graphics
Frequency
2000 MHz
Graphics Core Count
8
Memory (RAM)
Capacity
Up-To 64GB (Depending on the model purchased)
Technology
DDR4 - Dual-Channel
Speed
3200Mhz
Storage (ROM)
Capacity
Up-To 2TB(Depending on the model purchased)
Technology
M.2 PCI-e NVMe SSD
Expandable
2x 2.5" HDD/SSD Bay ; Micro SD Card Slot
Network
Ethernet
2.5G Ethernet Adapter (RJ45)
Wi-Fi
Wi-Fi 6
I/O Interface
USB
1x USB-C(Gen2), 4x USB3.2 Port (Gen2)
Video
2x HDMI (4K@60Hz) , 1x DisplayPort(4K@60Hz)
Audio
2x HDMI , 1x DisplayPort , 1x 3.5mm Headphone Jack(Green)
Package Includes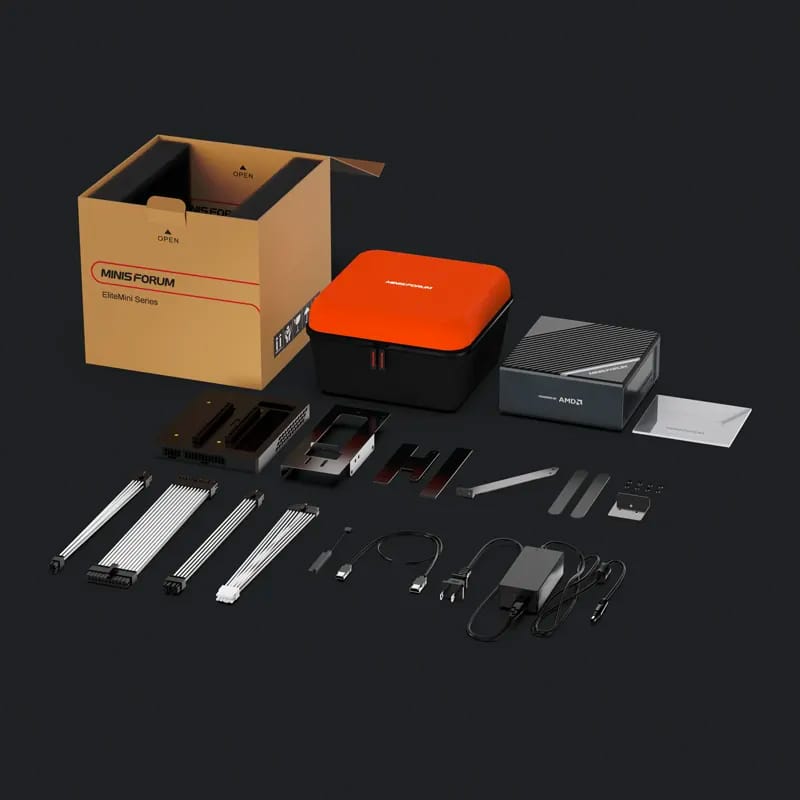 1 * B550
1 * Power Adapter
1 * Power Cable
1 * HDMI Cable
1 * SATA Cable
1 * VESA Mount
1 * Graphics Card Base
1 * Graphics Card Panel
1 * Support Frame
1 * Acrylic Decorative
1 * Silicone Pad
1 * 4Pin / 8Pin / 10Pin / 24Pin Power Cable
1 * Graphics Card Panel
1 * VESA Mount Screw Set
1 * Suitcase
1 * Technical Documents
Please Note
In line with the policy of continued development, the manufacturer reserves the right to amend the specifications without prior notification. The illustrations in the user manual are for reference only.
MinisForum Elitemini B550 – AMD Ryzen Mini PC
Starting at £799.95 Incl. VATStarting at £666.63 Excl. VAT