MinisForum EliteMini X400 – AMD Ryzen 5 Mini PC
AMD Ryzen 5 PRO 4650G 4.2GHz cTDP: 45-65W
Up to 32GB Dual-Channel DDR4, 1TB NVMe
Radeon™ RX Vega 7 Graphics
Dual monitor support; 4K@60Hz
WiFi 6 & Bluetooth 5.1, USB 3.0
Starting at £ 599.95 Incl. VATStarting at £ 499.96 Excl. VAT
Great Accessories
AMD Ryzen 5 PRO 4650G 4.2GHz cTDP: 45-65W
Up to 32GB Dual-Channel DDR4, 1TB NVMe
Radeon™ RX Vega 7 Graphics
Dual monitor support; 4K@60Hz
WiFi 6 & Bluetooth 5.1, USB 3.0

£

29.99 Incl. VAT

£

29.99 Incl. VAT
Description
The MINISFORUM X400 is a multi-purpose mini computer designed for use in a variety of solutions, such as a home office, media centre/HTPC, printer management PC, digital signage, or mass-deployment enterprise IT solution.
Unlike it's contemporaries, the X400 is powered by a desktop AMD processor – the AMD Ryzen 5 Pro 4650G. Supported by the powerful built in Vega Graphics iGPU, the X400 is capable of handling general work tasks (spreadsheet editing, video editing, etc.), but is also suitable for light-to-moderate gaming as well. Combined with dual-channel DDR4 PC3200 SO-DIMM RAM up to 32GB, you have a seriously heavyweight performer in a very efficient package.
For storage, the X400 provides huge array of options. Initially fitted with a lightning fast M.2 2280 PCI-e NVMe SSD up to 1TB, you can further expand your storage with an M.2 2242 NGFF SATA SSD, 2.5-inch HDD/SSD, and even a microSD card (up to 128GB). This variety makes it excel as a HTPC.
The X400 mini computer supports twin 4K displays, one via HDMI, the other via Displayport, enabling increased productivity.
For general connectivity, the X400 features a solid four USB 3.1 Gen 2 ports (capable of speeds up to 10Gbps), as well as 3.5mm audio jack on the front side of the unit. Also featured is the presence of dedicated Line IN, MIC IN and HP OUT ports on the side of the device.
As far as network connectivity options go, the X400 provides a solid, reliable combination of dual Gigabit Ethernet ports, and WiFi6/Bluetooth 5.1 wireless connectivity, making this Ryzen mini PC easy to connect to any environment.
Size-wise, the X400 only takes up around 1/25th the space of your average desktop computer, sizing up at approximately 154×153×62mm, and weighing only around 1.9kg. It's a tiny bit larger than its contemporaries, but still an extremely small mini computer overall.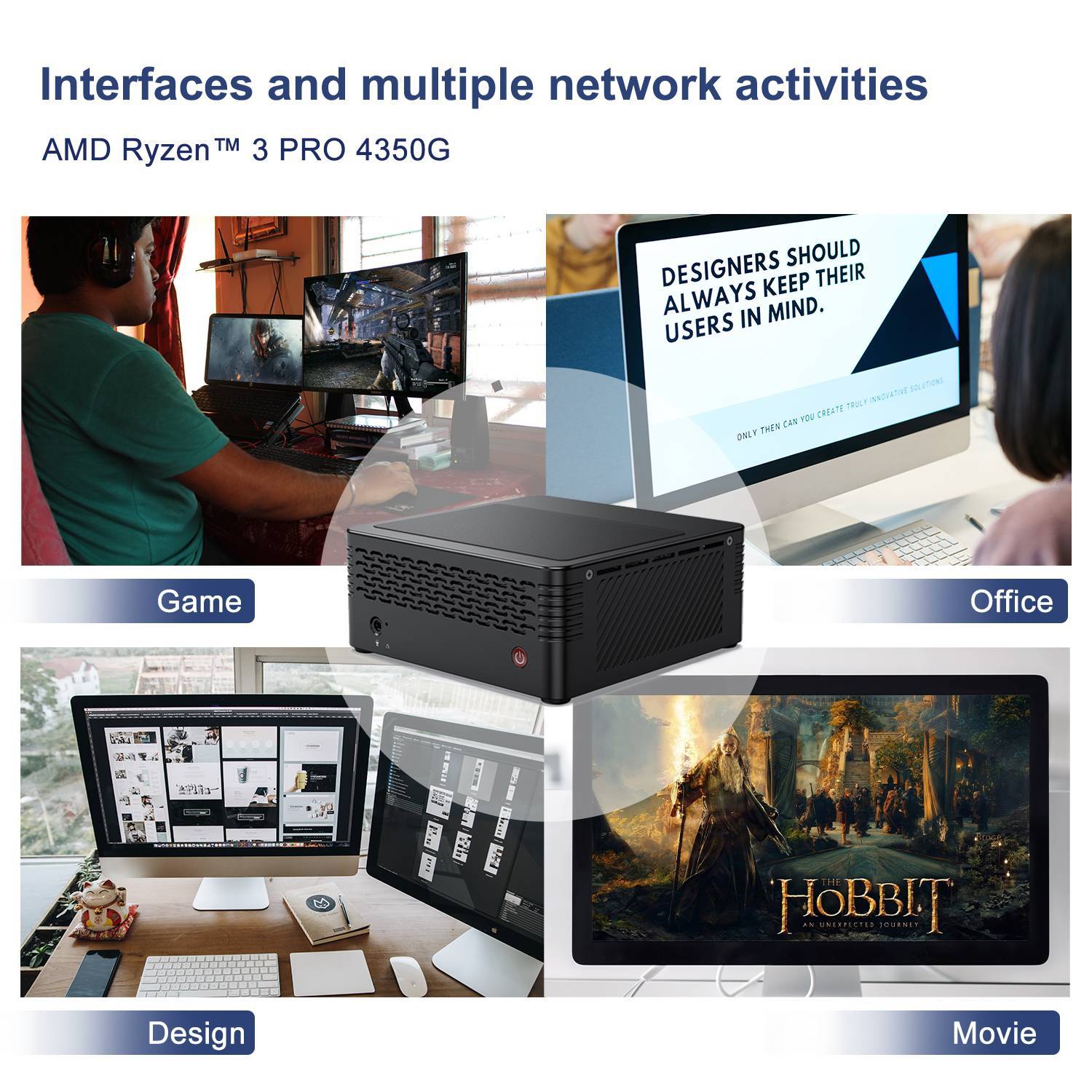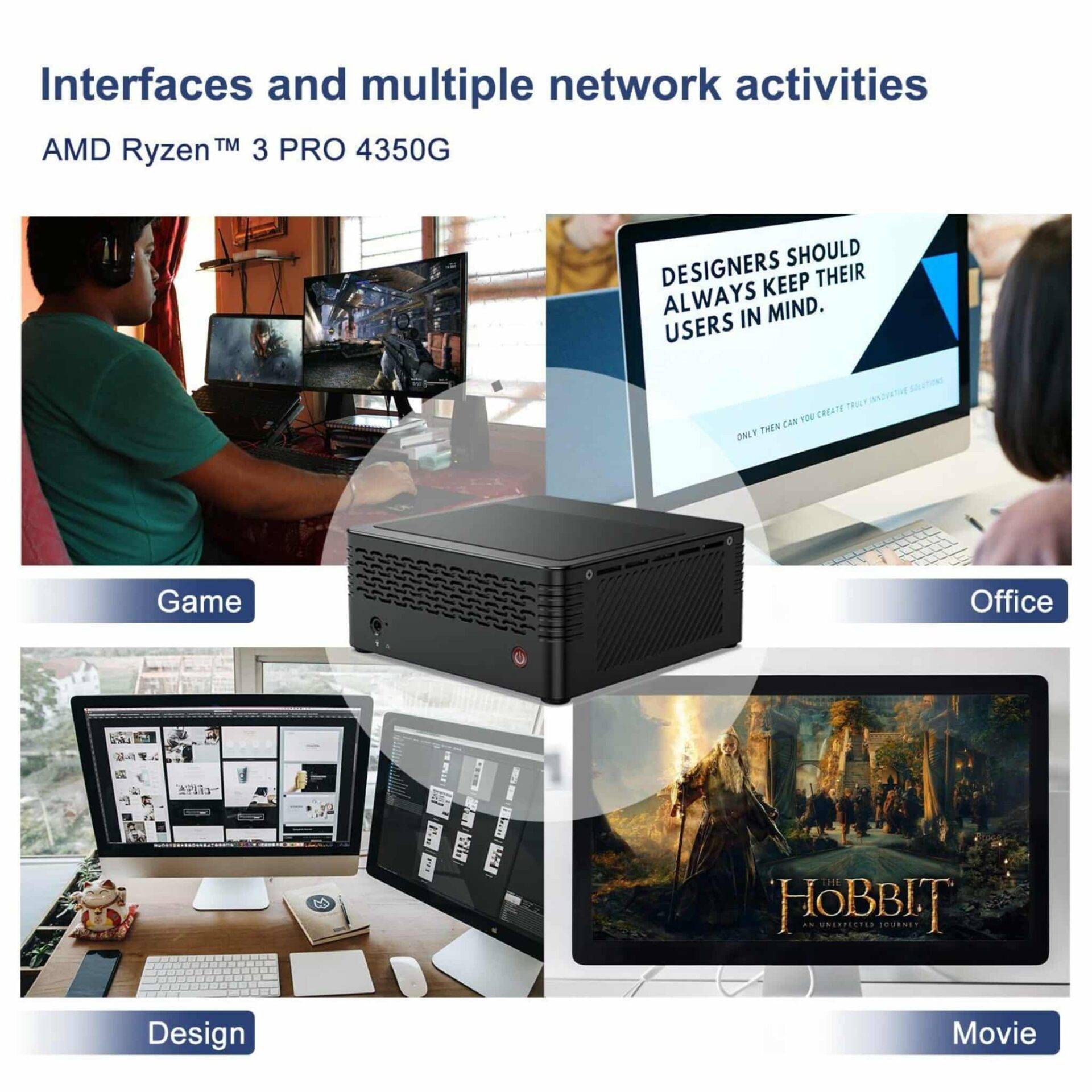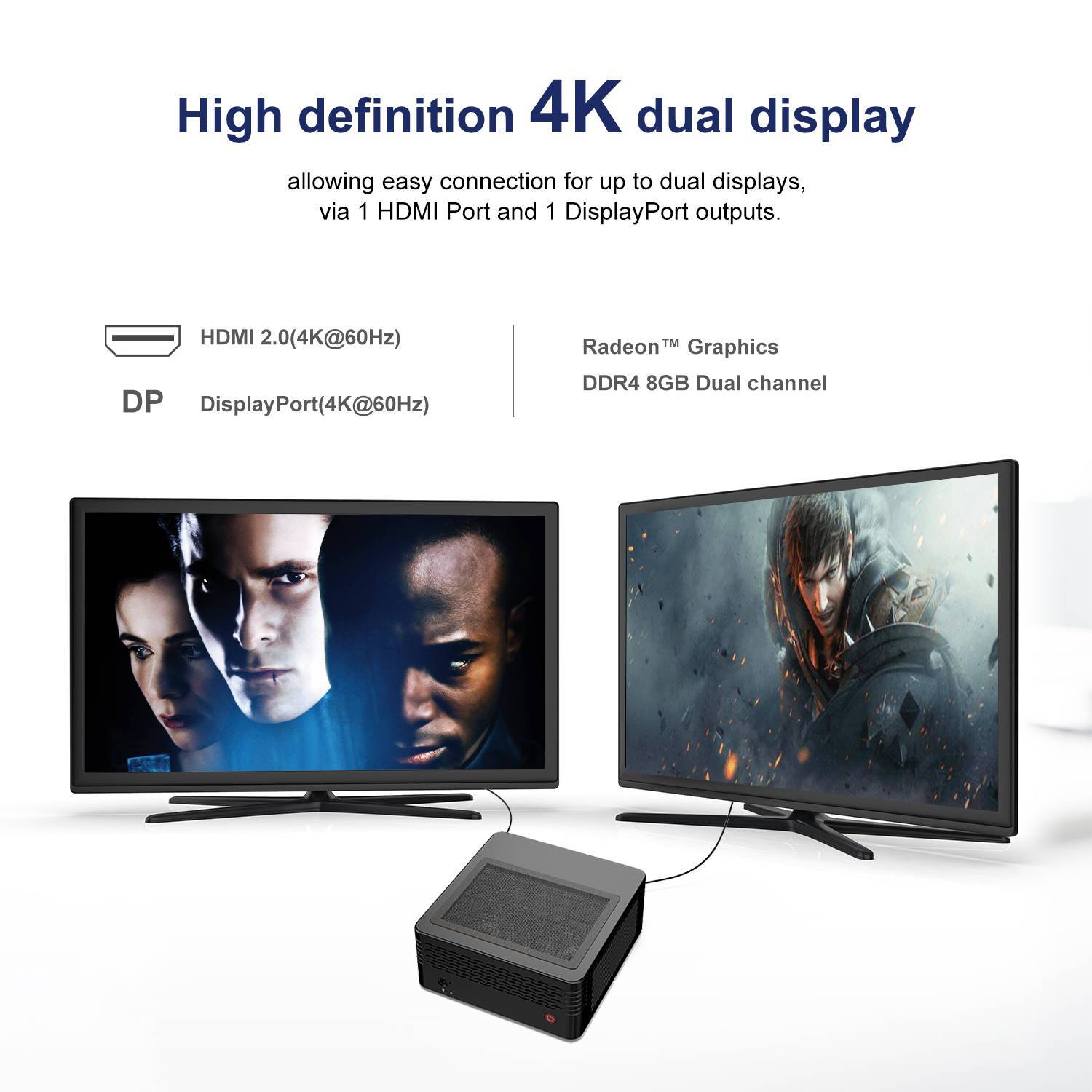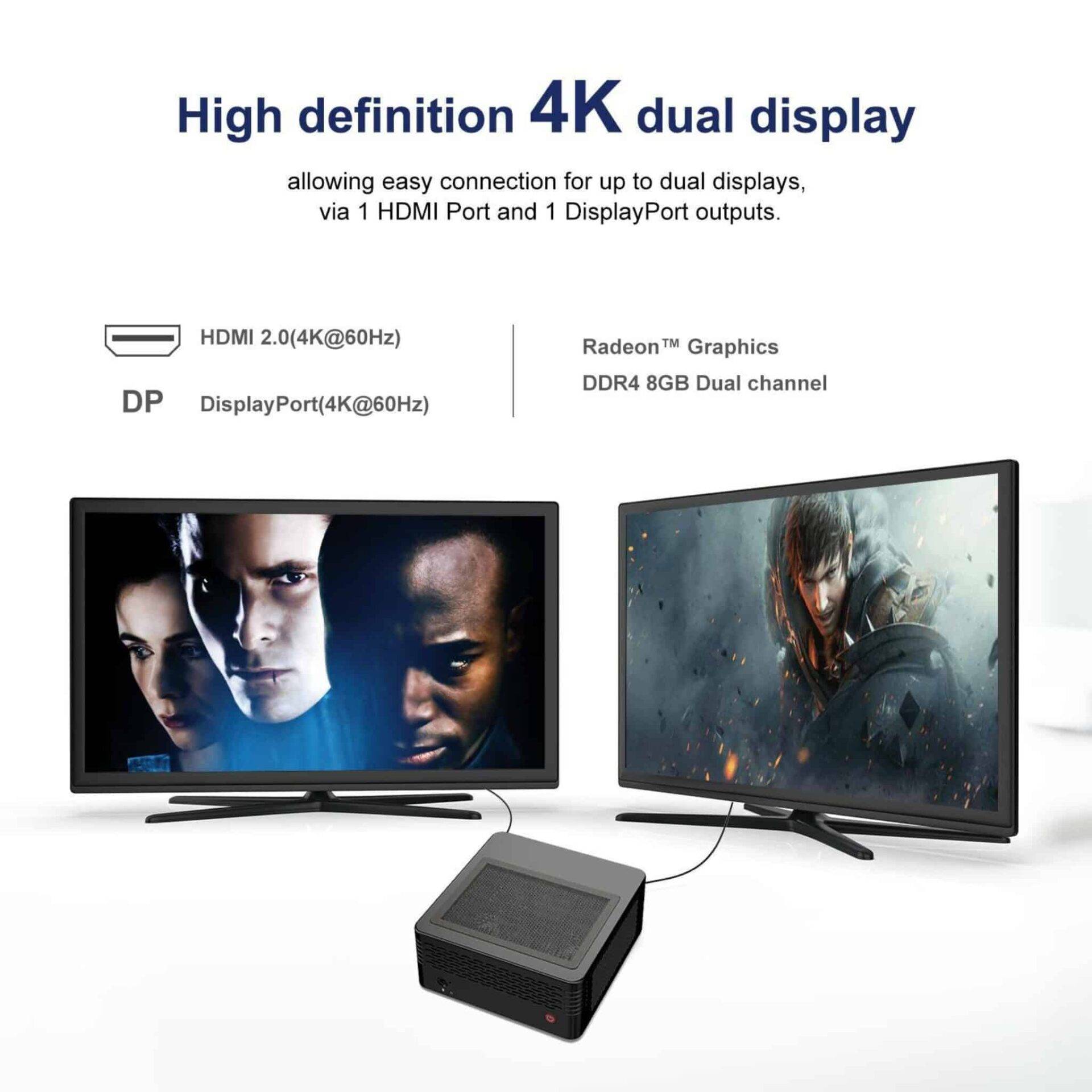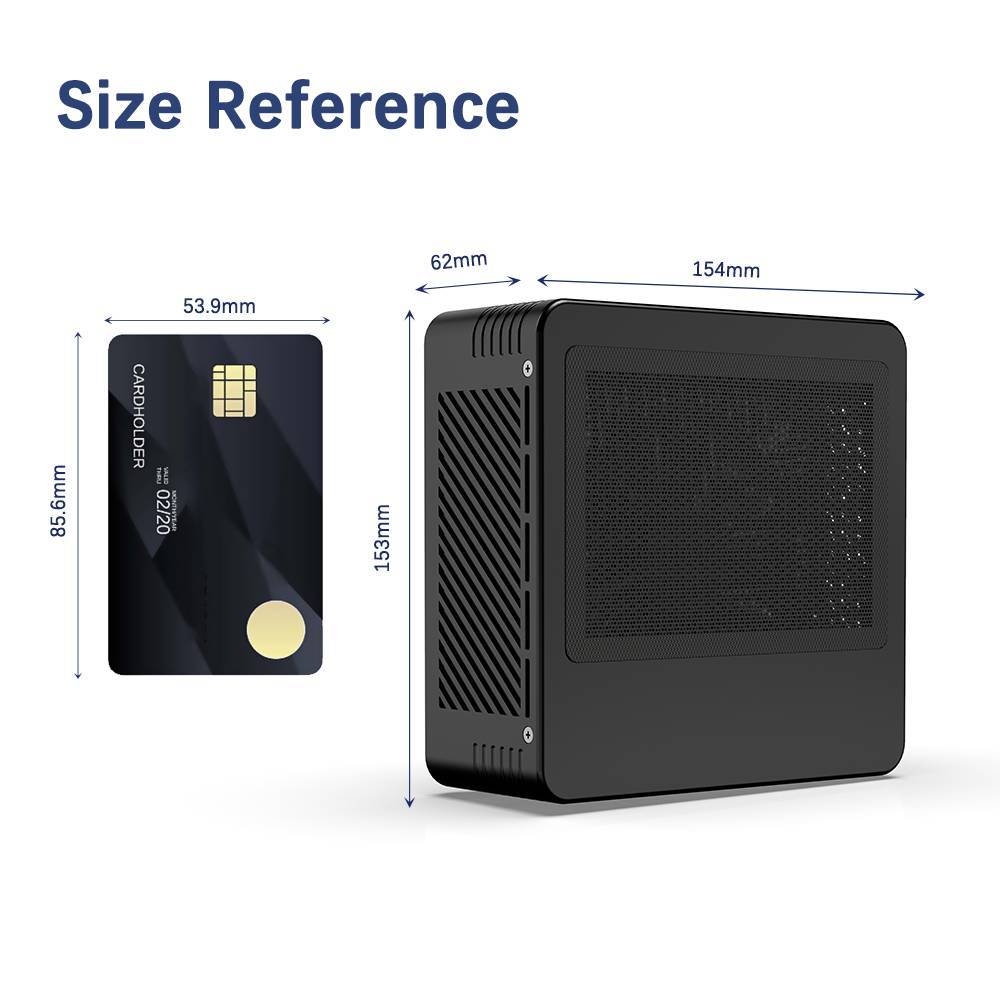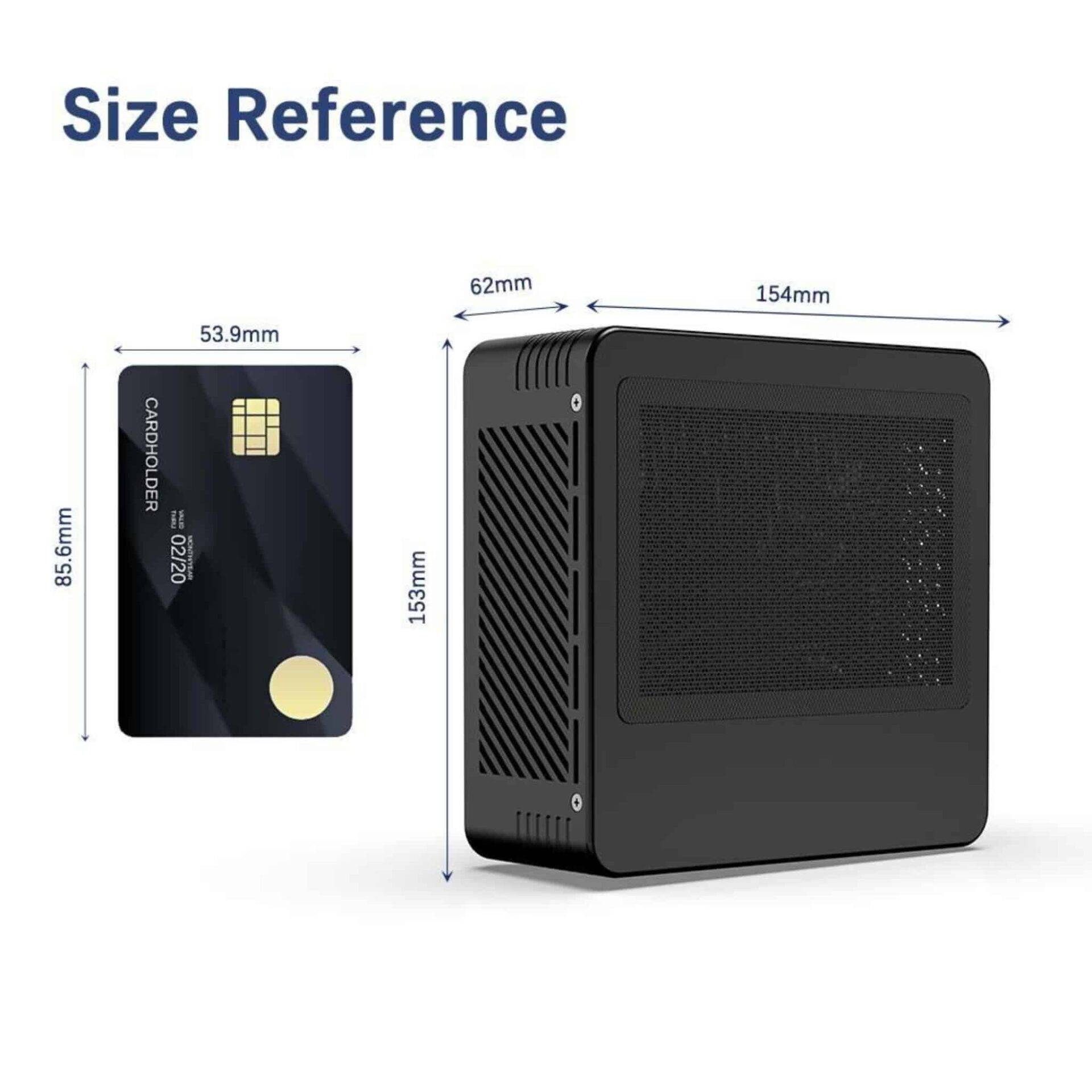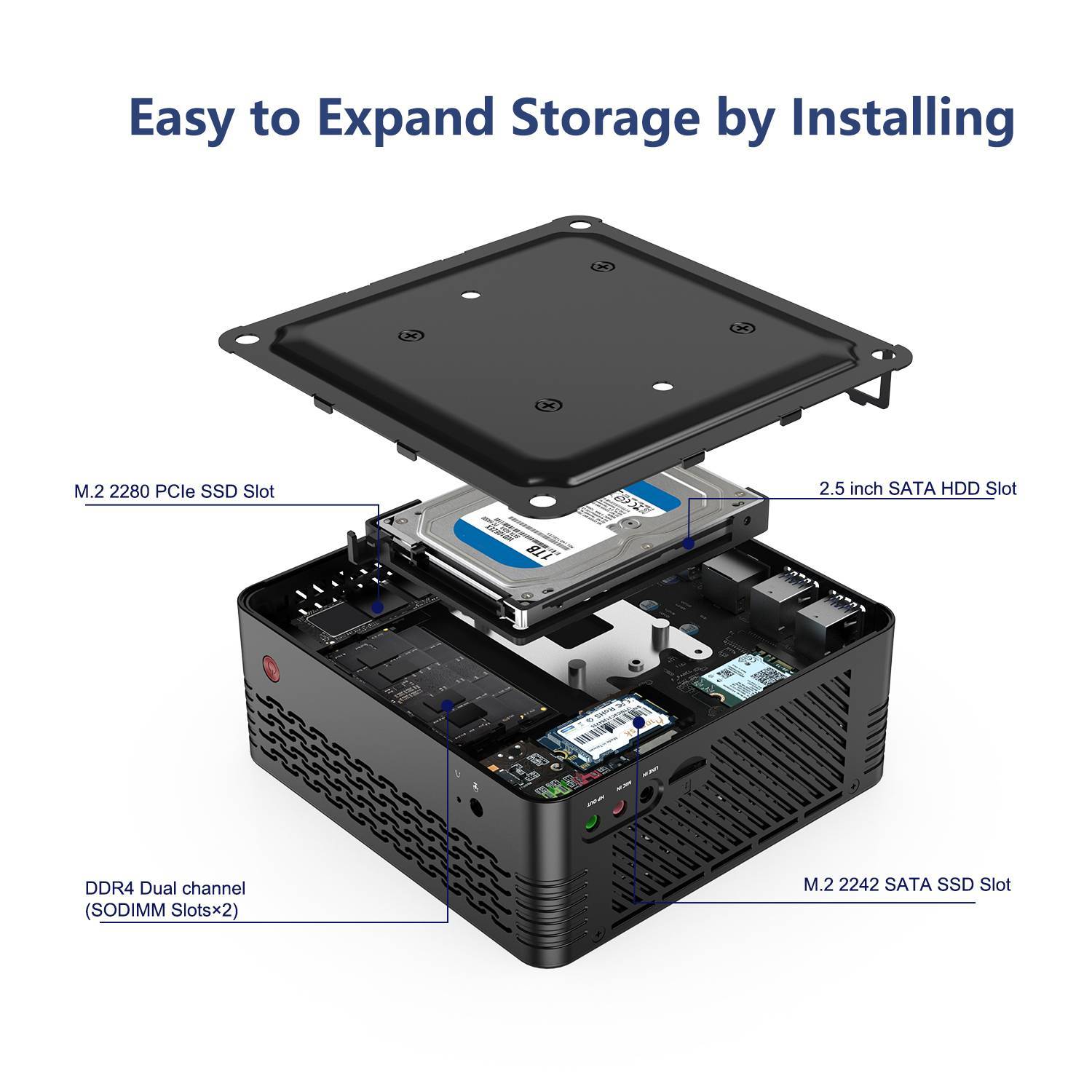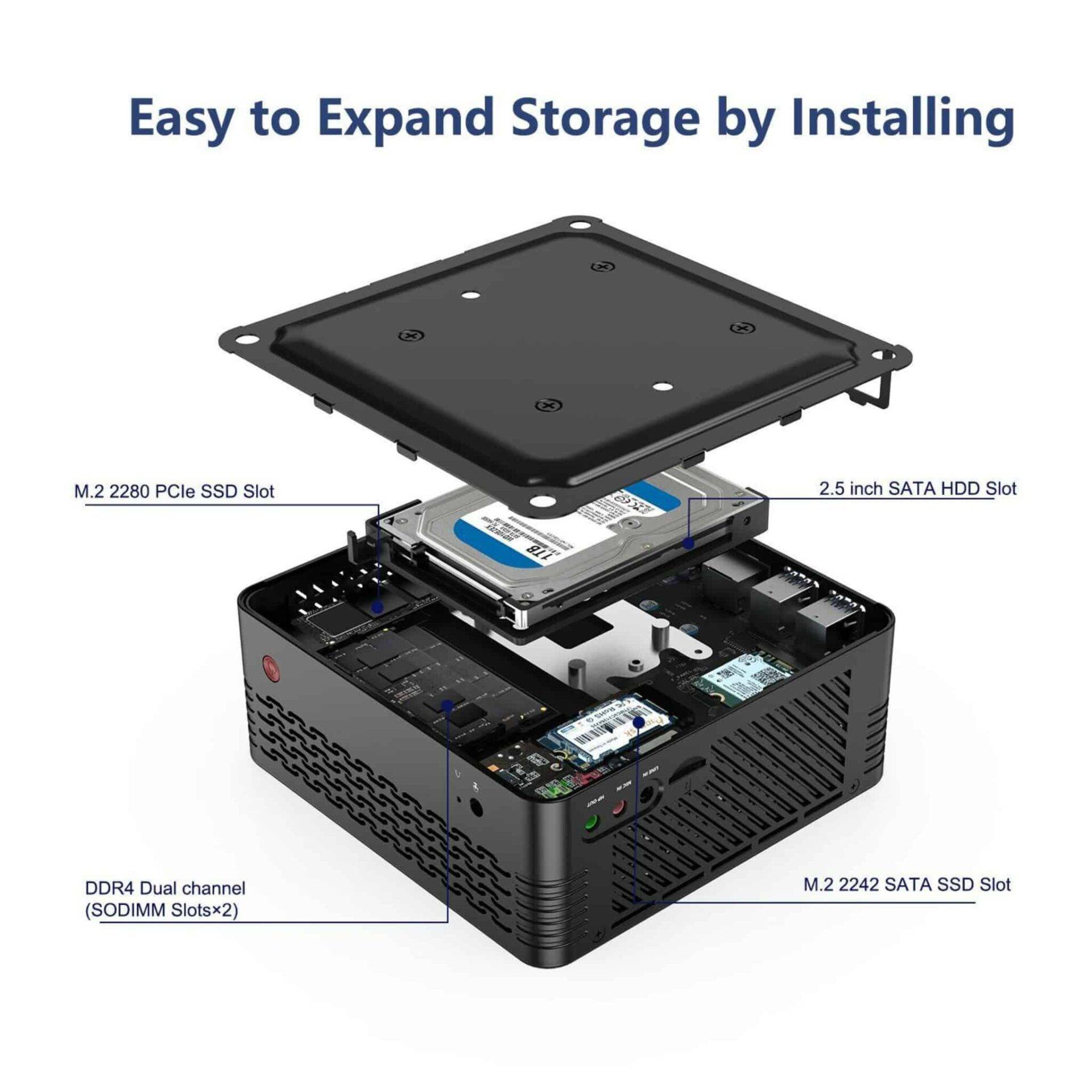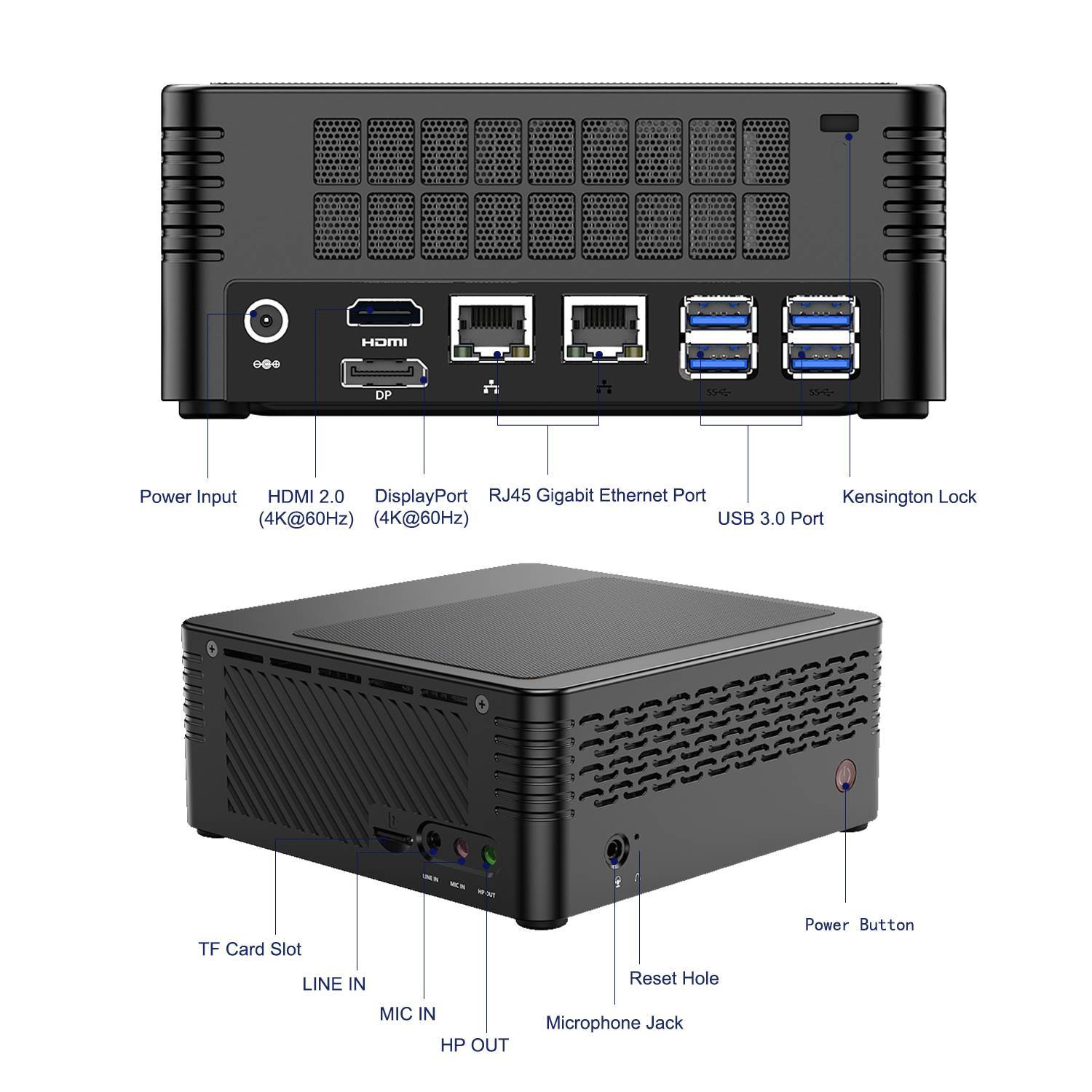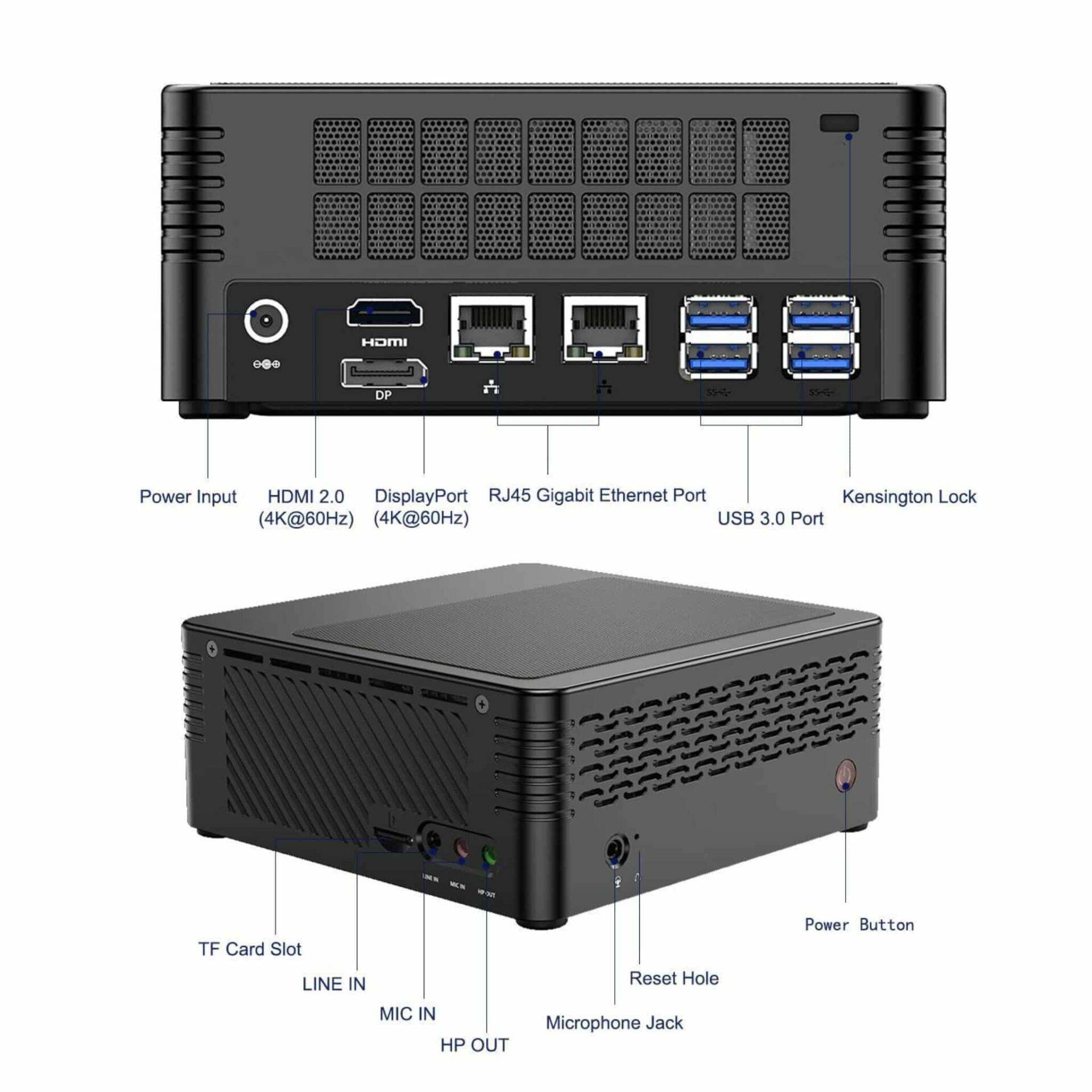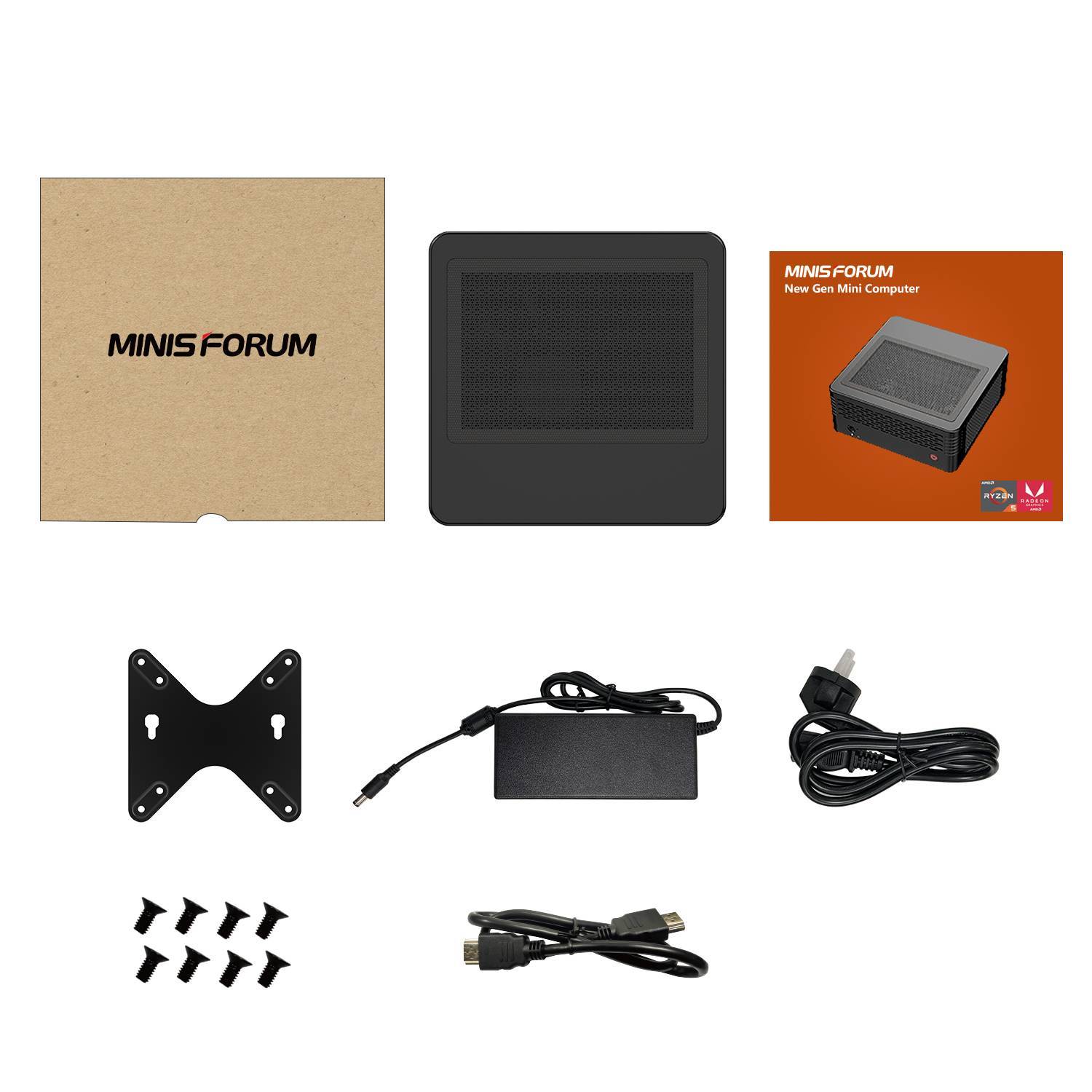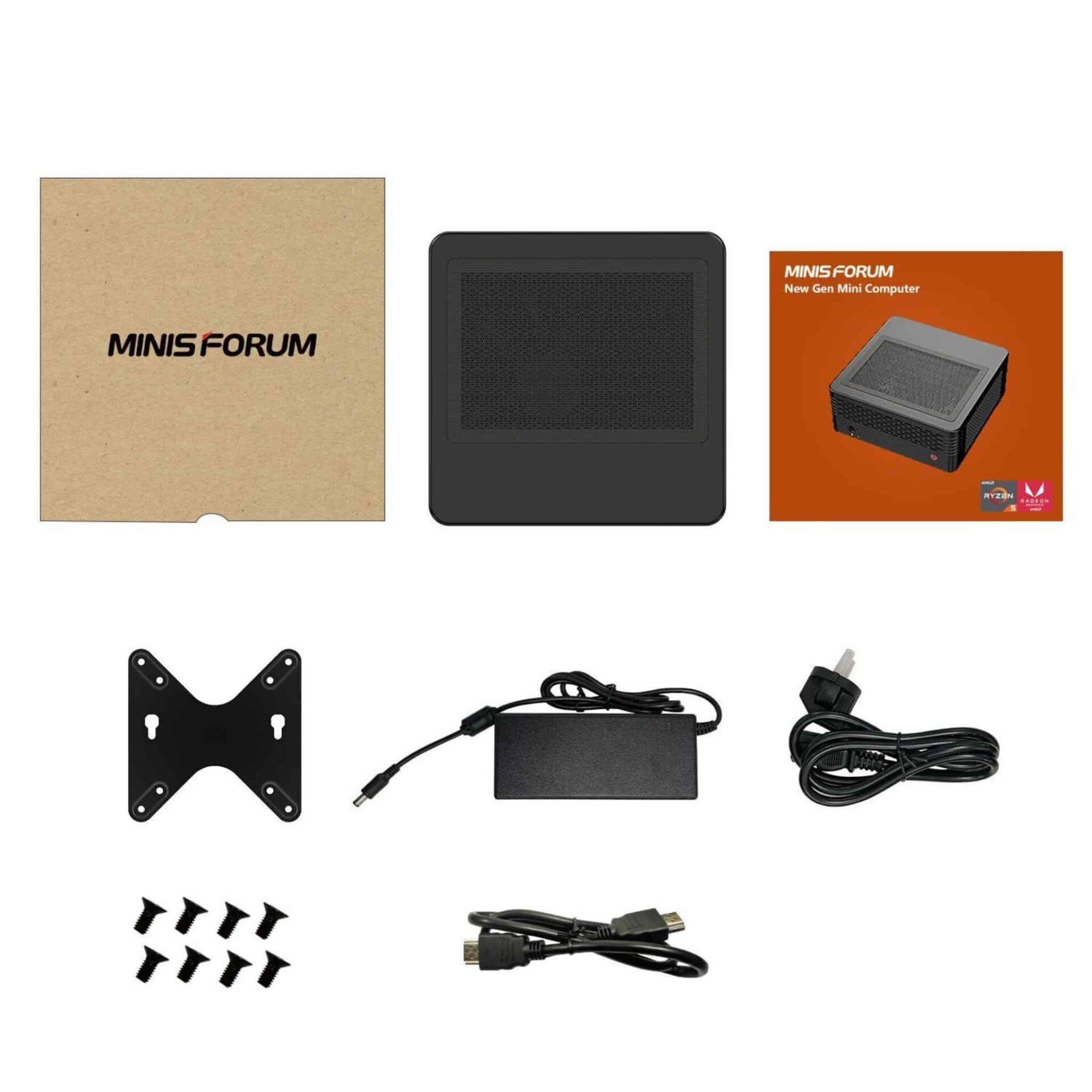 Technical Specifications
Softwares
OS
Windows 10 PRO
Processor
Brand
AMD
Model
Ryzen™ 5 PRO 4650G
Arhitecture
7nm
# Cores
6
# Threads
12
Base Frequency
3.7Ghz
Turbo Frequency
4.2Ghz
Graphics Processor
Interface
On-Board
Brand
AMD
Model
Radeon™ Vega Graphics
Turbo Frequency
1900Mhz
Displays Supported
2
DirectX Support
✓
Memory (RAM)
Capacity
16GB/32GB (Depending on the model purchased)
Technology
DDR4 - 2x8GB Dual-Channel / 2x16GB Dual-Channel
Storage (ROM)
Capacity
256GB/512GB/1TB (Depending on the model purchased)
Technology
PCI-E NVMe SATA SSD
Expandable
1x SATA NGFF 2242 (Up to 2TB) ; 1x 2.5" HDD/SSD ; 1x Micro SD Card (Up to 128GB)
Network
Ethernet
2x 1GB/s RJ45
Wi-Fi
802.11ax Module – Dual-Band (Wi-Fi 6)
Bluetooth
5.1
I/O Interface
USB
4x USB Type-A
Video
1x HDMI 2.0(4K@60Hz) ; DisplayPort(4K@60Hz)
Audio
1x HDMI 2.0 ; 1x DisplayPort ; 1x 3.5mm Audio Jack ; LINE OUT, HP OUT
Dimension/Weight
Product Dimensions
(L x W x H): 15.4 x 15.3 x 6.20 cm / 6 x 6 x 2.4 inches
Product Weight
900g / 1.98lb
Package Dimensions
(L x W x H): 19 x 19 x 16 cm / 7.4 x 7.4 x 6.3 inches
Package Weight
1900g / 4.19lb
Application Ready
At the time of publication, this list is comprehensive and accurate. Specific apps or add-ons may be removed or added in the future.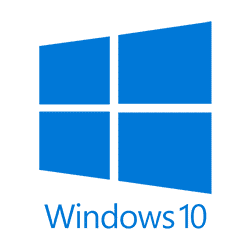 Windows 10 OS
The most used Operating System on the planet. That's for a reason
Package Includes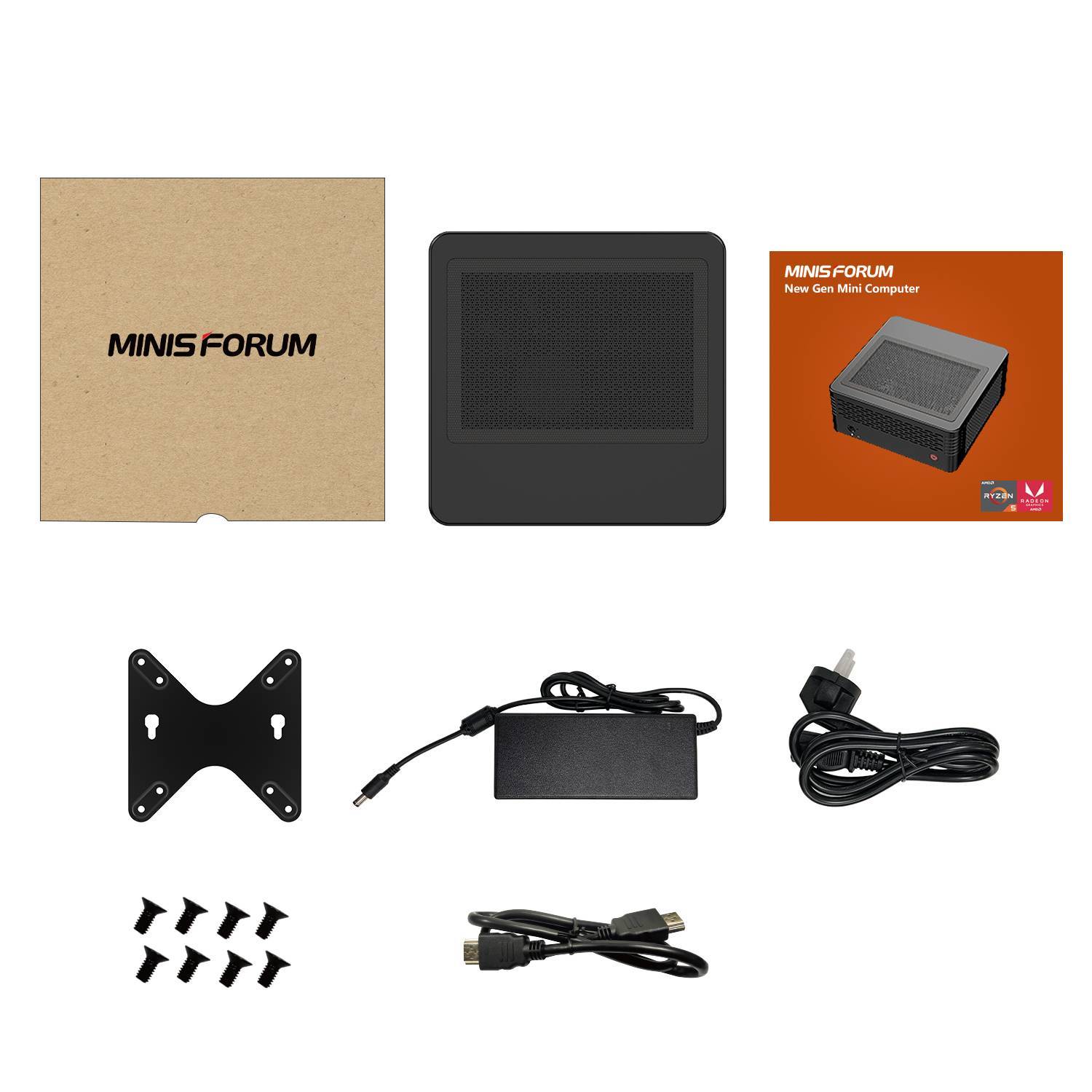 1 * Power Adapter
1 * HDMI Cable
1 * DisplayPort Cable
1 * Mounting Bracket
1 * User Manual
Please Note
In line with the policy of continued development, the manufacturer reserves the right to amend the specifications without prior notification. The illustrations in the user manual are for reference only.
Reviews
Very good spec for a great price, performs well.
Really impressive
I have been very impressed with this little box. It feels really fast and responsive. The only issue was that the DisplayPort doesn't seem to support Dual Mode so cannot use a passive adapter or cable to connect to HDMI or DVI. I use this active adapter-
https://www.amazon.co.uk/gp/product/B00S0C7QO8
A bit of a pain but not the end of the world.
Overall Impressed
Just what I wanted, very small, powerful, easy to set up, Windows 10 installed.
Only down sides are fan can become a little noisy (can modify this apparently but haven't tried) and the flashing blue light on sleep mode is annoying.
Awesome little box .. just a bit loud when load hits
What not to like - the loud fan. Now with that out of picture, everything else is great. Power, size, customer support from droix - a great addition to my home theatre setup .. and flexible enough to just take it out and move it to another room.
wow! Its a bit ...
wow! Its a bit bigger than I was expecting but this pc is way faster than my old dell computer!! quick delievery too!
MinisForum EliteMini X400 – AMD Ryzen 5 Mini PC
Starting at £ 599.95 Incl. VATStarting at £ 499.96 Excl. VAT