MinisForum HX80G gaming mini PC
AMD Ryzen 7 5800H @ 4.4GHz TDP: 35-54W
Up to 64GB DDR4 & 4TB M.2 2280 SSD
AMD Radeon™ RX 6600M(GDDR6 8GB)
Quad monitor output 
WiFi 6 & Bluetooth 5.2
£839.95Starting at £672.95 Incl. VATStarting at £560.79 Excl. VAT
Description
If you're in the market for a compact yet powerful gaming mini PC, look no further than the MinisForum HX80G mini PC. This cutting-edge device is designed with performance and portability in mind, featuring a Ryzen processor and Windows 11 operating system. With its sleek design and impressive hardware, this mini PC is perfect for gamers and power users who demand the best in both performance and portability. 
Powerful Hardware: Ryzen Processor and Radeon Graphics
The MinisForum HX80G is built around a Ryzen 7 5800H processor, which offers blazing-fast performance and energy efficiency. With 8 cores and 16 threads up to 4.4GHz, this processor can handle even the most demanding games and applications with ease. The HX80G also features an AMD Radeon RX 6600M graphics card, which provides stunning visuals and silky-smooth gameplay. Together, these components make the Ryzen mini PC a powerful gaming machine that can handle anything you throw at it. 
Features and Connectivity: DDR4 Memory, SSD Storage, and Ports
Despite its small size, the HX80G is packed with features. It supports up to 64GB of DDR4 memory and up to 4TB of m.2 2280 PCIe SSD, providing plenty of space for games, applications, and multimedia. With 2.5 Gigabit Ethernet, Wi-Fi 6 and Bluetooth 5.2 connectivity, you can easily connect to your home network and peripherals. The HX80G also features two HDMI and two Display Port, both supporting 4K 60Hz, which provides up to quad monitor display capability. On the front of the mini PC with Windows 11 is a USB 3.1 Type-A port and USB 3.2 Gen 1 Type-C port. The back has two additional USB 3.2 Gen 2 Type-C and one USB 3.2 Gen 2 Type-C ports. This makes it easy to connect all your peripherals and devices without sacrificing performance. 
Compact Design: Size and Weight
The MinisForum HX80G gaming mini PC remains impressively compact, making it an ideal choice for gamers who are always on the move. Measuring just 8.07 x 7.99 x 2.73 inches (20.5 x 20.3 x 6.9cm) and weighing only 1.21 kg, this mini PC is easy to take with you wherever you go, making it perfect for travel or for use in smaller living spaces where space is at a premium. Its small size also makes it easy to set up in any location, from a cramped dorm room to a hotel room while traveling. With the HX80G, you can enjoy powerful gaming performance without sacrificing portability. 
Advantages of Gaming Mini PCs over Desktop PCs
So why choose a gaming mini PC like the HX80G over a traditional desktop PC? For one, they are much more portable and take up less space. This makes them perfect for gamers who travel frequently or live in smaller spaces. Additionally, mini PCs are often more energy-efficient than desktops, saving you money on your electric bill. The HX80G is designed to be energy-efficient, so you can game for longer without worrying about your electric bill. 
The MinisForum HX80G can play a variety of popular games, including Call of Duty Modern Warfare 2, Fortnite, Overwatch 2, Battlefield V, Assassin's Creed Odyssey, and Shadow of the Tomb Raider. Its robust hardware configuration ensures that these games run smoothly, with minimal lag or stuttering, albeit with some graphical settings dialed down on some games. 
A Powerful and Portable Gaming Machine
In conclusion, the MinisForum HX80G Ryzen mini PC is a powerful gaming machine that packs a punch despite its small size. With its Ryzen processor, Windows 11 operating system, and AMD Radeon graphics card, this small form factor PC delivers stunning visuals and smooth performance. Plus, its compact size and portability make it perfect for gamers who need to travel frequently or who live in smaller spaces. 
Technical Specifications
Software
OS
Windows 11
Security
PIN/Password
Processor
Brand
AMD
Model
Ryzen™ 7 5800H
Litography
TSMC 7nm FinFET
# Cores
8
# Threads
16
Turbo Frequency
Up to 4.4GHz
Cache
L3 Cache: 16MB
More Info
More Info
Graphics Processor
Interface
Dedicated
Brand
AMD
Model
AMD Radeon™ RX 6600M(GDDR6 8GB)
Compute Units
28
Stream Processors
1792
Game Frequency
2177 MHz
Memory Speed
14 Gbps
HDMI™ 4K Support
Yes
4K H264 Decode
Yes
Features
AMD Smart Access Memory , AMD SmartShift Technology
More Info
More Info
Memory (RAM)
Capacity
Up-To 64GB (Depending on the model purchased)
Technology
DDR4 Dual channel (SODIMM Slots×2)
Speed
3200MT/s
Storage (ROM)
Capacity
up to 4TB
Technology
M.2 2280 SSD
Network
Ethernet
2.5G Ethernet Adapter (RJ45)
Wi-Fi
Wi-Fi 6,BlueTooth 5.2
I/O Interface
USB

USB3.2 Gen1 Type-A Port ×1 (Front)
USB3.2 Gen2 Type-A Port ×3 (Rear)
USB3.2 Gen1 Type-C Port ×1

Video
Audio
Microphone Jack ×1 , Headphone Jack ×1
Power
DC 19V (Adapter Included)
Package Includes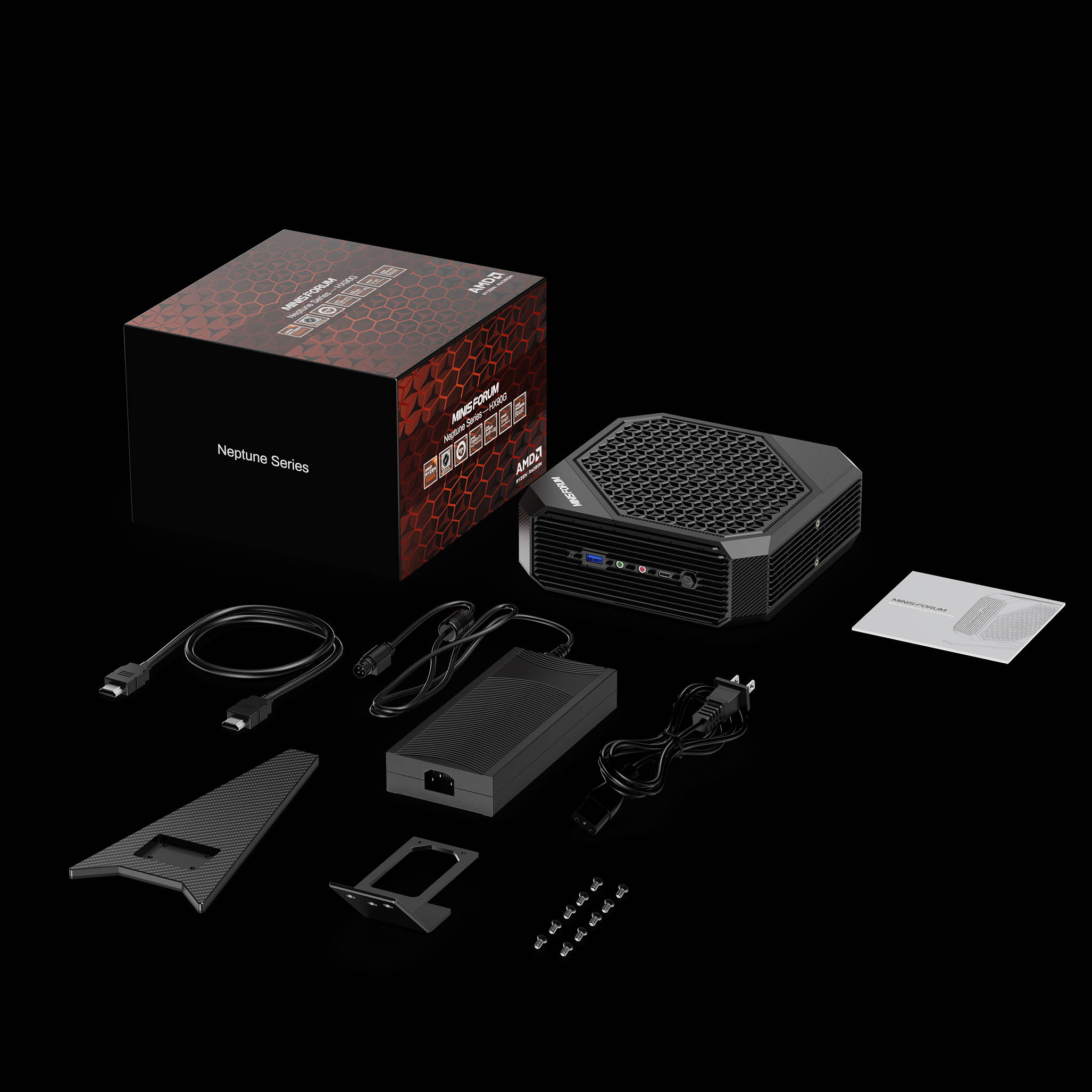 Power Adapter × 1
Power Cable × 1
HDMI Cable × 1
Base Support Frame × 1
Base Bottom Plate × 1
Technical Documents × 1
Mounting Screw Set × 1
Please Note
In line with the policy of continued development, the manufacturer reserves the right to amend the specifications without prior notification. The illustrations in the user manual are for reference only.
MinisForum HX80G gaming mini PC
£839.95Starting at £672.95 Incl. VATStarting at £560.79 Excl. VAT