Miyoo Mini V2 Retro Gaming Console
Powerful ARM Cortex A7 dual core processor @1.2GHz
Crystal clear 2.8" IPS display @ 640×480 resolution
128MB RAM &32GB storage – Up to 128GB Micro SD card
1900mAh rechargeable battery, 4-5 hours based on usage
RetroArch supporting over a dozen retro games consoles
Note:
MIYOO MINI V2 Grey include 64GB Micro SD card storage .

MIYOO MINI V2 is on backorders , we are expecting delivery at the mid of July.

Starting at € 75.60 Incl. VATStarting at € 63.00 Excl. VAT
Great Accessories
Powerful ARM Cortex A7 dual core processor @1.2GHz
Crystal clear 2.8" IPS display @ 640×480 resolution
128MB RAM &32GB storage – Up to 128GB Micro SD card
1900mAh rechargeable battery, 4-5 hours based on usage
RetroArch supporting over a dozen retro games consoles

Note:

MIYOO MINI V2 Grey include 64GB Micro SD card storage .


MIYOO MINI V2 is on backorders , we are expecting delivery at the mid of July.

Description
The Miyoo Mini V2 retro games console is the perfect handheld for those on the go thanks to its small form factor. Measuring just 9.33 x 6.5 x 1.8 cm and weighing 110 grams, it features a crystal clear 2.8-inch IPS display at 640×480 resolution that looks amazing.
The Miyoo Mini V2 has a powerful ARM Cortex A7 dual core processor which runs up to 1.2GHz. It is very capable of playing your favourite 8 and 16bit retro games. There is 128MB RAM which is enough for the operating system and the compatible video games consoles it supports. In terms of storage there is 32GB storage via Micro SD Card, or you can add your own for larger storage. It is powered by a 1900mAh rechargeable battery offering 4-5 hours battery life depending on usage.
On the front of the Miyoo Mini v2 handheld retro games console is a classic style D-Pad which is responsive offering pixel perfect precision. There are four gaming buttons and SELECT and START buttons. On the back you can find Left and Right Shoulder and Trigger buttons for games that require it. On the bottom is a 3.55 headphone port, Micro SD Card slot and USB Type-C charging port. On the side is a volume button and the top has the power button.
The operating system is powered by RetroArch and uses a custom frontend to navigate your games library on the Micro SD Card. The MYOO Mini v2 supports a number of classic video games console and arcade including Mega Drive / Genesis, Master System, Game Gear, PC Engine, Wonder Swan Mono and Color, PlayStation 1, CPS-I, CPS-II, CPS-III, and Arcade with Final Burn Alpha. With the RetroArch system you can save your game at any time and resume it exactly where you left off.
The Miyoo Mini v2 retro gaming console is ideal who desire a very portable retro handheld that is light and extremely portable in that it can easily fit inside a jacket pocket. Despite its small size, it has a powerful processor and excellent battery life which will last a daily commute or longer distance travel.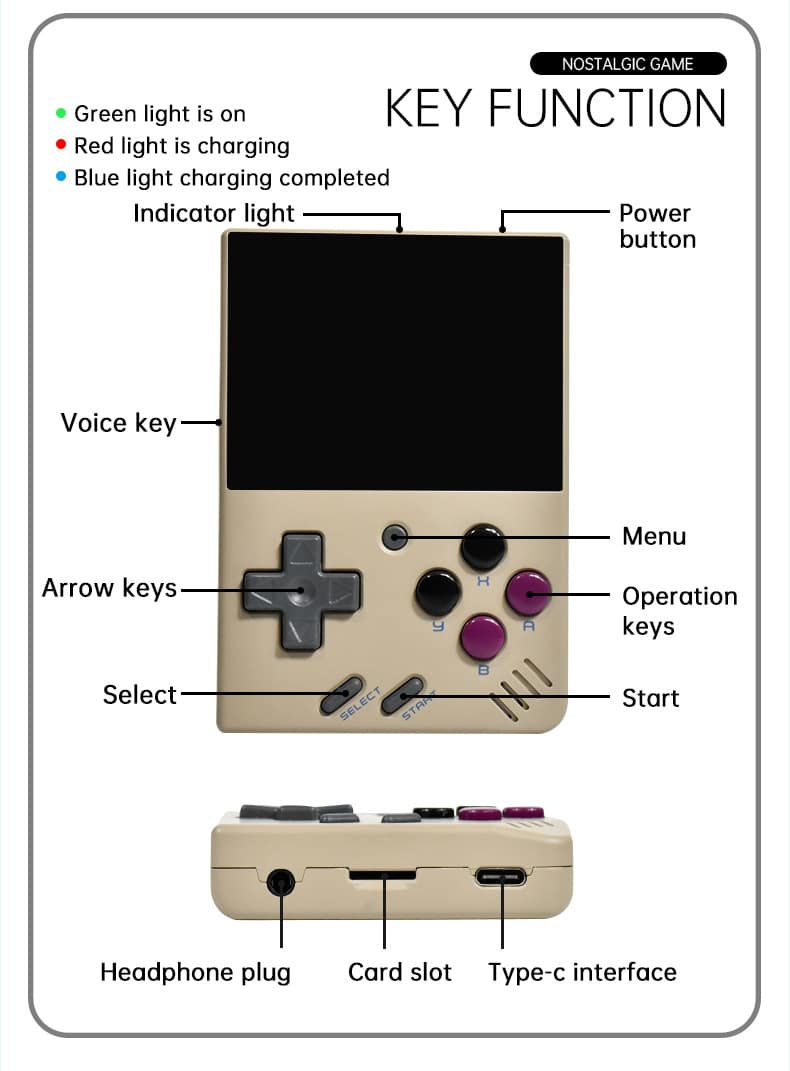 Technical Specifications
Processor
Brand
ARM
Model
Cortex-A7
Cores
2
Frequency
1.2Ghz
Display
Display Size
2.8"
Technology
IPS
Resolution
640x480
Battery
Technology
Li-Polymer
Capacity
1900mAh
Memory/Storage
RAM
128MB
ROM(Storage)
32GB
Expandable
MicroSD Card Up To 128GB
I/O Interface
USB
1x Type-C
Audio
3.5mm Headset
Package Includes
1* Game Console
1* USB Type-C Data Cable
1* User Manual


Please Note
In line with the policy of continued development, the manufacturer reserves the right to amend the specifications without prior notification. The illustrations in the user manual are for reference only.
Reviews
Amazing little device.
Perfect device for retro gaming. Growing up with the original "brick" gameboy, this offered a great bit of nostalgia, especially with the grey finish. From what I've played, the games run flawlessly and can be easily changed and swapped about thanks to the easy to access micro sd card at the bottom. 5 stars.
Small but excellent
It came in the time specified and I've dad it for about a week now. Buttons feel responsive and the menu system is smart and easy to navigate. Worked wonderfully straight out of the box. I'm not a fan of the shoulder button positioning and the small overall size makes it slightly awkward to play for long periods (wouldn't be an issue for smaller hands) but still this was a great purchase and I'm very happy with it. For large numbers of game files I'd recommend putting them in alphabetic sub-folders to speed up navigating, at least until a game goes in recently played or favs. That way when a friend asks "ok but has it got..." you can answer them a little bit quicker!
Miyoo Mini V2
Superb! Great device and great shopping experience.
Wow factor!
The Miyoo Mini is one of the more affordable retro emulation devices but it still very capable (runs games updated to PSX).
Great for playing Mame arcade games & 16 bit era home console titles. Screen is sharp & impressive. The design of the device with tiny bezels makes it look very appealing & premium.
It's actually pretty amazing to be able to play so many classic games on such a tiny machine.
Overall a great device for the price although a bit fragile so maybe not the best choice for young children.
Miyoo Mini V2 Retro Gaming Console
Starting at € 75.60 Incl. VATStarting at € 63.00 Excl. VAT