£160.95Starting at £138.95 Incl. VATStarting at £115.79 Excl. VAT
Description
Retroid Pocket 2S: The Pinnacle of Classic Gaming Handheld Devices
Introduction: Where Past and Future Collide
The Retroid Pocket 2S is not just a device; it is a bridge between decades, linking the cherished memories of yesterday's gaming classics with today's cutting-edge technology. Let us delve deep into this masterpiece and unearth its countless treasures. 
An Artistic Blend: Design Aesthetics
Every inch of this portable retro gaming console screams nostalgia while not shying away from a modern touch. Its form factor is reminiscent of iconic handhelds from the past, yet it boasts features and finishes that firmly plant it in the present. A harmonious blend of past and future, the Retroid Pocket 2S promises a gaming experience like no other. 
Beastly Performance: A CPU & GPU Symphony
Diving into the heart of this mobile gaming handheld, we find a truly impressive engine. The UNISOC T610 Octa Core CPU ensures rapid response times, eliminating lags and enhancing your gaming experience. Whether you are revisiting a classic RPG or engaging in an action-packed platformer, the combined might of the 2x A75 and 6x A55 cores, clocking up to 1.8GHz, promises fluid gameplay. This orchestra of speed is beautifully complemented by the Mali G52MC2 GPU, capable of delivering lush visuals, detailed graphics, and swift rendering. 
Memory Prowess: RAM & Storage Solutions
Gaming can be demanding, and the Retroid Pocket 2S is prepared. With 4GB of LPDDR4x RAM, games launch in the blink of an eye, and multitasking is a breeze. Store all your beloved classics and discover new gems with the 128GB eMMC of storage. There is also a Micro SD card to further expand the storage. Your vast gaming library deserves a spacious home. 
Revel in Crystal-Clear Graphics: Display Excellence
The Retroid Pocket 2S invites you into a realm of vibrant, clear, and immersive visuals. The 3.5-inch touch screen display, with its 4:3 aspect ratio, is a nod to classic designs, ensuring games appear just as their creators intended. Dive into a pixel-perfect world with a resolution of 640×480 at 60Hz, enriched further by a luminance of 450 nits. Your gaming universe, brighter and clearer than ever. 
Always Connected: Wi-Fi & Bluetooth Integration
Whether downloading your next favourite title or connecting to peripherals, this vintage gaming handheld keeps you in the loop. The dual-band Wi-Fi ensures fast downloads and uninterrupted online gameplay. Meanwhile, Bluetooth 5.0 provides a stable connection to a myriad of compatible devices, further enhancing the possibilities. 
Control Like Never Before: Innovative Gaming Buttons & Joysticks
Intuitive controls are the soul of any gaming device. With its ergonomic D-Pad, tactile double-coloured mould injection gaming buttons, and state-of-the-art hall effect analogue sticks, the Retroid Pocket 2S elevates your gaming precision. Experience enhanced accuracy, zero drift, and unmatched stability, letting you master any game that comes your way. 
A Familiar Interface with Endless Possibilities: OS & Software
Running on Android 11, this portable gaming handheld offers users a familiar and adaptable environment. Explore a universe of games and apps on the Google Play Store and enjoy seamless updates with OTA support. The integrated game launcher and emulator frontend further optimize the gaming experience, ensuring you are always ready for action. 
Expand Your Horizon: TV Output Feature
Want a more cinematic experience? Project your retro adventures onto the big screen using the Micro HDMI port. With support for 480p resolution, game nights with friends and family become grand events. 
Unwavering Stamina: Long-lasting Battery
The Retroid Pocket 2S's commitment to uninterrupted gaming is evident in its 4000mAh battery. Dive into extensive gaming sessions without the constant worry of charging. Your adventure does not stop until you decide. 
A Palette of Choices: Diverse Case Colours
Express yourself with a range of striking case colours; 16-bit, Black, Retro, Indigo, Transparent Black and Transparent Green. Each hue tells a story, allowing you to choose the narrative that resonates most with you. 
Ergonomics and Portability: Perfect Size & Weight
Weighing in at a mere 200g and with compact dimensions, the Retroid Pocket 2S ensures comfortable gameplay for hours. Slide it into your pocket and take your gaming adventures wherever you go. 
Conclusion: A Timeless Classic Reimagined
The Retroid Pocket 2S stands as a testament to the timeless allure of retro gaming, enhanced and redefined for the modern era. It is more than just a device—it is a journey through the annals of gaming history. Whether you are a seasoned gamer or new to the world of retro, this handheld console promises an experience that transcends time. Embrace the past, present, and future of gaming with the Retroid Pocket 2S. 
Pros of Retroid Pocket 2S:
High-Performance Hardware: With its powerful UNISOC T610 Octa Core CPU and Mali G52MC2 GPU, the Retroid Pocket 2S ensures smooth gameplay and superior graphics rendering compared to many other retro handhelds.

 
Versatile OS & Connectivity: Running Android 11, it offers a wide range of compatible games, apps, and regular OTA updates. Plus, with dual-band Wi-Fi and Bluetooth 5.0, it stands out in terms of connectivity options.

 

Exceptional Controls: The inclusion of analogue L2/R2 buttons, dual 3D hall effect sticks, and double-coloured mould injection gaming buttons provides a more comprehensive and accurate gaming experience.

 

TV Output Capability: The Micro HDMI port for 480p output offers flexibility for those who want to game on a bigger screen, a feature not always present in retro handhelds.

 

Customizable Aesthetics: With a variety of case colours, users have the freedom to choose a design that resonates with their personal style.

 
Cons of Retroid Pocket 2S:
Fixed Display Ratio: The 4:3 aspect ratio, while nostalgic, might not appeal to everyone, especially those accustomed to wider screens.

 
The Retroid Pocket 2S is a quintessential blend of nostalgia and cutting-edge technology, designed specifically for retro gaming enthusiasts. Packed with a powerful UNISOC T610 Octa Core CPU and a Mali G52MC2 GPU, it promises smooth, uninterrupted gameplay that breathes life into classic titles. Running on the versatile Android 11, the device offers a vast universe of games, apps, and consistent OTA updates. This, combined with its superior control precision, TV output capability, and a wide array of aesthetic choices, makes the Retroid Pocket 2S an unmatched companion for both seasoned gamers and those eager to dive into the world of retro gaming. 
You can read our full Retroid Pocket 2S review here. And if you are new to retro gaming handhelds, check out our Getting Started with your retro gaming handheld guide here. 
Technical Specifications
Software
Operating System
Android 11
Dual Boot
No
Dual Boot OS
N/A
Processor
Processor (CPU) Base Frequency
1.80Ghz
Processor (CPU) Brand
UNISOC
Processor (CPU) Cores / Threads
8 Cores / 8 Threads
Processor (CPU) Max Frequency
Up To 1.80Ghz
Processor (CPU) Model
Tiger T610
Graphics Card (GPU)
Graphics (GPU) Brand
Mali
Graphics (GPU) Max Frequency
614 Mhz
Graphics (GPU) Model
Mali-G52 MP2
Display
Aspect Ratio
4:3
Pixels/Inch
228 PPI
Resolution
640×480
Size
3.5 Inch
Touchscreen
Yes
Memory (RAM)
Memory (RAM) Capacity
4GB
Memory (RAM) Technology
LPDDR4x
Memory (RAM) Speed
1600 MT/s
Storage
Storage Capacity
128GB
Storage Expansion
1x Micro SD Card Slot
Storage Technology
eMMC
Ports
I/O Audio
1x 3.5mm Headphone&Microphone Combo Jack
I/O USB
1x USB Type-C
I/O Video
1x Micro HDMI
Connectivity / Battery
Wi-Fi
5
Bluetooth
5.0
Battery Capacity
4000 mAh
Battery Type
Li-Po
Package Includes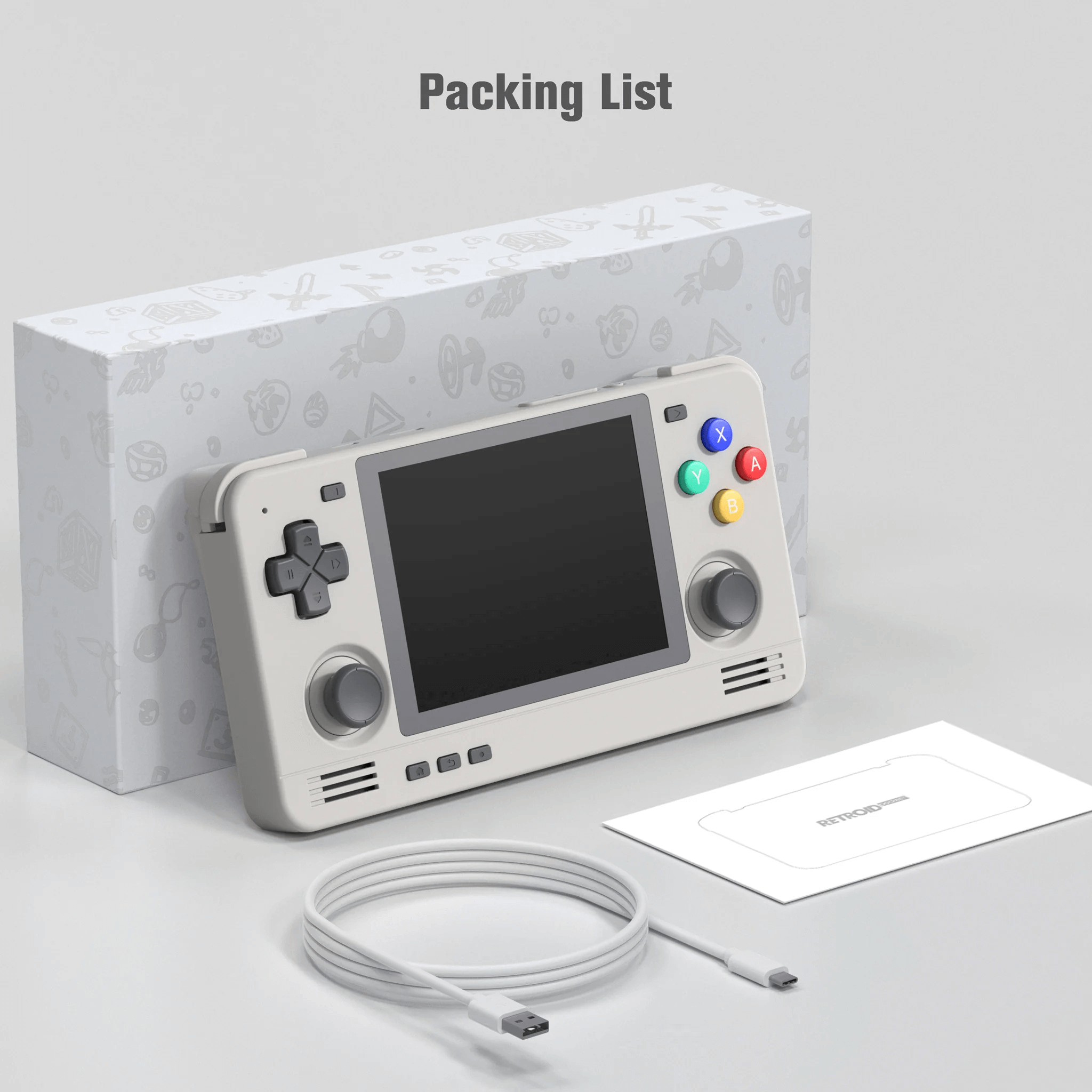 1x Retroid Pocket 2S
1x USB Type-C Cable
1x User Manual
Please Note
In line with the policy of continued development, the manufacturer reserves the right to amend the specifications without prior notification. The illustrations in the user manual are for reference only.
Reviews
Portable ps2
The retroid pocket 2s is really remarkable. Like the title says its practically a portable ps2. It can play every title I have thrown at it, just make sure you remove the factory underclock for each game. Its very portable and has a very durable build quality. The battery life is great, I havent tested it all the way through but with xenosaga episode 1 on ps2 I have gotten 6 hours out of it and it went from 90ish percent to 40ish percent. And because it runs android you can also play native android games as well as browse the web. To me this feels like a modern psp but obviously better. I love the clear green, it reminds me of the clear game cases you used to be able to buy on sketchy japanese websites back in the day that took 3 months to deliver. I truly love it and if you want to buy it I suggest buying it from Droix, they cost more, but the deliver time and experience was unmatched.
Stunning Device
I had high hopes for this given the buzz around it but it really is a fabulous device. The build quality is top drawer, controls are great, screen is superb and the interface is great.
It is my go to device now for all emulation and it nails the retro vibe perfectly. Highly recommended.
Had an issue with delivery (not the fault of DroiX) but response from customer support was excellent and everything got sorted. Impressed all round.
£160.95Starting at £138.95 Incl. VATStarting at £115.79 Excl. VAT