ANBERNIC RG503 Handheld Gaming Console
RK3566 Quad-core 64-bit Cortex A55 CPU @ 1.8GHz
1GB LPDDR4 RAM & 16GB OS with 64GB storage card
4.95" OLED screen at 960×544 resolution
Supports 20 retro games consoles
HDMI output for display on big TV or monitor
Starting at £113.95 Incl. VATStarting at £94.96 Excl. VAT
Description
The RG503 retro handheld emulator is great for retro gaming on the go and continuing the fun on the big screen at home. Available in three colours; Blue, Bronze Grey and Black, the handheld measures 19 x 8.4 x 2.1 cm and weighs 235 grams. It is very portable and light to carry while travelling. It features a Samsung 4.95" OLED with a 960×644 resolution. It is the same display used on the Sony Vita and it looks great!
The RG503 has a high performance RK3566 Quad-core 64-bit Cortex A55 processor which runs up to a frequency of 1.8GHz. It is very capable of playing your favourite 8 and 16-bit retro games consoles as well as some 32-bit ones. You can find 1GB of LPDDR4 RAM which is plenty to run the operating system and the games. It comes with a 16GB Micro SD Card for the operating system which is based on Emulation Station and RetroArch. There is also a 64GB card included for the game's storage.
When it comes to controls you are spoilt for choice on the RG503. There is a classic style D-Pad and two clickable analogue sticks. There are four gaming buttons, SELECT and START and Left and Right shoulder and trigger buttons. It is powered by a li-polymer 3500mAh battery lasting up to 6 hours depending on usage. It can be recharged by the included USB Type-C cable. There is also Wi-Fi support for playing compatible games online with friends as well as HDMI output to connect to your TV or monitor for some big screen action.
Included support for retro gaming consoles and systems are CPS-I, CPS-II, CPS-III, Final Burn Alpha, MAME, WonderSwan, MSX, PC Engine, Neo Geo, Master System, Mega Drive/Genesis, Game Gear, Dreamcast, PlayStation & PlayStation Portable. For many of the retro emulators that use RetroArch cores, you can use save states to resume exactly where you left off at later date.
The RG503 retro handheld emulator is ideal for those that enjoy gaming while travelling, and at home simply plug in the HDMI cable and you are big screen gaming. The powerful processor can run all the great 8 and 16-bit retro consoles and they look amazing on the high resolution display!
You can read our in-depth RG503 review here.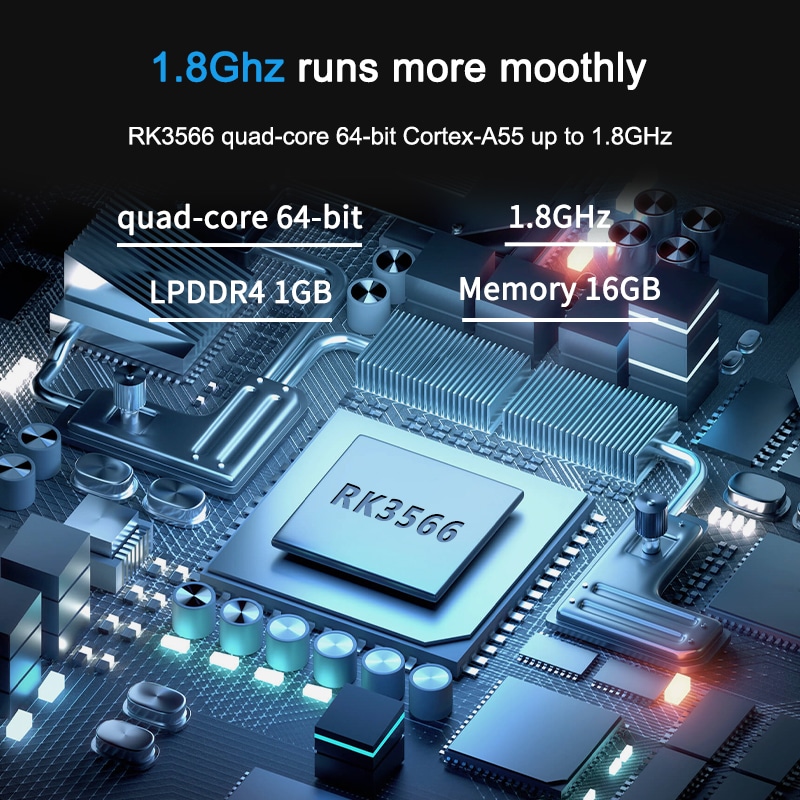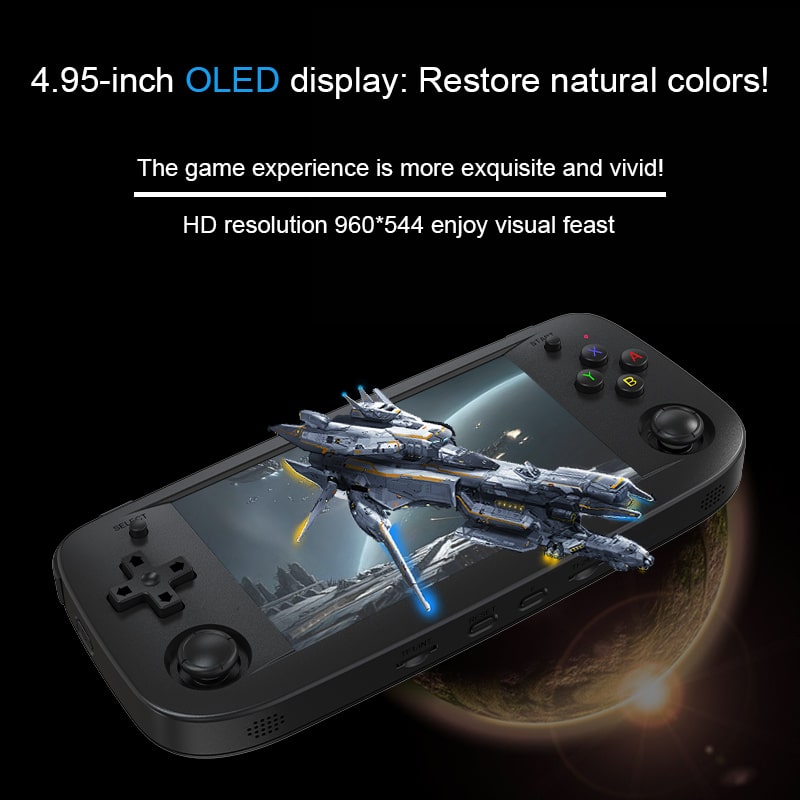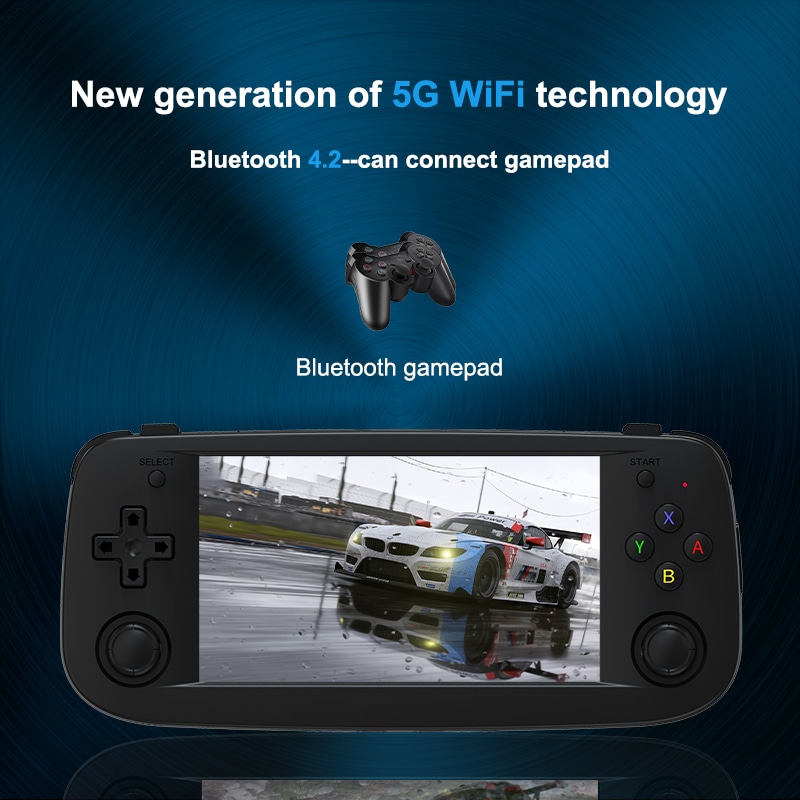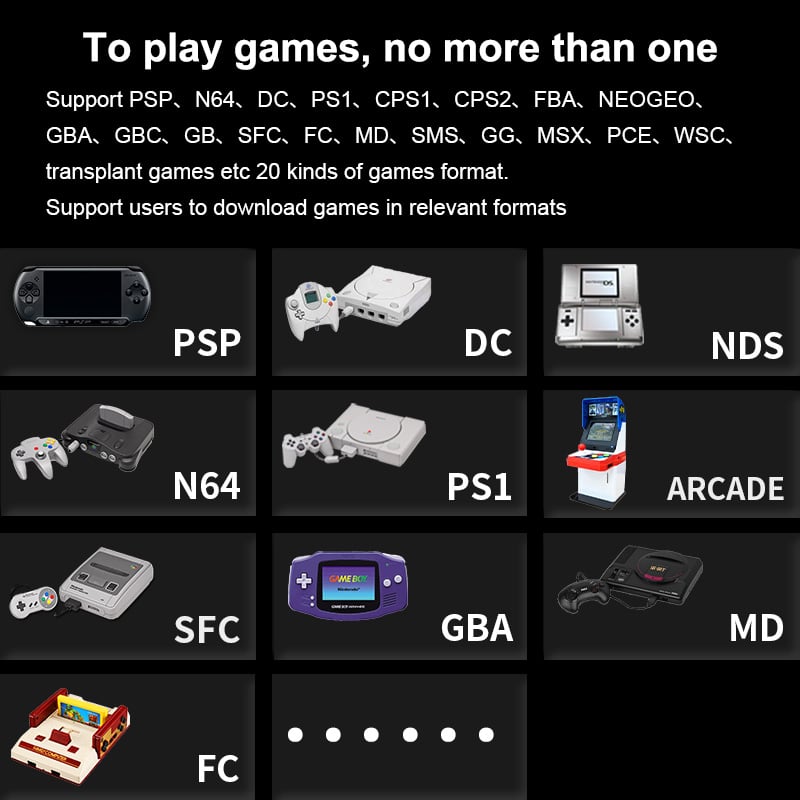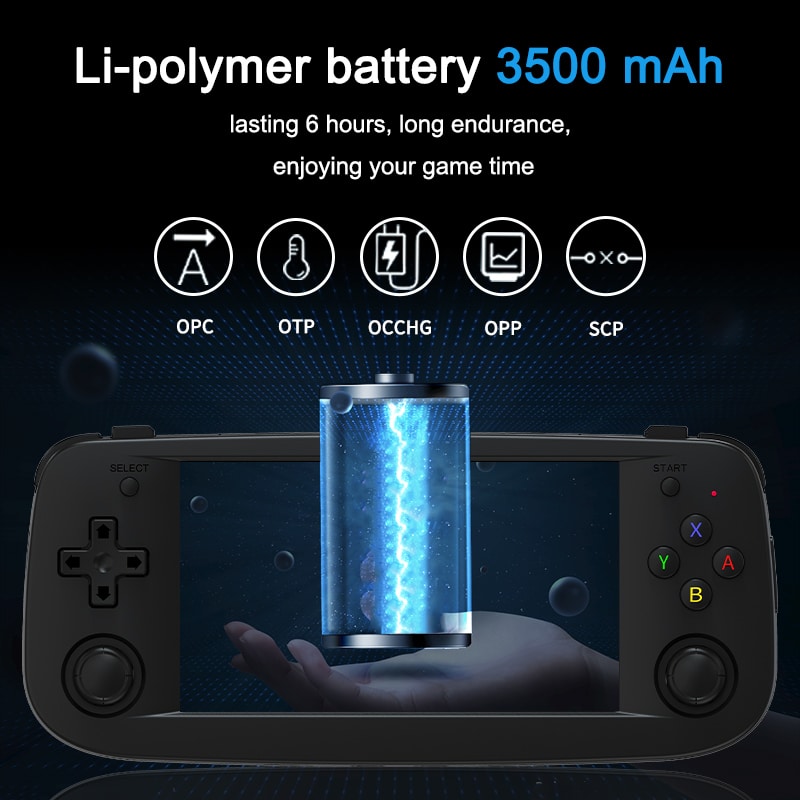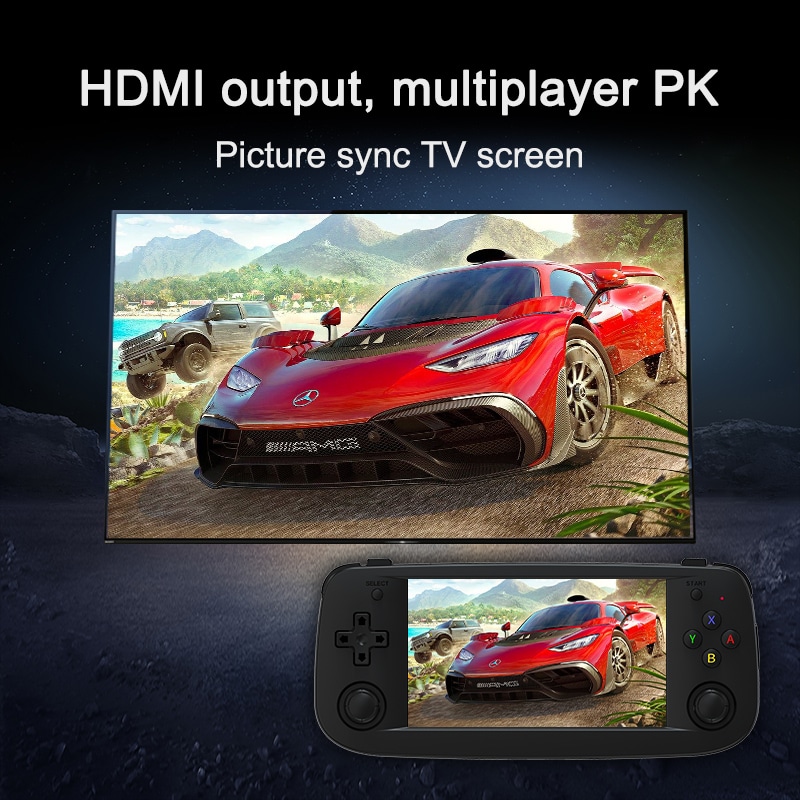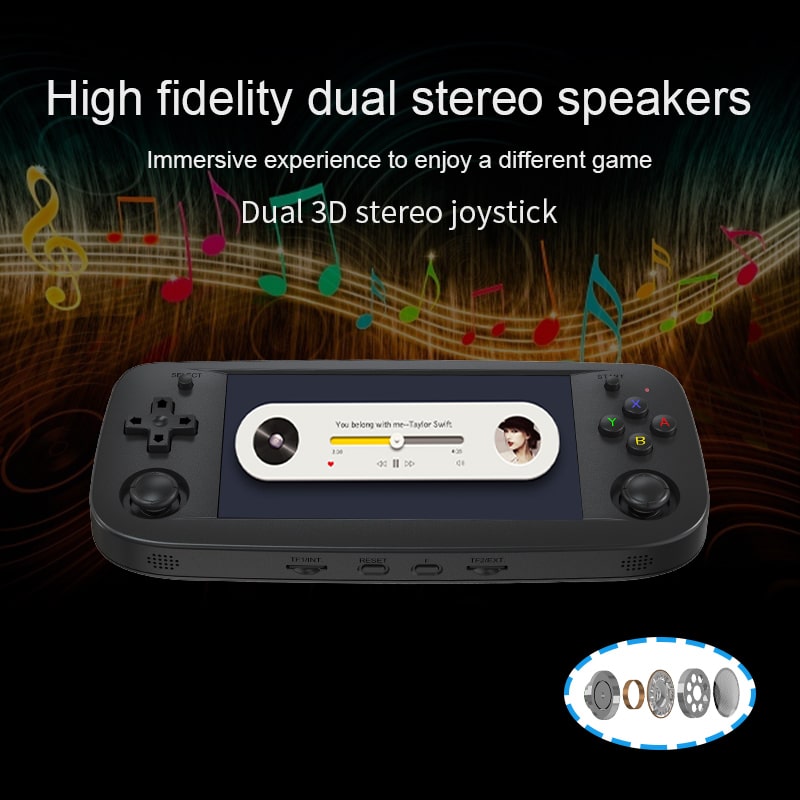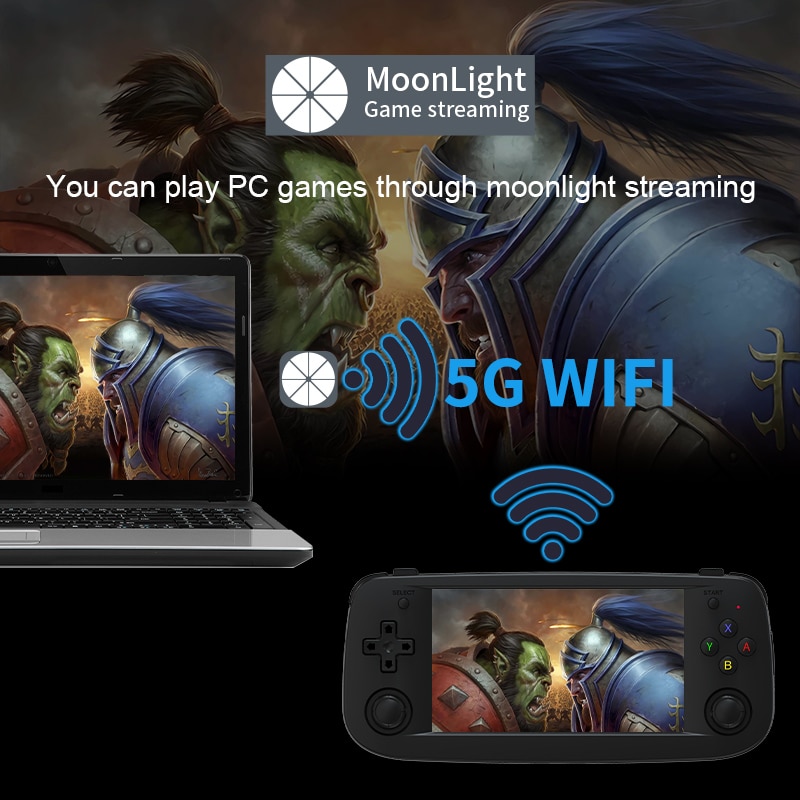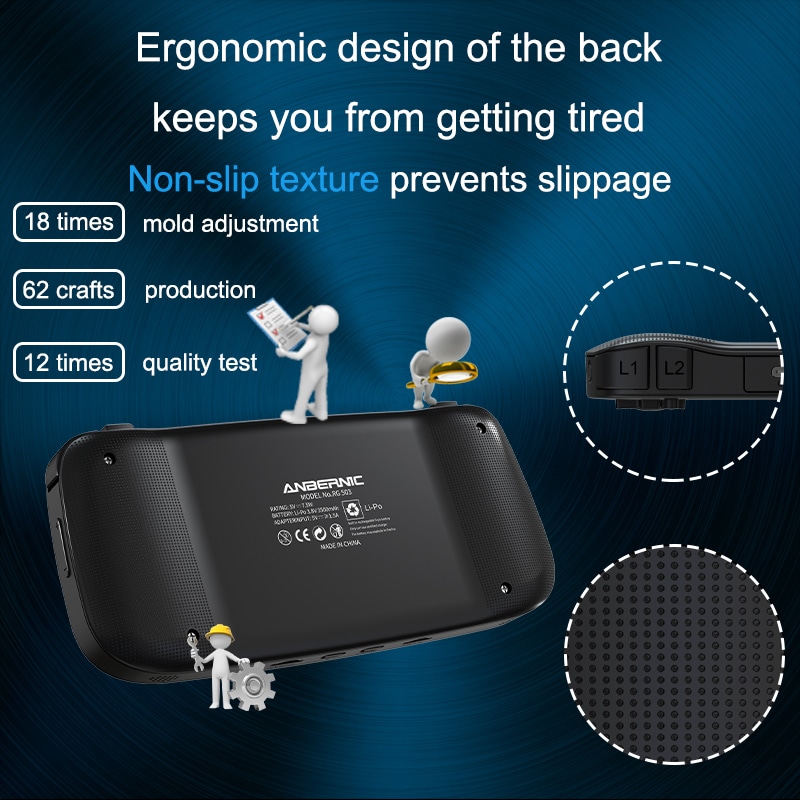 Technical Specifications
Operating Systems (OS)
Primary (eMMC)
Linux
Processor
Brand
RockChip
Model
RK3566
# Cores
4
Frequency
1.80 Ghz
Cache
1 MB unified L2 Cache (Big) ; 512 KB unified L2 Cache (Little)
Cooling
Active
Graphics Processor
Interface
Integrated
Brand
Mali
Model
G52
Display
Panel Technology
OLED Display
Touch-Screen
✓
Size
4.95"
Screen Resolution
960x544
Memory (RAM)
Capacity
1GB
Technology
LPDDR4
Storage (ROM)
Capacity
16GB (eMMC)
I/O Interface
USB
Charging
Video
HDMI
Audio
3.5mm Headphone
Battery
Capacity
3500mAh
Longevity
6 Hours (Depending on usage)
Package Includes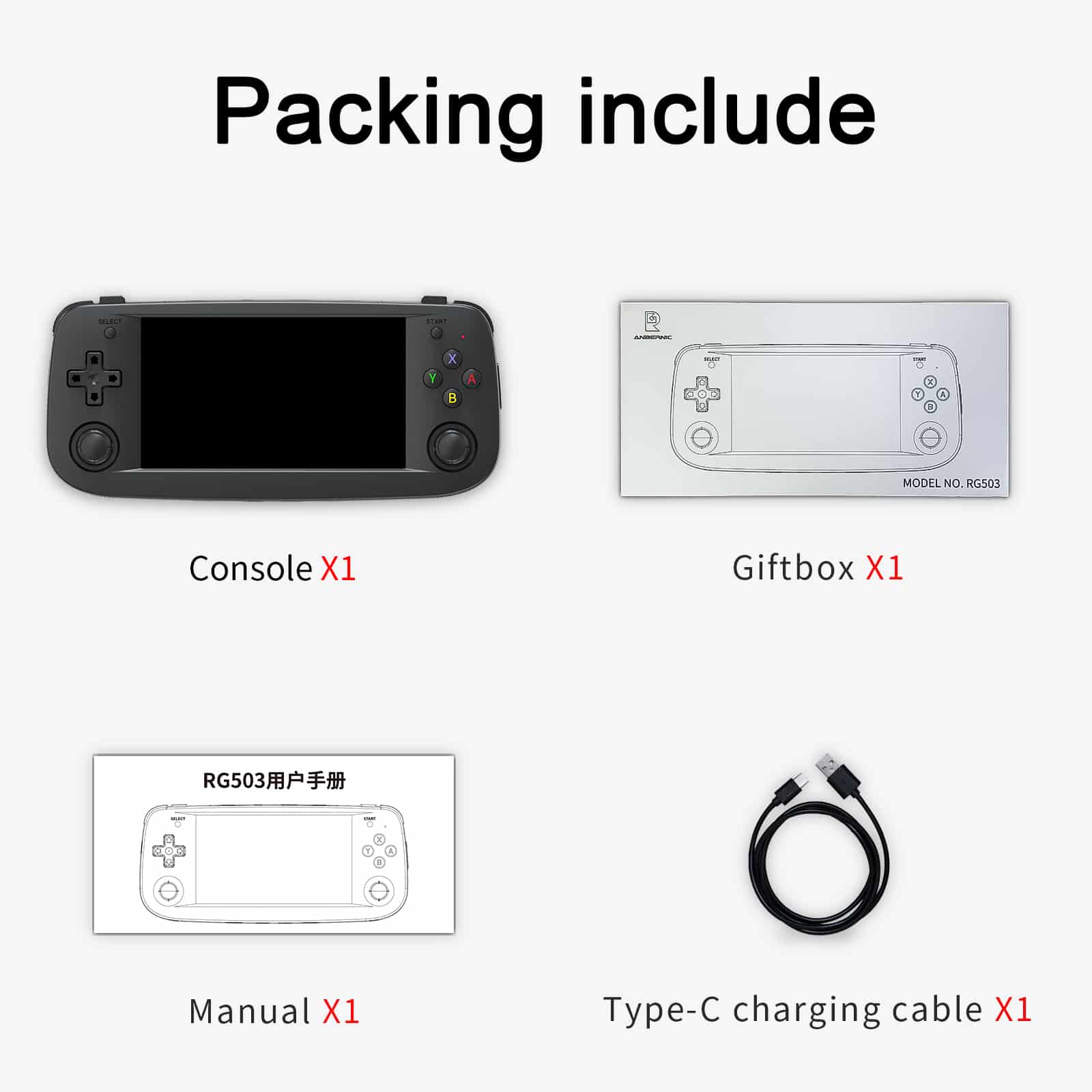 1 * RG503 Console
1 * User Manual
1 * Type-C Charging Cable
Please Note
In line with the policy of continued development, the manufacturer reserves the right to amend the specifications without prior notification. The illustrations in the user manual are for reference only.
Reviews
Excellent screen
The display looks fantastic, on cropped games in dim rooms the cropped area stays nice and dark due to the OLED tech. I did have to open it up and loosen the display bracket and adjust the angle as it was installed ever so slightly wonky from the facotry but otherwise everything is good.
Works fine with a Samsung Evo 256Gb SD card in the data side, card came formatted fat32.
The USB-C charge socket seems to be deeper than regular sockets as a standard apple usb-c charge cable doesn't seat far enough down to engage/start charging. The supplied cable works fine though, but you need to sure to have it with you.
If you connect it to wifi networks go into system settings, security and enable force security. This changes the default password from 'linux' to something else. Being able to SSH/SFTP in is quite handy feature. SFTP to copy data and SSH to edit settings file remotely.
ANBERNIC RG503 Handheld Gaming Console
Starting at £113.95 Incl. VATStarting at £94.96 Excl. VAT