Beelink GT-R AMD Ryzen 5 Mini PC
AMD Ryzen 5 3550H Processor @ up to 3.7GHz
Quad-Monitor Support
Twin M.2 SSD Support + Dual-channel DDR4 RAM Support
USB-C Compatible
Supports Wi-Fi 6
Starting at £489.95 Incl. VATStarting at £408.29 Excl. VAT
Description
From the minds behind the GT King series of android boxes, and numerous other small-form-factor PC's such as the AP45, the MII-V, and the U56, comes the latest entry in the family of small form-factor PC's – the Beelink GT-R.
Powered by the all-new AMD Ryzen 5 3550H processor clocked at 2.1GHz, capable of automatically boosting up to a sizable 3.7GHz if required, as well as the the 1200mhz performance of the Radeon Vega 8 integrated GPU. Not to mention the blazing fast [256/512]GB NVMe SSD (with additional space for an M.2 SATAIII SSD, and a 2.5 inch SATA HDD/SSD if preferred) and [8/16]GB of DDR4 RAM (expandable up to dual-channel 64GB), the GT-R is a multi-purpose powerhouse of a mini PC that will make the perfect addition to any home office or media centre thanks to its combination of performance and small size (measuring up at approximately only 16.8 x 12 x 4.7cm).
Struggling to find a way to connect devices? Worry no more with the myriad of options that the GT-R offers out of the box. Easily fit it into any modern setup with six USB 3.0 ports, two HDMI ports, one DisplayPort port, a USB-C port, two Ethernet ports, and a front-facing 3.5mm audio jack.
The GT-R also supports Wi-Fi 6 technology, ensuring wireless transfer speeds of up to 40% faster than previous Wi-Fi 5 devices. Wherever you place the device, browse in speed and comfort.
The GT-R also includes a fingerprint reader located on the top of the case, allowing peace of mind for the security-conscious that their system will not be accessed.
A rare feature of the GT-R is also the presence of a dedicated CMOS reset button on the front of your device. Making for easy troubleshooting should you have any issues with connecting various kinds of hardware.
Technical Specifications
Softwares
OS
Windows 11 Pro
Processor
Version
Ryzen 5 3550H
Base Frequency
2.10 Ghz
Turbo Frequency
3.70 Ghz
# Cores
4
# Threads
8
Video Processor
Manufacturer
AMD
Model
Radeon™ Vega 8 Graphics
Turbo Frequency
1.20 Ghz
Displays Supported
4
Graphics Core Count
8
AMD FreeSync™ Technology
✓
AMD SenseMI Technology
✓
AMD "Zen" Core Architecture
✓
RAM
RAM
16GB/32GB/64GB Depending on the model purchased
RAM(spec)
DDR4 (SO-DIMM)
Network
Ethernet
10/100/1000M Ethernet Adapter (RJ45)
Wi-Fi
Wi-Fi: 802.11ax Wi-Fi 6 wireless networking
Bluetooth
5.0
I/O ports
USB
1x USB Type-C Thunderbolt (3.0 - Gen1) ; 6x USB Type-A (3.0)
Video
1x Output via Type-C (Requires Adapter ; Not Included) ; 2x HDMI ; 1x DisplayPort
Audio
1x 3.5mm Headphone&Microphone Port ; 1x HDMI 2.0 port supports multichannel audio output
Adapter
19V/3A 57W Certification
Power
Input: 100-240V AC. 50/60Hz, Output: 19V 3A
Dimension/Weight
Product Dimensions
(L x W x H): 16.80 x 12.00 x 3.90 cm / 6.6 x 4.7 x 1.5 inches
Product Weight
666g / 1.46lb
Package Dimensions
(L x W x H): 18.00 x 12.90 x 11.00 cm / 7.0 x 5.07 x 4.33 inches
Package Weight
1363g / 3lb
Package Includes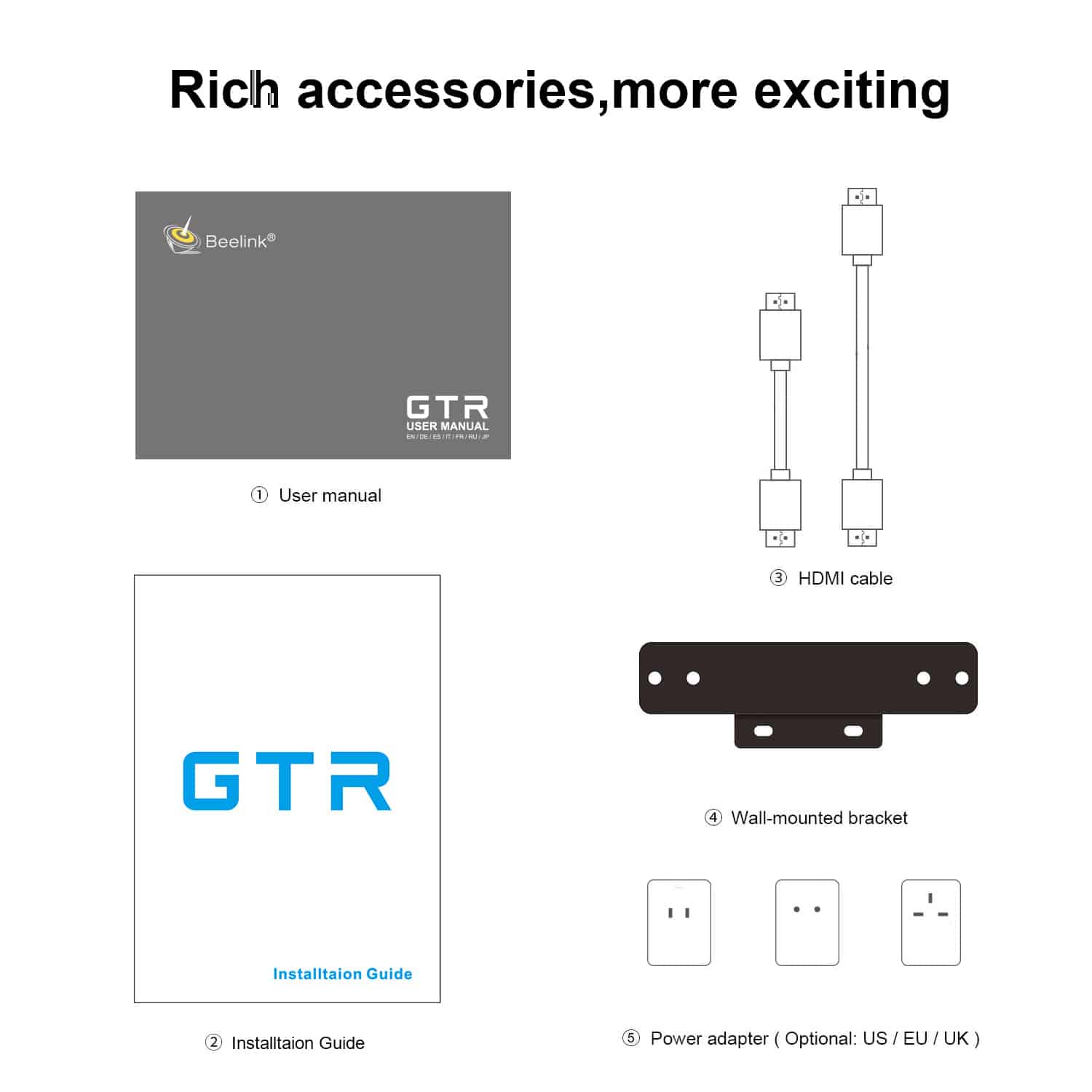 2* HDMI Cable
1* Mounting Bracket + Screws
1* Power Adapter
1* User Guide
Please Note
In line with the policy of continued development, the manufacturer reserves the right to amend the specifications without prior notification. The illustrations in the user manual are for reference only.
Reviews
Fast Delivery. Fast Mini PC. Droix great to deal with on email and phone.
Beelink GT-R7 AMD Ryzen 7 Mini PC
Good but no Windows 11
This tiny PC was easy to get going. All my original software downloaded and now works mutch faster. Conectivity to other devises was easy and straightforward. By only complaint is that its not commpatable with Windows 11.
I liked so much - silent, quic, good for me
Solid little barebones box of goodness. I excite!!
Set this little beast up with 16GB of 3200Mhz ram and some wicked-fast nvme and sata drives. Currently rocking Manjaro and Windows 10. It's used for music production (with Windows) and Manjaro is basically a massive 4-desktopped crypto trading suite that I use ALL THE TIME. It's solid as a rock even when I'm highly leveraged and knee-deep in a bad trade that's gone so far south I've lost hope of all recovery. But like this little beast of a PC, I just keep on going.
Remember folks, bullruns make you money, but bear markets make you rich. Do yourself a favour and pick up one of these excellent little boxes and then use it to learn about what Bitcoin is and how it can literally change society for the betterment of all. You'll then be able to buy all the PC's you want and never have to work again. Just like me ;-)
Beelink GT-R AMD Ryzen 5 Mini PC
Starting at £489.95 Incl. VATStarting at £408.29 Excl. VAT