DroiX X96 Mini 4K Android Box
Sleek and Minimalist Design
Android 7 Nougat
Google Play Services Ready
MicroSD/TF Card Slot
Optical Out
£ 29.95 Incl. VAT £ 24.96 Excl. VAT
Great Accessories
Sleek and Minimalist Design
Android 7 Nougat
Google Play Services Ready
MicroSD/TF Card Slot
Optical Out

Sleek and Minimalist Design
Android 7 Nougat
Google Play Services Ready
MicroSD/TF Card Slot
Optical Out
Description
The X96 Mini Android box for TV may be small but it packs a bunch with its Amlogic S905W2 Quad Core ARM Cortex A53 processor at 2Ghz and its ARM Mali-450MP 750Mhz graphics for up to 4Kx2K output.
The X96 Mini measures just 3.23 x 3.23 x 0.67 inches making it one of the smallest Android TV box available. It is perfect as a second device for the bedroom or for limited space, even while travelling. Inside you can find 2GB of RAM and 16GB of fast eMMC storage.
The Android box GPU supports a number of processing features including OpenGL ES 1.1 / 2.0 and OpenVF 1.1 for optimal video quality. It also supports Vulkan API which improves speeds for games and retro gaming. It supports up to 4Kx2K resolution.
The Smart TV box features two USB Type-A 2.0 ports for connecting memory sticks for example. It has a 100M/s RJ45 Ethernet port and 802.1.1b/g/n WiFi which makes it an ideal Android box.
The X96 Mini is a perfect choice as the best android box for its size and performance. It is ideal for limited space uses or while travelling or as a second device.
Technical Specifications
Softwares
OS
Android 7 Nougat
Processor
Processor
Amlogic S905W2 ; Quad-Core ; ARM Cortex A53 @2Ghz
GPU Specs
GPU Specs
ARM Mali-450MP @750MhzOpenGL ES 1.1/2.0OpenVG 1.1Vulkan API Supported
ROM
ROM
16GB
ROM(Storage)
eMMC
RAM
RAM
2GB
Network
Ethernet
RJ45 Port – 100M
Wi-Fi
RTL8189 ; 802.1.1b/g/n
Audio
Audio
Coaxial Sound5.1 Surround Sound Output
Dimension/Weight
Product Dimensions
(L x W x H): 8.20 x 8.20 x 1.70 cm / 3.23 x 3.23 x 0.67 inches
Product Weight
150
Package Dimensions
(L x W x H): 17.00 x 11.00 x 5.50 cm / 6.69 x 4.33 x 2.17 inches
Package Weight
425g
Application Ready
At the time of publication, this list is comprehensive and accurate. Specific apps or add-ons may be removed or added in the future.

Google Play Store
Install and update all your applications
Package Includes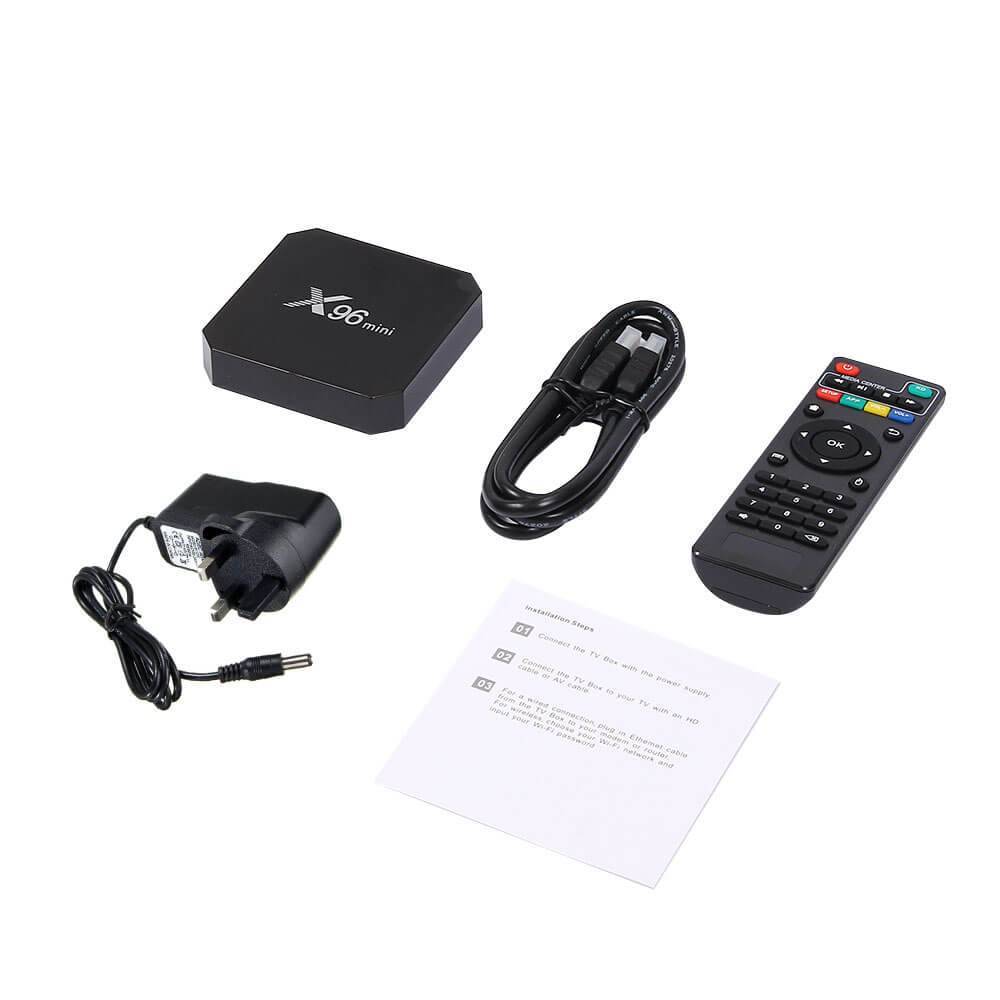 1 * X96 Mini Smart TV BOX
1 * Power Supply
1 * User Manual
Please Note
In line with the policy of continued development, the manufacturer reserves the right to amend the specifications without prior notification. The illustrations in the user manual are for reference only.
Reviews
DroiX X96 Mini Android Box
great product d...
great product does what I want
Does the job wi...
Does the job with no complications!
Great box so ea...
Great box so easy to use and hide
DroiX X96 Mini 4K Android Box
£ 29.95 Incl. VAT £ 24.96 Excl. VAT