GPD WIN Max 2021 Handheld Gaming PC
Intel® Core™ i7-1195G7 / AMD Ryzen™ 7 4800U
Intel Iris Xe Graphics / AMD Radeon Graphics
16GB Dual-Channel LPDDR4x @ 4266Mhz
1TB High-Speed PCI-E NVMe SSD
WiFi & Bluetooth Support
AAA Gaming Handheld
Starting at £ 1,069.95 Incl. VATStarting at £ 891.63 Excl. VAT
Great Accessories
Intel® Core™ i7-1195G7 / AMD Ryzen™ 7 4800U
Intel Iris Xe Graphics / AMD Radeon Graphics
16GB Dual-Channel LPDDR4x @ 4266Mhz
1TB High-Speed PCI-E NVMe SSD
WiFi & Bluetooth Support
AAA Gaming Handheld
Description
The latest Intel and AMD AAA PC Gaming Handheld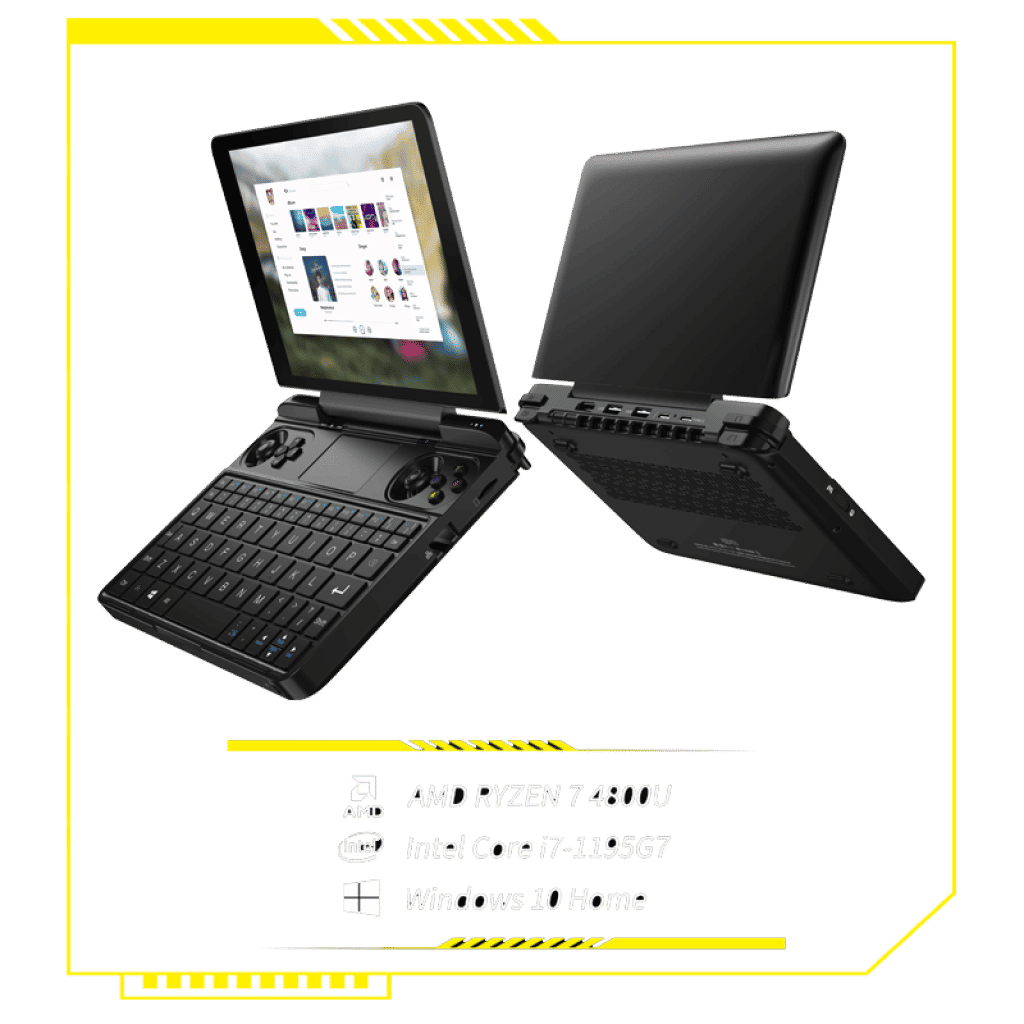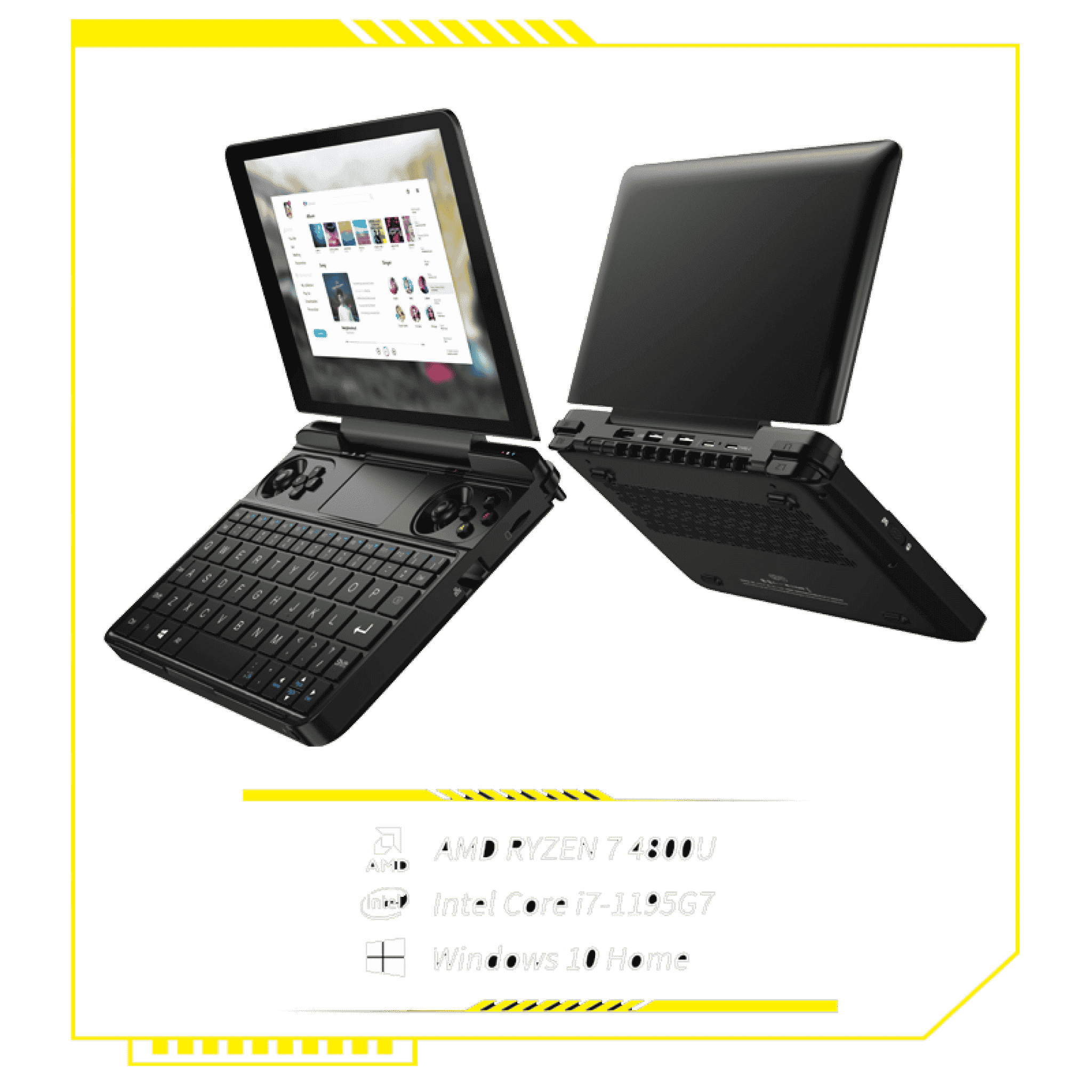 The GPD WIN MAX 2021 is GPD's latest innovation at a portable gaming laptop.
This PC Gaming Handheld comes in two flavours. You can choose between the AMD Ryzen 7 or the 11th Gen Intel Core i7.
The days where you can play AAA Games on-the-go are here!
Item on Pre-Order – Release Date: Mid-December 2021. Pre-Order charged upfront
Blue or Red? Intel or AMD? Coke or Pepsi? With the GPD WIN Max 2021 you're not stuck with one, but you have options.
You can choose the 11th generation Intel Core i7 1195G7 Processor for the GPD WIN MAX 2021.
The 1195G7 is built on the 10 nm SuperFin Litography and sports 4 cores and 8 threads. You've got 12 MB of Intel Smart Cache and can configure the TDP up to 28W.
Models with the Intel Processor will be able to take advantage of the Thunderbolt 4 connection for connecting an eGPU.
Visuals are handled by the Intel Xe Graphics built-in GPU, with DirectX and OpenGL Support.
And for the Red team, you've got the AMD Ryzen 7 4800U. AMD made a bang with their Ryzen line-up, and they're not stopping.
Coming with 8 Cores and 16 Threads, this AMD APU is a beast, to say the least. It can boost up to 4.2 Ghz and is built on TSMC's 7nm FinFET Litography.
Graphics is something AMD's good at, and this is no exception. The AMD WIN Max 2021 comes with the AMD Radeon Graphics with 8 GPU Cores.
The GPD WIN Max 2021 comes with a dual-fan design to ensure your system remains stable, even during those long hours of gameplay.
Having a crisp 8-inch panel is not only good for feasting your eyes on the latest AAA PC Games and Emulators…OR, for doing some productivity work. Actually, it is….it's amazing for that!
Whether you're at the last boss fight, racing through the desert, flying the latest Boeing or writing your social studies paper. The GPD WIN Max 2021 can do it all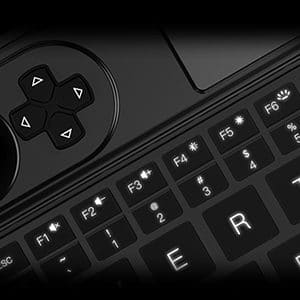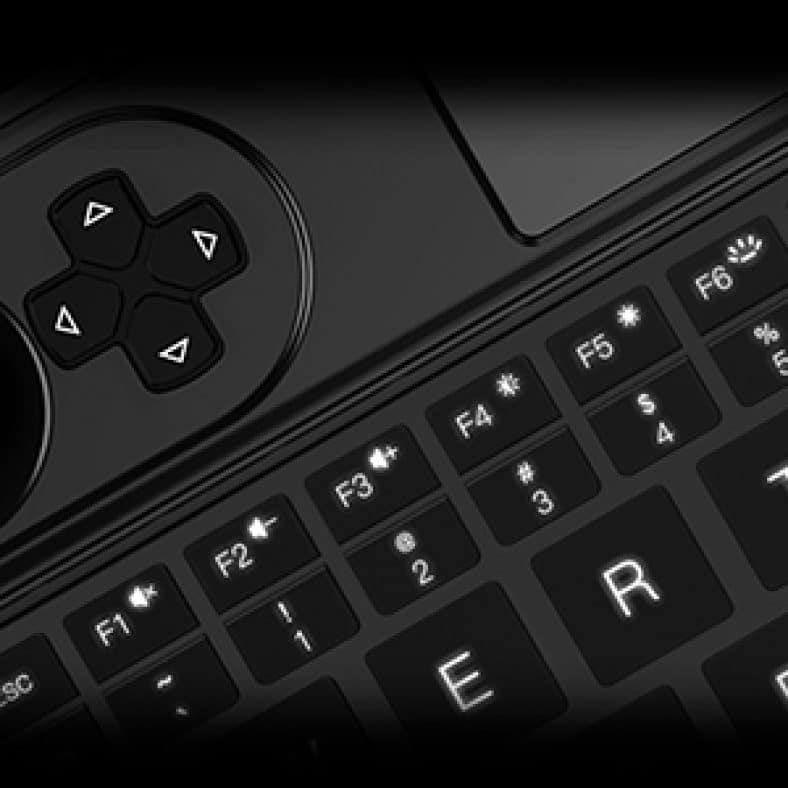 Take advantage of the full QWERTY (US) Keyboard.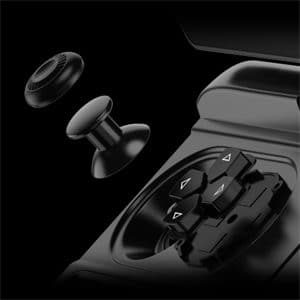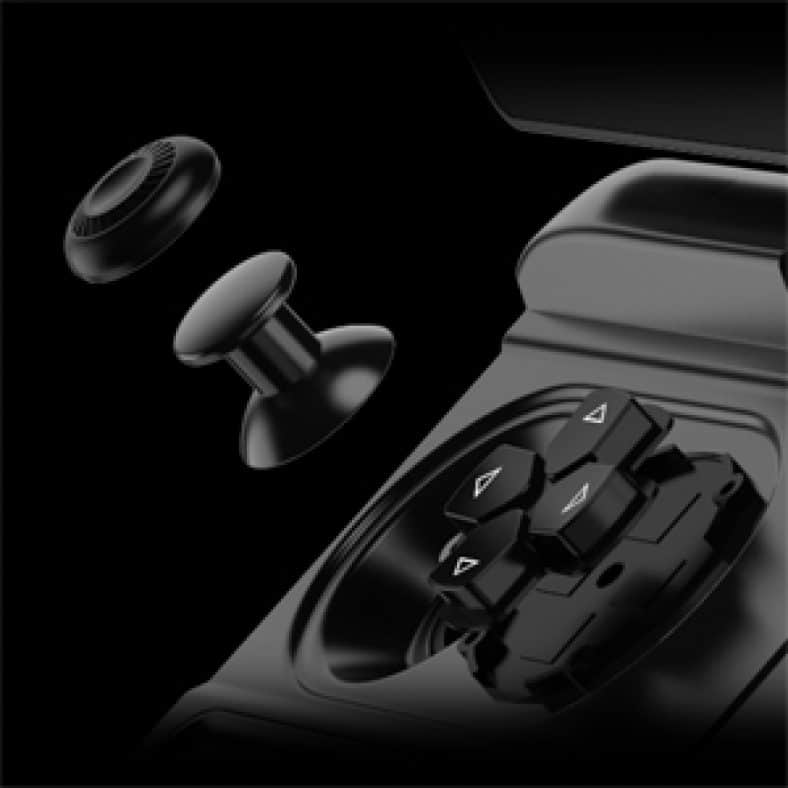 3D Joysticks by ALPS with high-quality D-PAD.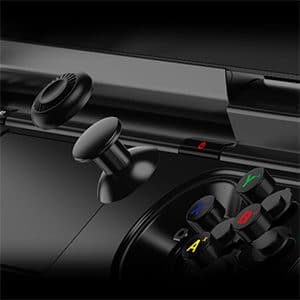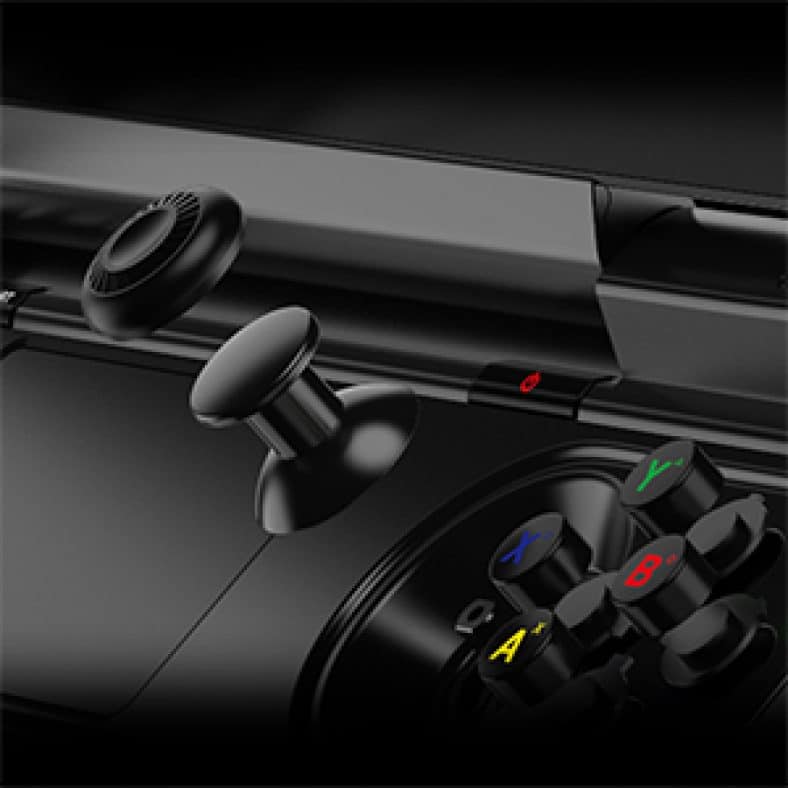 ABXY Buttons with both PlayStation and XBOX Layouts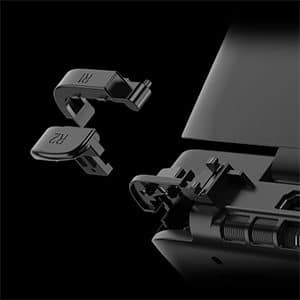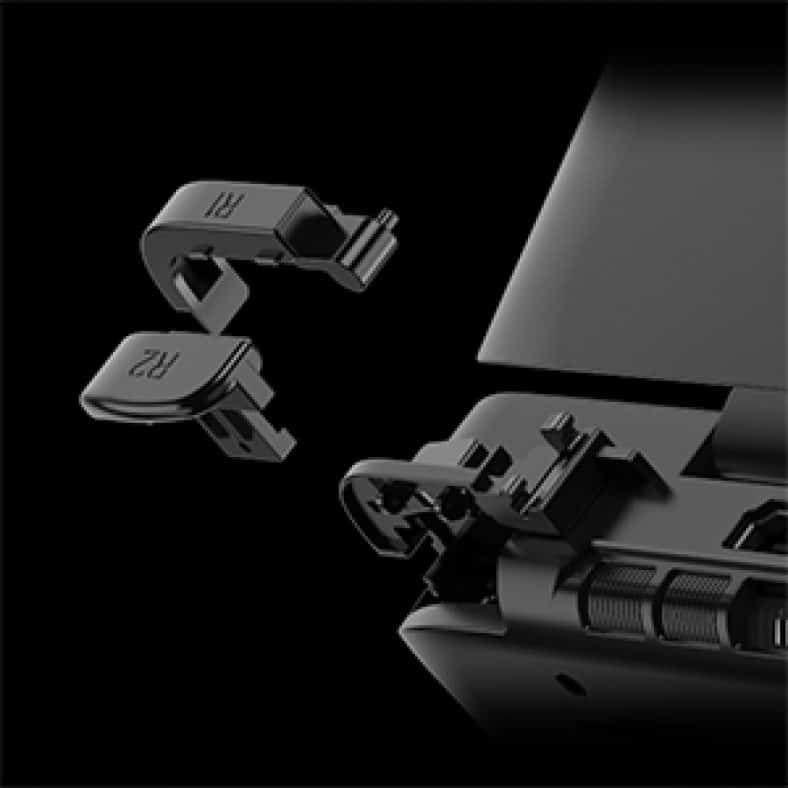 Clicky and sturdy shoulder buttons.
Technical Specifications
Software
OS
Windows 10 Home
Security
PIN
Processor
Brand
Model

Core™ i7-1195G7
Ryzen™ 7 4800U

Litography

10 nm SuperFin
TSMC 7nm FinFET

# Cores
# Threads
Turbo Frequency
Graphics Processor
Interface
Integrated
Brand
Model

Intel® Iris® Xe Graphics
AMD Radeon™ Graphics

Max Dynamic Frequency
Display
Panel Technology
H-IPS
Protection
Corning Gorilla Glass 5
Touch-Screen
✓
Size
8"
Aspect Ratio
16:9
Screen Resolution
1280x800
Pixels/Inch
188 PPI
Memory (RAM)
Capacity
16GB
Technology
LPDDR4x @ 4266Mhz - Dual Channel
Storage (ROM)
Capacity
1TB, Replaceable (Single-side NVMe)
Technology
NVMe
Bus Specification
PCIe Gen 4.0
Expandable
1x MicroSDXC Slot
I/O Interface
USB

Intel - 1x Thunderbolt 4 ; 1x USB Type-C 3.0
AMD - 2x USB Type-C 3.0

Video

Intel - 1x Thunderbolt 4 ; 1x USB Type-C 3.0
AMD - N/A

Audio
1x 3.5mm Headphone&Microphone Combo
WiFi
6
Bluetooth
5
Input
Keyboard
QWERTY Keyboard (US Layout)
Mouse
Trackpad
(Gaming) Joystick
Dual 3D-ALPS
(Gaming) Buttons
XBOX/PlayStation Buttons
(Gaming) Vibration
Dual-Motor
Application Ready
At the time of publication, this list is comprehensive and accurate. Specific apps or add-ons may be removed or added in the future.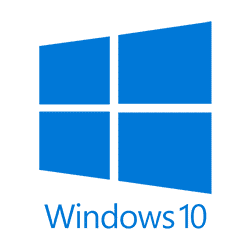 Windows 10 OS
The most used Operating System on the planet. That's for a reason
Package Includes
1 * USB Type-C Cable
1 * Power Adapter
1 * User manual
Please Note
In line with the policy of continued development, the manufacturer reserves the right to amend the specifications without prior notification. The illustrations in the user manual are for reference only.
Reviews
It was above my expectations
Really nice peace of equipment.
Battery life could be better, but with some tools from gpd_devices discord I managed to improve it significantly.
Pocketish Rocket
I7 power with intel xe graphics that can sort of fit in a big pocket. I've had laptops which have only half this power yet are 5 times as big, small and packs a punch bigger than you'd think.
Excellent Handheld Computer
The GPD WIN Max is truly a very nice and powerful little computer. Don't expect to play things like Cyberpunk on it, but for older games, its just perfect. I have been playing things like Borderlands 1 up to 3, Thief, Grid (2019), Dirt Rally 2.0 etc, and a load of smaller games like Dead Cells, and Hades. Handles emulation very well, up to Ps2 levels. I prefer this over my Switch as it has a bigger screen (for my old eyes), and I also think the controls seem better. For example, playing Borderlands on the Switch never felt like the controls were very smooth, but on the Max, it plays brilliantly.
Admittedly, it is a little expensive, and is very much a premium device, but it allows me to take my Desktop PC gaming on the go.
The Win Max is on another level
Excellent little portable machine with so much power, it can play all of my Triple A games without so much as a stutter. I would recommend the Win Max to anybody interested in playing games on the go, top notch. 👍
GPD WIN Max 2021 Handheld Gaming PC
Starting at £ 1,069.95 Incl. VATStarting at £ 891.63 Excl. VAT