MinisForum EliteMini HM90 Ryzen 9 Mini PC
AMD Ryzen™ 9 4900H APU @ Up to 4.40 GHz cTDP: 35-54W
Up to 64GB Dual-Channel DDR4 & Up to 2TB NVMe SSD
Up to 3 Monitors @ 4K Resolution
Dual 2.5Gbps LAN Ports | WiFi 6 & Bluetooth 5.1
Starting at £ 674.95 Incl. VATStarting at £ 562.46 Excl. VAT
Great Accessories
AMD Ryzen™ 9 4900H APU @ Up to 4.40 GHz cTDP: 35-54W
Up to 64GB Dual-Channel DDR4 & Up to 2TB NVMe SSD
Up to 3 Monitors @ 4K Resolution
Dual 2.5Gbps LAN Ports | WiFi 6 & Bluetooth 5.1

AMD Ryzen™ 9 4900H APU @ Up to 4.40 GHz cTDP: 35-54W
Up to 64GB Dual-Channel DDR4 & Up to 2TB NVMe SSD
Up to 3 Monitors @ 4K Resolution
Dual 2.5Gbps LAN Ports | WiFi 6 & Bluetooth 5.1
Description
The MinisForum EliteMini HM90 is a powerful Ryzen Mini PC that comes with the Ryzen 9 4900H APU, this makes this Ryzen Mini PC perfect for any task you throw at it.
This Ryzen Mini PC comes with the option of adding up to 64GB of DDR4 RAM, which will ensure that you never run out of memory while working. You also have the option of choosing up to 2TB of NVMe SSD Storage, which will allow you to fast-access all of your files. If that's not enough, the MinisForum HM90 also has 2 2.5" HDD or SSD.
To maximise your productivity, the MinisForum TH90 supports up to three 4K Monitors which will be powered by the potent Radeon Vega 8 Graphics.
The MinisForum EliteMini TH90 comes with all the connectivity options to keep you always ready to work! It sports 2 Ethernet Ports for fast and stable wired internet connections, and Wi-Fi 6 for even faster wireless connectivity. You can also connect your favourite accessories to the MinisForum TH50 Mini PC via the built-in Bluetooth 5.1.
The size of this Ryzen Mini PC means that you can reduce your desk clutter while still gaining a considerable amount of performance. Whilst the size is reduced, the versatility of the MinisForum TH90 is unparalleled. Around the device you will find 1 HDMI Port, 1 Display Port, 4 USB 3.0 Type-A Ports, 1 USB-C 3.0 Port, two Ethernet Ports and more!
Technical Specifications
Software
OS
Windows 10 Professional
Security
PIN/Password
Processor
Brand
AMD
Model
AMD Ryzen™ 9 4900H
Litography
TSMC 7nm FinFET
# Cores
8
# Threads
16
Base Frequency
3.3 Ghz
Turbo Frequency
Up to 4.4 Ghz
L2 Cache
4 MB
L3 Cache
8 MB
More Info
Click Here
Graphics Processor
Interface
Integrated
Brand
AMD
Model
Radeon™ Graphics
Frequency
1750 Mhz
Graphics Core Count
6
Memory (RAM)
Capacity
Up To 64GB(Depending on the model purchased)
Technology
Dual-Channel DDR4 SO-DIMM
Speed
Up to 3200Mhz
Storage (ROM)
Capacity
Up To 2TB(Depending on the model purchased)
Technology
PCI-E NVMe SATA SSD
Expandable
2×2.5 inch SATA HDD Slot (SATA 3.0 6.0Gb/s)
Network
Ethernet
2x RJ45 2.5 Gigabit
Wi-Fi
Wi-Fi 6 (Dual-Band)
Bluetooth
5.1
I/O Interface
USB
1x USB Type-C ; 4x USB Type-A 3.0 ; 2x USB Type-A 3.1 Gen2
Video
1x HDMI 2.0(4K@60Hz) ; DisplayPort(4K@60Hz) ; USB Type-C (4K@60Hz)
Audio
1x HDMI 2.0 ; 1x DisplayPort ; 1x USB Type-C ; 1x 3.5mm Audio Jack
Package Includes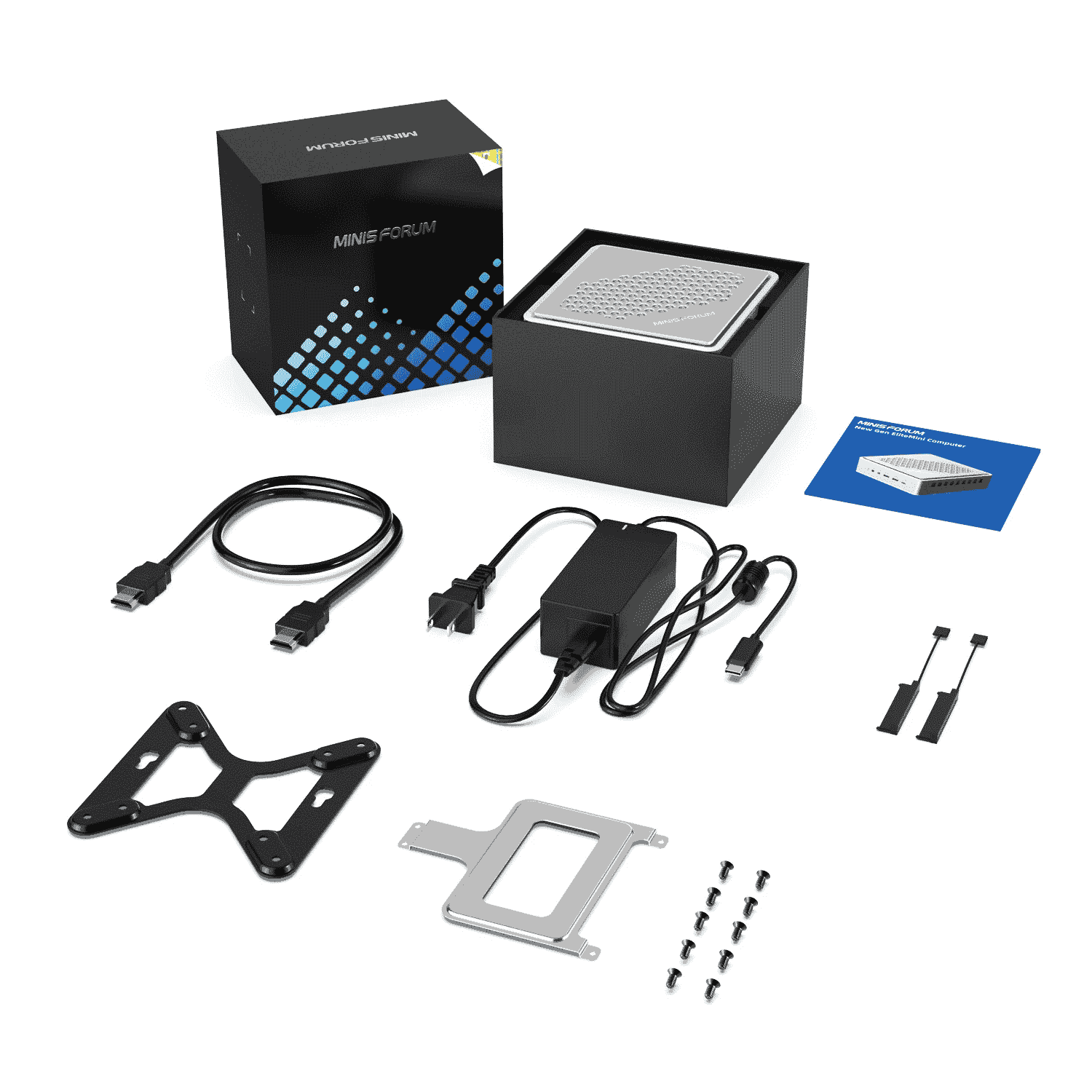 1 * Minisforum HM90
1 * Power Adapter
1 * HDMI Cable
1 * Mounting Bracket
1 * User Manual
Please Note
In line with the policy of continued development, the manufacturer reserves the right to amend the specifications without prior notification. The illustrations in the user manual are for reference only.
Reviews
HM80 mini computer
Very prompt delivery. Arrived well packed.The computer was very simple to set up and so far has worked well. It is amazingly small and quiet for its computing power.
MiniForm HM80
Great PC set-up software update on the AMD side troublesome version/existing media incompatibility getting computer support was arduous no phone contact just online email also no documentation supplied with unit no Droix obvious documentation on site as support seem Droix supplied but little support documentation
MinisForum EliteMini HM80 Ryzen Mini PC
I was dubious about buying the EliteMini HM80 Ryzen for my business after reading about noise issues.
I have been using the system now for a number of weeks and am very pleasantly surprised about the good performance and quiet operation of the unit.
I will definitely be looking to purchase a second unit
Regards
R D Halliday
great Item
the EliteMini HM80 Ryzen Mini PC. is a great mini pc plenty of ports which are easy to get to, small but sturdy, well built easy to use, I have installed windows 11 really easy, sits nicely on my desk, does everything my old desktop can do, i defiantly recommend this little pc.
Excellent little box
Having grown up with PC's as big as suitcases and now spent decades with a 17" laptop as a desktop replacement, I was curious about using a little pc (Mini PC) as a box to hide behind the sofa where it wouldn't intrude on my wife's beautiful living room... and the HM80 with Ryzen 7 4800U delivers in spades.
MinisForum EliteMini HM90 Ryzen 9 Mini PC
Starting at £ 674.95 Incl. VATStarting at £ 562.46 Excl. VAT